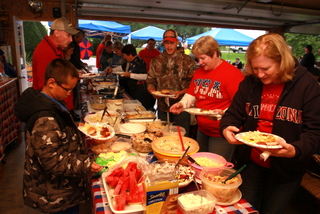 I wrote this story in 2014 for Farm News and wanted to share it again today on this 15th anniversary of the 9/11 tragedies. We must never forget, or take our freedoms for granted. 
Ginger Tribby doesn't do a lot of cooking. That doesn't mean that incredible home-cooked food doesn't abound, however, when she and her husband, Neal, host a potluck at their home each Sept. 11 to remember the day America changed forever.
"It's about a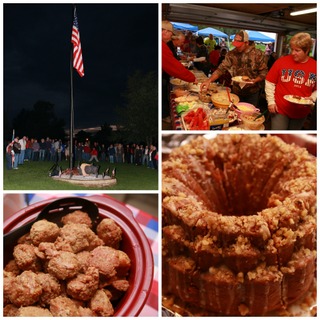 ppreciating our life, our freedom and all the blessings we have in America," said Tribby, a retired Farm Bureau Financial Services employee.
The Tribbys have hosted up to 200 guests for the annual Sept. 11 remembrance gathering—an impressive number for a community with about 110 people. The event offers a meaningful way to bring the community together, said Dorothy Gavin of St. Marys, who prepares a variety of dishes for the potluck. "We come together to honor those who perished, as well as the firefighters and first responders."
The remembrance gathering started after Tribby, her husband, her sister Margie and brother-in-law Chuck were waylaid in Ireland following the attacks on Sept. 11, 2001. "We'd spent 10 days in Ireland celebrating our 25th anniversary," Tribby recalled. "After we boarded a plane in Dublin on Sept. 11 to fly back to America, we heard there was going to be a slight delay."
The passengers were later told that their flight had been cancelled due to the closing of U.S. air space. Amidst the fear and confusion, a fellow passenger with a cell phone was able to find out what was going on. "It was totally surreal," said Tribby, who wasn't able to return to the United States with her family until Sept. 15.
In 2002, the Tribbys decided to host a get-together on Sept. 11 to honor America. "It started as a small gathering," Tribby said. "Then we thought maybe we should do this each year, so we have."
The event has grown each year and includes people of all ages, from children to grandparents. Following an evening potluck meal featuring smoked pork loin, ham balls, cheesy potatoes and salads of all kinds, everyone heads to the dessert table loaded with cakes, bars, apple crisp and more. "The food is the best," said Patty Gavin of St. Marys. "More importantly, Sept. 11 is a day that shouldn't be forgotten."
At sunset, guests gather in the Tribby's back yard near the American flag to sing "America the Beautiful" and listen to a patriotic poem. "If that ceremony doesn't make you tear up, nothing will," said Steve Lininger, who travels 150 miles from Rock Port, Mo., to attend the annual gathering. "Sept. 11 changed the lives of everyone here. The remembrance gathering leaves a lasting impression on you."
Savor more Iowa food history
Want more fun Iowa food stories and recipes? Check out my top-selling "Culinary History of Iowa" book from The History Press, and order your signed copy today.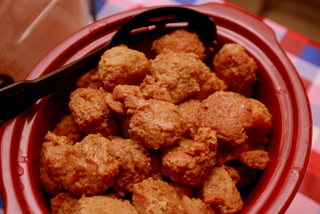 Ham Balls
This family favorite comes from Ginger Tribby's mother, Ellen Dooley. Ginger and her sisters made a triple batch for this year's Sept. 11 remembrance gathering.   
1 pound ground ham
1 / 2 pound lean ground beef
1 / 2 pound lean ground pork
2 / 3 cup crackers, crushed
2 eggs
1 / 2 cup milk
1 / 2 cup finely chopped onions
1 / 2 teaspoon salt
1 / 4 teaspoon pepper
1 / 2 teaspoon liquid smoke
Syrup:
1 cup brown sugar
3 tablespoons vinegar
1 tablespoon water
1 teaspoon dry mustard
Combine all the ham ball ingredients. Shape into balls about the size of golf balls, and place in baking dish. Combine the syrup ingredients and set aside. Bake ham balls at 350 degrees for 30 minutes. Top the ham balls with syrup, and bake another 30 minutes.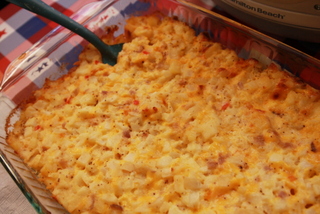 Cheesy Baked Hash Browns
This recipe from Joanne Gavin of St. Marys is always a hit at potlucks.
1 2-pound bag shredded hash browns
1 can cream of chicken soup
1 cup cheese (Velveeta or cheese in a can)
1 / 2 cup onions
1 / 2 cup peppers, diced
1 stick butter, softened
1 cup sour cream
Salt and pepper, to taste
Mix all ingredients together. Bake in an uncovered 9-inch by 13-inch dish at 325 degrees for 1 hour.
Macaroni Salad
This classic recipe is found in the "Great Home Cooking" cookbook compiled by members of the Immaculate Conception Parish in St. Marys.
3 cups macaroni (uncooked)
2 cups Miracle Whip salad dressing
2 / 3 cup sugar
2 cups cheddar cheese (shredded)
1 cup celery, diced
1 / 2 cup carrots (grated)
2 / 3 cup onion, diced
1 / 2 cup green pepper, diced
1 / 2 cup dried bacon bits
Mix Miracle Whip and sugar together with an electric mixer; set aside. Cook macaroni until tender. Drain and rinse in cold water; let cool. Combine Miracle Whip mixture with macaroni and all remaining ingredients. Refrigerate for two hours before serving. Makes 10 cups.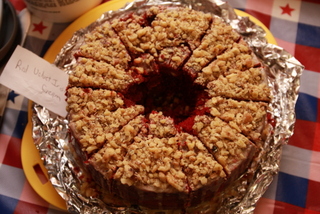 Rum Cake
This easy recipe from the Tribby's friend Sheryl Reynolds of Des Moines tastes great with ice cream or whipped cream. It also freezes well. With a few minor adjustments (noted below the recipe here), it can be transformed into Red Velvet Irish Cream Cake.
1 cup chopped, toasted pecans or walnuts
1 15.25-ounce yellow cake mix
1 3.4-ounce instant vanilla pudding mix
4 eggs
1 / 2 cup cold milk
1 / 2 cup vegetable oil
1 / 2 cup Bacardi dark rum
Glaze
1 stick butter
1 / 4 cup water
1 cup sugar
1 / 2 cup Bacardi dark rum
Preheat oven to 325 degrees. Grease and flour a 12-cup Bundt pan. Sprinkle nuts on the bottom of pan. Combine all cake ingredients. Beat for 2 minutes on high with electric mixer. Pour into prepared pan. Bake for 1 hour. Cool in pan. Invert onto serving plate. Prick top with fork.
For glaze, combine butter, water and sugar. Boil 5 minutes, stir constantly. Remove from heat, and stir in rum. Note: the rum will cause steam, so be careful not to burn yourself. Drizzle glaze over top of cake. Use brush or spoon to put extra drippings of glaze on cake.
To make Red Velvet Irish Cream Cake instead of Rum Cake, substitute 1 18.25-ounce box of red velvet cake mix instead of yellow cake mix. Also substitute 1 / 2 cup Irish Cream in the cake batter instead of rum. Follow all the same steps to prepare the cake. For the glaze, substitute 1 / 2 cup Irish Cream instead of the 1 / 2 cup rum. Follow all the same steps to prepare the glaze.

Slab Pie Bars
This recipe is a favorite of the Tribby's neighbor, Holly Wiederin, who noted that it can be made with any berry or stone fruit. She likes to use pitted, tart cherries. This recipe makes one 17-inch by 12-inch sheet pan of bars.
For the crust:
5 cups all-purpose flour, divided
3 teaspoons coarse salt, divided
2 teaspoons sugar, divided
4 sticks cold unsalted butter, cut in to small pieces, divided
12 to 16 tablespoons ice water, divided
For the Slab Pie Bars:
All-purpose flour, for dusting
2 prepared crusts, from above
2 1 / 2 pounds (about 6 cups) fresh (or frozen, thawed & drained) berries, such as blackberries, blueberries, raspberries, or a combination
1 1 / 4 cups sugar
1 / 4  cup cornstarch
Juice of half a lemon (about 1 tablespoon)
1 / 4  teaspoon salt
2 tablespoon heavy cream
1 / 4  cup sanding sugar
For crust, process half of each of the flour, salt, and sugar in a food processor until combined. Add half of the butter. Pulse until mixture resembles coarse meal, about 10 seconds. With machine running, add about half of the ice water in a slow, steady stream just until dough comes together.
Turn dough out onto a piece of plastic wrap. Flatten dough, and shape into a rectangle; wrap in plastic. Refrigerate at least 1 hour or overnight. Repeat process with remaining ingredients – you need two discs of dough to make the Slab Pie Bars.
For the bars, preheat oven to 375 degrees. On a lightly floured surface, roll out a larger piece of dough to a 20-inch by 15-inch rectangle. Fit into a 17-inch by 12-inch rimmed baking sheet, pressing into corners. Pastry will hang over sides. Chill while assembling filling.
In a large bowl, stir together berries, sugar, cornstarch, lemon juice, and salt. Spread mixture over chilled pie shell.
On a lightly floured surface, roll out remaining piece of dough to an 18-inch by 13-inch rectangle; drape over filling. Fold edge of bottom dough over top dough. Pinch edges to seal. Prick top dough all over with a fork. Brush entire surface of pie with cream, and sprinkle with sanding sugar.
Bake until crust is golden brown and filling is bubbling, 40 to 55 minutes. Transfer to a wire rack, and let pie cool. Serve warm or at room temperature. Slab Pie Bars are best eaten the same day they are baked but can be kept at room temperature, loosely covered with plastic wrap, for up to two days. Slab Pie dough can be frozen for up to 1 month.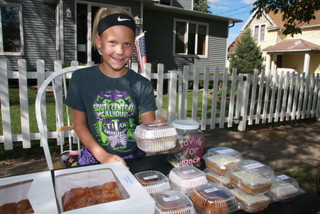 While some kids run lemonade stands, Tori Ellis, 11, sells homemade caramel rolls, pumpkins bars and more from a food stand in her family's front yard along Main Street in Lake City. As she and her older sisters Aspen and Payton earn money for dance classes and dance competitions, they're also learning the fine points of baking, using recipes passed on from their great-grandmother and grandmother.
"You k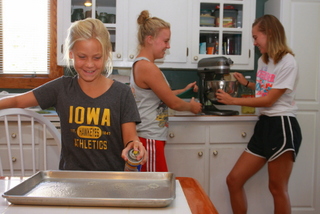 now it's always good if you make it yourself," said Aspen Ellis, 18, who is a senior at South Central Calhoun High School and reporter for the local FFA chapter.
The Ellis girls learned to bake from their mother, Dannette (Smith) Ellis, who credits her mother, Jean, for teaching her learn how to cook. The Ellis family enjoy favorite recipes from the Smith and Schleisman sides of their family, including Grandma Loraine Schleisman's famous caramel rolls and chocolate chip cookies. Other recipes, such as a creamy vanilla dessert and hearty beef stroganoff, are Dannette Ellis' own creations. All have passed the Smith family's "field test."
"We take many of the things we make to the field at harvest or to the crew at our family's hog barns," said Dannette Ellis, whose girls get inspired by cooking shows like "Cake Boss" and "Good Eats" on TV.
Experimenting with new recipes is especially fun for Toi Ellis, who has sold homemade treats since she was seven years old. She's glad her family bakes caramel rolls about every other week, since she has been known to sell 15 dozen in only three or four hours. "Baking makes the house smell like fall," she said.
Savor more Iowa food history
Want more fun Iowa food stories and recipes? Check out my top-selling "Culinary History of Iowa" book from The History Press, and order your signed copy today.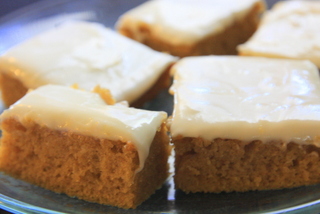 Dannette's Pumpkin Bars
1 can pumpkin (or 2 cups fresh pumpkin)
2 cups flour
2 teaspoons baking powder
1 teaspoon baking soda
1 / 4 teaspoon salt
2 teaspoons cinnamon
2 cups granulated sugar
4 eggs
1 cup vegetable oil
1 teaspoon ground ginger
1 teaspoon pumpkin pie spice
Combine all ingredients. Bake in an 11-inch by 17-inch jellyroll pan for 20 minutes at 350 degrees. Frost with cream cheese frosting of your choice.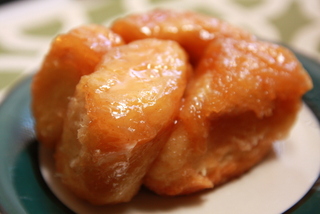 Grandma Schleisman's Caramel Rolls
Don't want to make caramel rolls? This recipe can also be used to make dinner rolls. Just don't dip the knots of dough in a cinnamon-sugar mixture, and skip the caramel sauce.
2 cups granulated sugar
4 eggs
2 cups shortening or lard
3 teaspoons salt
1 cup mashed potatoes
1 teaspoon granulated sugar
4 packages yeast (2 1 / 4 teaspoons per package)
1 cup warm water, plus 5 cups warm water (or use potato water)
5 to 10 pounds flour
2 1 / 2 sticks of butter or margarine, melted
3 to 4 cups granulated sugar
Cinnamon, to taste
Mix together sugar, eggs, shortening, salt and mashed potatoes. (The Ellis family uses their large stand mixer for this process.) Set mixture aside.
Mix together 1 cup water, 1 teaspoon sugar and yeast in a glass bowl. Let mixture rise about 15 minutes.
Begin adding flour and water to mixture of sugar, eggs, shortening, salt and mashed potatoes. Add flour (a large spoonful at a time) and alternate with the 5 cups of warm water. Keep mixing and adding flour and water. When about half the water has been added to the dough, add the yeast water mixture. Continue to add flour and water until the water is gone and the dough begins to form a ball.
Turn the dough onto a floured surface. Knead the dough until it's nice and smooth. Divide dough into two balls; place each one into large bowls that have been lightly greased with oil. Then cover each bowl with a damp towel.
Place bowls of dough in the warmest part of the house to let dough rise until it has doubled in size. Punch dough down. Cover bowls with a damp towel again. Let dough double in size once again.
Make the caramel topping (see recipe below). Pour caramel into 9-inch by 13-inch pans. (The caramel roll recipe makes 5 to 6 dozen caramel rolls. You can get 12 rolls into one 9-inch by 13-inch pan.)
In a bowl, combine the sugar and cinnamon. Melt butter or margarine in a separate bowl.
Punch down dough. Take a handful of dough and roll on the countertop. Form a strip of dough; then dip into the margarine and then into the cinnamon sugar. Tie dough into a knot. Place each knot on top of the caramel in the pan. Continue until dough is gone.
Bake each pan of rolls about 25 minutes, or until rolls are dark brown. The rolls need to be fairly dark on top in order for the middles of the rolls to bake properly. Cover rolls halfway through baking so the tops don't get too dark. When baking is complete, let the rolls cool on the counter for about 2 minutes. Put tinfoil on top and flip pan over to invert. The pan should come off with no problem.
Let rolls cool. Store in air-tight plastic containers. Makes 5 to 6 dozen rolls.
Caramel Topping
2 / 3 cup brown sugar
1 / 4 cup margarine (Imperial brand margarine works well)
2 tablespoons corn syrup
Combine all ingredients in a sauce pan. Cook 1 minute, and then stir. Then cook 1 more minute. Pour mixture in bottoms of 9-inch by 13-inch pans.
Grandma Schleisman's Famous Chocolate Chip Cookies
A mixture of shortening and butter help these cookies achieve the right shape and texture when baking.
1 1/3 cups shortening and butter (combine a mixture of roughly half butter and half shortening)
1 cup granulated sugar
1 cup brown sugar
2 eggs
2 teaspoons vanilla
3 cups flour
1 teaspoon baking soda
1 teaspoon salt
1 / 2 cup chocolate chips
Using a mixer, combine all ingredients except chocolate chips. Stir in chocolate chips by hand. Chill dough in refrigerator for 1 hour. Scoop out balls of dough onto baking stone or pan. Bake about 12 minutes at 350 degrees, or until cookies are nicely browned. Store cookies in air-tight container. These cookies freeze well, too.
Dannette's Sugar Cookies
Almond extract adds a special flavor to these cookies, which work best when they are rolled out thin and are not overbaked.
1 cup margarine
1 1 / 2 cups powdered sugar
1 egg
1 teaspoon vanilla
1 / 2 teaspoon almond extract
2 1 / 2 cups flour
1 teaspoon baking soda
1 teaspoon cream of tartar
Cream margarine, powdered sugar, egg, vanilla and almond extract together until smooth. Add dry ingredients until well blended. Chill dough at least two hours, or overnight. Roll out dough on a floured surface to desired thickness. Cut dough with cookie cutters of your choice. Bake cookies on greased cookie sheet or baking stone at 350 degrees until bottoms and sides of cookies start to brown. Frost when cool.
Dannette's Sugar Cookie Frosting
1 / 2 stick margarine
Dash of milk for right consistency
1 teaspoon almond extract
Powdered sugar (enough to make a nice, smooth frosting to coat the cookies)
Combine all ingredients together. Frost cookies, as desired.

Dannette's Vanilla Dessert
This takes great on a crisp fall day with a warm cup of coffee.
1 / 2 cup walnuts
1 cup flour
1 / 2 cup margarine, melted
1 8-ounce contained whipped topping, reserve 1 cup
1 cup powdered sugar
1 8-ounce package cream cheese, softened
2 3-ounce packages instant pudding (any flavor is fine, although the Ellis family prefers vanilla)
3 cups milk
Chopped walnuts for garnish
For the first layer, combine walnuts, flour and margarine. Pat mixture into the bottom of a 9-inch by 13-inch pan. Bake 10 minutes at 375 degrees, and cool completely.
For the second layer, cream together 1 cup whipped topping, powdered sugar and cream cheese. Mix well. Spread over first layer in pan; chill.
For the third layer, combine pudding mixes and milk. Beat until thick. Pour pudding over second layer in pan; chill.
For the fourth layer, spread the remaining whipped topping over the third layer. Garnish with chopped walnuts. Refrigerate.
Dannette's Beef Stroganoff
The Ellis family likes to serve this hearty stroganoff over mashed potatoes and cooked noodles.
2 pounds ground beef
1 / 2 cup chopped onion
3 cloves garlic
1 teaspoon beef bouillon
Salt, pepper, onion salt, garlic, meat tenderizer, to taste
1 can cream of mushroom soup
1 soup can of milk
1 / 2 cup sour cream
Brown ground beef in skillet. Drain fat. Add onion, garlic, beef bouillon, and seasonings. Cook until browned. Add cream of mushroom soup and milk. Cook for 5 minutes. When ready to serve, add sour cream.
I originally wrote this article for Farm News, Ft. Dodge, Iowa.