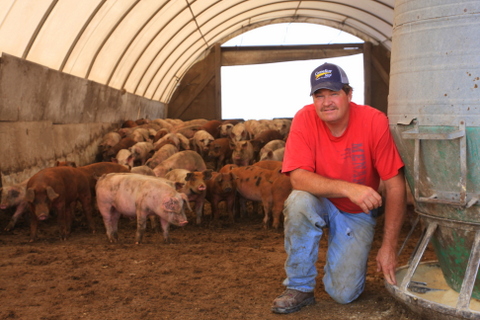 With 40 years of hog production under his belt, Iowa pork producer Dave Struthers has seen it all, from pasture production to confinement barns to hoop barns. He's also willing to help set the record straight about modern pork production and encourages other farmers to do the same.
"There's a lot of misinformation out there about modern agriculture and livestock production," said Struthers, a past president of the Iowa Pork Producers Association who farms near Collins. "Since people often don't take the time to investigate or seek out more information on their own, it's important for farmers to offer their perspective."
Here are Struthers' top 10 tips to help share agriculture's story:
Be a voice of reason. Who knows more about the realities of modern agriculture than the farmers who live it every day? "I tell people there are pros and cons of every swine production system," said Struthers, who runs a farrow-to-finish operation along with a row-crop operation with his family. "I try to offer a practical point of view and provide a voice of reason." Struthers takes a practical approach when non-farm audiences raise concerns about whether pigs are happy in confinement barns. "What tells me a pig is happy is when it's healthy and growing," he said.
Say yes to opportunities. When the local newspaper, area radio station or major news outlet comes calling, be willing to go on the record, said Struthers, who raises approximately 250 sows and also has hoop barns. Along with participating in many media interviews, Struthers has appeared in the Humane Society of the United States' documentary film "At the Fork" and has hosted international visitors on his farm. In addition, Struthers and his wife, Elaine, have helped with a bacon festival in San Francisco. "Don't be afraid to engage," he said. "It's good to have these conversations and keep the lines of communication open."
Explain what motivates you. Farming is a multi-generation tradition for the Struthers family. "We're in this for the long haul and care about our animals," said Struthers, who has raised hogs since he was 9 years old.
Share your practical experience. This extends from livestock care to nutrient management. "Just explain what you've seen and experienced on your farm," said Struthers, who points out things that are interesting to non-farm audiences, such as the fact that he checks his animals daily and keeps daily observation records of the hogs. "I also explain that swine manure is a valuable asset on our farm," said Struthers, whose family received the Wergin Good Farm Neighbor award this October. "I note that we soil test every three years and test the manure's nutrient content, as needed, so fertility is managed properly on our farm."
Don't hold anything back. Struthers is willing to explain the production practices he uses, from confinement barns to biosecurity protocols to tail docking. "Just be open and honest," he said. Also, acknowledge that farms are complex biological systems, and there are no silver bullets. When asked about various production systems, Struthers addresses the challenges of livestock production in Iowa. "Pigs outdoors are wonderful when it's 75 degrees and sunny. It's not so good in freezing rain or snowstorms. Indoors we can create a consistent, comfortable environment and also provide good ventilation and air quality."
Be prepared for hot-button issues. Acknowledge that many people are concerned about manure management, water quality and antibiotic and hormone use in livestock production. Struthers explains to non-farm audiences that he only uses hormones when a sow is having trouble giving birth. "I use oxytocin, which is metabolized by the sow's body and excreted in about 30 minutes," he said. "I also note that this treatment is similar to Pitocin, the brand name of the hormone oxytocin that women sometimes use to have a baby."
Use analogies. Linking farm-specific information to examples that non-farm audiences can relate to is key. Consider antibiotic use in livestock. "I ask people, 'If your child gets sick, are you going to cross your fingers and hope she gets better? No. You're going to give her the medicine she needs.' If antibiotics are required to help a sick pig, it would be contrary to animal well-being not to treat that animal." Struthers also tells his audiences that all meat at the grocery store is antibiotic-free, since there are mandatory withdrawal times, plus packers conduct tissue tests to make sure the meat is antibiotic-free.
Help others learn. Be willing to host farm tours, share information through social media and blogs, answer people's questions and find other ways to help them learn. "Be proactive, and share what you know," Struthers said. "Become a trusted source of information."
Be realistic. Having all the answers isn't a prerequisite for sharing ag's story. "If you can't answer a question, be honest," Struthers said. "Also, refer the person to Iowa State University, the Iowa Department of Agriculture or other resource that can provide the answer." In addition, understand that everyone may not agree with your point of view about modern pork production practices, but that's okay. "It's progress when these people say, 'You know, I can see why you're doing what you're doing,'" Struthers said.
Focus on continuous improvement. Struthers is Pork Quality Assurance (PQA) Plus certified, plus his farm has been part of a site assessment to ensure that best-management practices are being followed. Struthers also works closely with his local veterinarian. "I'm always trying to learn more and improve our farming operation," he said.
Finally, keep connecting with non-farm audiences, Struthers said. "The more you share agriculture's story, the easier it gets. "
This originally appeared in Farm News, Oct. 2016. 
Explore more rural Iowa history 
Want to discover more stories and pictures that showcase the unique character of small-town and rural Iowa? Check out my top-selling "Calhoun County" book from Arcadia Publishing, and order your signed copy today. 
P.S. Thanks for joining me. I'm glad you're here. 
@Copyright 2016 Darcy Maulsby & Co.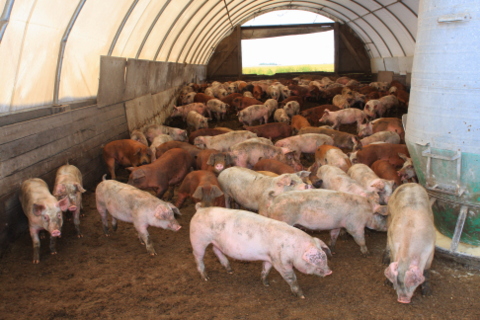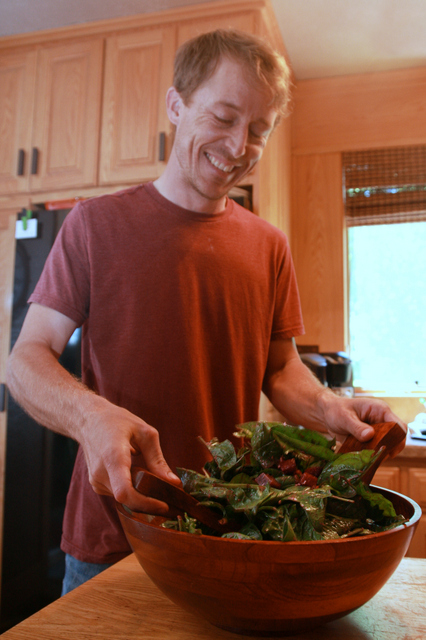 For a guy who didn't care for vegetables as a kid, Adam Nockels has come a long ways. Now he runs Iowa's Raccoon Ridge Farm, which specializes in an array of naturally-grown produce.
"My foodie friends in college, including one who is a gardener, got me interested in fresh foods and new flavors," said Nockels, who was born in Lake City but grew up on military bases before returning to the Lake City area.
Food production also appealed to Nockels, a U.S. Air Force veteran who used the G.I. Bill to attend Iowa State University, where he earned his biology degree in 2010. After completing an internship at Turtle Farm near Granger, where he learned about vegetable production and community supported agriculture (CSA), Nockels knew he wanted to work in production agriculture. When he proposed the idea of starting a farm on the land his family owns between Lake City and Auburn, his grandparents Dennis and Sheila Moulds liked the idea.
"My Grandma Sheila and my mom, Debby, have green thumbs," said Nockels, who has 10 acres in Raccoon Ridge Farm, which includes 2.5 to 3 acres of vegetables grown with organic practices. "I also like working outdoors and growing healthy food for people."
Nockels grows a wide variety of crops, including green beans, spinach, lettuce, radishes, strawberries, kale, herbs, squash, peas, potatoes, beets, heirloom tomatoes and more, which he sells at the Lake City Farmers Market and through his weekly CSA deliveries in Lake City, Rockwell City and Carroll. Nockels' favorite heirloom tomato is the Cherokee Purple Tomato, a flavorful variety that was reportedly gifted to a farmer in Tennessee in the 1890s from Cherokee natives. "Nothing is better than an heirloom tomato," Nockels said. "For me, it's either slice, salt and go, or use the tomato in a BLT sandwich."
Nockels' weekly newsletters for CSA customers include a list of produce supplied that week, brief descriptions of the unique items in the box, tips for storing the produce, recipes and seasonal cooking tips such as how to roast chile peppers. Some of Nockels most popular items are his green beans. In 2015, the sandy, loamy soils of Raccoon Ridge Farm produced almost 450 pounds of green beans, so full-share holders received roughly 23 pounds of green beans each.
Nockels enjoys experimenting with new recipes, as well as relying on tried-and-true family recipes, to showcase the bounty of the harvest. "When good food is prepared properly, it tastes better. This is guilt-free eating."
Savor more of Iowa and its food stories, history and more
Want more fun Iowa food stories and recipes? Sign up today for my blog updates and free e-newsletter, or click on the "Subscribe to newsletter" button at the top of my blog homepage.
Also, check out my top-selling "Culinary History of Iowa" book from The History Press, and order your signed copy today. 
You can also order my "Calhoun County" Iowa history book, postcards made from my favorite photos of rural Iowa and more at my online store. Thanks for visiting!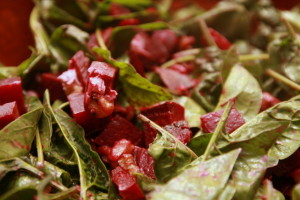 Roasted Beet Salad with Goat Cheese
1 / 4 cup balsamic vinegar
3 tablespoons shallots, thinly sliced
1 tablespoon honey
1/ 3 cup extra-virgin olive oil
Salt and freshly ground black pepper
6 medium beets, cooked and quartered
6 cups fresh greens (spinach, lettuce, arugula, etc.)
1 / 2 cup walnuts, toasted, coarsely chopped
3 ounces soft fresh goat cheese, coarsely crumbled
Line a baking sheet with tinfoil. Preheat oven to 450 degrees
Whisk the vinegar, shallots and honey in a medium bowl to blend. Gradually whisk in the olive oil. Season the vinaigrette to taste with salt and pepper. Toss the beets in a small bowl with enough dressing to coat. Place the beets on the prepared baking sheet, and roast until the beets are slightly caramelized, stirring occasionally, about 12 minutes. Set aside and cool.
Toss the greens and walnuts in a large bowl with enough vinaigrette to coat. Season the salad to taste with salt and pepper. Mound the salad atop four plates. Arrange beets around the salad. Sprinkle with goat cheese. Serve.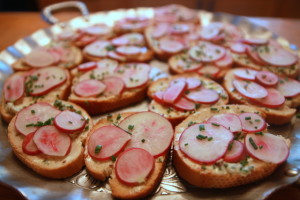 Radish Toast with Sesame-Ginger Butter
4 tablespoons butter, room temperature
3 tablespoons minced chives, divided
1 tablespoon toasted sesame seeds
3 / 4 teaspoon grated peeled fresh ginger
1 / 4 teaspoon Asian sesame oil
16 1 / 4-inch-thick baguette slices, lightly toasted
10 radishes, thinly sliced
Mix butter, 2 tablespoons chives, sesame seeds, ginger and sesame oil in small bowl; season with salt and pepper. Spread butter mixture over each bread slice. Top with radishes, overlapping slightly. Sprinkle with remaining chives.
Spinach Quiche
1 tablespoon butter
2 spring onions, minced
2 bunches spinach, thick stems removed and leaves roughly chopped
Coarse salt and ground pepper
4 ounces Gruyere or Swiss cheese, grated (about 1 cup)
1 frozen pie crust
4 large eggs
1 1 / 2 cups half-and-half
Dash of ground nutmeg
1 teaspoon salt
1 teaspoon pepper
Preheat oven to 350 degrees, with racks set in upper and lower thirds. In a large skillet, heat butter over medium. Add spring onions, and cook, stirring occasionally, until softened, 1 to 2 minutes. Add as much spinach to skillet as will fit; season with salt and pepper, and toss, adding more spinach as room becomes available, until wilted, 2 to 3 minutes.
Transfer spinach mixture to a colander. Press firmly with the back of a spoon to squeeze out as much liquid as possible. Sprinkle cheese onto crust. Spread spinach mixture over shredded cheese.
In a large bowl, whisk together eggs, half-and-half, nutmeg, 1 teaspoon salt and 1 teaspoon pepper. Pour egg mixture into crust.
Bake until center of quiche is just set, 55 to 60 minutes. Let quiche stand 15 minutes before serving.
Cover and refrigerate leftovers up to 1 day. Reheat at 350 degrees until warm in the center, 30 to 40 minutes.
Easy Kale Chips
Preheat oven to 350 degrees. Remove large central stem from kale leaves and tear into chip sized pieces. Drizzle with olive oil and add a sprinkle of salt or seasoned salt. Bake in the oven for 10-15 minutes until leaves edges are brown but not burnt.
Peas and New Potatoes
1 pound new potatoes
1 cup shelled peas
1 tablespoon butter
1 tablespoon flour
Salt and pepper to taste
1 cup milk or half & half
Bring a large pot of water to a boil over high heat. Boil potatoes for 15 to 20 minutes, until tender. Drain.
In a medium saucepan, bring 1 cup water to a boil. Simmer peas in boiling water for 6 to 7 minutes, or until tender (do not overcook). Drain.
Using the same saucepan, melt butter over medium heat. Stir in flour to make a thick paste; gradually whisk in milk, stirring constantly until slightly thickened. Season with salt and pepper to taste. Add potatoes and peas to the sauce; simmer for about 5 minutes, stirring often. Serve immediately.
Crisp Tuna-Cabbage Salad
One 5-ounce can tuna, drained
2 cups finely chopped green or red cabbage, from about 4 ounces or 1 / 4 of a small head of cabbage
1 tablespoon mayonnaise
3 tablespoons plain Greek yogurt
Salt and freshly ground black pepper
Shred the tuna with a fork and mix thoroughly with the cabbage. Stir in mayonnaise and yogurt. Add salt and pepper to taste. Eat immediately, or refrigerate for up to two days. Makes two 1-cup servings.
Basil Pesto
1-2 cups fresh basil leaves
2-4 cloves of garlic
3 / 4 cup good olive oil
1 / 2 cup grated Parmesan cheese
1 / 4 cup pine nuts or walnuts (opt.)
Put basil in blender or food processor. Add garlic, and blend, adding olive oil slowly. Add Parmesan and pine nuts. Blend all into a thick sauce.
This is good over any hot pastas. It can be also added to salad dressing, 1 tablespoon at a time, used as a spread for tomatoes, on crackers, etc. Pesto can also be frozen in small container for use later.
Green Bean and Pasta Salad
4 ounces penne pasta, uncooked (1 1/4 cups)
4 ounces green beans, halved crosswise (about 1 cup)
1 cup canned red or kidney beans, rinsed
1/4 cup chopped fresh flat-leaf parsley
2 tablespoons grated Parmesan (2 ounces)
2 tablespoons olive oil
2 tablespoons fresh lemon juice
Kosher salt and black pepper
Cook the pasta according to the package directions, adding the green beans during the last 3 minutes of cooking. Drain and run under cold water to cool.
Toss the cooled pasta and green beans with the red beans, parsley, Parmesan cheese, olive oil, lemon juice, 1 / 2 teaspoon kosher salt, and 1 / 4 teaspoon black pepper. Divide the salad between two containers and refrigerate for up to one day.