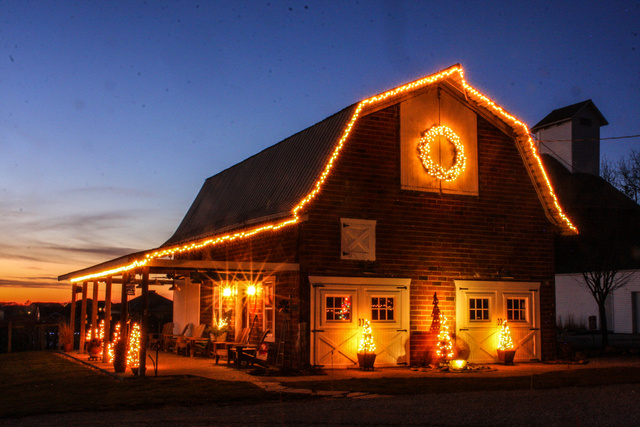 It started as a dairy barn in the 1920s on a farm north of Adel. By the mid-1990s, the farm was gone but the barn remained part of an acreage surrounded by new housing developments. In 2006, the barn became the hub of Penoach Winery and remains a big draw at this central Iowa destination.
"I like the fact that the barn is rustic and has lasted all these years," said Joanie Olson, who runs Penoach Winery with her husband, Stan. "Our customers also love the old barn."
The clay-tile barn was built on the H.B. Kinnick farm north of Adel to house dairy cattle. It was likely constructed with clay-tile blocks made in Adel. Olson recently met an 89-year-old gentleman from Arizona who is related to the Kinnick family and grew up on the farm.
"His father lost the farm during the Great Depression of the 1930s," Olson said. "This man recalled sitting on the back porch and crying during the farm auction."
In 1960, Olson's parents, Paul and Mildred Hufferd, purchased the 240-acre farm, where they raised crops, cattle and hogs. Olson moved back to her family's farm around 1980-81 with her husband, Stan, who had grown up on a farm near Lake Mills. The couple farmed for about 15 years. "My dad raised pigs in the barn, and then Stan did, too," Olson said.
Although Stan began selling insurance after he quit farming, he never lost his passion for agriculture. "Stan missed growing things, so he planted 50 grape plants in 1999," Olson said. In 2000, the Olsons started a grape nursery to supply grape vines to wineries that were taking root across Iowa.
Within a few years, the Olsons decided to start their own vineyard and winery. Penoach Winery, which reflects Adel's original name, opened in 2006. Today, the operation includes 4 acres of grapes behind the barn, not far from areas once covered by cornfields and a hog lot.
"The barn was in pretty good shape when we started remodeling it for the winery," Olson said. "We worked from top to bottom, starting with cleaning out the hay and pressure washing the barn."
The transformation also included new floors, electrical wiring, plumbing, windows, doors and a covered patio on the south side of the barn. "Stan did most of the work," Olson added.
While couple installed their wine-making equipment in the back of the barn, the space wasn't quite large enough. About four years ago, the couple moved this equipment to a nearby shed and transformed the back room of the barn into a gathering space, complete with comfortable chairs. In the adjoining room, guests can browse the gift shop, which showcases 18 varieties of wine made at Penoach Winery.
"We enjoy meeting lots of people who visit our winery," Olson said. "We're glad we can share our barn with them."
Want more Iowa culture and history? The barn at Penoach Winery will be featured in my upcoming book, Dallas County, a pictorial history from Arcadia Publishing, which will be released in the summer of 2017. In the meantime, check out my top-selling "Calhoun County" book, which showcases the history of small-town and rural Iowa, as well as my "Culinary History of Iowa" book from The History Press. Order your signed copy today!
P.S. Thanks for joining me. I'm glad you're here. 
@Copyright 2017 Darcy Maulsby & Co. 
Who would have thought pickle wraps (a.k.a. pickle roll-ups) would be the hot food topic this holiday season? Of course, you don't need a holiday to celebrate if you want to enjoy some "Iowa sushi," as I explained to Des Moines Register reporter Courtney Crowder recently.
Here's the great article from Courtney, along with my take on why pickle wraps are so undeniably Iowan (along with recipes, of course!) 
Is This Iowa's Favorite Appetizer?
Courtney Crowder , ccrowder@dmreg.com8:28 a.m. CST December 15, 2016
http://www.desmoinesregister.com/story/entertainment/dining/2016/12/14/iowas-favorite-appetizer/94676550/
My obsession with "Holiday Pickle Wraps" — also known as "Iowa Sushi" or "Lutheran Sushi" — began with a Facebook post.
Just before Thanksgiving, fellow reporter John Naughton posted a picture of a Hy-Vee display replete with cream cheese, pickles, dried beef and a sign noting that it was time for "Holiday Pickle Wraps." Above the photo he wrote, "Sure sign you're in Iowa."
To me, the sign and its gathered foodstuffs might as well have been in a foreign language. Pickle wraps? Naughton's post should have read: "A sure sign you're not from Iowa."
After living in the Hawkeye State for two years, I like to think I have at least a passing grasp on what is Iowan, but here I was simply gobsmacked by pickle wraps. What exactly are pickle wraps? Are these truly Iowan or just a quick appetizer Iowans are co-opting? And, most importantly, aren't they incredibly salty?
"No, they're not overly salty," I was assured by Darcy Maulsby, lifelong Iowan and author of "A Culinary History of Iowa: Sweet Corn, Pork Tenderloins, Maid-Rites & More."
"Pickle wraps are very, very popular in Iowa," Maulsby added. "So many friends say pickle wraps are the first thing on the appetizer tray to go at their parties."
Traditionally, a pickle wrap begins with a pickle (obviously), which is then slathered in cream cheese, wrapped in ham and cut into bite-sized pieces. However, there are variations on the general pickle wrap theme, Maulsby said. Some people sheathe the ham with a tortilla and others don't use ham at all, instead opting for a dried beef encasement. Others make pickle wrap dip, where all the indigents of a pickle wrap are blended together and served with crackers.
"This is definitely a Midwestern thing," Maulsby said. "You go to Arizona, Oklahoma, California, Michigan, they've never heard of a pickle wrap. Some Wisconsin and Minnesota people do know about pickle wraps, but I think Iowans should embrace this as our own, for sure."
The exact genesis of the pickle wrap — or pickle roll-up as it is also called — is unknown, but Maulsby said the appetizer most likely originated as a modification of an old-world German recipe.
"I think of this as being in the same category as the fried breaded pork tenderloin, as far as its German-ness goes," she said. "Anytime you have a German community or a place with a strong German heritage, you got pickles and red meat and that is two-thirds of a pickle wrap right there."
As with its origins, the enduring legacy of the pickle wrap is up for grabs as well. So what is it that keeps Iowans coming back to the simplest of hors d'oeuvres?
"It's the pickle wrap's flavor sensation, and it's a texture thing, too," Maulsby said. "It does everything a good food should do: It's interesting to the palate. The tang of the pickle plays nicely off of the smooth cream cheese and salty meat. The crunch of the pickle is in contrast to the creaminess of the cream cheese. As a food, it does so many things well."
The best thing about the pickle wrap is that it is soeasy to make that even I, a cooking novice, feel confident in my abilities to master the roll-up. Simply slather, wrap and cut. But Maulsby urges chefs not to rest on their pickle wrap laurels, but to attempt their own variation on the classic roll-up. Take something conventional and make it your own!
"There are a lot of fun things you could do with pickle wraps," Maulsby said, "and no one is going to get too worked up if you tweak the classic roll-up — at least I don't think they will."

Pickle wrap recipes
Here are culinary historian Darcy Maulsby's favorite pickle wrap and pickle wrap dip recipes. To learn more about her work and other classically Iowan foodstuffs, check out her website at Darcymaulsby.com.
Classic Iowa pickle wraps
1 jar dill pickles
Ham slices 
Cream cheese, softened
Lay the ham slices flat on a serving plate and pat dry. Spread with cream cheese. Place a pickle spear at one end of each slice and roll the slices into cylinders around the spears. Secure with toothpicks. Chill in refrigerator. Cut into bite-sized pieces.
Tortilla pickle-ham rolls
1 (32 ounce) jar dill pickles
1 (8 ounce) package cream cheese, softened and divided (make certain that the cream cheese is very soft for spreading)
1 pinch garlic powder, to taste (optional)
1 pound sliced cooked ham (I like to use honey ham)
6-inch flour tortillas
Mix the softened cream cheese with garlic powder (if using). Spread a thin layer of the cream cheese onto one side of a tortilla. Place 1 slice of ham over the cream cheese. Spread another layer of cream cheese over the ham. Roll a pickle up in the tortilla. Cover the roll with plastic wrap and chill for 2 hours (to make slicing easier). Remove the plastic wrap. Using a serrated knife, slice the roll into about 1-inch pieces or to desired size.
Dried beef pickle dip 
1 package (3 ounces) dried beef, finely chopped
1 package (8 ounces) regular or reduced fat cream cheese
1/2 cup reduced fat sour cream
2 tablespoons chopped green onion
1/2 to 1 cup coarsely chopped dill pickles (not dill relish)
1/4 teaspoon pepper
Soften cream cheese and combine with remaining ingredients. Chill until serving. Serve with crackers or fresh vegetables.
— Dip recipe from the Iowa Beef Industry Council. 
Savor more Iowa food history
Want more great recipes and Iowa food stories? Check out my top-selling "Culinary History of Iowa" book from The History Press, and order your signed copy today.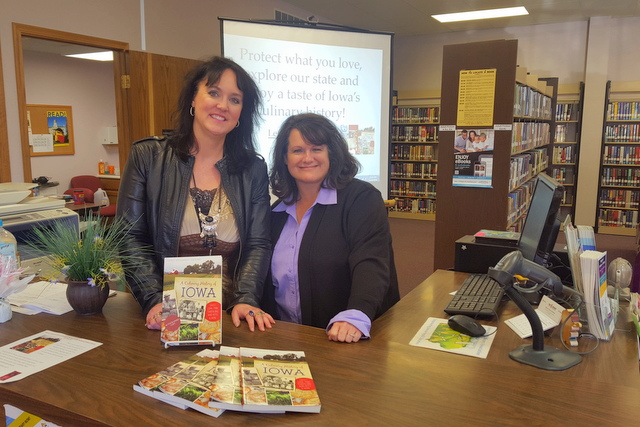 Everyone has an Iowa food story, even those doubters who sounded incredulous when I first proposed my idea for my "Culinary History of Iowa" book. Their amusement, followed by the inevitable question, "Iowa has a culinary history?" quickly dissolved into stories of Maid-Rites, potlucks and more.
The media, Iowa libraries and others across the state have really embraced these stories, too. I was honored to offer book programs and signings at the Ruthven Public Library and beautiful Kendall Young Public Library in Webster City. I was also pleased that the Webster City Freeman Journal ran a feature story on my book, at Pat Powers from KQWC Radio in Webster City interviewed me in a broadcast that has now popped up on Radio Iowa.
Need a fun read or a great gift idea? Click here to visit my online store, where you can purchase copies of "A Culinary History of Iowa," a unique set of 15 vintage images from "A Culinary History of Iowa," and my first book, "Calhoun County," which shares the remarkable, illustrated history of small-town and rural Iowa through the eyes of those who lived it.

November 19th, 2016 by Ric Hanson
http://www.kjan.com/index.php?cat=3&paged=2
From pork tenderloins to sweet corn to Jell-o, a new book is out focused on Iowa foods and the flavors that make the state so delicious. The book, "A Culinary History of Iowa," traces the popular tastes of Iowans through the years, according to author Darcy Dougherty Maulsby, of Lake City.  "We do have great cuisine," Maulsby says. "It's funny. When the book came out, I had some people questioning, 'Iowa has a culinary history?' We sure do. I said, 'Just starting thinking what defines Iowa food,' and everybody always comes up with an answer." Maulsby says she's done research for the book by exploring all four corners of the state and everything in between.
"I've been working on it in bits and pieces for almost 20 years in my career as an ag journalist," Maulsby says. "I've traveled the state and met with some of Iowa's finest chefs and lots of great old-school farm cooks. I've seen the spectrum of really awesome Iowa food and it's been so much fun to collect all of these stories and photos in one place." Some might categorize it as a cook book but Maulsby says it's more than that.
"It's the story behind the things that define Iowa food," Maulsby says. "Whether that's Maid-Rites, Dutch letters from Pella, there's so many fun stories, Laura Ingalls Wilder turns up in there, the Younkers Tea Room, all of these amazing traditions, meat lockers, sweet corn, all of the things that make Iowa food great." Find the book at the Amazon and Barnes & Noble websites as well as at: www.darcymaulsby.com. (Radio Iowa)
Iowa Eats: Maulsby pens book on the state's culinary history
NOV 16, 2016
by ADRI SIETSTRA, Webster City Freeman Journal reporter
asietstra@freemanjournal.net
Author Darcy Maulsby will be bringing Iowa food stories to life during a free program Thursday evening at 6:30 p.m. at Kendall Young Library. The program will feature a cooking demonstration with book signing to follow.
"You'll love this fun, fast-paced program filled with stories, rare vintage photos and surprising recipe tips. Be prepared to dig into the remarkable stories behind Iowa classics like Maid-Rites, breaded pork tenderloins, Iowans' obsession with Jell-O, and our distinctive chili-and-cinnamon roll phenomenon,"said Maulsby. "I'll also share practical, proven tips on how to preserve your own family's history and food traditions."
Maulsby, 43, is a self-described foodie and home cooking enthusiast from Lake City. She began baking and cooking in grade school while growing up on the farm. She entered many cooking contests at the Calhoun County Expo while a member of the Lake Creek Go-Getters 4-H Club.
"Food writing is a large part of my work as a small-business owner, freelance writer and marketing specialist who focuses on agriculture. I work with clients ranging from the National Pork Board to Farm News, where I often interview chefs and home cooks, create recipe pages and write feature stories that highlight the farm-to-fork connection," said Maulsby.
In 2007, Maulsby completed the Master Food Preserver course through University of Illinois Extension. She earned her bachelor's degree in journalism/mass communications and history from Iowa State University (ISU) and also earned her master's degree in business administration from ISU.
Maulsby's jams have won blue ribbons at the Iowa State Fair, and cookies have earned top honors at the Clay County Fair. She is also a certified Kansas City Barbecue Society judge.
Maulsby credits a variety of sources for the inspiration for her new book.
"The stories in "A Culinary History of Iowa" have come from the Iowa State Fair, as well as long-time restaurant owners, experienced farm cooks, candy shop owners and other foodies throughout Iowa,"Maulsby said.
Maulsby is excited to share some of Iowa's culinary history with attendees Thursday evening.
"Everyone has a food story. Sometimes we don't realize just how unique-and tantalizing-Iowa's food traditions are. If you like to travel, you'll walk away from this program inspired to explore Iowa, where you can sample flavors from around the globe without leaving the state," said Maulsby. "If you have an appetite for adventure, you can't do better than Iowa when it comes to history, agriculture and one-of-kind culinary experiences."
Signed copies of her book "A Culinary History of Iowa" will be available for $24 a copy.
LINDSAY ANDERSON, Kendall Young Librarian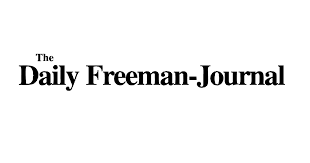 We Midwesterners are known far and wide for our excellent, down-home cuisine. Having only lived in Iowa for two years, I have already eaten enough to be amazed at Iowa's particular brand of culinary delights.
Have you ever wondered why Iowans cook – and eat – so well, and from where your signature recipes and food traditions originate? Iowa author and Lake City native, Darcy Maulsby, explores these and other food stories in her recently published book, Culinary History of Iowa. In it, she discusses everything from Maid-Rite classics to Iowan's homemade cinnamon rolls (served with chili, of course). The Library is delighted to be hosting Maulsby at Kendall Young Library on Thursday, November 17 at 6:30pm for a presentation, book signing and cooking demonstration. Maulsby has been featured in the Iowa History Journal, Our Iowa magazine, Iowa Public Radio, and more. During Maulsby's fun, interactive program, she will serve up fascinating tidbits related to more than 150 years of Iowa cuisine from all corners of the state.  Attend this free event and discover how Iowa's delectable cuisine is quintessentially Midwestern, grounded in its rich farming heritage and spiced with diverse ethnic influences.
On the Shelf
If all this talk of food has left you hungry, here are some titles that can help get some great, local Iowa eats cooking in your kitchen:  The following cookbooks were recently added to the Library's Genealogy Reference collection.  While we do not allow these unique cookbooks to be checked out, you are welcome to browse them and make copies of any recipes that catch your eye.
The Famous Old Webster City Cook Book
Curated by The Ladies' Aid Society of the Congregational Church in 1916, this cookbook boasts only "tried and tested" local recipes, including everything from waffles and pancakes, to salads and corn breads. A fun addition: the past page of this cookbook includes "Discoveries and Household Hints," a delightful list of tips and tricks from some early 1900s kitchen experts.
4-H & Friends Cookbook
Assembled in honor of the Hamilton County 4-H program's 70th anniversary in 1987, this nearly 400-page volume is painstakingly indexed, and boasts over 13 sections of recipes. Explore and discover some delightful gems; experiment with recipe choices ranging from "Shoo-Fly Cake" to "Gramma's Hamburger Soup".
St. Paul's Lutheran Church Anniversary Cookbook
Compiled by the ALCW of St. Paul's Lutheran Church of Williams, Iowa in 1987 to commemorate their 75th anniversary, this volume boasts more than 250 pages of hardy, time-tested eats that will satisfy your hunger and delight your taste buds. Try your hand at everything from "Buttermilk Cinnamon Bars," to "Zucchini Date Pecan Loaf," to "Highbrow Haddock."
Try out these locally celebrated recipes for some delicious mealtime fun, and don't forget to join us at the Library with Darcy Maulsby on Thursday, November 17 at 6:30pm for an unforgettable (not to mention delicious) journey into Iowa's culinary past.
Order you copies today!
Click here to visit my online store, where you can purchase copies of "A Culinary History of Iowa," a unique set of 15 vintage images from "A Culinary History of Iowa," and my first book, "Calhoun County," which shares the remarkable, illustrated history of small-town and rural Iowa through the eyes of those who lived it.