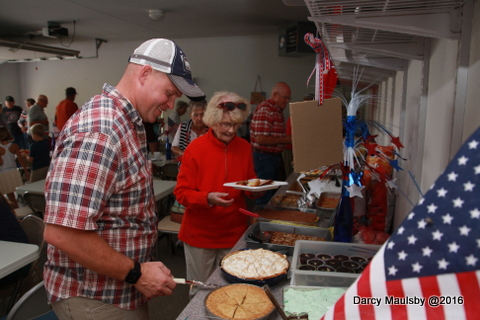 Looking for deli fried chicken, bakery pies or other pre-made convenience food? Don't be surprised if none of it turns up on the massive buffet on the Dial farm during the annual 4th of July picnic. I certainly didn't see it at this year's celebration.
"Everyone brings their A game to this event," said Jolene Schleisman of Lake City, Iowa, who has been attending the 4th of July picnic since she was a child.
While my family has been attending the picnic each July for a few years, the event started in 1954 on Bud Burley's farm near Lake City. Mike and Dorothy Nichols hosted the party the next year and maintained the tradition until 1981. Then their neighbors, Gerald and Alice Ann Dial, began hosting the celebration on their farm northwest of Lake City. In 2003, the event moved to the Dial's son Dwight's farm east of Lake City.
The celebration has been going strong ever since, attracting up to 50 or 60 guests each 4th of July. Along with the fireworks at dusk, the big attraction is the food. Countertops spanning the width of Dial's two-car garage, along with additional tables, are loaded with homemade fried chicken, roast pork, casseroles, cheese potatoes, baked beans, salads of all kinds, deviled eggs, cakes, pies, candies and more.
"I appreciate how neighbors of all ages enjoy each other's company," said Laura Holm, a teacher from Ames who grew up on a farm near Lake City and brings her family back home for the picnic. "I also love the homemade, made-from-the-heart food that comes from friends' kitchens, not store shelves. This party is about my roots, and I love to teach my kids about these roots."
At this year's celebration, Dial's son, Andy, prepared a number of favorite recipes in honor of his late grandmother, Alice Ann Dial, including her famous lemon me
ringue pie. Schleisman also brought a number of classic dishes, including glazed ham balls. Oh yeah, that amazing Iowa classic that makes any picnic a little more memorable.
"To me and the Dial kids, the 4th of July picnic was better than Christmas," Schleisman said. "I love it that this tradition continues."
I couldn't have said it better. Let's eat!
Savor more Iowa food history
Want more fun Iowa food stories and recipes? Check out my top-selling "Culinary History of Iowa" book from The History Press, and order your signed copy today. 
Fried Chicken
Andy Dial used his Grandma Alice Ann Dial's recipe and his Grandma Dottie Loeck's cast-iron skillet to make this fried chicken, which is always a star of the 4th of July picnic.
4 dozen chicken hind quarters separated into legs and thighs.
Breading:
5 cups all-purpose flour
1 1 / 2 teaspoons onion powder
1 cup whole wheat flour
1 tsp black pepper
4 tablespoons garlic salt
1 teaspoon paprika
2 tablespoons Lawry's seasoning salt
Wash:
4 eggs
1 cup whole milk
Combine breading ingredients until mixed thoroughly. Place breading mix into a 9.5-inch pie pan. Beat eggs and milk together until mixed thoroughly. Place egg wash in a separate 9.5-inch pie pan.
Place chicken pieces first in the egg wash until liberally coated; then transfer to the breading mix and turn until coated fully.  Once coated with breading, place chicken pieces into hot oil in frying pan. (Andy Dial prefers a cast-iron skillet.) Turn pieces ever 2 to 3 minutes until golden brown all over.  Place into roaster pan at 350 degrees to finish cooking through and keep warm until serving time.
Note: To keep chicken crispy, serve immediately after frying.
Glazed Ham Balls
Jolene Schleisman of Lake City uses 4 pounds of a ham-ball mix from the locker in Lake City to make these tasty ham balls. Her recipe shows how to make your own ham-ball meat mix, however. These ham balls can be made ahead and frozen (unglazed) to be baked later.
For the ham balls:
2 1 / 2 pounds ground ham
1 1 / 2 pounds ground pork
2 cups instant oatmeal or cracker crumbs
2 eggs, well beaten
1 cup milk
1 teaspoon ground pepper
For the glaze:
1 1 / 2 cups brown sugar
1 / 2 cup apple cider vinegar
1 teaspoon dry mustard
1 / 3 cup Cookies BBQ Sauce
1 / 2 cup water
2 tablespoons honey
Combine ground ham, ground pork, oatmeal or cracker crumbs, eggs, milk and pepper. Shape mixture into balls. Freeze the ham balls to bake later, or place them in a greased, glass baking dish.
To make the glaze, combine brown sugar, apple cider vinegar, dry mustard, BBQ sauce, water and honey in a saucepan. Cook over medium heat until sugar dissolves.
Pour glaze over ham balls. Bake for 1.5 to 2 hours at 275 or 300 degrees. About every 20 minutes, spoon the glaze over the ham balls as they bake. Yield: 32 ham balls
Deviled Eggs
Andy Dial used a recipe from his mother, Jane, to create this potluck favorite.
6 eggs
1 / 16 teaspoon pepper
2 tablespoons mayonnaise
1 / 4 teaspoon paprika
1 teaspoon vinegar
1 / 2 teaspoon dry mustard or 1 teaspoon prepared mustard
1 / 2 teaspoon salt
Slice hard-boiled eggs in half lengthwise.  Remove yolks, smash and mix with seasonings.  Refill egg whites with seasoned yolk mixture.

Calico Beans
Jeanne Devine of Lake City brought along this potluck classic, which she created from a recipe on the Taste of Home website. This recipe can be easily doubled for a larger group.
4 ounces bacon, diced
1 pound lean ground beef (90% lean)
1 / 2 cup chopped onion
1 can (21 ounces) pork and beans
1 can (16 ounces) kidney beans, rinsed and drained
1 can (16 ounces) butter beans, rinsed and drained
1 / 2 cup packed brown sugar
1 / 2 cup ketchup
1 tablespoon cider vinegar
1 teaspoon prepared mustard
1 teaspoon salt
In a large skillet, cook bacon over medium heat until crisp. Remove to paper towels to drain. Discard drippings. In the same skillet, cook beef and onion over medium heat until the meat is no longer pink; drain. Combine the beef mixture, bacon, beans, brown sugar, ketchup, vinegar, mustard and salt. Spoon into a greased 2-quart baking dish.
Bake, uncovered, at 325 degrees for 45 to 60 minutes or until the beans are as thick as desired. Yield: 8-10 servings.
Lemon Pie
Alice Ann Dial's signature pie is distinguished by its fresh lemon flavor.
For the filling:
2 cups sugar
4 egg yolks
2 cups water
1 / 2 cup cornstarch
Dash of salt
8 tablespoons fresh lemon juice
2 tablespoons butter
For the meringue:
4 egg whites
8 tablespoons sugar
1 / 4 teaspoon cream of tartar
To mix the pie filling: Blend sugar, egg yolks, water, cornstarch and salt. Cook until the mixture thickens and bubbles up. Remove from heat and add lemon juice and butter. Pour the filling in a pre-baked pie shell made from Alice Ann's all-purpose pastry mix (see recipe below) and cover immediately with meringue.
To make the meringue, beat the eggs whites until foamy. Add sugar and cream of tartar. Beat slowly until peaks form. Spread on pie, and bake the pie for 20 to 25 minutes at 325 degrees Fahrenheit.
All-Purpose Pastry Mix
Alice Ann Dial kept this all-purpose pastry mix on hand to save time when baking pie.
7 cups flour
4 teaspoons salt
2 cups lard
Combine all ingredients together to create a crumbled consistency, but make sure the mix doesn't clump together. Store mixture in a covered container in the refrigerator.
For a single crust:
1 1 / 2 cups all-purpose pastry mix
3 tablespoons ice-cold water
For a double crust:
3 cups all-purpose pastry mix
5 tablespoons ice-cold water
Combine the all-purpose pastry mix and ice water until the mixture leaves the sides of the bowl. Then roll out the dough. If you're making a pie shell for a lemon meringue pie, place the crust in a pie plate and prick the dough with a fork on the bottom and sides before baking the crust at 350 degrees Fahrenheit for 10 to 12 minutes.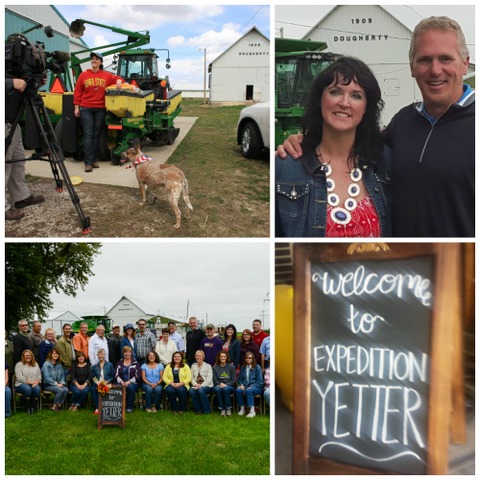 What do a water lawsuit, agri-tourism and good old Yetter, Iowa, (Everything's Better in Yetter!) have in common? They are all part of my Expedition Yetter, which was filmed, in part, on my family's Century Farm and featured on "Market to Market" on Iowa Public Television in the segment "Agri-Tourism in the Shadow of a Lawsuit."
What fun we had, including Iowa Hawkeye football legend Chuck Long, who joined the group. Wonder what really goes on at an Iowa farm? Click here to watch the clip and ride along with the first-of-its-kind Expedition Yetter, which was designed to connect small-town and urban residents with the Iowa farms and agribusinesses where their food comes from.
Here's a teaser from the show's transcript:
Last year Iowa's largest drinking water provider sued farm drainage districts in 3 counties upstream.  As trial awaits in 2017, Des Moines Water Works has alleged excess nitrate runoff from farm fertilizers plagues efforts to comply with federal guidelines for safe drinking water.  The utility claims cleaning the surface waters of the Raccoon River for half a million ratepayers in the capitol city vicinity has become an increasingly difficult and expensive task.
Bill Stowe/CEO and General Manager – Des Moines Water Works: "We're very confident that these are clear point-source groundwater polluters that are coming from agricultural use."
Ultimately, the case could redefine and broaden government jurisdiction over Waters of the United States – a prospect feared by many in farm country.
Darcy Maulsby/Expedition Yetter:  "I'm not sure a lot of people in Iowa even knew where Calhoun County was before this lawsuit."
Various producers, commodity groups, and politicians at the local and national level have called for widespread adoption of voluntary conservation methods to ward off new legislation.
But farmer and author Darcy Maulsby, who traces her lineage to a Century Farm near the small town of Yetter in one of the counties named in the lawsuit, hopes a dose of rural hospitality could mend fences.
Darcy Maulsby/Expedition Yetter:  "I've noticed this growing trend towards this rift between rural Iowa and urban Iowa – and that really troubled me."
Maulsby envisioned a journey bringing farm and city stakeholders together to help elevate the level of discourse. And after partnering with local non-profit Iowa Food & Family Project, the Iowa Soybean Association and several other food industry groups, tourists of diverse backgrounds loaded up in Des Moines early one summer morning for the maiden voyage of 'Expedition Yetter.'
To read and watch the whole story, click here. 
Explore more rural Iowa history 
Want to discover more stories and pictures that showcase the unique history of small-town and rural Iowa? Perhaps you'd like a taste of Iowa's culture and favorite recipes. Check out my top-selling "Culinary History of Iowa" book from The History Press and "Calhoun County" book from Arcadia Publishing, and order your signed copies today.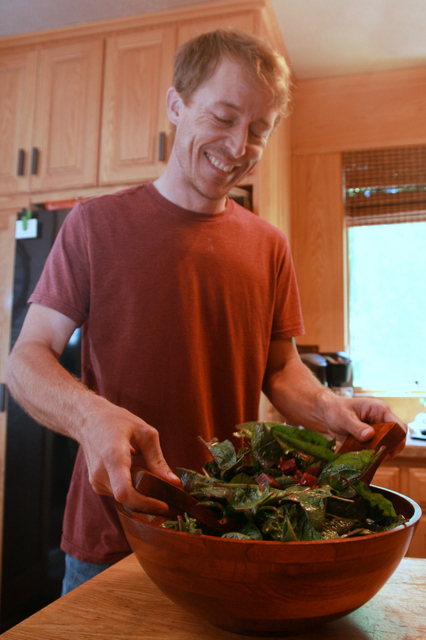 For a guy who didn't care for vegetables as a kid, Adam Nockels has come a long ways. Now he runs Iowa's Raccoon Ridge Farm, which specializes in an array of naturally-grown produce.
"My foodie friends in college, including one who is a gardener, got me interested in fresh foods and new flavors," said Nockels, who was born in Lake City but grew up on military bases before returning to the Lake City area.
Food production also appealed to Nockels, a U.S. Air Force veteran who used the G.I. Bill to attend Iowa State University, where he earned his biology degree in 2010. After completing an internship at Turtle Farm near Granger, where he learned about vegetable production and community supported agriculture (CSA), Nockels knew he wanted to work in production agriculture. When he proposed the idea of starting a farm on the land his family owns between Lake City and Auburn, his grandparents Dennis and Sheila Moulds liked the idea.
"My Grandma Sheila and my mom, Debby, have green thumbs," said Nockels, who has 10 acres in Raccoon Ridge Farm, which includes 2.5 to 3 acres of vegetables grown with organic practices. "I also like working outdoors and growing healthy food for people."
Nockels grows a wide variety of crops, including green beans, spinach, lettuce, radishes, strawberries, kale, herbs, squash, peas, potatoes, beets, heirloom tomatoes and more, which he sells at the Lake City Farmers Market and through his weekly CSA deliveries in Lake City, Rockwell City and Carroll. Nockels' favorite heirloom tomato is the Cherokee Purple Tomato, a flavorful variety that was reportedly gifted to a farmer in Tennessee in the 1890s from Cherokee natives. "Nothing is better than an heirloom tomato," Nockels said. "For me, it's either slice, salt and go, or use the tomato in a BLT sandwich."
Nockels' weekly newsletters for CSA customers include a list of produce supplied that week, brief descriptions of the unique items in the box, tips for storing the produce, recipes and seasonal cooking tips such as how to roast chile peppers. Some of Nockels most popular items are his green beans. In 2015, the sandy, loamy soils of Raccoon Ridge Farm produced almost 450 pounds of green beans, so full-share holders received roughly 23 pounds of green beans each.
Nockels enjoys experimenting with new recipes, as well as relying on tried-and-true family recipes, to showcase the bounty of the harvest. "When good food is prepared properly, it tastes better. This is guilt-free eating."
Savor more of Iowa and its food stories, history and more
Want more fun Iowa food stories and recipes? Sign up today for my blog updates and free e-newsletter, or click on the "Subscribe to newsletter" button at the top of my blog homepage.
Also, check out my top-selling "Culinary History of Iowa" book from The History Press, and order your signed copy today. 
You can also order my "Calhoun County" Iowa history book, postcards made from my favorite photos of rural Iowa and more at my online store. Thanks for visiting!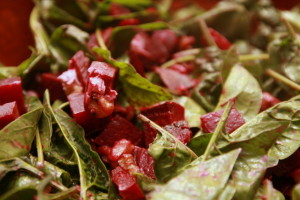 Roasted Beet Salad with Goat Cheese
1 / 4 cup balsamic vinegar
3 tablespoons shallots, thinly sliced
1 tablespoon honey
1/ 3 cup extra-virgin olive oil
Salt and freshly ground black pepper
6 medium beets, cooked and quartered
6 cups fresh greens (spinach, lettuce, arugula, etc.)
1 / 2 cup walnuts, toasted, coarsely chopped
3 ounces soft fresh goat cheese, coarsely crumbled
Line a baking sheet with tinfoil. Preheat oven to 450 degrees
Whisk the vinegar, shallots and honey in a medium bowl to blend. Gradually whisk in the olive oil. Season the vinaigrette to taste with salt and pepper. Toss the beets in a small bowl with enough dressing to coat. Place the beets on the prepared baking sheet, and roast until the beets are slightly caramelized, stirring occasionally, about 12 minutes. Set aside and cool.
Toss the greens and walnuts in a large bowl with enough vinaigrette to coat. Season the salad to taste with salt and pepper. Mound the salad atop four plates. Arrange beets around the salad. Sprinkle with goat cheese. Serve.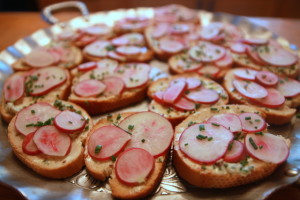 Radish Toast with Sesame-Ginger Butter
4 tablespoons butter, room temperature
3 tablespoons minced chives, divided
1 tablespoon toasted sesame seeds
3 / 4 teaspoon grated peeled fresh ginger
1 / 4 teaspoon Asian sesame oil
16 1 / 4-inch-thick baguette slices, lightly toasted
10 radishes, thinly sliced
Mix butter, 2 tablespoons chives, sesame seeds, ginger and sesame oil in small bowl; season with salt and pepper. Spread butter mixture over each bread slice. Top with radishes, overlapping slightly. Sprinkle with remaining chives.
Spinach Quiche
1 tablespoon butter
2 spring onions, minced
2 bunches spinach, thick stems removed and leaves roughly chopped
Coarse salt and ground pepper
4 ounces Gruyere or Swiss cheese, grated (about 1 cup)
1 frozen pie crust
4 large eggs
1 1 / 2 cups half-and-half
Dash of ground nutmeg
1 teaspoon salt
1 teaspoon pepper
Preheat oven to 350 degrees, with racks set in upper and lower thirds. In a large skillet, heat butter over medium. Add spring onions, and cook, stirring occasionally, until softened, 1 to 2 minutes. Add as much spinach to skillet as will fit; season with salt and pepper, and toss, adding more spinach as room becomes available, until wilted, 2 to 3 minutes.
Transfer spinach mixture to a colander. Press firmly with the back of a spoon to squeeze out as much liquid as possible. Sprinkle cheese onto crust. Spread spinach mixture over shredded cheese.
In a large bowl, whisk together eggs, half-and-half, nutmeg, 1 teaspoon salt and 1 teaspoon pepper. Pour egg mixture into crust.
Bake until center of quiche is just set, 55 to 60 minutes. Let quiche stand 15 minutes before serving.
Cover and refrigerate leftovers up to 1 day. Reheat at 350 degrees until warm in the center, 30 to 40 minutes.
Easy Kale Chips
Preheat oven to 350 degrees. Remove large central stem from kale leaves and tear into chip sized pieces. Drizzle with olive oil and add a sprinkle of salt or seasoned salt. Bake in the oven for 10-15 minutes until leaves edges are brown but not burnt.
Peas and New Potatoes
1 pound new potatoes
1 cup shelled peas
1 tablespoon butter
1 tablespoon flour
Salt and pepper to taste
1 cup milk or half & half
Bring a large pot of water to a boil over high heat. Boil potatoes for 15 to 20 minutes, until tender. Drain.
In a medium saucepan, bring 1 cup water to a boil. Simmer peas in boiling water for 6 to 7 minutes, or until tender (do not overcook). Drain.
Using the same saucepan, melt butter over medium heat. Stir in flour to make a thick paste; gradually whisk in milk, stirring constantly until slightly thickened. Season with salt and pepper to taste. Add potatoes and peas to the sauce; simmer for about 5 minutes, stirring often. Serve immediately.
Crisp Tuna-Cabbage Salad
One 5-ounce can tuna, drained
2 cups finely chopped green or red cabbage, from about 4 ounces or 1 / 4 of a small head of cabbage
1 tablespoon mayonnaise
3 tablespoons plain Greek yogurt
Salt and freshly ground black pepper
Shred the tuna with a fork and mix thoroughly with the cabbage. Stir in mayonnaise and yogurt. Add salt and pepper to taste. Eat immediately, or refrigerate for up to two days. Makes two 1-cup servings.
Basil Pesto
1-2 cups fresh basil leaves
2-4 cloves of garlic
3 / 4 cup good olive oil
1 / 2 cup grated Parmesan cheese
1 / 4 cup pine nuts or walnuts (opt.)
Put basil in blender or food processor. Add garlic, and blend, adding olive oil slowly. Add Parmesan and pine nuts. Blend all into a thick sauce.
This is good over any hot pastas. It can be also added to salad dressing, 1 tablespoon at a time, used as a spread for tomatoes, on crackers, etc. Pesto can also be frozen in small container for use later.
Green Bean and Pasta Salad
4 ounces penne pasta, uncooked (1 1/4 cups)
4 ounces green beans, halved crosswise (about 1 cup)
1 cup canned red or kidney beans, rinsed
1/4 cup chopped fresh flat-leaf parsley
2 tablespoons grated Parmesan (2 ounces)
2 tablespoons olive oil
2 tablespoons fresh lemon juice
Kosher salt and black pepper
Cook the pasta according to the package directions, adding the green beans during the last 3 minutes of cooking. Drain and run under cold water to cool.
Toss the cooled pasta and green beans with the red beans, parsley, Parmesan cheese, olive oil, lemon juice, 1 / 2 teaspoon kosher salt, and 1 / 4 teaspoon black pepper. Divide the salad between two containers and refrigerate for up to one day.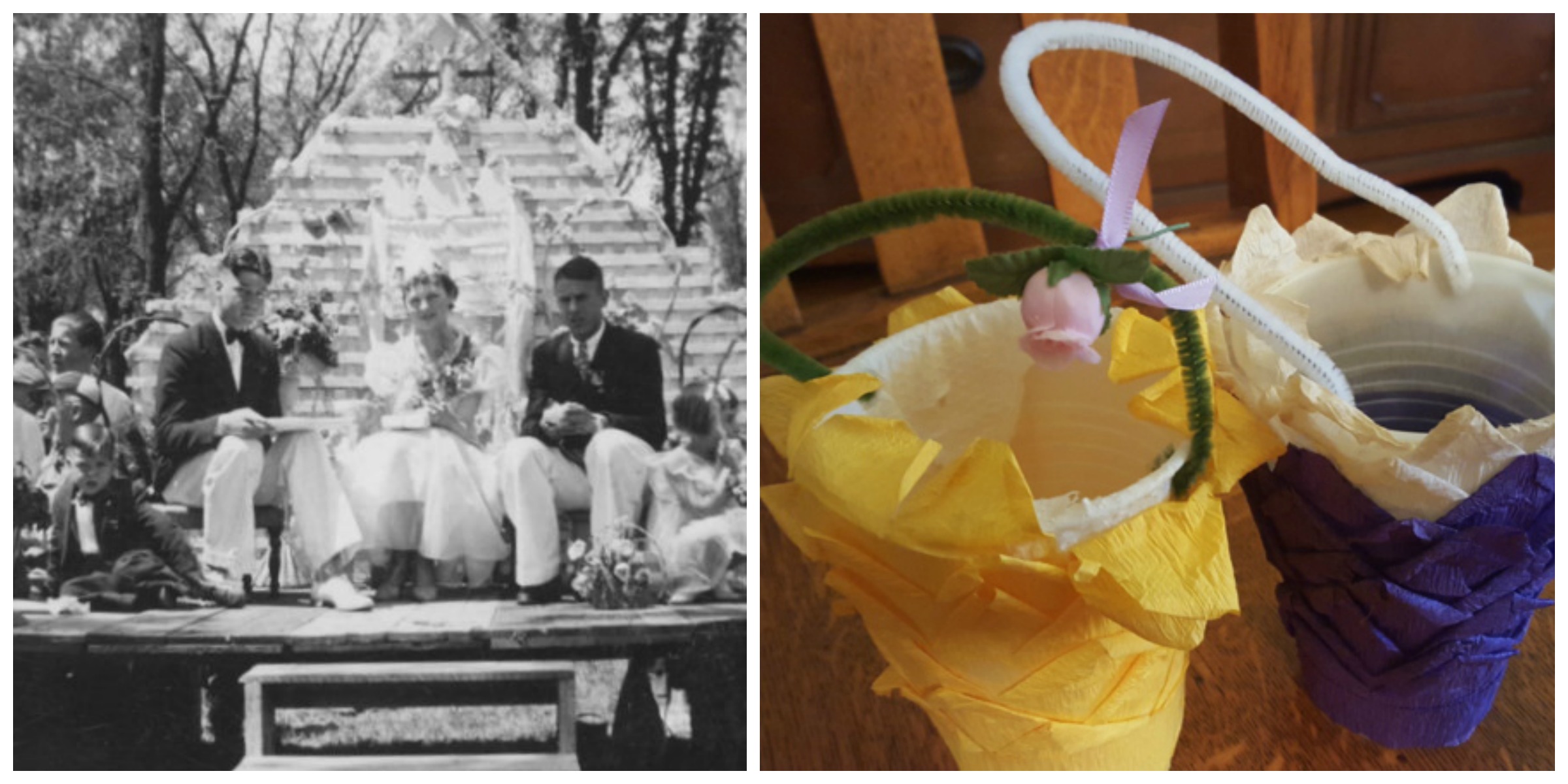 Remember the fun, colorful tradition of creating homemade May baskets? (I do.) If you're a certain age, you may even remember dancing around the May pole. (I don't). All were once beloved rites of spring here in Iowa and across America.
In many Midwestern communities, May Day celebrations were a highlight of the year. As I researched my book "Calhoun County," which showcases the history of small-town and rural Iowa through the eyes of those who lived it, I came across a unique picture. Thelma Basler, a member of the senior class of 1935, was elected May Queen by the Lohrville High School student body. In addition to voting for the May Queen
, students decorated the school flagpole in honor of May Day and delivered May baskets to friends.
While these May 1 customs have largely faded from American pop culture, they still endure in pockets of Iowa and beyond, where some of my friends' children still enjoy making May baskets filled with treats. I started thinking—where did these May Day traditions come from? A little research hinted at something less wholesome than childhood craft projects and school celebrations.
Taming a raucous rite of spring
May pole dancing, for example, dates back to ancient pagan cultures in Europe. Each spring, people would erect a May pole, often of cedar or birch, and dance around it, typically weaving colorful ribbons around the pole as they went, to ensure a fruitful planting season.
An obvious phallic symbol, a May pole was strongly associated with fertility. After the European continent became Christianized, the more raucous elements of May Day celebrations were toned down, but the May pole dance and May baskets survived in a more G-rated form. These customs were carried to America, where they endured well into the twentieth century.
May Day memories from small-town Iowa
In my home town of Lake City, Iowa, Jolene Schleisman recalls weaving ribbons around a May pole in the gymnasium/lunchroom at Lincoln Elementary School in the 1960s. This spring ritual had ended by the time I attended Lincoln Elementary in the 1980s, although I did take square-dancing lessons in
music class, a tradition that has now gone the way of the May pole.
During my time at Lincoln Elementary, I did get to experience the joy of making May baskets filled with candies and popcorn to give to friends and family. In the 2015 article "A Forgotten Tradition: May Basket Day," NPR explained the phenomenon this way:
"As the month of April rolled to an end, people would begin gathering flowers and candies and other goodies to put in May baskets to hang on the doors of friends, neighbors and loved ones on May 1. In some communities, hanging a May basket on someone's door was a chance to express romantic interest. If a basket-hanger was espied by the recipient, the recipient would give chase and try to steal a kiss from the basket-hanger."
In Lake City, homemade May baskets became a fundraiser for the ladies of the Presbyterian Church in the mid-twentieth century. Church members including Fanny Howell, principal of Lake City High School from 1928 to 1935, made May baskets out of small paper milk cartons (washed and sanitized with bleach). The ladies decorated each May basket with colorful crepe paper and attached pipe cleaners for handles.
The cheerful baskets were displayed in the front window of McIntyre Furniture store on Center Street, where the smaller baskets could be purchased for a penny apiece. Buyers could then fill the baskets with the treats of their choice and deliver them to friends around town.
Long gone are the penny May baskets, McIntyre Furniture, Fanny Howell and many of the traditions that once defined May 1 in communities across Iowa and beyond. In one respect, however, I'm glad that some major company has not rediscovered May Day, only to mar its simplicity with commercial baskets, cards and trinkets. There's still something to be said for simplicity and tradition.
Savor more Iowa food history
Want more fun Iowa food stories and recipes? Sign up today for my blog updates and free e-newsletter, or click on the "Subscribe to newsletter" button at the top of my blog homepage.
Check out my top-selling "Culinary History of Iowa" book from The History Press, and order your signed copy today.  You can also order my "Calhoun County" Iowa history book, postcards made from my favorite photos of rural Iowa and more at my online store. Thanks for visiting!