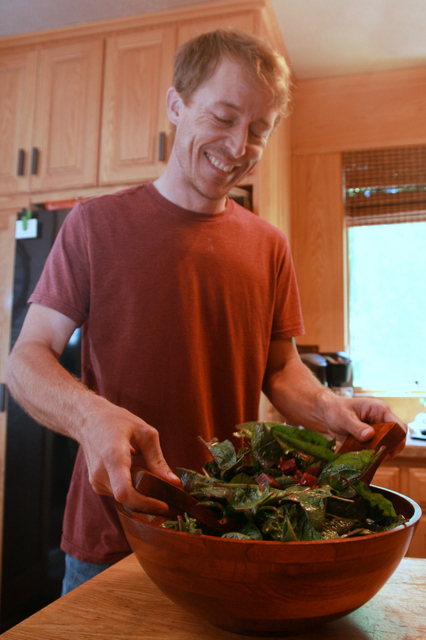 Very Veggie: Iowan's Farm-Fresh Recipes Offer Guilt-Free Eating
For a guy who didn't care for vegetables as a kid, Adam Nockels has come a long ways. Now he runs Iowa's Raccoon Ridge Farm, which specializes in an array of naturally-grown produce.
"My foodie friends in college, including one who is a gardener, got me interested in fresh foods and new flavors," said Nockels, who was born in Lake City but grew up on military bases before returning to the Lake City area.
Food production also appealed to Nockels, a U.S. Air Force veteran who used the G.I. Bill to attend Iowa State University, where he earned his biology degree in 2010. After completing an internship at Turtle Farm near Granger, where he learned about vegetable production and community supported agriculture (CSA), Nockels knew he wanted to work in production agriculture. When he proposed the idea of starting a farm on the land his family owns between Lake City and Auburn, his grandparents Dennis and Sheila Moulds liked the idea.
"My Grandma Sheila and my mom, Debby, have green thumbs," said Nockels, who has 10 acres in Raccoon Ridge Farm, which includes 2.5 to 3 acres of vegetables grown with organic practices. "I also like working outdoors and growing healthy food for people."
Nockels grows a wide variety of crops, including green beans, spinach, lettuce, radishes, strawberries, kale, herbs, squash, peas, potatoes, beets, heirloom tomatoes and more, which he sells at the Lake City Farmers Market and through his weekly CSA deliveries in Lake City, Rockwell City and Carroll. Nockels' favorite heirloom tomato is the Cherokee Purple Tomato, a flavorful variety that was reportedly gifted to a farmer in Tennessee in the 1890s from Cherokee natives. "Nothing is better than an heirloom tomato," Nockels said. "For me, it's either slice, salt and go, or use the tomato in a BLT sandwich."
Nockels' weekly newsletters for CSA customers include a list of produce supplied that week, brief descriptions of the unique items in the box, tips for storing the produce, recipes and seasonal cooking tips such as how to roast chile peppers. Some of Nockels most popular items are his green beans. In 2015, the sandy, loamy soils of Raccoon Ridge Farm produced almost 450 pounds of green beans, so full-share holders received roughly 23 pounds of green beans each.
Nockels enjoys experimenting with new recipes, as well as relying on tried-and-true family recipes, to showcase the bounty of the harvest. "When good food is prepared properly, it tastes better. This is guilt-free eating."
Savor more of Iowa and its food stories, history and more
Want more fun Iowa food stories and recipes? Sign up today for my blog updates and free e-newsletter, or click on the "Subscribe to newsletter" button at the top of my blog homepage.
Also, check out my top-selling "Culinary History of Iowa" book from The History Press, and order your signed copy today. 
You can also order my "Calhoun County" Iowa history book, postcards made from my favorite photos of rural Iowa and more at my online store. Thanks for visiting!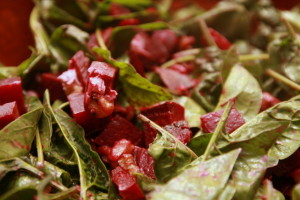 Roasted Beet Salad with Goat Cheese
1 / 4 cup balsamic vinegar
3 tablespoons shallots, thinly sliced
1 tablespoon honey
1/ 3 cup extra-virgin olive oil
Salt and freshly ground black pepper
6 medium beets, cooked and quartered
6 cups fresh greens (spinach, lettuce, arugula, etc.)
1 / 2 cup walnuts, toasted, coarsely chopped
3 ounces soft fresh goat cheese, coarsely crumbled
Line a baking sheet with tinfoil. Preheat oven to 450 degrees
Whisk the vinegar, shallots and honey in a medium bowl to blend. Gradually whisk in the olive oil. Season the vinaigrette to taste with salt and pepper. Toss the beets in a small bowl with enough dressing to coat. Place the beets on the prepared baking sheet, and roast until the beets are slightly caramelized, stirring occasionally, about 12 minutes. Set aside and cool.
Toss the greens and walnuts in a large bowl with enough vinaigrette to coat. Season the salad to taste with salt and pepper. Mound the salad atop four plates. Arrange beets around the salad. Sprinkle with goat cheese. Serve.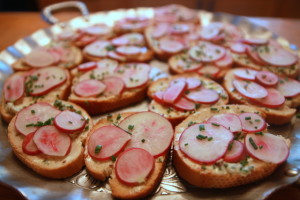 Radish Toast with Sesame-Ginger Butter
4 tablespoons butter, room temperature
3 tablespoons minced chives, divided
1 tablespoon toasted sesame seeds
3 / 4 teaspoon grated peeled fresh ginger
1 / 4 teaspoon Asian sesame oil
16 1 / 4-inch-thick baguette slices, lightly toasted
10 radishes, thinly sliced
Mix butter, 2 tablespoons chives, sesame seeds, ginger and sesame oil in small bowl; season with salt and pepper. Spread butter mixture over each bread slice. Top with radishes, overlapping slightly. Sprinkle with remaining chives.
Spinach Quiche
1 tablespoon butter
2 spring onions, minced
2 bunches spinach, thick stems removed and leaves roughly chopped
Coarse salt and ground pepper
4 ounces Gruyere or Swiss cheese, grated (about 1 cup)
1 frozen pie crust
4 large eggs
1 1 / 2 cups half-and-half
Dash of ground nutmeg
1 teaspoon salt
1 teaspoon pepper
Preheat oven to 350 degrees, with racks set in upper and lower thirds. In a large skillet, heat butter over medium. Add spring onions, and cook, stirring occasionally, until softened, 1 to 2 minutes. Add as much spinach to skillet as will fit; season with salt and pepper, and toss, adding more spinach as room becomes available, until wilted, 2 to 3 minutes.
Transfer spinach mixture to a colander. Press firmly with the back of a spoon to squeeze out as much liquid as possible. Sprinkle cheese onto crust. Spread spinach mixture over shredded cheese.
In a large bowl, whisk together eggs, half-and-half, nutmeg, 1 teaspoon salt and 1 teaspoon pepper. Pour egg mixture into crust.
Bake until center of quiche is just set, 55 to 60 minutes. Let quiche stand 15 minutes before serving.
Cover and refrigerate leftovers up to 1 day. Reheat at 350 degrees until warm in the center, 30 to 40 minutes.
Easy Kale Chips
Preheat oven to 350 degrees. Remove large central stem from kale leaves and tear into chip sized pieces. Drizzle with olive oil and add a sprinkle of salt or seasoned salt. Bake in the oven for 10-15 minutes until leaves edges are brown but not burnt.
Peas and New Potatoes
1 pound new potatoes
1 cup shelled peas
1 tablespoon butter
1 tablespoon flour
Salt and pepper to taste
1 cup milk or half & half
Bring a large pot of water to a boil over high heat. Boil potatoes for 15 to 20 minutes, until tender. Drain.
In a medium saucepan, bring 1 cup water to a boil. Simmer peas in boiling water for 6 to 7 minutes, or until tender (do not overcook). Drain.
Using the same saucepan, melt butter over medium heat. Stir in flour to make a thick paste; gradually whisk in milk, stirring constantly until slightly thickened. Season with salt and pepper to taste. Add potatoes and peas to the sauce; simmer for about 5 minutes, stirring often. Serve immediately.
Crisp Tuna-Cabbage Salad
One 5-ounce can tuna, drained
2 cups finely chopped green or red cabbage, from about 4 ounces or 1 / 4 of a small head of cabbage
1 tablespoon mayonnaise
3 tablespoons plain Greek yogurt
Salt and freshly ground black pepper
Shred the tuna with a fork and mix thoroughly with the cabbage. Stir in mayonnaise and yogurt. Add salt and pepper to taste. Eat immediately, or refrigerate for up to two days. Makes two 1-cup servings.
Basil Pesto
1-2 cups fresh basil leaves
2-4 cloves of garlic
3 / 4 cup good olive oil
1 / 2 cup grated Parmesan cheese
1 / 4 cup pine nuts or walnuts (opt.)
Put basil in blender or food processor. Add garlic, and blend, adding olive oil slowly. Add Parmesan and pine nuts. Blend all into a thick sauce.
This is good over any hot pastas. It can be also added to salad dressing, 1 tablespoon at a time, used as a spread for tomatoes, on crackers, etc. Pesto can also be frozen in small container for use later.
Green Bean and Pasta Salad
4 ounces penne pasta, uncooked (1 1/4 cups)
4 ounces green beans, halved crosswise (about 1 cup)
1 cup canned red or kidney beans, rinsed
1/4 cup chopped fresh flat-leaf parsley
2 tablespoons grated Parmesan (2 ounces)
2 tablespoons olive oil
2 tablespoons fresh lemon juice
Kosher salt and black pepper
Cook the pasta according to the package directions, adding the green beans during the last 3 minutes of cooking. Drain and run under cold water to cool.
Toss the cooled pasta and green beans with the red beans, parsley, Parmesan cheese, olive oil, lemon juice, 1 / 2 teaspoon kosher salt, and 1 / 4 teaspoon black pepper. Divide the salad between two containers and refrigerate for up to one day.