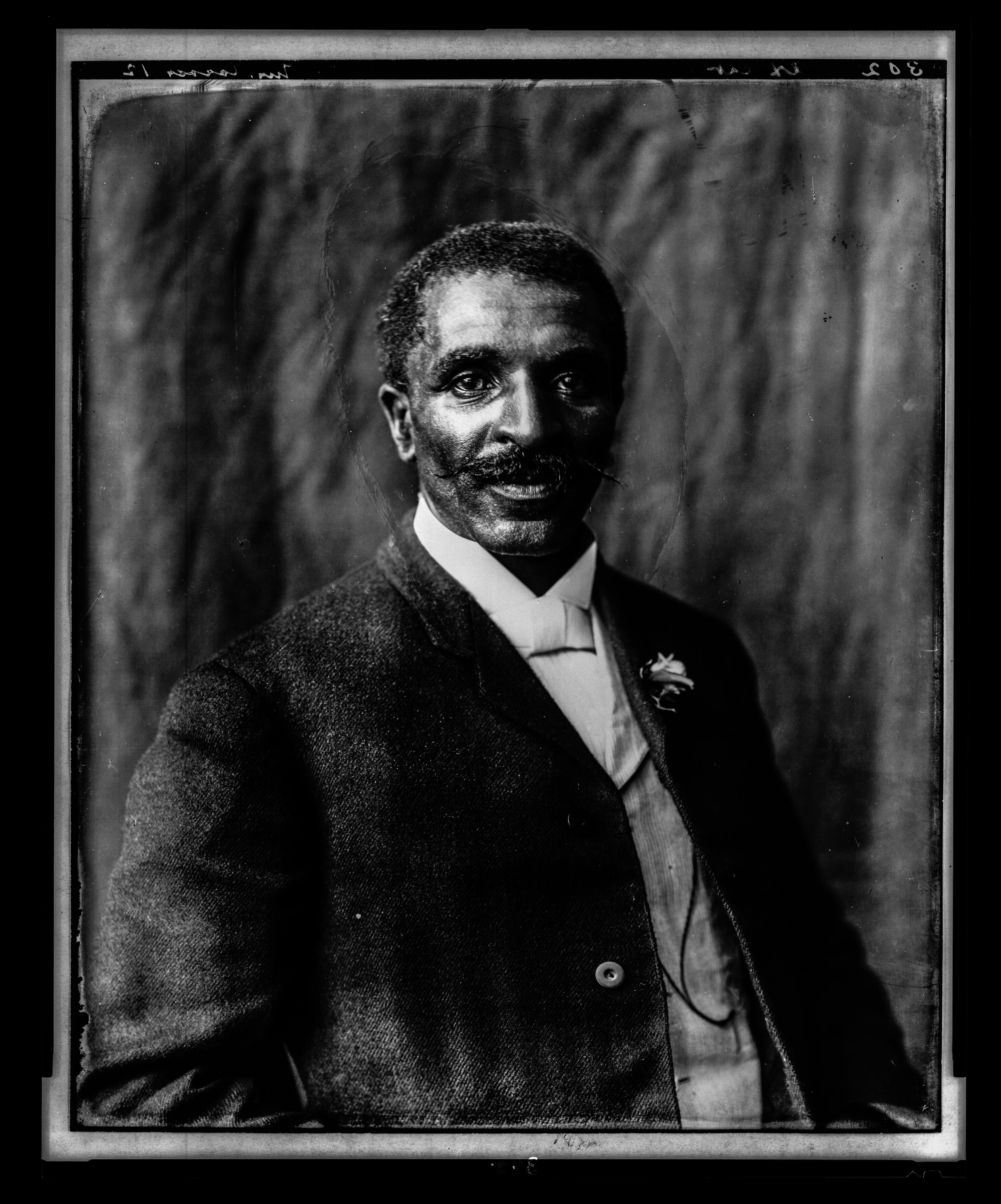 George Washington Carver Rose from Slavery to Ag Scientist
A man who was born a slave changed the world with his agricultural innovations, and the seeds for these contributions were planted in Iowa. When George Washington Carver was a student and faculty member at Iowa State, his research forever changed how farmers look at crop production.
While more than 120 years have passed since Carver completed his bachelor's and master's degrees at Iowa State in Ames, his spirit lives on.
Carver's journey began on a southwest Missouri farm owned by Moses and Susan Carver near the town of Diamond. It's uncertain whether Carver was born in 1864 or 1865. Both of his parents had been enslaved. His father died around the time of his birth. His mother, Mary, was given her freedom by the Carvers, and she adopted their last name.
The Carvers eventually took young George into their home and raised him as their own. He was unusually talented at almost everything he tried. By the time he was a teenager, Carver left the farm to attend a school for black children in Neosho, Missouri. For the next 10 years, Carver wandered from town to town in Missouri and Kansas in search of a better education. He supported himself by taking in laundry and doing household chores, according to. Iowa Pathways, an online learning environment from Iowa PBS.
"From a child, I had an inordinate desire for knowledge and especially music, painting, flowers, and the sciences, algebra being one of my favorite studies," Carver wrote. "I wanted to know the name of every stone and flower and insect and bird and beast. I wanted to know where it got its color, where it got its life—but there was no one to tell me."
Finding a new future, from Winterset to Ames
Carver was accepted at Highland College in Kansas, only to be turned away shortly after he arrived by school officials who were surprised by his skin color. Undeterred, he set off for Iowa, where he arrived in Winterset in 1888. This county seat town in Madison County was located along a section of the Underground Railroad that had been a hotbed of activity from 1857 through 1862, according to the Madison County Historic Preservation Commission.
While Carver found work as a hotel cook in Winterset, he wanted to be an artist—a painter—and capture the beauty of nature that so fascinated him. Friends in Winterset recognized his talents and encouraged him to enroll at Simpson College in Indianola, where he studied art and music. It took only a few months for his art teacher, Etta Budd, to realize that she had nothing else to teach the talented young man. At her urging, Carver transferred in 1891 to Iowa State College in Ames, where her father was the head of the Department of Horticulture.
Through quiet determination and perseverance, Carver excelled at his studies and became involved in all facets of campus life in Ames. He was an active participant in debating and agricultural societies and the Young Men's Christian Association (YMCA). He was also a trainer for athletic teams (including Iowa State's football team), captain of the campus military regiment and a dining room employee, according to Iowa State University (ISU). His poetry was published in the student newspaper, and his artwork was exhibited at the 1893 World's Fair in Chicago.
Carver earned his bachelor's degree in 1894. "Reading about nature is fine, but if a person walks in the woods and listens carefully, he can learn more than what is in books, for they speak with the voice of God," Carver said. His professor, Dr. Louis Pammel, encouraged him to stay at Iowa State and pursue a graduate degree. Because of his proficiency in plant breeding, Caver was asked to join the faculty. Not only did he become the first black student at the school to earn a master's degree (in 1896), but he also became Iowa State's first black faculty member, all while expanding his knowledge and skills and writing professional papers of national acclaim.
More opportunities take root
Carver planned to earn his doctorate at Iowa State, and the school wanted very much to keep him on its faculty. But then a letter arrived in 1896 that changed everything. "I cannot offer you money, position or fame," it said. "The first two you have. The last, from the place you now occupy, you will no doubt achieve. These things I now ask you to give up. I offer you in their place work—hard, hard work—the task of bringing a people from degradation, poverty and waste to full manhood." It was signed by Booker T. Washington, the principal of an industrial and teacher training institute for black students in Tuskegee, Alabama.
Washington was determined to make the Tuskegee Institute the leading black educational institution in the South. He wanted to establish an agriculture department. There were 5 million black farmers in the South. Most lived in poverty and ignorance of scientific agriculture. But to establish such a department, Washington knew that he needed a black man with an advanced degree in agriculture. There was only one such man in America: George Washington Carver.
Carver accepted Washington's offer. This opportunity to serve fit with Carver's philosophy that "education is the key to unlock the golden door of freedom." Carver urged southern farmers to rotate crops and use organic fertilizers. He preached the value of planting soil-restoring crops such as peanuts, sweet potatoes and soybeans.
At Tuskegee, Carver gained an international reputation in research, teaching and outreach. His research resulted in the creation of more than 300 products from peanuts, more than 150 uses for sweet potatoes and multiple uses for soybeans. These products contributed to rural economic improvement by offering alternative crops to cotton that were beneficial for the farmers and the land.
"Anything will give up its secrets if you love it enough," Carver wrote. "Not only have I found that when I talk to the little flower or to the little peanut they will give up their secrets, but I have found that when I silently commune with people, they give up their secrets also—if you love them enough."
Some of Carver's most interesting, plant-based innovations included diesel fuel, axle grease, hand cleaner, stains and paints, gasoline, glue, insecticide, linoleum, printer's ink, plastics, laundry soap, medicines and more.
Service measures success
During World War I, Carver worked with the U.S. Department of Agriculture (USDA) as a consultant on food and nutrition. Carver had risen to fame nationwide by the 1920s and 1930s, thanks to his agricultural pursuits. By the early 1940s, Carver was working with Henry Ford, founder of Ford Motor Company, who supported the production of ethanol as an alternative fuel and showcased a car with a lightweight plastic body made from soybeans.
Carver remained at Tuskegee until his death in 1943. Landmarks across the nation have been named in honor of Carver, including the George Washington Carver Center on the U.S. Department of Agriculture campus in Beltsville, Maryland. In Iowa, Carver's legacy is celebrated at Iowa State University, where Carver Hall was named in his honor. Through the George Washington Carver (GWC) Scholarship program, the university awards 100 scholarships in the amount of tuition to multicultural, first-year students coming to college directly out of high school.
All these tributes honor Carver, who devoted his life to education, research and community service to help others. "It is not the style of clothes one wears, neither the kind of automobile one drives, nor the amount of money one has in the bank, that counts," Carver wrote. "These mean nothing. It is simply service that measures success."
Want more?
This story is an excerpt from my book Iowa Agriculture: A History of Farming, Family and Food. Click here to learn more and order a signed copy here. 
I invite you to read more of my blog posts if you value intriguing Iowa stories and history, along with Iowa food, agriculture updates, recipes and tips to make you a better communicator.
If you're hungry for more stories of Iowa history, check out my top-selling "Culinary History of Iowa: Sweet Corn, Pork Tenderloins, Maid-Rites and More" book from The History Press. Also take a look at my other books, including "Iowa Agriculture: A History of Farming, Family and Food" from The History Press, "Dallas County" and "Calhoun County" book from Arcadia Publishing. All are filled with vintage photos and compelling stories that showcase the history of small-town and rural Iowa. Click here to order your signed copies today! Iowa postcards are available in my online store, too.
If you like what you see and want to be notified when I post new stories, be sure to click on the "subscribe to blog updates/newsletter" button at the top of this page, or click here. Feel free to share this with friends and colleagues who might be interested, too.
Also, if you or someone you know could use my writing services (I'm not only Iowa's storyteller, but a professionally-trained journalist with 20 years of experience), let's talk. I work with businesses and organizations within Iowa and across the country to unleash the power of great storytelling to define their brand and connect with their audience through clear, compelling blog posts, articles, news releases, feature stories, newsletter articles, social media, video scripts, and photography. Learn more at www.darcymaulsby.com, or e-mail me at yettergirl@yahoo.com.
Let's stay in touch. I'm at darcy@darcymaulsby.com, and yettergirl@yahoo.com.
Talk to you soon!