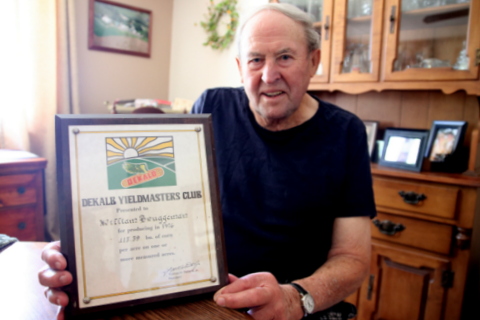 Memories of Carroll County, Iowa, Century Farm Endure
Among the most remarkable parts of rural Iowa are the thousands of families who have owned the same land for 100 years. I've had the chance to interview hundreds of Iowa families who own Century Farms. Some of these folks, like Bill Bruggeman, share the kinds of stories you never forget.
After Bill passed away this week (read his touching obituary here), I felt that sharing his story would be a fitting tribute to a dedicated, kind, hard-working Iowa farmer I respect greatly Here's his story, which I wrote in 2017 for Farm News: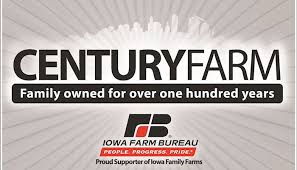 While all the buildings that once graced the Bruggeman family's Carroll County Century Farm between Lidderdale and Lake City are gone, the memories live on.
"The times keep changing," said Bill Bruggeman, 85, who lives with his wife, Doris, on a farm a few miles northeast of his family's Sheridan Township Century Farm. "This spring I saw a farmer on RFD TV who could plant 2,500 acres a day. This country is going big."
It's a big switch from the 120-acre Carroll County farm that Bruggeman's grandfather, John Bruggeman, purchased in 1903. John and his wife, Emma, had farmed near Johnson, Nebraska, before deciding their farming prospects were brighter back in Iowa.
While Bruggeman didn't grow up on the Century Farm where his grandparents lived, he has fond memories of the farmstead, which once boasted a large farmhouse and barn. "When I was a little kid I'd go across the fields on Saturday mornings to get Grandma Emma's fresh-baked cinnamon rolls," he recalled.
Good food was perk of farm life, which was often filled with long days of hard work and few luxuries. "We didn't get electricity on the farm until the 1940s and didn't get running water until the 1950s," Bruggeman said.
Horsepower sometimes came from the family's Farmall tractor, but it also came in the form of May and Babe. "I loved that team," said Bruggeman, whose family used the horses to plant corn, pull the manure spreader and haul hay. "They didn't run away."
Those were the days when 12 neighborhood families worked together in a threshing ring, a tradition that lasted until the mid-1950s. While Bruggeman's father, Carl, and the other men worked in the field, Bruggeman's mother, Marie, prepared fried chicken, roast beef, mashed potatoes, fruit pies, cream pies and more to serve the hungry men at noon.
"Around 5 p.m. you'd haul the last load of the day," said Bruggeman, who noted that the wives provided the threshing crew with snacks around 3 p.m. "The men were usually served supper, too."
The day's work wasn't done, however, since each farmer had chores to do at home. "Back then, many farms had about 20 beef cows, some dairy cows and about 10 sows," Bruggeman said.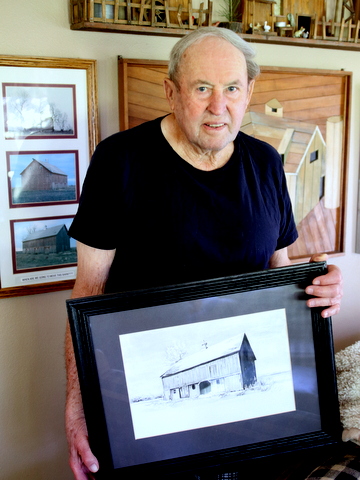 While the demands of farm work limited trips to town, there was fun to be had when it to was time to buy groceries. Bruggeman enjoyed the outdoor movies shown in Lidderdale in the summer months, back when the town had three grocery stories and about as many gas stations.  "Dad would give me a nickel so I could get a pop or popcorn," said Bruggeman, who recalled how cars were lined up on both sides of the town's busy business district.
Money was hard to come by in those days, and crop yields were nowhere close to what farmers produce today. "When I was a kid, 60 bushels per acre of corn was a really good yield," said Bill Bruggeman, who started farming full-time in 1955 after completing his military service. As improved corn hybrids become available, Bruggeman won the DEKALB Yieldmasters Club award in 1976 for producing 113.39 bushels of corn per acre.
While much has changed in agriculture since the Bruggemans were raising their four children (including Sheila, Brenda, Cathy and Brett) on the farm, the family is proud to honor the legacy of their Century Farm, which is now owned by Brett Bruggeman.
"It's wonderful to have a Century Farm," said Bruggeman, who retired from farming three years ago. "We're lucky to have one."
Bruggeman Carroll County Century Farm
• Established: 1903
• Township: Sheridan
• Acres: 120
• Century Farm Award given in 2016
• 4th generation farm
Want more?
Thanks for stopping by. I invite you to read more of my blog posts if you value intriguing Iowa stories and history, along with Iowa food, agriculture updates, recipes and tips to make you a better
If you're hungry for more stories of Iowa history, check out my top-selling "Culinary History of Iowa: Sweet Corn, Pork Tenderloins, Maid-Rites and More" book from The History Press. Also take a look at my latest book, "Dallas County," and my "Calhoun County" book from Arcadia Publishing. Both are filled with vintage photos and compelling stories that showcase he history of small-town and rural Iowa. Order your signed copies today! Iowa postcards are available in my online store, too.
If you like what you see and want to be notified when I post new stories, be sure to click on the "subscribe to blog updates/newsletter" button at the top of this page, or click here. Feel free to share this with friends and colleagues who might be interested, too.
Also, if you or someone you know could use my writing services (I'm not only Iowa's storyteller, but a professionally-trained journalist with 20 years of experience), let's talk. I work with businesses and organizations within Iowa and across the country to unleash the power of great storytelling to define their brand and connect with their audience through clear, compelling blog posts, articles, news releases, feature stories, newsletter articles, social media, video scripts, and photography. Learn more at www.darcymaulsby.com, or e-mail me at yettergirl@yahoo.com.
Let's stay in touch. I'm at darcy@darcymaulsby.com, and yettergirl@yahoo.com.
Talk to you soon!
Darcy