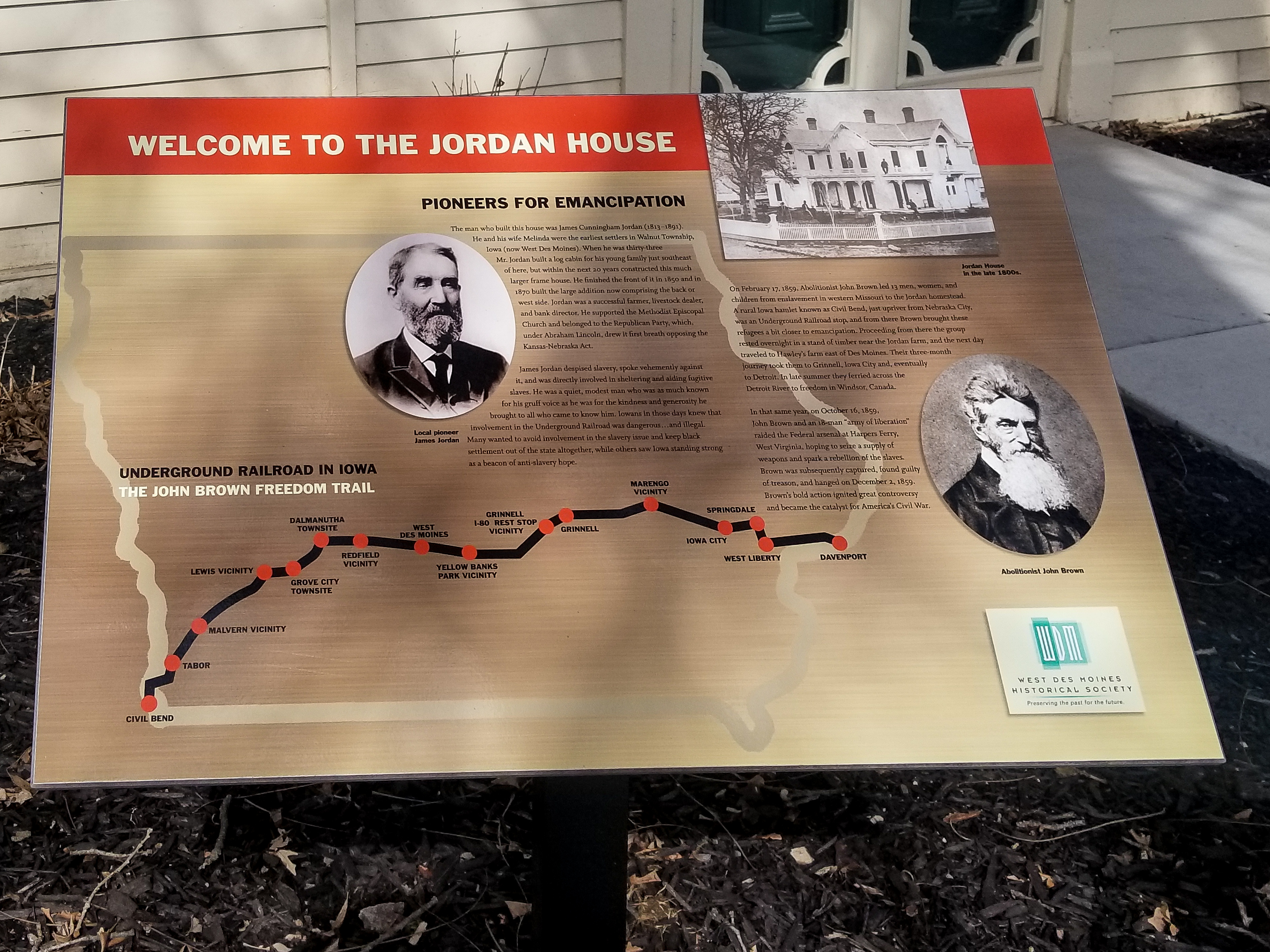 Meet Iowa Farmer James Jordan, Underground Railroad Conductor
Some call them upstanders. Others call them allies.  These courageous people are the ones who stand up to help those being oppressed, even at the risk of their own safety. In frontier Iowa, James Jordan fearlessly helped Freedom Seekers gain safe passage on the Underground Railroad route that passed near his farm in the area that would become West Des Moines.
The Underground Railroad ran across the southern and central regions of Iowa, a state where slave ownership was never legal.  This impacted pioneer farmer J Jordan (1813-1891) and his wife, Melinda, some of the earliest settlers in Polk County's Walnut Township. The land they once owned includes the stately Jordan House, which is located along Fuller Road in West Des Moines. The Jordan's farm harbored fugitive slaves during the tense days leading up to America's Civil War. Such daring deeds, however, weren't always part of the Jordan family's history.
Jordan was born in in 1813 in what is now West Virginia, in a community where slavery was ingrained in society and culture. Jordan, a cattle farmer, was expected to assist family members and neighbors in their hunt for escaped slaves. Jordan's branch of the family, however, was influenced by a religious movement called "The Great Awakening" that was sweeping the country and opposed slavery. These experiences developed Jordan's abolitionist beliefs and zeal, especially as he moved westward.
Building a new life in central Iowa
As treaties were signed between the U.S. government and the Indian tribes that agreed to move out of the Iowa territory by the mid-1840s, pioneers like Jordan were ready to move in. After Jordan settled in the Walnut Township area of Polk County, he chose a beautiful location with ancient oak, walnut and hickory trees on land gently sloping to the Raccoon River. Jordan's first shelter was a lean-to tent, which he replaced in 1848 with a log cabin.
In 1850, Jordan and his wife, Melinda, began work on the first phase of a new frame house. The family, which at that time included six children, lived for a time in the basement, which included a small kitchen and a bedroom/sitting room.
Aiding the Meskwaki
Jordan became a successful farmer, livestock dealer and bank director. Though Jordan's dream was to develop and manage a financially successful livestock business, he remained deeply committed to helping others achieve their dreams, as well. He supported the Methodist Episcopal Church and belonged to the new Republican Party, which included many members who opposed the Kansas-Nebraska Act that Congress passed in 1854.
The Kansas-Nebraska Act allowed people in the territories of Kansas and Nebraska to decide for themselves whether or not to allow slavery within their borders. The Act repealed the Missouri Compromise of 1820, which prohibited slavery north of latitude 36°30´. The Kansas-Nebraska Act infuriated many in the North, who considered the Missouri Compromise to be a long-standing, binding agreement. There was strong support for the Kansas-Nebraska Act, however, in the pro-slavery South.
Pro-slavery and anti-slavery supporters rushed in to settle Kansas and impact the outcome of the first election held there after the law went into effect. Violence soon erupted, with the anti-slavery forces led by the radical abolitionist John Brown. The territory earned the nickname "bleeding Kansas" as the death toll rose.
Back in Iowa, many citizens wanted to avoid involvement in the slavery issue and keep black settlement out of the state altogether, while others saw Iowa standing strong as a beacon of anti-slavery hope. When Jordan was elected to the Iowa Senate in the mid-1850s, he was able to make a difference Sen. Jordan and his colleagues in the Iowa State Legislature helped the Meskwaki Indians achieve their dream of regaining the land they had lost in Iowa.
Speaking out against slavery 
While Jordan was described as a quiet, modest man who was widely-known for the kindness and generosity he showed to all who came to know him, he despised slavery and spoke out vehemently against it. Jordan was actively engaged in the abolitionist movement locally, becoming the "chief conductor" of the Underground Railroad in Polk County. Jordan knew that involvement in the Underground Railroad was dangerous and illegal. Nevertheless, he became directly involved in sheltering and aiding fugitive slaves from his Walnut Township farm.
At the state level, Jordan promoted the anti-slavery Republican Party, and on the national level he befriended the radical abolitionist John Brown. Brown stayed at the Jordan House at least twice, the last time in 1859 when he was leading a group of 12 slaves he had recently liberated in Missouri to freedom in Canada.
On February 17, 1859, Brown led 13 men, women and children who had been enslaved in western Missouri to the Jordan homestead. The small group had begun their journey at a rural Iowa hamlet known as Civil Bend, an Underground Railroad stop just upriver from Nebraska City, Nebraska. From there, Brown brought the refugees a bit closer to emancipation. As they neared central Iowa, the group rested in a stand of timber near the Jordan farm.
(While people on the Underground Railroad stopped at the Jordan family's property, they most likely never set foot in the actual home. Jordan was one of the largest land owners in the state, plus there were barns and outbuildings on his property, so it didn't make much sense for freedom seekers to hide in the basement of the Jordan family's home, according to the West Des Moines Historical Society in a 2018 interview with Des Moines TV station WHO Channel 13.)
After leaving the Jordan farm, the group of freedom seekers traveled the next day to a place called Hawley's farm east of Des Moines. Their three-month journey took to them to Grinnell, Iowa City and eventually to Detroit, Michigan. In the late summer of 1859, the group ferried across the Detroit River to freedom in Windsor, Canada.
Just a few months later, on October 16, 1859, John Brown and an 18-man "army of liberation" raided the federal arsenal at Harpers Ferry, West Virginia, hoping to seize a supply of weapons and spark a rebellion of slaves. Brown was subsequently captured, found guilty of treason, and hanged on December 2, 1859.
It's interesting to note that Brown's connections to James Jordan weren't his only ties to rural Iowa settlers. One line of the Underground Railroad crossed the Raccoon River in southern Dallas County. Fugitive slaves in the 1850s sometimes traveled this route to the "Quaker Divide" northeast of Dexter. Many local members of the Society of Friends (Quakers) supported anti-slavery efforts.
Some residents, like Harmon Cook, were conductors on the Underground Railroad. When Brown was in the Dexter-Redfield area before his 1859 raid on Harper's Ferry, he admonished Cook after the conductor almost got caught going to Des Moines with fugitive slaves. "Young man, never do so rash a thing as to talk and laugh out loud on the way."
While no one knows for sure how many slaves reached freedom on the Underground Railroad, historians estimate that 1,000 slaves per year made the attempt. Most who tried did not have the benefit of someone like John Brown or Harriet Tubman to guide them along the journey and were not successful.
Seeking the north star of freedom
Jordan's role in the Underground Railroad has been honored for generations. "The History of Polk County," published in 1880, stated that "Jordan has been a life-long enemy of slavery; his devotion to the political life as a staunch and stalwart Republican is the outgrowth of deep-seated conviction; it is among the pleasant things to remember, that under his protecting roof John Brown and his associates, with more than a score of recently liberated slaves, have offered their prayers and sung their first jubilee hymns on their way to Canada…."
Jordan passed away in 1891, but his story lives on. Today, the Jordan House, a stately Victorian home of Italianate Gothic design, is one of the oldest structures in Polk Country and is one of the few locations in Iowa where visitors can tour the home of an Underground Railroad conductor. The home is listed on the National Register of Historic Places and is part of the National Underground Railroad Network to Freedom Program.
Perhaps Jordan's legacy was best summarized by Jordan's pastor, who eulogized him by stating, "In the days of slavery this great heart reached out and helped the oppressed, seeking the north star of freedom."
Click here to learn more if you'd like to plan a visit the Jordan House in West Des Moines. 
Want more?
This story is an excerpt from my book Iowa Agriculture: A History of Farming, Family and Food. Click here to learn more and order a signed copy here. 
I invite you to read more of my blog posts if you value intriguing Iowa stories and history, along with Iowa food, agriculture updates, recipes and tips to make you a better communicator.
If you're hungry for more stories of Iowa history, check out my top-selling "Culinary History of Iowa: Sweet Corn, Pork Tenderloins, Maid-Rites and More" book from The History Press. Also take a look at my other books, including "Iowa Agriculture: A History of Farming, Family and Food" from The History Press, "Dallas County" and "Calhoun County" book from Arcadia Publishing. All are filled with vintage photos and compelling stories that showcase the history of small-town and rural Iowa. Click here to order your signed copies today! Iowa postcards are available in my online store, too.
If you like what you see and want to be notified when I post new stories, be sure to click on the "subscribe to blog updates/newsletter" button at the top of this page, or click here. Feel free to share this with friends and colleagues who might be interested, too.
Also, if you or someone you know could use my writing services (I'm not only Iowa's storyteller, but a professionally-trained journalist with 20 years of experience), let's talk. I work with businesses and organizations within Iowa and across the country to unleash the power of great storytelling to define their brand and connect with their audience through clear, compelling blog posts, articles, news releases, feature stories, newsletter articles, social media, video scripts, and photography. Learn more at www.darcymaulsby.com, or e-mail me at yettergirl@yahoo.com.
Let's stay in touch. I'm at darcy@darcymaulsby.com, and yettergirl@yahoo.com.
Talk to you soon!
Darcy