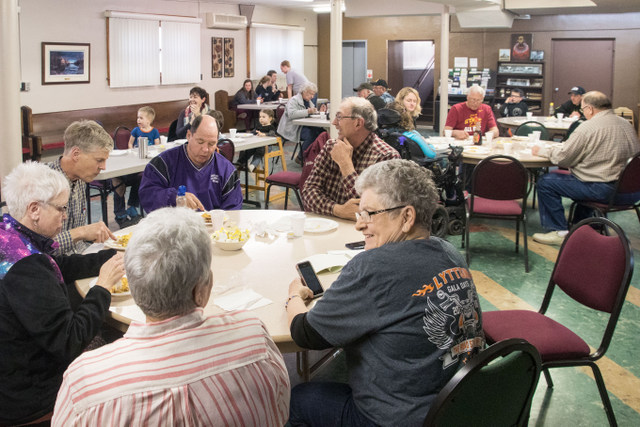 Doing Good, Eating Good at Lytton Town Night
What's the glue that keeps a community connected? Around Lytton, Iowa, it's food and fun at Lytton Town Night–and the homemade pie, of course.
While Lytton, Iowa, celebrates Gala Days each year during Memorial Day weekend, planning and fundraising for this beloved 100+ year tradition starts months earlier. In fact, a key part of the process starts in that most iconic of all small-town gathering places—the church basement.
The basement dining area at Emanuel-St John Lutheran Church, whose congregation has roots dating back to 1883, provides a convenient setting for Lytton Town Night, which is held each Thursday evening from mid-January through March. Each Town Night offers a unique opportunity for the community to come together for free-will-donation meal to raise money for various causes and organizations, including Gala Days.
"Town Night is great, because there are a lot of fabulous cooks around Lytton," said Nelda Bartels, a lifelong Lytton-area resident who often volunteers at Town Night.
As word of Town Night has spread through the years, guests come not only from Lytton, but Lake City, Sac City, Rockwell City and beyond. It's not uncommon to serve a few hundred people at each meal.
"It's like one big family when everyone gets together," said Wendy Miller with the Lytton Chamber of Commerce.
Lytton Town Night includes groups like the Gala Days volunteers, the South Central Calhoun FFA chapter, 4-H clubs, civic groups and individuals raising money for worthy causes, including overseas mission trips. The Lytton Chamber of Commerce coordinates the schedule for Town Night, which allows eight to 10 different groups and individuals to host a Town Night meal during the winter, complete with home-cooked food. Some groups serve a selection of pasta casseroles, while others like the local FFA members serve pancakes and sausage links.
"I like the food, because it's all good," said Randy Souder, a Lytton-area farmer. "It's also affordable, so everyone can come."
While no one is quite sure when Lytton Town Night started, it has been around since at least 1980, according to local-time residents. "It's such a fun event, because you get to visit with friends and neighbors you don't always see," said Marlene Glasnapp, who lives with her husband, Roger, on a farm south of Lytton and is known as one of the best pie bakers in the area.
Each Town Night event is promoted through the Lytton Town Crier and on social media through Facebook. Each meal runs from 5 p.m. to 7 p.m. each Thursday evening during the winter. The popular gatherings attract people of all ages, from babies to grandparents.
Some groups, like the Gala Days volunteers, serve a lunch and a dinner meal when it's their turn to host Town Night. "We usually have casseroles and homemade pie," Bartels said. "The homemade pie is the kicker, because it's always a hit."
When the meal is done, the fellowship continues in downtown Lytton at the 1950s-era American Legion hall for bingo. "Town Night bingo has been called Lytton's winter sport," Bartels said.
The evening of bingo lasts about an hour and a half, and participants can play as many cards as they want. Two cards cost $3, and the proceeds support the American Legion.
Town Night isn't just a fun evening, added Brian Lantz, an ag instructor at South Central Calhoun High School who advises the local FFA chapter. "It's a local tradition, plus the kids learn how to work with the public when it's their turn to cook and serve the meal."
Keeping the Town Night tradition alive is important to residents of Lytton, which has a population of 302 residents. "Every year we wonder if we'll be able have Town Night again," Miller said. "We're going to keep it going as a long as we can."
Creamy Chicken Casserole
This simple, hearty dish from Nelda Bartels of Lytton was served at the Gala Days fundraiser at Lytton Town Night in March 2018.
3 boneless, skinless chicken breasts, cooked and shredded
1 teaspoon garlic powder
1 tablespoon olive oil
1 10.75-ounce can cream of chicken soup
1 10.75-ounce can cream of mushroom soup
1 cup milk
1 bag (2 cups) shredded Cheddar cheese
1 / 2 teaspoon ground black pepper
1-pound box elbow macaroni (cooked according to package directions)
1 1 / 2 cups panko bread crumbs or regular bread crumbs
Preheat oven to 350 degrees. Cook chicken with garlic powder. (Nelda uses a programmable pressure cooker and adds a couple cups of chicken broth.) Drizzle with olive oil. When done, shred chicken with a fork, and save the juice.
Combine the two cream soups, milk, cheese, cooked chicken, broth from chicken and pepper. (If desired, add some sour cream or cream cheese into the mixture for extra flavor and creaminess.) Add cooked macaroni. Stir the mixture and pour into a 9-inch by 13-inch casserole pan.
Top casserole with panko breadcrumbs. Bake at 350 degrees for 20 to 25 minutes. Brown panko topping under broiler on low for 3 to 5 minutes. Watch closely, since the breadcrumbs can burn quickly.
Bowtie Lasagna Casserole
This tasty recipe comes from Nelda Bartels of Lytton.
1 jar spaghetti sauce
1 to 1.5 pounds ground beef
1 package bowtie pasta noodles (cooked according to package directions)
1 small carton cottage cheese
1 8-ounce package cream cheese
1 small carton sour cream
Mozzarella cheese
Preheat oven to 350 degrees. Brown hamburger; mix with spaghetti sauce. Pour sauce on bottom of 9-inch by 13-inch baking pan. Combine hamburger and bowtie pasta. Combine cottage cheese, cream cheese, and sour cream. Add to hamburger/pasta mix; pour in baking pan. Top with mozzarella cheese.
Bake at 350 degrees for 45 minutes to 1 hour.
Poppy Seed Chicken
This recipe comes from Susan Albright of Lytton.
4 chicken breasts, cooked and cubed
1 carton (16 ounces) sour cream
1 10.75-ounce can cream of chicken soup
Very small handful of spaghetti, broken into pieces and cooked (Susan Albright uses three fourths of a box of angel hair pasta)
1 stick butter
40 Ritz crackers, crushed
1 / 2 tablespoon poppy seeds
Preheat oven to 350 degrees. After cooking chicken, season to taste with garlic salt and onion. Combine sour cream and soup. Add cubed chicken and cooked spaghetti to mixture. Add salt, to taste.
Pour mixture into greased, 9-inch by 13-inch baking dish.
In a separate bowl, melt butter; add crushed crackers and poppy seeds. Sprinkle cracker mixture on top of casserole. Bake for 20 minutes.
Pie Crust
For decades, Marlene Glasnapp of rural Lytton has relied on this recipe, which yields approximately 6 crusts per batch.
5 cups flour
1 teaspoon salt
1 pound lard
1 cup water
Combine flour and salt. Cut lard into the flour mixture. Add water, a little at a time, mixing quickly and evenly until dough just holds together in a ball. Divide dough for six crusts. (The crusts can be frozen for later use, and Marlene often rolls hers out before freezing.)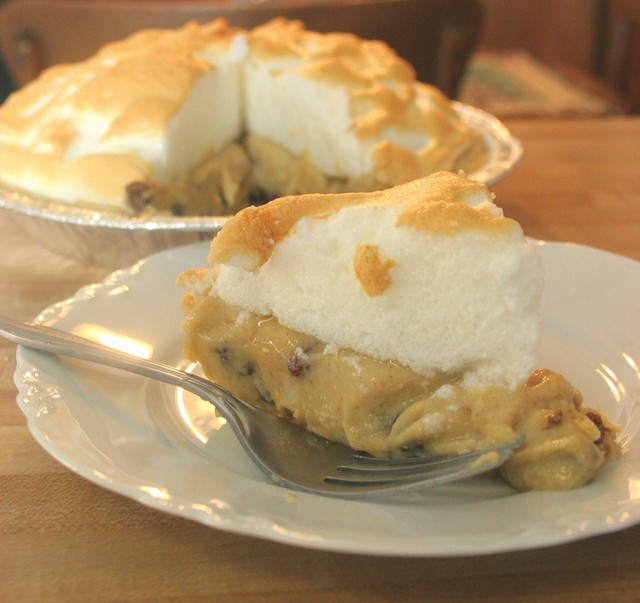 Raisin Cream Pie
Marlene Glasnapp's raisin cream pie is always a hit wherever it's served.
1 cup granulated sugar
3 tablespoons flour
1 / 2 teaspoon salt
1 teaspoon cinnamon
2 cups half-and-half
3-4 egg yolks (depends on the size of the eggs)
1 cup raisins
Mix dry ingredients with 1 / 2 cup of half-and-half, and set aside. Whisk egg yolks, and combine remaining half-and-half with the yolks. Add this mixture to the pie filling mix you set aside earlier.
Add raisins to the mixture and stir over medium heat until thick. Cool slightly. Pour in baked pie shell and top with meringue.
Meringue
1 tablespoon cornstarch
1 / 2 cup plus 1 tablespoon water
3 to 4 egg whites (depending on the size of the eggs)
3 to 4 tablespoons granulated sugar
Dissolve 1 tablespoon of cornstarch in 1 tablespoon of water. Boil 1 / 2 cup water and add to cornstarch mixture. Cook until clear. (This can be done in the microwave.) Beat egg whites and gradually add sugar. Add cooled cornstarch mixture and beat to proper consistency. Spread meringue over top of pie, sealing to the edge. Bake pie at 350 degrees Fahrenheit until meringue has browned.
Note from Darcy: I first wrote this piece in 2018 for Farm News. 
Want more?
Thanks for stopping by. I invite you to read more of my blog posts if you value intriguing Iowa stories and history, along with Iowa food, agriculture updates, recipes and tips to make you a better communicator.

If you like what you see and want to be notified when I post new stories, be sure to click on the "subscribe to blog updates/newsletter" button at the top of this page, or click here. Feel free to share this with friends and colleagues who might be interested, too.
Also, if you or someone you know could use my writing services (I'm not only Iowa's storyteller, but a professionally-trained journalist with 20 years of experience), let's talk. I work with businesses and organizations within Iowa and across the country to unleash the power of great storytelling to define their brand and connect with their audience through clear, compelling blog posts, articles, news releases, feature stories, newsletter articles, social media, video scripts, and photography. Learn more at www.darcymaulsby.com, or e-mail me at yettergirl@yahoo.com. 
If you're hungry for more stories of Iowa history, check out my top-selling "Culinary History of Iowa: Sweet Corn, Pork Tenderloins, Maid-Rites and More" book from The History Press. Also take a look at my latest book, "Dallas County," and my Calhoun County" book from Arcadia Publishing. Both are filled with vintage photos and compelling stories that showcase he history of small-town and rural Iowa. Order your signed copies today! Iowa postcards are available in my online store, too.
Let's stay in touch. I'm at darcy@darcymaulsby.com, and yettergirl@yahoo.com.
Talk to you soon!
Darcy
@Copyright 2018 Darcy Maulsby & Co.  Blog posts may only be reprinted with permission from Darcy Maulsby. 
4 responses to "Doing Good, Eating Good at Lytton Town Night"