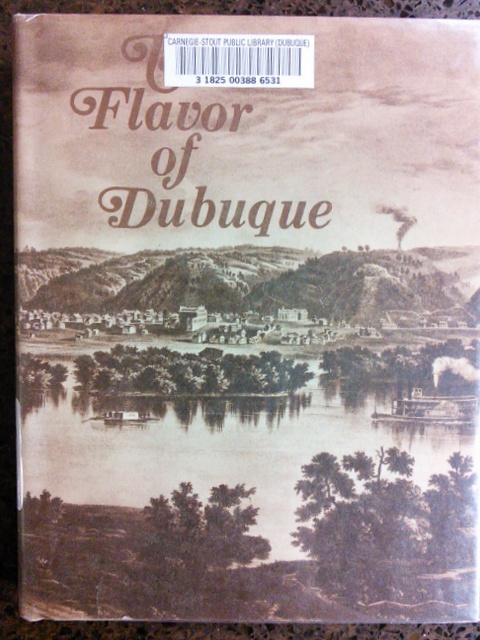 Let's Have an Iowa Potluck with a Side of History!
Dubuque is home to some of Iowa's most distinctive culinary traditions, from turkey dressing sandwiches to the memorable meals served at the iconic Hotel Julien Dubuque. We're going to be eating up all this local flavor at a potluck on Sept. 7 at the Carnegie-Stout Public Library in Dubuque, starting at 5:30 p.m., followed by my "Culinary History of Iowa" program—and you're invited!
Click here for all the details.
In meantime, here's a sample of some classic Dubuque recipes to tempt you.  These recipes come from a variety of sources, including two cookbooks (including The Flavor of Dubuque and Another Flavor of Dubuque) compiled by The Women's Auxiliary of the Dubuque Symphony Orchestra. Not only do those cookbooks include tried-and-true local recipes, but they feature many photos of local landmarks. The third cookbook (Cedar Ridge Farm Recipes) appears to have been a collection of family recipes, and librarian Sarah Smith isn't sure how it came to be in the Carnegie-Stout's collection, but it's charming.
Thanks, Sarah, for sharing these recipes and offering us a true taste of Dubuque!
One more thing–if you're in Dubuque, stop by Cremer's Grocery, a Dubuque classic since 1948, for their famous turkey dressing sandwiches and other goodies! Also, here are some fun facts about Dubuque, an All-American City that's truly a "Masterpiece on the Mississippi:"
The Flavor of Dubuque (published 1971)
Page 26
Derby Grange Steak. The present owners of what was the main farmstead in the area west of Dubuque long known as Derby Grange found this recipe behind an old picture of President Harding left by the previous owners. Cut 1 thick round steak into 1-inch pieces. Pound very thin and sprinkle with flour, salt, pepper, a little cumin and dill. Poud again and brown pieces on both sides in a little butter or other fat. Place in baking dish and pour over 1 cup tomato sauce. Bake, covered, at 300 degrees for 1 hour. Serves 7. Can be frozen. -Joan Mulgrew
Page 74
Dubuque 24-Hour Cabbage Salad. Dubuque was given credit for this recipe in a statewide newspaper story which featured foods enjoyed by Dubuque boaters who spend as much time as possible on "the best part of the Mississippi" in the golden days of summer. The salad should be refrigerated at least 24 hours before using. It will stay crisp for a long time. For the dressing combine 1 tablespoon unflavored gelatin and 1/4 cup cold water; let stand to soften. Heat together 1 cup vinegar and 1 1/2 cups sugar until sugar is dissolved. Add 1 teaspoon celery seed, 1 teaspoon salt, 1/4 teaspoon pepper and 1 cup salad oil. Combine 6 to 8 cups shredded cabbage, 2 shredded carrots, 1 grated onion and 2 green peppers, grated. Toss with enough dressing to moisten and refrigerate 24 hours. Remainder of dressing will keep in refrigerator for weeks. -Mrs. Joseph S. Mattes
Another Flavor of Dubuque (published 1983)
Page 70
Welsh Rarebit. Shred 1/2 pound Cheddar cheese, put in double boiler and let melt slowly over hot water. Keep water below boiling point. Add 1/4 teaspoon dry mustard, paprika, salt and a few dashes cayenne pepper. Stir in 1 cup milk or cream and 1 teaspoon Worcestershire sauce. Mixture should be smooth and velvety. Serve on hot buttered toast. Strips of bacon are especially good over this.
Welsh Rarebit became a traditional Sunday night supper in the girls' boarding school at Sinsinawa Mound (this is technically across the river in Wisconsin, but many of the students would have been from Dubuque.) The recipe's simplicity and flexibility accommodated the varying number of returning students each Sunday night. It was sometimes served over tomatoes or ham. -Bette F. Schmid
Page 156
Dubuque Symphony Orchestra Auxiliary English Toffee. This delicious toffee was sold at the 1981 Designer Showcase, and the Auxillary has had many, many requests for the recipe. Line cookie sheet with foil. In heavy pan mix 1 cup sugar, 1/2 pound butter, 1/4 cup water, 1/4 teaspoon salt, 1/2 teaspoon vanilla and 1 cup chopped pecans. Cook quickly over medium high heat, stirring constantly, to a rolling boil. Cook to hard crack stage, 300 degrees on candy thermometer. Pour on cookie sheet. Cool and break into pieces. Store in air tight container. Do not freeze, refrigerate or make substitutions in recipe. -Mary Stauffer
Cedar Ridge Farm Recipes by Rita Tarnutzer Montgomery (published 1999)

Page 69
Chocolate Chip Cookies (Monster Cookies)
1/2 cup margarine
1/2 cup shortening
1 cup brown sugar
1 cup white sugar
1 teaspoon vanilla
2 eggs
1 cup oatmeal
1 cup corn flakes
2+ cups flour
1 teaspoon baking powder
1 teaspoon baking soda
12 ounces chocolate chips
Bake for 10-12 minutes at 350 degrees.
NOTE from Rita: For Monster Cookies, form into 5 oz. balls and flatten into 7-inch diameter circles, two to a cookie sheet. Bake for about 14 minutes at 350 degrees. Makes 8 cookies.

In 1976, when Al had his first antique shop, on 16th and Central Ave., he had a huge glass cookie jar. His idea was to display a couple of really big cookies in it. Everyone wanted to buy them! So, I began baking these monster cookies, 32 at a time and selling them for twenty-five cents each. (They cost twelve cents each to make.) I couldn't keep up with the demand, so he raised the price to thirty-five cents and still they sold. School kids stopped on their way home from school and bought a cookie to share!
Page 159
Turkey & Dressing Sandwiches
from Janet Duscher, 12/88
Bake in a covered roaster until meat falls from bones: 1 – 12 lb. turkey
Remove meat from bones and chop.
Cook together:
1 1/2 cups cooking juices
3/4 cup margarine
2 1/2 cups chopped celery
3 medium onions, chopped
2 tablespoons sage
2 teaspoons poultry seasoning
1 – 1 ½-ounce package dry onion soup mix
1 – 10 3/4 ounces cream of chicken soup
Cube: 2 loaves of day-old bread (about 6 quarts)
Stir together bread cubes, juices with vegetables and seasonings and turkey.
Bake in a greased pan at 350 degrees until heated thoroughly, about one hour.
Serve hot in buns.
Want more?
Thanks for stopping by.  I invite you to read more of my blog posts if you want more more intriguing Iowa stories and history, along with Iowa food, recipes and tips to make you a better communicator. If you like what you see and want to be notified when I post new stories, be sure to click on the "subscribe to blog updates/newsletter" button at the top of this page. Feel free to share this information with friends and colleagues who might be interested, too.
If you're hungry for more stories of Iowa history, check out my top-selling "Culinary History of Iowa: Sweet Corn, Pork Tenderloins, Maid-Rites and More" book from The History Press, as well as my Calhoun County" book from Arcadia Publishing, which showcases the history of small-town and rural Iowa. Order your signed copies today! Iowa postcards are available in my online store, too.
Let's stay in touch. I'm at darcy@darcymaulsby.com, and yettergirl@yahoo.com.
P.S. Thanks for joining me. I'm glad you're here. 
@Copyright 2017 Darcy Maulsby & Co. 
About me:
Some people know me as Darcy Dougherty Maulsby, while others call me Yettergirl. I grew up on a Century Farm between Lake City and Yetter and am proud to call Calhoun County, Iowa, home. I'm an author, writer, marketer, business owner and entrepreneur who specializes in agriculture.  Learn more at www.darcymaulsby.com.