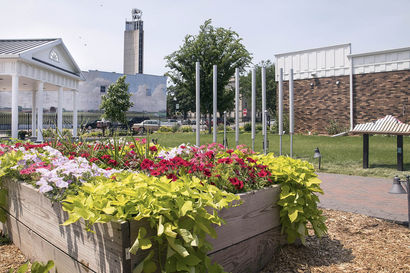 Digging Deeper: Volunteers Showcase Thomas Jefferson Gardens in Iowa
What comes to mind with the name Thomas Jefferson? President, perhaps? Avid agriculturist and gardener also fit, especially in Jefferson, where locals are quick to share this rich history.
"Cultivators of the earth are the most valuable citizens," Jefferson wrote in 1785 to John Jay, a fellow founder of the United States and first chief justice of the United States. "They are the most vigorous, the most independent, the most virtuous, and they are tied to their country and wedded to its liberty and interests by the most lasting bonds."
Jefferson frequently extolled the virtues of the agrarian life and championed self-government. His legacy and ideals are honored on in the Thomas Jefferson Gardens of Greene County, Iowa (TJGGCI), in downtown Jefferson, thanks to dedicated volunteers, local civic groups and other community-minded supporters.
A life-sized statue of Jefferson himself greets visitors to the gardens, which surround the local Welcome Center/chamber of commerce office southeast of the Greene County courthouse. "The statue is so lifelike that I think a person is sitting there when I catch a glimpse of it while I'm working," said Jean Walker, head gardener and secretary of the TJGGCI.
Jefferson's interest in agriculture blends seamlessly with a rural community like Jefferson that honors its ag heritage and looks for new ways to promote the area, said John Turpin, a retired social studies teacher and coach from Jefferson who serves as treasurer and historian for the TJGGCI. "Jefferson was a student of the flora and fauna in his home state of Virginia. He also thought agriculture was the most important career a person could have."
Making something out of nothing
So what came first in Jefferson—the statue or the garden? It all started in 2010 when Wallace Teagarden, a Greene County native, lawyer and long-time admirer of Jefferson's philosophies, wanted to combine his love of agriculture and Greene County in a lasting legacy to the author of the Declaration of Independence.
Teagarden commissioned Jon Hair, an Iowa native and world-renowned sculptor, to create a statue of Jefferson. While displaying the statue on the courthouse lawn was the original idea, it was decided that the statute should become focal point of the new TJGGCI, located just down the street to the east of the iconic Mahanay Bell Tower.
A great deal of work went into creating the nearly $1 million gardens that visitors enjoy today. "This lot where the gardens are had three dilapidated old buildings on it that had to be removed," said Mary Weaver, who leads 12-member volunteer board of the TJGGCI.
The ground itself wasn't ideal, either. Old cans and other debris were buried in the corner behind the area where a filling station once stood on the property. "Multiple truckloads of soil were hauled in here," Walker said.
Before some of the first plants could even be planted, grant writing and fundraising were essential. Project leaders received grants from Vision Iowa and Grow Greene County, along with support from Alliant Energy, West Central Cooperative (which is now Landus Cooperative, the Greene County Board of Supervisors, and countless other groups and individuals.
By 2014, the first plants were added to the new garden. Today, brick paving connects the five distinct gardens in the TJGGCI, including:
• The farmer's garden on the east. Volunteers have grown broom corn, white corn, pumpkins, squash, Yukon Gold potatoes, flax and more in this garden, which is near a replica of Jefferson's "mouldboard of least resistance" for a plow. While serving as minister to France, Jefferson had the opportunity to observe European plow designs. Their deficiencies inspired him to design an improved moldboard (the part of the plow that lifts up and turns over the sod cut by the plow share). He wished to make that lifting and turning action as efficient as possible so the plow could be pulled through the soil with the least expenditure of force. He never sought to patent his design and sent numerous models to friends at home and abroad, where his design met with general approval.
• A prairie garden on the north, filled with native plants. "This is what Lewis and Clark would have seen when they explored Iowa following the Louisiana Purchase," Turpin said.
• A children's garden, with beds made from old wagon wheels. This fun garden showcases unique plants like the sensitive plant, whose leaves and stems curl up when touched.
• A flower and rose garden on the west. This garden is filled with 1,000 plants, including many perennials ranging from irises to daylilies. This garden also includes Buck roses, which are hardy varieties developed by Dr. Griffith Buck from Iowa State University. In addition, some of the plants in the garden have been donated from local gardens, including two peony plants that are more than 100 years old, Walker said. Those are located near the garden's striking pavilion, a Federal design reminiscent of architectural styles associated with Jefferson. Even the little free library in the garden near the pavilion reflects Jefferson's legacy, since it's designed to look like Monticello, Jefferson's estate in Virginia.
• Five raised garden beds on the south. Grapevines grow on a cedar trellis just to the south of the raised beds. The raised beds are used to grow various vegetables that are donated to the local food pantry and congregate meal program. "The first year we planted crops like parsnips, turnips and kohlrabi that Jefferson planted in his own gardens," Walker said. "Those didn't prove very popular here, though, so we grow peppers, heirloom tomatoes, peas, green beans and more."
Learning and growing
Since Thomas Jefferson was interested in music as well as agriculture, the TJGGCI project leaders added whimsical, larger-than-life musical instruments, including a contra base chime and xylophone, to bring sound to the garden.
"We were inspired by the outdoor instruments at Okoboji in the Arnolds Park area," said Jacque Andrew of Jefferson, who handles marketing for the TJGGCI. "Anyone can play these instruments, and they make the garden more interactive."
So far, there has been one wedding in the garden in 2016. Tour groups from Des Moines to South Dakota have also visited the gardens.
Volunteers continue to work to make the garden even more inviting. They hope to add a third musical instrument and are hosting another year of Tuesday Talks. These free, educational lectures are held in the garden each Tuesday from noon until 1 p.m. through mid[August. Topics range from perennial gardening to birds in the garden. "A garden is always a work in progress," Walker said.
That's part of what brings people together and makes this project inspiring, Weaver added. "These gardens make me so proud of the community. We want to help Jefferson and Greene County become a destination, and the gardens are an important part of this."
People are listening
P.S. I received this wonderful note from Mary Weaver after this article I wrote ran in Farm News in July 2018: 
"On a very pleasant note, we are getting visitors because of the articles. We have, that we are aware of, three different sets of visitors from Humboldt. It is the type of visitor story we will tell the City Council when we report to them in September.
The best anecdote was a woman who was part of an assisted living bus tour that was coming to Jefferson from Humboldt, but the destination was the casino. She persuaded the driver her to bring her to TJG rather than the casino and she stayed the entire length of time the others were gambling.
The second was a couple I met yesterday during Tuesday Talks. It was their second visit for a "Tuesday Talk," they ate at a local restaurant, went shopping at the quilt and antique store.
Certainly is the type of economic/tourism development we have been hoping to create. Thank you Darcy for your splendid articles about the Thomas Jefferson Gardens."
Want more?
Thanks for stopping by. I invite you to read more of my blog posts if you value intriguing Iowa stories and history, along with Iowa food, agriculture updates, recipes and tips to make you a better communicator.

If you like what you see and want to be notified when I post new stories, be sure to click on the "subscribe to blog updates/newsletter" button at the top of this page, or click here. Feel free to share this with friends and colleagues who might be interested, too.
Also, if you or someone you know could use my writing services (I'm not only Iowa's storyteller, but a professionally-trained journalist with 20 years of experience), let's talk. I work with businesses and organizations within Iowa and across the country to unleash the power of great storytelling to define their brand and connect with their audience through clear, compelling blog posts, articles, news releases, feature stories, newsletter articles, social media, video scripts, and photography. Learn more at www.darcymaulsby.com, or e-mail me at yettergirl@yahoo.com. 
If you're hungry for more stories of Iowa history, check out my top-selling "Culinary History of Iowa: Sweet Corn, Pork Tenderloins, Maid-Rites and More" book from The History Press. Also take a look at my latest book, "Dallas County," and my Calhoun County" book from Arcadia Publishing. Both are filled with vintage photos and compelling stories that showcase he history of small-town and rural Iowa. Order your signed copies today! Iowa postcards are available in my online store, too.
Let's stay in touch. I'm at darcy@darcymaulsby.com, and yettergirl@yahoo.com.
Talk to you soon!
Darcy
@Copyright 2018 Darcy Maulsby & Co.  Blog posts may only be reprinted with permission from Darcy Maulsby.