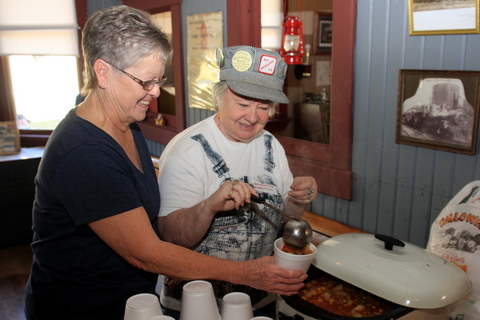 All Aboard! Rockwell City's "Depot People" Offer a Taste of Iowa History
Eating like a hobo never tasted so good, at least when the "Depot People" are cooking. The savory aromas that emanate from the historic railroad depot in Rockwell City for one afternoon each fall signal that something good is coming down the line.
"I love this little museum and enjoy giving people a taste of the past," said Carol Hupton of Rockwell City, president of the board of "Depot People" who have transformed the 1899 depot and freight shed into a museum.
During the annual fundraiser, which Hupton has helped with for the past six years, home cooking offers a feast at the Rockwell City depot a block north of the Calhoun County courthouse. Guests can dine on homemade hobo stew, hot dogs, homemade cookies, bars and more, with all proceeds going to restoration projects at the depot.
Saving the depot has been a labor of love for the Depot People, a group of about 25 people who want to preserve their community's history. "There was a time when the depot was in danger of being torn down," said Hupton, who has been volunteering with the depot museum for 10 years. "People don't always realize the important role the railroad played to help Iowa and small towns like Rockwell City grow."
The first railroad to arrive in Rockwell City was the Des Moines & Northern line, which was later taken over by the Chicago, Milwaukee & St. Paul Railway. The first passenger train rolled into town in 1881.
Rockwell City's second railroad was the Illinois Central. Surveying the land between Fort Dodge and Rockwell City for this rail line began in 1899. Around 1903, the Newton and Northwestern Line, an interurban line, became the third rail line to Rockwell City. For decades, it brought passenger cars from Newton and Des Moines every two hours from 7 a.m. to 9 p.m.
During the heyday of the railroad, Rockwell City became a stop for multiple passenger trains and freight trains each day. Weary travelers could enjoy a meal at the nearby Hotel Brower or various restaurants in town.
In time, paved roads and interstate highways led to increased traffic from cars, pickup trucks and semi-trucks across Iowa and the nation, marking the end of an era for passenger trains. Railroad transportation itself changed as powerful diesel engines replaced the steam engines that once powered the many trains that rolled across the Iowa countryside. "Now the old depot here in town stands alone as a reminder of our history with the railroads," Hupton said.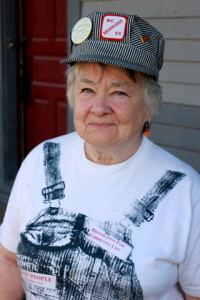 Sharing this history is important to Hupton and her fellow volunteers. The depot's fundraising meal offers another way to encourage people of all ages to visit the museum. "Many kids don't know anything about the history of the railroad in Rockwell City or other small Iowa towns," Hupton said.
That's why the Depot People have created historical exhibits in the depot, including vintage photos of the depot, to show the important role it once played in the community. A recreated hobo camp east of the freight shed also helps visitors learn how the railroad influenced people's daily life in various ways.
The Depot People continue to apply for grants and host fundraisers with meals to preserve local railroad history. A summer car show allows car, truck and motorcycle fans to display their prized vehicles, while guests can dine on pulled pork sandwiches, potato chips, homemade desserts.
In the fall, the depot becomes an informal dining room where guests can enjoy a hearty bowl of homemade hobo stew, sugar cookies, salted nut roll bars and other goodies prepared by some of Rockwell City's best cooks and depot supporters, including Maurine Zuetlau.
"Rockwell City's depot is a landmark," Hupton said. "We'll continue to do what we can to preserve this local history."
Savor more Iowa food history
Want more fun Iowa food stories and recipes? Check out my top-selling "Culinary History of Iowa" book from The History Press, and order your signed copy today. 
Hearty Hobo Stew
4 pounds rump roast, cut up into cubes
Olive oil
2 cups diced celery
1 1 / 2 cups carrots, sliced
2 cups apple-cider vinegar
2 cups French onion condensed soup
3 to 4 cups potatoes, cubed and cooked
2 cans diced tomatoes
Beef stock (use as much as desired for the right consistency of stew)
Corn kernels, optional
Peas, optional
Brown the cubes of beef in olive oil. Combine beef with remaining ingredients. Place stew in roaster and cook until heated through.
World's Best Sugar Cookies
These Amish sugar cookies come from Maurine Zuetlau of Rockwell City.
1 cup powdered sugar
1 cup granulated sugar
1 cup butter (can use half butter and half margarine)
1 cup vegetable oil
2 eggs
2 teaspoons vanilla
1 teaspoon salt
1 teaspoon cream of tartar
1 teaspoon baking soda
5 cups flour
Mix all ingredients. Roll dough into balls to form each cookie. Roll each dough ball in granulated sugar. Press down each ball with a glass dipped into granulated sugar. Bake cookies at 350 degrees for 13 to 15 minutes. Let cool on cookie sheet 2 to 3 minutes. Remove cookies and place on cooling rack.
Salted Nut Roll Bars
These tasty bars are reminiscent of salted nut roll candy bars and come from Maurine Zuetlau of Rockwell City.
1 package yellow cake mix
1 / 2 cup softened margarine
1 egg
3 cups mini marshmallows
2 / 3 cup white corn syrup
1 / 4 cup margarine
1 12-ounce package peanut butter chips
1 cup chopped, dry-roasted peanuts
Combine cake mix, 1 / 2 cup margarine and egg. Pat mixture into 9-inch by 13-inch pan. Bake at 350 degrees for 18 to 20 minutes. Cover bars with marshmallows. Return to oven for 2 to 3 minutes. (Marshmallows will puff up.) Cool.
Boil white corn syrup and 1 / 4 cup margarine. Remove from heat. Add peanut butter chips. Pour mixture over marshmallows and top with nuts. Cool completely, cut into bars.
P.S. Thanks for joining me. I'm glad you're here. 
@Copyright 2016 Darcy Maulsby & Co.