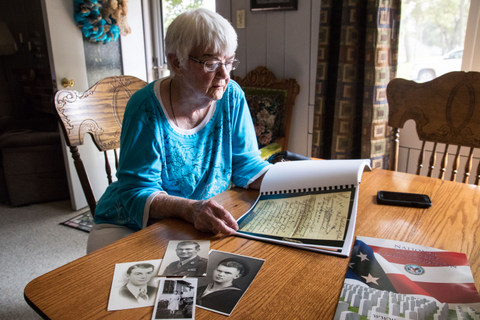 DNA Helps Sailor Killed at Pearl Harbor Return to His Family
It was the telegram no family wanted to receive. "The Navy Department deeply regrets to inform you that your son Bernard Vincent Doyle, seaman second class, U.S. Navy, is missing following action in the performance of his duty and in service of his country."
The telegram, dated December 20, 1941, was sent to Doyle's father, John. Weeks later it was confirmed that Bernard "Barney" Doyle, a 19-year-old from Red Cloud, Nebraska, had been killed in action while serving on the battleship USS Oklahoma during the Japanese attack on Pearl Harbor on December 7, 1941.
The loss still lingers. "My brother was the most caring person I knew," said Fran Nutter, 94, Doyle's younger sister who has lived in Lake City since 1947. "He was always happy, and everyone liked him."
Doyle was buried with full military honors at the Lake City Cemetery around noon on October 13, 2018, following a Mass of the Christian burial at St. Mary's Catholic Church in Lake City at 11 a.m. High-ranking members of the U.S. Navy attended the services, which were open to the public.
While Doyle's remains had been classified as non-recoverable, a new chapter in his story is being written, thanks to advances in DNA technology that allowed his remains to be identified and returned to his family. Gov. Kim Reynolds ordered that all flags in Iowa fly at half-staff from sunrise to sunset on October 13 to honor Doyle.
All this support is comforting to Nutter and her family. "I always kept Bernard's picture on display in my home," she said. "My family thinks he's a hero."
Service and sacrifice
Bernard Doyle was born in Esbon, Kansas, on January 17, 1922, and grew up on a farm with his six brothers and sisters. The family lived in south-central Nebraska, not far from where their grandfather John Doyle homesteaded in Kansas, said Nutter, who remembers the hardships of the Great Depression. "Those were the days when Dad put molasses on tumbleweeds for the cattle to eat."
After graduating from Red Cloud High School in 1940, Bernard Doyle enlisted in the U.S. Navy on May 28, 1940, in Omaha. He was later assigned to the USS Oklahoma, which was part of the U.S. Pacific Fleet.
The USS Oklahoma arrived in Pearl Harbor on December 6, 1940, one year and one day before to the fateful attack. The USS Oklahoma was on Battleship Row on the morning of December 7, 1941, when Japanese forces attacked Pearl Harbor. The Japanese used dive–bombers, fighter–bombers and torpedo planes to sink nine ships, including five battleships.
The crew of the USS Oklahoma did everything they could to fight back, according to the official website of the USS Oklahoma. In the first 10 minutes of the battle, though, eight torpedoes hit the USS Oklahoma, and she began to capsize. A ninth torpedo hit her as she sunk in the mud.
More than 2,400 Americans died during the Pearl Harbor attacks, including 429 men on the USS Oklahoma. In the aftermath of the tragedy, however, families back home didn't know if their loved ones had survived or perished.
"After I heard the news, I had a feeling my brother would be okay," said Nutter, who was working at an ammunition depot in Denver, Colorado, at the time. "I had no idea how serious things really were."
In the weeks following the Pearl Harbor attack, the remains of men lost aboard the USS Oklahoma were recovered, and 35 were identified. Doyle was not among them, though. "For two months, my parents had no word about my brother's fate," said Nutter, who has a note her parents wrote to the Navy on February 10, 1942.
John and Mary Ellen Doyle's pain is clear in the letter, which reads, "Others from Red Cloud, Nebr., whose sons were there have heard concerning them. We ask you to please give the matter your immediate attention."
"You can almost sense the desperation in my mother's letter," Nutter said.
By Feb. 13, 1942, Rear Admiral Randall Jacobs notified the Doyle family that "after an exhaustive search, it has been found impossible to locate your son…and he has therefore been officially declared to have lost his life in the service of his country as of Dec. 7, 1941."
Doyle and hundreds of other "unknowns" were buried at the National Memorial Cemetery of the Pacific located at Punchbowl Crater in Honolulu, Hawaii. "My mother accepted that this was God's way of taking my brother," Nutter said. "I never thought Bernard would be found, and I wondered what he went through in his last moments."
All four of Nutter's brothers, including Johnnie, Bernard, Eugene and Robert, served in various branches of the military during World War 2, including the Army, Navy and Marines. Of the four, only Bernard Doyle never returned.
"I know for a fact that Bernard's death inspired my brother Eugene to enlist," said Nutter, who added that Eugene Doyle was a 17-year-old high school student at the time and needed his parents' consent.
"I thank God"
Memories of Bernard Doyle, who was awarded the Purple Heart, never faded among his family. When Nutter and her late husband, Dean, traveled to Hawaii for their 45th wedding anniversary in the late 1980s, they visited the Punchbowl and saw Bernard Doyle's name on a memorial. "I didn't know his name was there, and I started to cry," Nutter said.
By 2003, the U.S. military started trying to identify individual remains of U.S. service members killed at Pearl Harbor. The process was difficult, however, since DNA technology was not as advanced as it is today. Also, remains of deceased service members were sometimes mixed together. In some cases, the partial remains of more than 100 service members were placed together in one casket.
As DNA technology advanced, the military renewed efforts to identify those killed at Pearl Harbor. In 2015, all remaining caskets at the Punchbowl that were associated with the USS Oklahoma were exhumed. The remains were transferred to laboratories in Hawaii and Offutt Air Force Base in Nebraska.
In 2015, a representative from the military called Nutter to update her and send her a DNA kit. Nutter and various family members, including her daughter Deanne Grantham of Lake City, didn't hesitate to provide DNA samples. "I thought, 'Good, we're on the right track,'" Nutter said.
Doyle was positively identified by dental remains and an incomplete skeleton in very good condition, said Chief DeShannon Beaty with the U.S. Navy, who visited Nutter and her family in Lake City in August 2018 to share the findings. "It's interesting and humbling to be part of this," said Beaty, who noted that some families like the Nutters embrace this history, while others show little interest in the identification of their ancestor's remains.
Nutter wonders if Doyle might have become a teacher had he lived. "He was so patient," she said.
In 2017, the family purchased a headstone for Bernard Doyle. Now he'll be honored properly during the October 13 ceremony, said Nutter, who has gained a new appreciation for the U.S. military after going through this experience. "I thank God so many times for everyone who helped identify my brother so we could bring him home."
Darcy's note: It was an honor to share this story of the Nutter family and Bernard Doyle, since the family members are close friends of mine. This article originally ran in the Fort Dodge Messenger. Thank you to all our servicemen and women who protect America. 
Want more?
Thanks for stopping by. I invite you to read more of my blog posts if you value intriguing Iowa stories and history, along with Iowa food, agriculture updates, recipes and tips to make you a better communicator.

If you like what you see and want to be notified when I post new stories, be sure to click on the "subscribe to blog updates/newsletter" button at the top of this page, or click here. Feel free to share this with friends and colleagues who might be interested, too.
Also, if you or someone you know could use my writing services (I'm not only Iowa's storyteller, but a professionally-trained journalist with 20 years of experience), let's talk. I work with businesses and organizations within Iowa and across the country to unleash the power of great storytelling to define their brand and connect with their audience through clear, compelling blog posts, articles, news releases, feature stories, newsletter articles, social media, video scripts, and photography. Learn more at www.darcymaulsby.com, or e-mail me at yettergirl@yahoo.com. 
If you're hungry for more stories of Iowa history, check out my top-selling "Culinary History of Iowa: Sweet Corn, Pork Tenderloins, Maid-Rites and More" book from The History Press. Also take a look at my latest book, "Dallas County," and my Calhoun County" book from Arcadia Publishing. Both are filled with vintage photos and compelling stories that showcase he history of small-town and rural Iowa. Order your signed copies today! Iowa postcards are available in my online store, too.
Let's stay in touch. I'm at darcy@darcymaulsby.com, and yettergirl@yahoo.com.
Talk to you soon!
Darcy
@Copyright 2018 Darcy Maulsby & Co.  Blog posts may only be reprinted with permission from Darcy Maulsby.