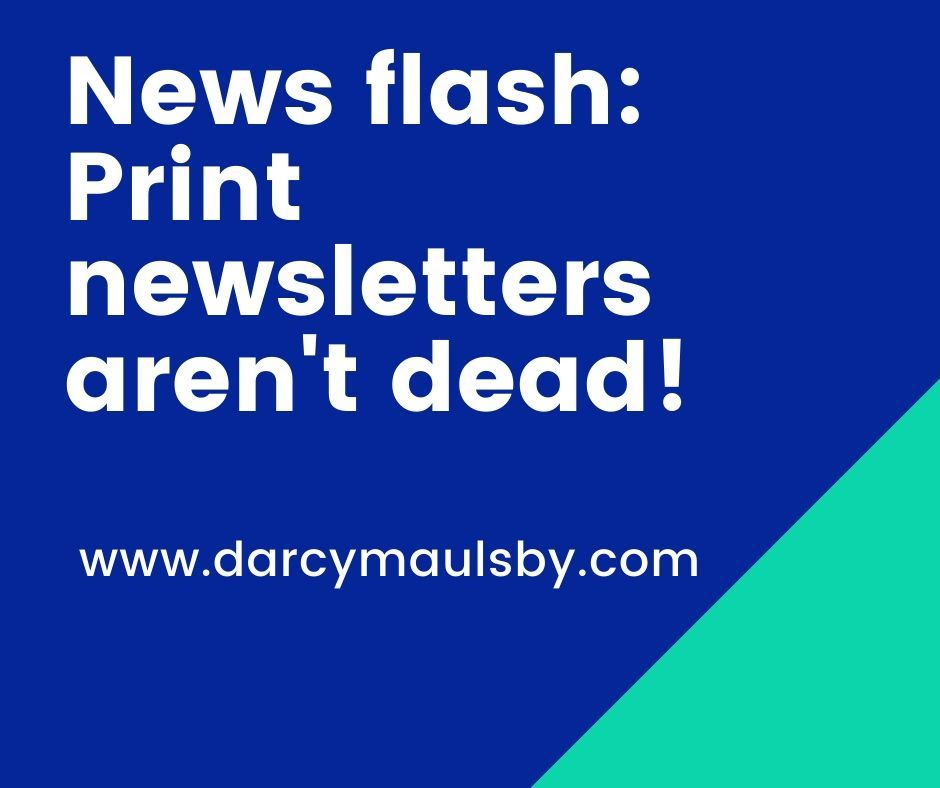 Long Live Print Newsletters! 5 Keys to Content Marketing Success
While rumors of its imminent death persist, your print newsletter is still one of the most powerful ways to connect with your customers and prospects. Customers appreciate useful, interesting, curated, well written information arriving in their mailbox. You're sure to get noticed, as more companies sacrifice print marketing in favor of digital marketing exclusively.
Why do print newsletters still work? Because they're an effective form of content marketing, when you know some of the secrets to success. This starts by creating and distributing the valuable, relevant information your target audience seeks. Do this consistently, and you'll stay top of mind and boost your sales potential.
The concept of content marketing has been around for hundreds of years. One of the first companies to embrace it in more modern times is John Deere. It launched its perennially-popular magazine The Furrow in 1895.
Click here to hear a young farmer
share why he likes to read The Furrow.
Notice the farmer said he doesn't see the name John Deere popping up all over the stories in the magazine. If fact, it's extremely rare. There's a reason why. People know when they're being sold.
Instead of pitching your products or services, provide clear, compelling information that helps your prospects and customers solve their challenges. But does this kind of content marketing work? Yep. "Content marketing generates over three times as many leads as traditional marketing — while costing 62% less," notes the
Content Marketing Institute
.
5 keys to success with print newsletters
If this sounds good, you might be wondering next steps. If you already have a newsletter program, how do you keep it going? If you had one but dropped it, how do you revive it? What if your company never had a newsletter program?
The answers are basically the same, no matter your current situation. Here are five keys to success:
1. Add value. The #1 secret of any successful content marketing, including print marketing, is to add value for your audience. The easiest way to find good story ideas that add value? Become a detective. Ask your co-workers to provide answers to timely questions they are hearing from their clients and prospects. Don't forget to have them think about the questions they think clients and prospects should be asking but aren't. Then have your team provide the answers, which make a great foundation for newsletter content.
2. Define your why. Why do you want to publish a newsletter in the first place? Want to build trust with your target audience? Want to set yourself apart from the competition? Want your team to be viewed as thought leaders in your industry? Looking for a way to boost your company's sales potential? All can be part of your why. The answers will help guide you as you invest in your content marketing and decide what to include in your newsletter. Also, think about how often to publish. Quarterly newsletters often work well. They allow you to communicate frequently enough with your target audience without overwhelming them. You won't be overwhelmed by the process, either.
3. Recruit the right talent to create the newsletter. You may have a writing enthusiast, graphic designer and/or amateur photographer or on your team already. If so, fantastic! See if they'd like to help produce the newsletter. If you don't have this kind of talent on staff, or if your team is just too busy to take on another task, the smart move is to outsource the writing, graphic design and/or photography. You may also be able to use a combination of in-house and outsourced talent. You want your newsletter to incorporate a high level of quality, which will reflect well on your company.
4. Find a reliable printer.
A good printing company ensures your final product looks good and helps ensure the newsletters are distributed properly. Your printer will likely have a graphic designer on staff, if you need that expertise. Start by asking for a price quote. The printing company will ask you a number of questions, such as how often you plan to publish your newsletter each year, how many copies you'll want for each print run, the type of paper you'd like the newsletter to be printed on, the page dimensions of the newsletter, your mailing list and more. The printing company can also advise you postal regulations, mailing costs and more. In my area, I've seen clients have good results with PSI Printing. (
Click here for details.
) I work with Mary Black at the Ft. Dodge location.
5. Leverage your content across print and digital.
Just because you've invested in print doesn't mean you still can't go digital. Why not post the newsletter on your website, too? Looking for someone to host your website and provide ongoing web services? I use Team WTI, which is owned by my friend Kim Gehling (
click here for details
) for my own website. Some of my agribusiness friends use Caliber Creative (
click here for details
) and have had great results.
I know you still may have a lot more questions about content marketing or a print newsletter program. If so, let's start the conversation.
Want more?
I invite you to read more of my blog posts if you value intriguing Iowa stories and history, along with Iowa food, agriculture updates, recipes and tips to make you a better communicator.
If you're hungry for more stories of Iowa history, check out my top-selling "Culinary History of Iowa: Sweet Corn, Pork Tenderloins, Maid-Rites and More" book from The History Press. Also take a look at my other books, including "Iowa Agriculture: A History of Farming, Family and Food" from The History Press, "Dallas County" and "Calhoun County" book from Arcadia Publishing. All are filled with vintage photos and compelling stories that showcase the history of small-town and rural Iowa. Click here to order your signed copies today! Iowa postcards are available in my online store, too.
If you like what you see and want to be notified when I post new stories, be sure to click on the "subscribe to blog updates/newsletter" button at the top of this page, or click here. Feel free to share this with friends and colleagues who might be interested, too.
Also, if you or someone you know could use my writing services (I'm not only Iowa's storyteller, but a professionally-trained journalist with 20 years of experience), let's talk. I work with businesses and organizations within Iowa and across the country to unleash the power of great storytelling to define their brand and connect with their audience through clear, compelling blog posts, articles, news releases, feature stories, newsletter articles, social media, video scripts, and photography. Learn more at www.darcymaulsby.com, or e-mail me at yettergirl@yahoo.com.
Let's stay in touch. I'm at darcy@darcymaulsby.com, and yettergirl@yahoo.com.
Talk to you soon!