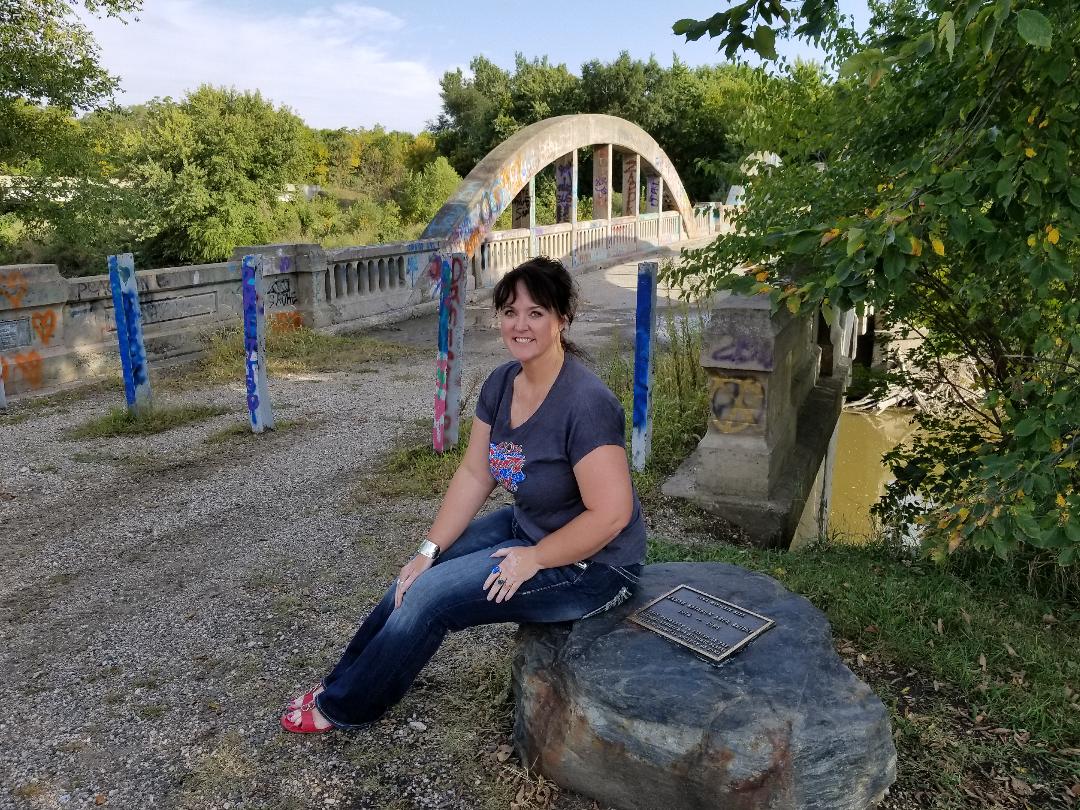 Soy Power Shines at Historic Rainbow Bridge
I was furious the minute I saw it. Blue spray paint defaced the bronze historical marker attached to a large stone south of Lake City near Rainbow Bridge, a favorite destination where I take my dad, mom and trusty red heeler, Maggie, for Sunday drives.
I snapped a photo of the crude star scrawled across the marker in mid-August and posted it on social media to express my disgust. While outraged Facebook friends posted hundreds of comments lamenting the vandalism, few solutions emerged.
I'm no graffiti removal expert and didn't know what to do next, so I turned to Google. My search led me to Natural Soy Products' graffiti remover. Not only did the product promise to remove paint, but this eco-friendly solution is made from American-grown soybeans. When I found out the company is based in Brooklyn, Iowa, I was sold and ordered two bottles of Graffiti Remover.
I was still nervous, though. Was I doing the right thing?
Rainbow Bridge spans generations of history
Iconic Rainbow Bridge has spanned the Raccoon River for more than a century southwest of Lake City and is an outstanding example of Iowa engineer James B. Marsh's rainbow arch design. Hundreds of bridges with this distinctive "rainbow" profile were constructed in the 1910s and 1920s, mainly in the Midwest, though few remain.
Despite its storied history, the local Rainbow Bridge has long been a target for graffiti. Still, I kept thinking this latest act of vandalism had gone too far. I didn't want to inflict more damage, though, in my attempt to clean up the mess.
Putting soy power to work
When my bottles of Graffiti Remover arrived, I rounded up a vegetable scrub brush, some rags, fresh water and my dog. We headed out to Rainbow Bridge late that afternoon to get to work.
While the Graffiti Remover label recommended waiting at least 10 minutes after spraying the cleaner, impatience got the best of me. I tried scrubbing off the paint after several minutes and was delighted to see promising results. In less than 15 minutes, I cleaned the entire marker and stone.
Always curious, I wanted to learn more. "Our products utilize the powerful, natural properties of soy," said Joe Barber, president and CEO of Natural Soy Products, who responded to my inquiry. He added that soybean oil and soy methyl esters can be processed into a variety of useful products, from household cleaners to industrial applications.
Many of these products have evolved from innovations in the soy biodiesel industry. It's exciting to see soy-based technology not only protecting history at Rainbow Bridge, but creating new solutions that will benefit our families and communities for generations to come.
(I first shared this story on my Facebook page in an abbreviated form. Ann Clinton, editor of the Iowa Soybean Review magazine, asked me to write the story for the Iowa Soybean Association's magazine. I was happy to oblige, and the piece you just read here appeared in the November 2017 issue. But wait–there's more! I also wrote a different version of the story for Farm News' annual soybean section in the fall of 2017. Here's the story below.) 
Cleaning Up with Soy Power: Iowa Company Redefines Eco-Friendly Cleaning Solutions
Environmentally-friendly cleaning products often make big promises, but the results don't always live up the hype—unless soybeans are involved.
"Soy works great for cleaning products, lubricants and more," said Craig Lang, former Iowa Farm Bureau Federation president and a farmer from Brooklyn, Iowa. "These products have come about because of innovations in the soy biodiesel industry."
Soy-based cleaners and other soy-based products are a specialty of Natural Soy Products in Brooklyn, which uses soy oil and soy methyl esters to produce a wide array of consumer and industrial products. "I've seen some really amazing things with these bio-based products," said Lang, who has worked with Natural Soy for almost three years. "They are highly effectively."
The Graffiti Cleaner, for example, is used by customers from California to Chicago and beyond. Soy-based products like this not only clean up messes, but they can help protect water quality.
"Water quality is an issue that needs to be at the forefront," said Joe Barber, president and CEO of Natural Soy Products LDT, a division of the Clean Environment Company. "A lot of chemicals get put down drains every day. Environmentally-friendly, soy-based cleaning products offer an alternative and can be part of the solution to improving water quality."
Growing new opportunities in Iowa
Established in 2013, Natural Soy Products is owned by Ken Budke, a U.S. Army veteran and retired Cedar Falls dentist from Cedar Falls who's an entrepreneur at heart. When Budke saw the potential of soy-based solutions for home and industrial use, he knew he was on to something, Barber said.
"Our products work, because they utilize the powerful, natural properties of soy," Barber said. "Soybean oil and soy methyl esters can be processed into many different products that benefit consumers and local soybean farmers."
Household cleaning products from Natural Soy Products and the Clean Environment Company range from barbecue grill cleaner to hand degreasers to pet shampoo, along with toilet bowl cleaners and bathroom cleaners that make lime removal simple.
"Just because these are environmentally-friendly products doesn't mean they don't work," said Barber, who noted that Natural Soy Products work well at home and in hospitals, nursing homes, businesses and more. "They are tough enough to get the job done, but gentle enough that you can get the product on your skin and it won't cause any harm."
Other soy-based products from the company are geared towards industrial use and perform well in harsh, dirty environments, Barber said. Lubricant sticks for the railroad industry are designed to protect the wheel/rail interface. These soy-based sticks offer higher lubricity than the traditional petroleum-based lubricants, providing greater maintenance and replacement cost savings. The solid material also provides a targeted application that greatly reduces maintenance costs.
Other soy-based industrial products from the company include an asphalt release concentrate that prevents asphalt from adhering to the bodies of dump trucks. A concrete sealer from Natural Soy Products includes a common ingredient that adds a plastic component to make this product even more effective.
"We have the ability to recycle Styrofoam and dissolve it into the soy blend," Barber said. "If anything is spilled on top of the sealed concrete, this makes it easy clean up the mess."
Iowa's best-kept soy secret
Many of these innovative products were showcased in late August when Natural Soy Products welcomed guests from Expedition Farm Country 2017, a two-day bus tour of eastern Iowa ag hosted by the Iowa Food & Family Project.
"Natural Soy Products has to be one of Iowa's best kept secrets," said Shannon Latham, vice president of Latham High-Tech Seeds, which helped sponsor Expedition Farm Country to help urban consumers learn about Iowa agriculture. "What impresses me most is these products are industrial-strength, effective cleaners and lubricants, yet they're safe for the environment."
Latham also appreciates that Natural Soy Products is owned by a veteran, led by farmers and committed to supporting youth organizations like 4-H and FFA.
As Expedition Farm Country guests learned, a majority of Natural Soy Products' production is located in the east-central Iowa town of Brooklyn, where the company has two locations. The company also has an office in Waterloo in the Cedar Valley TechWorks campus. The company employs about 10 people and is always looking for growth opportunities.
"Since we're a small company, it can be challenging to compete with big corporations," Barber said. "We're identifying new ways to expand our distributor network and retail presence, though, while offering our products at a competitive price."
While Natural Soy Products is based in Iowa, many of the companies' products, especially the eco-friendly household cleaners, have found some of the most receptive markets far from the Midwest. Home cleaning products from the Clean Environment Company, for example, are popular on the East Coast and West Coast, while Natural Soy Products items have seen the most demand from the Rockies to the Ohio/Indiana region.
"While the majority of our sales are outside Iowa, we're trying to change this," Barber said.
Some of the company's products can be found at Brothers Market in Parkersburg, for example. As more people hear about the benefits of home-grown soy solutions, the message is resonating with people, said Barber, who welcomes new inquiries from retailers wanting to carry items from Natural Soy Products and the Clean Environment Company.
"We need to make decisions today that will benefit our children and our children's children," Barber said. "Agriculture and soy products can be a big part of this."
What are your best cleaning tips?
So I'm curious–do you have any favorite cleaning products or eco-friendly cleaning tips? If you do, feel free to leave a comment. I'd love to hear from you.
Here's one of mine for cleaning those awful burned-on kitchen messes that happen sometimes, even to the best cooks:
Want more?
Thanks for stopping by. I invite you to read more of my blog posts if you value intriguing Iowa stories and history, along with Iowa food, agriculture updates, recipes and tips to make you a better communicator.

If you like what you see and want to be notified when I post new stories, be sure to click on the "subscribe to blog updates/newsletter" button at the top of this page. Feel free to share this information with friends and colleagues who might be interested, too.

Also, if you or someone you know could use my writing services (I'm not only Iowa's storyteller, but a professionally-trained journalist with 20 years of experience), let's talk. I work with businesses and organizations within Iowa and across the country to unleash the power of great storytelling to define their brand and connect with their audience through clear, compelling blog posts, articles, news releases, feature stories, newsletter articles, social media, video scripts, and photography. Learn more at www.darcymaulsby.com, or e-mail me at yettergirl@yahoo.com. 

Talk to you soon!

Darcy

P.S. Thanks for joining me. I'm glad you're here. 
Copyright 2017, Darcy Maulsby & Co.