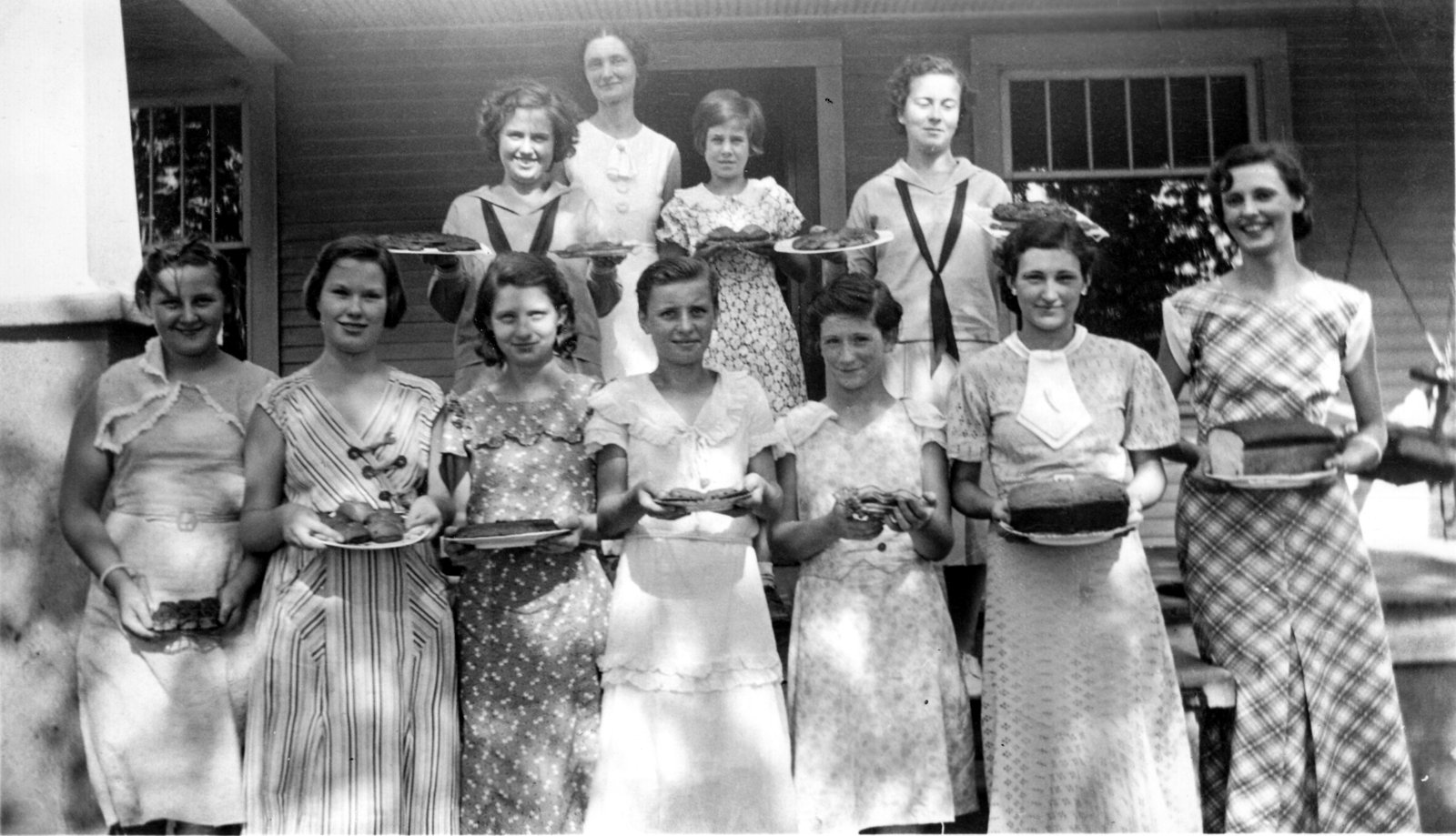 Growing with Grow: Iowa 4-H Leader Guides 100-Year-Old 4-H Club for 50 Years
With more than 50 years of experience leading the century-old Sugar Grove Sunshine 4-H Club in Dallas County, Iowa, Lorna Grow knows what it takes to help kids succeed. It doesn't mean giving everyone a participation ribbon.
"You gain confidence when you achieve," said Grow, 84, a retired teacher who has guided Sugar Grove Sunshine 4-Hers since 1966 when her oldest daughter, Glenace, joined the club. "I expect high-quality work from my 4-H kids, and I coach them to help them learn."
With her high-energy style, quick smile and lively personality, Grow is a hands-on instructor, whether she's helping the kids refinish furniture, re-cane vintage chairs, bake a pie from scratch, sew on a button, hem pants, sew flannel-lined, zippered gun cases or complete basic home repairs like fixing a hole in the wall. While she coordinates 30- to 45-minute educational workshops that are held during the club's meetings on the first Monday evening of the month, Grow doesn't stop there.
"Because I'm retired, I can devote additional time for extra activities," said Grow, a great-grandmother who marches in local parades with her 4-Hers, helps her club sponsor a county-wide cooking challenge for 4-Hers and their friends, inspires 4-Hers in design-a-room competitions, works with them throughout the Dallas County Fair and supports them at the Iowa State Fair.
Whenever there's a local 4-H activity going on, Grow is there, said Aleta Cochran, county youth coordinator for Dallas County Extension. "The kids love Lorna. She always supports the kids, listens to them, encourages them and helps them grow."
A century of believing, a future of achieving
Grow has been involved with 4-H since 1943, when she joined the Union Lassies 4-H Club in Indianola. The all-girls club followed the traditional three-year program rotation of food, clothing and home improvement.
The club that Grow would become most affiliated with, however, is the Sugar Grove Sunshine 4-H Club in Dallas County. This group dates back to 1917, when a 4-H club led by Mrs. A.J. (Mary) Hayes was founded at Sugar Grove No. 9, a one-room country school near Dallas Center. This 4-H sewing club had 10 members, met weekly and wore blue uniforms with white caps. The entire club traveled to the Iowa State Fair by car (quite an outing in those days) and marched in the state fair parade behind the 168th Infantry.
The club evolved in 1922 into the Oblegro (Observe, Learn, Grow) Club. After an A.B.C. Club was organized in 1929, the two clubs joined and eventually became the Sugar Grove Sunshine 4-H Club, named after the local township. From 1918 through about 1965, the Dallas County Farm Bureau sponsored local 4-H clubs, which were separated into girls' clubs and boys' clubs.
"We are the oldest documented 4-H club in Dallas County," said Grow, who added that 4-H clubs began to integrate in the 1990s. "I think the club's founders would be surprised their group is still going all these years later when so many other 4-H clubs have died out."
Today, the Sugar Grove Sunshine 4-H Club includes 42 boys and girls in grades 4 through 12 from Dallas Center, Adel, Van Meter, DeSoto, Perry, Grimes, Johnston and Urbandale. While it can be challenging for kids to find time for 4-H, due to busy schedules packed with sports, dance lessons and more, Grow refuses to schedule meetings on Sundays. "That's family time," she said.
Families are the key to success with any 4-H activity, she added. "I have wonderful 4-H kids because I have wonderful parents who care about their kids."
Learning skills for life
These parents value the life lessons that 4-H teaches, including decision-making skills, goal setting, leadership and teamwork. To enhance the learning, Grow assigns older 4-Hers to help mentor younger club members.
The Sugar Grove Sunshine 4-H members have also gained a new appreciation for history by helping plan the club's 100-year-anniversary celebration, which was held Sept. 24, 2016, at the iconic Lake Robbins Ballroom near Woodward.
During the program, club members performed some of the songs that earlier generations of 4-Hers enjoyed from the 4-H Song Book. "The emphasis on music back then reflected people's desire to get more culture into the rural areas," said Grow, who added that the Adel Live Wires 4-H Club had an orchestra at one time.
Club members also researched local 4-H club record books dating back to the 1930s, when club projects included altering dress patterns and answering roll-call questions like "my favorite radio program." Club members also scanned photos of previous generations of 4-Hers, including a group of girls showing off their baked goods for the 1934 Achievement Day. "Back then, you had to go through Achievement Day to have your project qualify for the Dallas County Fair," Grow said.
While those early 4-H members used to meet in club members' homes, today's Sugar Grove Sunshine 4-H members meet in the basement of the Dallas Center Church of the Brethren. They also gather once a year at the Dallas Center-Grimes school to cook a meal and host an appreciation dinner for parents and guests. "We've served everything from Mexican to Chinese and prepare a four-course meal, including appetizers," Grow said.
The learning opportunities that Grow offers 4-Hers are exceptional, emphasized Cochran with Dallas County Extension. "Lorna has done so much for 4-H. A volunteer like her is priceless."
Grow said she'll continue to serve as a club leader until she's no longer effective. "Why do I keep doing this? Because I'm having fun. I love watching these kids grow and develop skills that will benefit them throughout their life."
P.S. Thanks for joining me. I'm glad you're here. 
@Copyright 2017 Darcy Maulsby & Co.