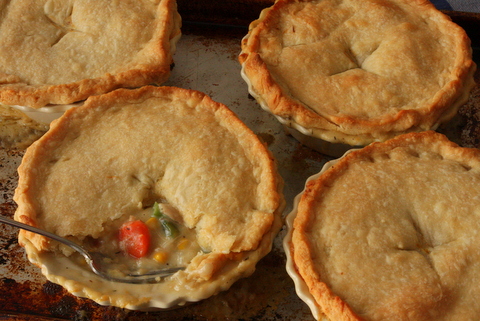 Celebrating Pi Day in Iowa with Old-Fashioned Chicken Pot Pie
As a food writer, here's my foolproof equation: Pi Day (3/14) + old-fashioned chicken pot pie = true Iowa comfort food. Foodies like me aren't nearly as concerned about the ratio of the circumference of a circle to its diameter (which is approximately 3.14159), UNLESS that pie is either a sweet or savory creation. Check out my recipe for Old-Fashioned Chicken Pot Pie (it's what's on the menu for lunch at the farm today!), including a recipe for the easiest—and tastiest—homemade pie crust.
I tip my hat to my friend Marlene (Lasher) Glasnapp of Lytton, Iowa, for the fantastic, lard-based pie crust recipe I've included below the pot-pie recipe. When you compare notes with an experienced farm cook like Marlene, don't be surprised if you find new ways to break the "rules" of pie baking outlined in the cookbooks.
"I don't use ice water when I make my pie crusts, and I prefer old-fashioned enameled pie tins to other types of pie dishes," says Marelene, who grew up on a farm near Lake City and lives with her husband, Roger, on their farm south of Lytton. "Basically, I try to keep things as simple as possible."
That includes sticking with tried-and-true favorites, such as her mother's flavorful lard pie crust recipe, which Marlene has relied on for more than 60 years. I love this pie crust for three big reasons, including 1) it's so easy, 2) it tastes great, and 3) lard-based crusts are one of the most forgiving, easy-to-work with pie pastries I've encountered.
Enough talk–let's cook!
Old-Fashioned Chicken Pot Pie
This recipe is hearty, filling and makes enough for two 9-inch pot pies. If you're not feeding a crowd, this freezes well.
2 cups diced potatoes
2 cups sliced carrots
1 cup butter
1 cup chopped onion
1 cup all-purpose flour
2 teaspoons salt
1 teaspoon dried thyme
3/4 teaspoon pepper
3 to 4 cups chicken broth
1-1/2 cups milk
4 cups cubed cooked chicken
1 cup frozen green beans
1 cup whole-kernel corn
Pie crust (either 2 packages of refrigerated pie pastry or homemade pie crust—see recipe below)
Preheat oven to 425 degrees Fahrenheit. Place potatoes and carrots in a large saucepan; add water to cover. Bring to a boil. Reduce heat; cook, covered, 8-10 minutes or until crisp-tender; drain. (I save the vegetable broth for future cooking adventures.)
In a large skillet, heat butter over medium-high heat. Add onion; cook and stir until tender. Stir in flour and seasonings until blended. Gradually stir in broth and milk. Bring to a boil, stirring constantly; cook and stir 2 minutes or until thickened. Stir in chicken, green beans, corn and potato mixture; remove from heat.
Roll out your homemade pie crust, and cut the dough into a circle big enough to cover your pie plate. OR, unroll a pre-made pastry sheet into each of two 9-in. pie plates; trim even with rims. Add chicken mixture. Unroll remaining pastry; place over filling. Trim, seal and flute edges. Cut slits in tops.
Bake 35-40 minutes or until crust is lightly browned. Let stand 15 minutes before cutting.
Freeze option: Cover and freeze unbaked pies. To use, remove from freezer 30 minutes before baking (do not thaw). Preheat oven to 425°. Place pies on baking sheets; cover edges loosely with foil. Bake 30 minutes. Reduce oven setting to 350°; bake 70-80 minutes longer or until crust is golden brown and a thermometer inserted in center reads 165°. Yield: 2 potpies (8 servings each).
World's Best Pie Crust
For more than 60 years, my friend Marlene Glasnapp has relied on this classic Iowa recipe, which yields up to 6 crusts per batch.
5 cups flour
1 teaspoon salt
1 pound lard
1 cup water
Combine flour and salt. Cut lard into the flour mixture. Add water, a little at a time, mixing quickly and evenly until dough just holds together in a ball. Divide dough for six crusts. (The crusts can be frozen for later use, and Marlene often rolls hers out before freezing.)