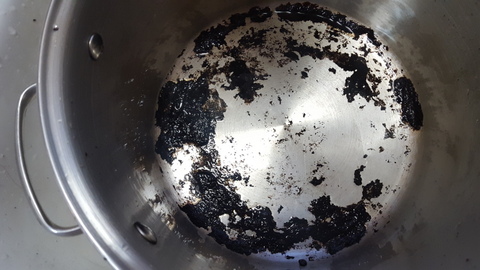 How to Clean a Burned Pan in 6 Simple Steps
Hey, it happens. If you cook, you're going to have burned-on food once in awhile. Fear not! While dish soap is no match for this kitchen foe, arm yourself with baking soda and white vinegar to concoct an inexpensive, all-natural, non-toxic way to clean up the mess with as little hassle as possible.
I'm speaking from experience here. When the crew from the "State Plate" TV show hosted by Taylor Hicks came to my family's Iowa farm recently, I was in the field filming with them as my pot of homemade Italian-Bean Soup simmered on the kitchen stove. The trouble started when I didn't get back to the kitchen in time to turn down the heat. While the soup was still tasty, a scorched portion had formed on the bottom of the stainless steel soup kettle. Ugh.
If you end up in a predicament like this, first try the simplest trick–sprinkle some powdered dishwasher detergent in the messy pan, add some hot water, and scrub. You may have to repeat this a few times, but it usually works like a charm.
If you want to try a different method, you'll need:
Vinegar
Baking soda
Water
Sturdy plastic spatula
Scouring pad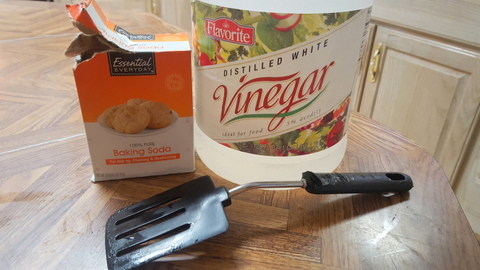 Here's how to take control of that scorched pan in 6 simple steps:
1. Fill the bottom of the pan with a layer of water to cover the scorched food.
2. Add 1 cup vinegar.
3. Bring the pan to the boil. (Some of the debris will probably start breaking loose–yeah!)
4. Remove the pan from the heat and add two generous shakes of baking soda. Watch it fizz and work its magic!
5. Empty the pan and scrub with a scouring pad. The plastic spatula can also come in handy to help loosen the scorched food. If necessary, add an extra bit of dry baking soda and keep scrubbing.
6. If there any stubborn marks don't come off, make a paste of baking soda and a couple of drops of water. Leave the paste on the marks for a while and scrub again.
Depending on how tough the scorched food is, you may need to repeat this entire process a second time. You will get good results, though–I promise.
*If you have really tough scorch, pull out a box of powdered dishwasher detergent. Pour a dollop in your pan, cover the scorched area with water, bring to a boil, and watch the detergent work its magic. You still may need to scrub, but this gets results fast! 
Congratulations, and good job! Now you're ready to cook again.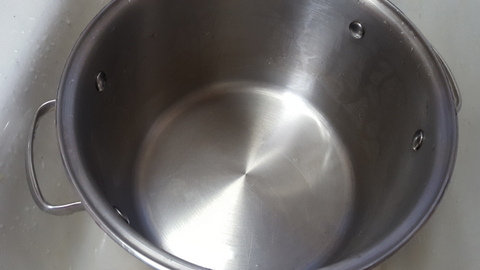 Want more food for thought?
Check out my blog posts if you want more handy kitchen tips, recipes, culinary history, and Iowa food stories, along with simple tips to make you a better communicator.
If you're hungry for even more, check out my top-selling "Culinary History of Iowa: Sweet Corn, Pork Tenderloins, Maid-Rites and More" book from The History Press, as well as my Calhoun County" book from Arcadia Publishing, which showcases the history of small-town and rural Iowa. Order your signed copies today! Iowa postcards are available in my online store, too. Coming soon in September 2017–my third Iowa history book! Watch for more details on "Dallas County" from Arcadia Publishing.
P.S. Thanks for joining me. I'm glad you're here. 
@Copyright 2017 Darcy Maulsby & Co.