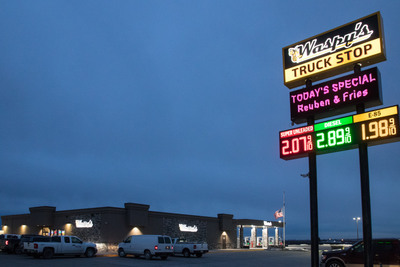 Hog Trailers to Humidors: Two New Iowa Convenience Stores Reflect "Waspy's Way"
Step into the new Waspy's truck stop in Audubon along Highway 71, and it feels more like an upscale corner grocery than a convenience store, from the coolers of fresh produce and healthy snacks at one end to the walk-in "spirits den" filled with wine, liquor and a humidor for fine cigars at the other end.
But explore a little more, and it's clear this is a working truck stop, from the laundry and shower area to the truckers' lounge in the hall that connects the store with the Feed Mill Restaurant. After all, the whole Waspy's concept started from a basic need rooted in the farm.
"When you're hauling livestock in western Iowa, it's hard to find a truck wash," said Brian Handlos, whose family owns and operates Waspy's, which has locations in Audubon and Templeton. "We decided this would be a service we could provide."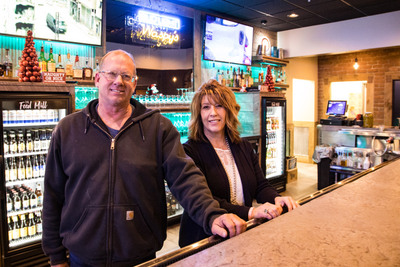 It turned out that one good idea planted the seed for a whole new crop of businesses, including a $7 million, full-service truck stop in Templeton on 6.3 acres near the junction of Highway 141 and Highway 71. The convenience store, car wash and fuel stations opened in May 2017. The opportunity was too good to pass up, since 5,000 vehicles pass by on Highway 141 daily, according to Waspy's website.
The 16-acre Audubon complex represents an $18 million investment in the local economy, thanks to the 24/7 convenience store/truck stop that opened August 24, 2018; the restaurant/bar that opened September 4, 2018; and the 36-room Blue Grass Inn & Suites hotel with an indoor pool that opened August 1, 2018. A 40,000-square-foot truck service station is slated to open at the Audubon Waspy's this spring to provide tire repair, truck wash-out services and more.
"We tried to think of everything," said Beth Handlos, who runs the business with her brother and their parents, Lawrence "Waspy" Handlos and his wife, Doris. "These businesses all feed off each other, and the potential here is incredible."
Growing opportunities in rural Iowa
To say that Waspy's is not the typical truck stop is an understatement. Yet it's as homegrown as the business's namesake. Now in his early 80s, Lawrence Handlos grew up on a farm near Willey, Iowa. He got the nickname "Waspy" from his father, John, a German immigrant who settled in the Carroll area.
"He gave Lawrence that nickname as a child, because it's tied to another German name that his father liked, Sebastian," Beth Handlos said. "'Waspy' stuck with Lawrence ever since, and now it's a memorable brand name for our family's truck stops."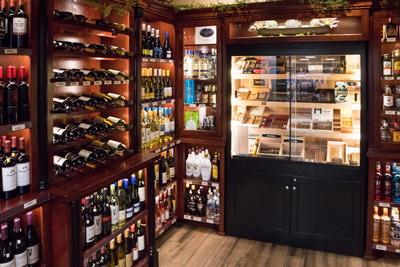 The name isn't the only memorable thing about Waspy's, which is redefining the truck stop/convenience store experience with these 10 business practices:
1. Put the customer first. Being locally owned and family owned means paying extra attention the little things, from greeting customers by name at the convenience store to making sure the hotel rooms are extra clean—just the way Doris Handlos would want it. "We say it's not just clean—it's 'Doris clean,'" Beth Handlos said.
2. Follow servant leadership. The Handlos family emphasizes that their employees don't work for them; they work with them. "It's a team effort," Beth Handlos said. "It's certainly not below us to bus the tables at the restaurant."
3. Give back to the community. Along with creating nearly 100 new jobs in the Audubon/Templeton area, Waspy's creates community hubs where people of all ages can gather together. "We're humbled to be part of people's lives every day," said Beth Handlos, who noted there are no outside investors in Waspy's.
4. Focus on local. Like many rural Iowa towns, Audubon once had a thriving business district filled with motels, a jewelry store and more. "For years, however, I watched Audubon slowly dwindle," said Beth Handlos, who grew up on a farm and graduated from Audubon High School in 1982. When the Handlos family built their Waspy's truck stops, 75 percent of the contractors were located within 30 miles of the local community. "It's exciting to see how dollars spent at Waspy's are being reinvested in our local communities to spur more economic development," Beth Handlos added.
5. Learn from success. While making mistakes goes along with any new business, the Handlos family has worked hard to shorten their learning curve. "We look to lots of different businesses to see what's working and what's not," said Beth Handlos, a former program coordinator with Iowa State University Athletics' marketing department. "We borrow good ideas anywhere we can find them."
6. Don't take shortcuts. Running a successful business requires the discipline to put in the hours and do things the right way—the only way, said Brian Handlos. "Nothing was ever handed to my parents. They worked hard all their lives and passed this work ethic onto us. We all wear a lot of hats around here, but if we do the right things, everything will fall into place."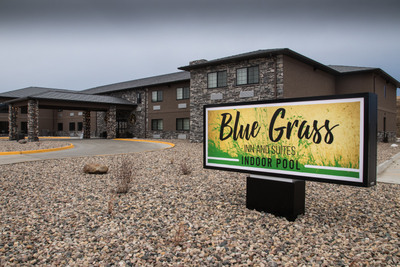 7. Add the personal touch. Extended hours and friendly service attract local customers and those just passing through. "We love what we do," Beth Handlos said. "It's all about the friendships you make."
8. Rethink what's possible. Brian Handlos and his wife, Pat, have run Two Palms Grilling for many years and have gained a loyal following. Two Palms plans to supply vacuumed-packed smoked meats at Waspy's convenience stores. "I like showing people what great pork should taste like," said Brian Handlos, who finishes nearly 250,000 pigs a year with his family and employees.
9. Expand opportunities. The Handlos family is always looking for ways to make their businesses more inviting. The indoor pool in the 36-room hotel in Audubon isn't only available to guests. There are open hours where the public can pay a fee to swim, plus there's a rentable party room near the pool. Even the parking lots at the Audubon complex create a more user-friendly experience. "When drivers are hauling 210-foot-long wind turbine blades, they often can't find a place to park," said Brian Handlos, who added that Waspy's has parking spaces for 70 semi-trucks. "They can line up 10 to 15 trucks here at Waspy's."
10. Stay true to your roots. Everything at Waspy's speaks to the business's rural roots, from the rustic décor at the Feed Mill Restaurant to the homegrown ethanol blends (including E85) in the fuel pumps. "A lot of blood, sweat, tears and money have gone into these businesses, but it's worth it," Beth Handlos said. "We're proud to support our hometown."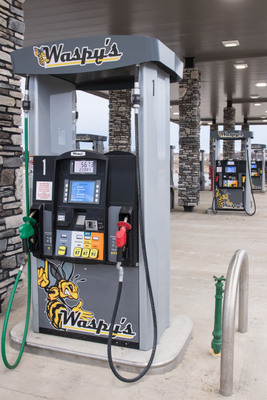 This article first appeared in Farm News in February 2019.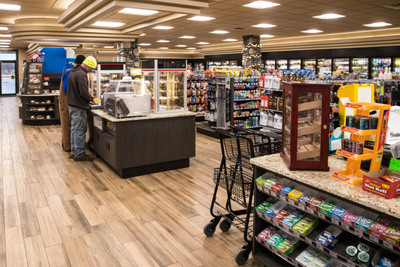 Want more?
Thanks for stopping by. I invite you to read more of my blog posts if you value intriguing Iowa stories and history, along with Iowa food, agriculture updates, recipes and tips to make you a better communicator.

If you like what you see and want to be notified when I post new stories, be sure to click on the "subscribe to blog updates/newsletter" button at the top of this page, or click here. Feel free to share this with friends and colleagues who might be interested, too.
Also, if you or someone you know could use my writing services (I'm not only Iowa's storyteller, but a professionally-trained journalist with 20 years of experience), let's talk. I work with businesses and organizations within Iowa and across the country to unleash the power of great storytelling to define their brand and connect with their audience through clear, compelling blog posts, articles, news releases, feature stories, newsletter articles, social media, video scripts, and photography. Learn more at www.darcymaulsby.com, or e-mail me at yettergirl@yahoo.com. 
If you're hungry for more stories of Iowa history, check out my top-selling "Culinary History of Iowa: Sweet Corn, Pork Tenderloins, Maid-Rites and More" book from The History Press. Also take a look at my latest book, "Dallas County," and my Calhoun County" book from Arcadia Publishing. Both are filled with vintage photos and compelling stories that showcase he history of small-town and rural Iowa. Order your signed copies today! Iowa postcards are available in my online store, too.
Let's stay in touch. I'm at darcy@darcymaulsby.com, and yettergirl@yahoo.com.
Talk to you soon!
Darcy
@Copyright 2019 Darcy Maulsby & Co.  Blog posts may only be reprinted with permission from Darcy Maulsby.