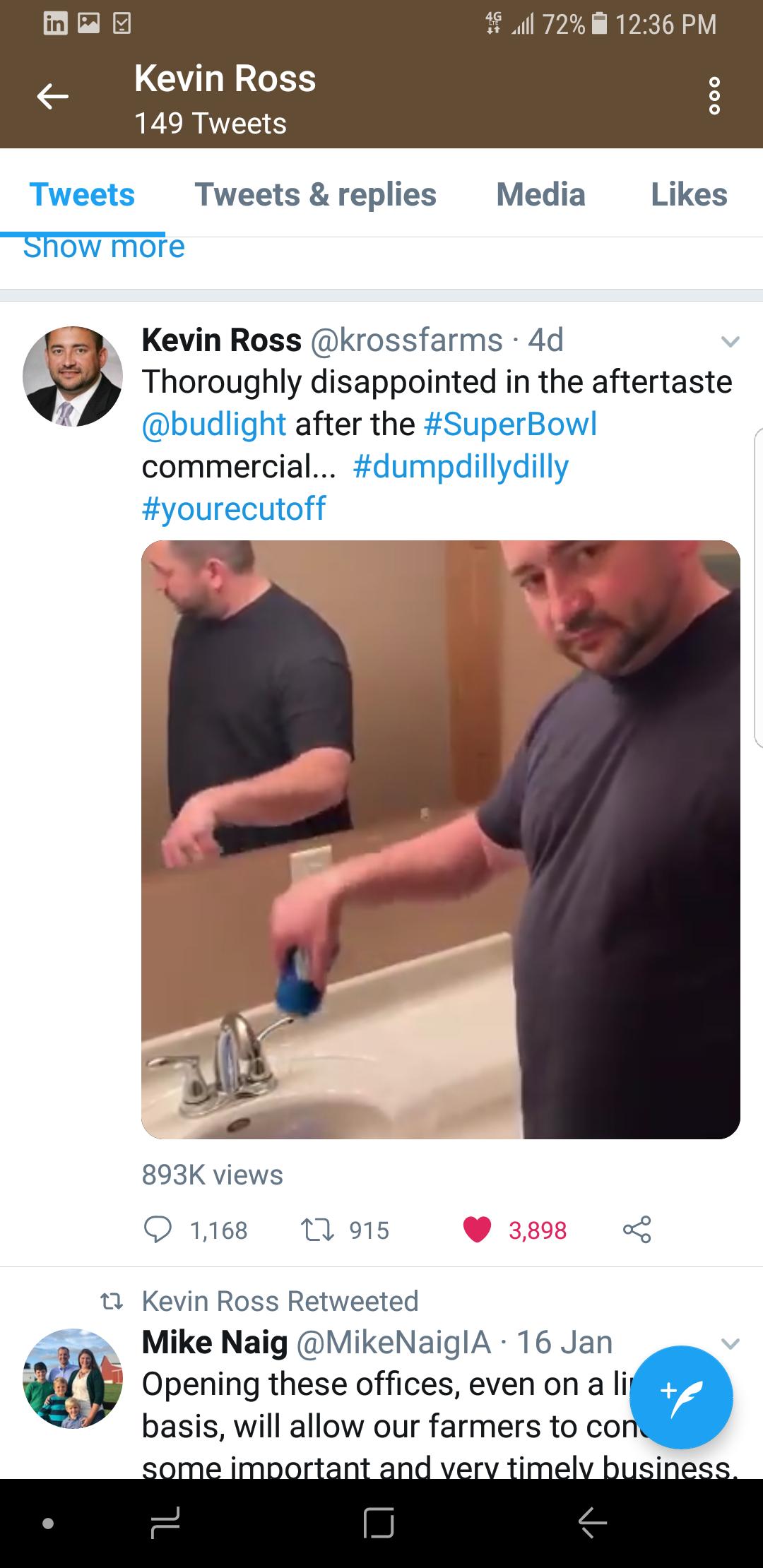 4 Key Lessons from Bud Light's Super Bowl Corn-troversy
What a difference a day makes. Last Saturday, Feb. 2, I was in Altoona, Iowa, teaching my "Harvest Meals Made Easy" class at the Iowa Farm Bureau's annual Young Farmer Conference. When I shared my three-ingredient recipe for the tastiest, simplest beer bread around, I noted that the type of beer you use isn't a big deal, although the friend who shared the recipe with me preferred Bud Light.
Since I'm not much of a beer drinker, I didn't give Bud Light another thought –until I was watching the Super Bowl last Sunday night.
I tuned in for two main reasons—1.) I'm a Tom Brady fan (see my blog post "Can a True Story Well Told Turn You into a Tom Brady Fan?), and 2.) as a marketer, I like to watch the commercials. I was less than impressed with most of the commercials (you paid more than $5 million for a 30-second spot and only came up with THAT???), although I loved the Microsoft ad "We All Win," With a story revolving around a young boy from Texas, the ad showcased how Microsoft's Xbox Adaptive Controller helps children with disabilities enjoy gaming.  (This inspiring ad, which nearly brought tears to my eyes, topped the list of "most effective" ads with an UnrulyEQ score of 7.5, according to Ad Week.)
One ad that didn't impress me was Bud Light's slam against corn syrup. The ad emphasized that Bud Light doesn't use corn syrup like competitors' beers do. I thought it was an odd approach to advertise a mass-produced beer. It also ticked me off, since my family grows corn on our Century Farm, but I figured the stupid ad would just fade away into the wasteland of unremarkable, lame marketing.
I was wrong.
Bud Light versus…corn farmers?
Since I always like to hear what others think about these things, I tuned into the radio when I was headed to Ames the morning after the Super Bowl to attend a soil health conference. The general consensus on talk-radio was that the big game was boring (it was the lowest-scoring game in Super Bowl history), and most of the commercials were boring. No one on those shows was talking about the Bud Light commercial—yet.
But then the story exploded.
One of the first volleys in the battle came when my friend Kevin Ross, a farmer from Minden, Iowa, filmed a 9-second video and posted it to Twitter. As he dumped a can of Bud Light down the bathroom sink, he said, "Bud Light, you're not standing with corn farmers. We're not standing with you."
That simple video helped unleash a media firestorm that led to coverage not only in Iowa media outlets, but Fox Business and other national media organizations. The day after the Super Bowl, the New York Times ran the article, "Bud Light Picks Fight with Corn Syrup in Super Bowl Ad."
In the Feb. 4 story, Wendy Clark, chief executive of the advertising agency DDB Worldwide, noted that the back-and-forth spat may not have been the best result for Bud Light.
"I don't know if anyone watching the Super Bowl necessarily cares about corn syrup, and it kicked up much ado about nothing," Ms. Clark said. "It's taken off into this corn syrup thing and not a Bud Light thing," she added, "and I don't know if that was the goal."
What were they thinking?
I had to agree as I looked at this not as a farmer, but a storyteller who helps business leaders become thought leaders, attract skilled talent, appeal to more prospects and customers, and drive sales, one story at a time.
A cardinal rule of sharing true stories well told? Know your audience.
Back to Bud Light. Does anyone watching the Super Bowl care that much about corn syrup?
I thought about people I know who drink Bud Light. They tend to be hard-working, middle-class, patriotic Americans who just like to relax at the end of the day with an affordable, refreshing cold beer. They are not worried about corn syrup or health concerns related to excess corn syrup, especially when it comes to beer.
Is Bud Light really that clueless about its consumers?
Or are current Bud Light drinkers really the target audience for Bud Light's advertisements?
Digging into the story behind the data
The question spurred me to investigate what research reveals about the typical Bud Light drinker.
According to InfoScout.com, which gathers consumer insights and demographics, Bud Light consumers are generally lower income, Hispanic and older. It appears that "older" is the key word that applies not just to Bud Light, but Budweiser, too. A Time.com article in 2014 noted that almost half of millennials had never drunk a Budweiser.
"The flagship Budweiser beer remains popular mostly among older folks, and its parent company, Anheuser-Busch InBev, is refocusing its marketing specifically on the millennial age bracket, the Wall Street Journal reports."
Dazed and confused
Ahhhhh. I began to suspect what's going on with the Bud Light corn syrup ad is a classic brand struggling to reinvent itself in a beer market that's changing fast.
The stakes are high. Consider the 2018 Fortune.com article "Americans Are No Longer Drinking Budweiser and Bud Light Beers Like They Once Did," which noted that sales of domestic lagers have receded as American consumers turn to craft beers, Mexican imports, wine and spirits to get their buzz.
In July 2018, Anheuser-Busch InBev (which manufactures Budweiser and Bud Light) reported that U.S. revenues fell 3.1 percent in the second quarter. The underperformance resulted in the company missing overall sales growth forecasts, triggering shares to drop more than 5 percent.
What's going on?
Part of the challenge comes from millennials, who make up a sizeable percentage of legal beer consumers in America today. Millennials are the most skeptical generation in history when it comes to advertising. In an advertising-saturated world, this distrust in marketing hype means authenticity is a driving factor for millennials.
Hence the meteoric rise of craft beer, which is infused with authenticity. Compelling stories of local brewers who combine unique ingredients to brew beer in repurposed historical buildings that become hubs of the community capture the imagination—and beer drinkers' dollars.
While overall U.S. beer volume sales were down 1 percent in 2017, according to the Brewers Association, craft brewer sales bucked the trend.
• Craft beers continued to grow at a rate of 5 percent by volume, reaching 12.7 percent of the U.S. beer market by volume.
• Retail dollar sales of craft increased 8 percent, up to $26 billion.
• Craft beers now account for more than 23% of the $111.4 billion U.S. beer market.
With all these challenges facing traditional brewers, what's Bud Light to do? A corn syrup-focused ad during the big game clearly wasn't the answer.
Backlash in the beer war
My friend Kevin, the corn farmer who serves as first vice president of the National Corn Growers Association, told Yahoo Finance the Bud Light ad "implied that [corn syrup] was an inferior product and that the other beers were doing something wrong because they use corn syrup in the brewing process," and called it an "attack."
Miller Lite took out a full-page ad in the New York Times on Feb. 6, stating in part, "The 'corn syrup' we source from America's heartland helps make Miller Lite taste so great… It's unfortunate that our competitor's Big Game ad created an unnecessary #corntroversy."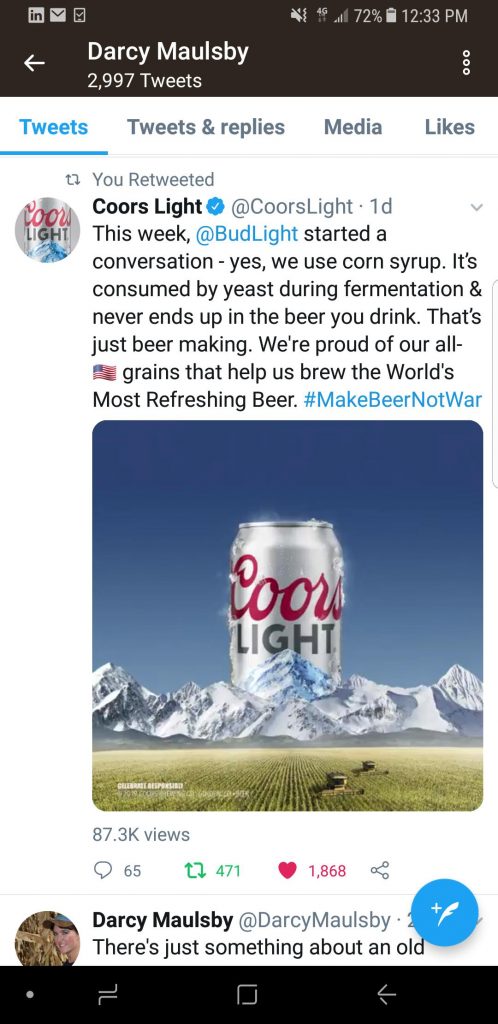 Also on Feb. 6, Coors Light tweeted, "This week, Bud Light started a conversation –yes, we use corn syrup. It's consumed by yeast during fermentation & never ends up in the beer you drink. That's just beer making. We're proud of our all-American grains that help us brew the World's Most Refreshing Beer. #MakeBeerNotWar"
It didn't take long before Bud Light began backtracking. In a tweet on Feb. 6, presented as a note from the king character from the ad, Bud Light said, "Yeesh! That escalated quickly… In the Bud Light Kingdom we love corn too! Corn on the cob, corn bread, popcorn—we just don't brew with the syrup (what you also call 'dextrose')."
I'll drink to that
So what can we take away from the Bud Light corn-troversy?
1. Know your audience.
2. Authenticity matters.
3. You don't control your message, especially in a world of social media.
4. Instead of contrived marketing hype, tap into the power of true stories well told.
Want more?
Thanks for stopping by. I invite you to read more of my blog posts if you value intriguing Iowa stories and history, along with Iowa food, agriculture updates, recipes and tips to make you a better communicator.

If you like what you see and want to be notified when I post new stories, be sure to click on the "subscribe to blog updates/newsletter" button at the top of this page, or click here. Feel free to share this with friends and colleagues who might be interested, too.
Also, if you or someone you know could use my writing services (I'm not only Iowa's storyteller, but a professionally-trained journalist with 20 years of experience), let's talk. I work with businesses and organizations within Iowa and across the country to unleash the power of great storytelling to define their brand and connect with their audience through clear, compelling blog posts, articles, news releases, feature stories, newsletter articles, social media, video scripts, and photography. Learn more at www.darcymaulsby.com, or e-mail me at yettergirl@yahoo.com. 
If you're hungry for more stories of Iowa history, check out my top-selling "Culinary History of Iowa: Sweet Corn, Pork Tenderloins, Maid-Rites and More" book from The History Press. Also take a look at my latest book, "Dallas County," and my Calhoun County" book from Arcadia Publishing. Both are filled with vintage photos and compelling stories that showcase he history of small-town and rural Iowa. Order your signed copies today! Iowa postcards are available in my online store, too.
Let's stay in touch. I'm at darcy@darcymaulsby.com, and yettergirl@yahoo.com.
Talk to you soon!
Darcy
@Copyright 2019 Darcy Maulsby & Co.  Blog posts may only be reprinted with permission from Darcy Maulsby.