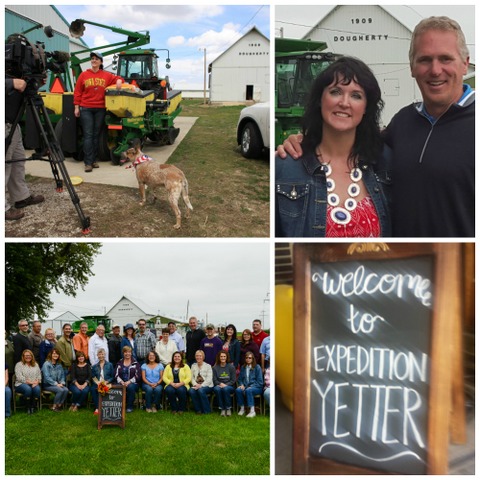 Iowa Public TV's "Market to Market" Features Expedition Yetter, Agri-Tourism, Des Moines Water Works' Lawsuit
What do a water lawsuit, agri-tourism and good old Yetter, Iowa, (Everything's Better in Yetter!) have in common? They are all part of my Expedition Yetter, which was filmed, in part, on my family's Century Farm and featured on "Market to Market" on Iowa Public Television in the segment "Agri-Tourism in the Shadow of a Lawsuit."
What fun we had, including Iowa Hawkeye football legend Chuck Long, who joined the group. Wonder what really goes on at an Iowa farm? Click here to watch the clip and ride along with the first-of-its-kind Expedition Yetter, which was designed to connect small-town and urban residents with the Iowa farms and agribusinesses where their food comes from.
Here's a teaser from the show's transcript:
Last year Iowa's largest drinking water provider sued farm drainage districts in 3 counties upstream.  As trial awaits in 2017, Des Moines Water Works has alleged excess nitrate runoff from farm fertilizers plagues efforts to comply with federal guidelines for safe drinking water.  The utility claims cleaning the surface waters of the Raccoon River for half a million ratepayers in the capitol city vicinity has become an increasingly difficult and expensive task.
Bill Stowe/CEO and General Manager – Des Moines Water Works: "We're very confident that these are clear point-source groundwater polluters that are coming from agricultural use."
Ultimately, the case could redefine and broaden government jurisdiction over Waters of the United States – a prospect feared by many in farm country.
Darcy Maulsby/Expedition Yetter:  "I'm not sure a lot of people in Iowa even knew where Calhoun County was before this lawsuit."
Various producers, commodity groups, and politicians at the local and national level have called for widespread adoption of voluntary conservation methods to ward off new legislation.
But farmer and author Darcy Maulsby, who traces her lineage to a Century Farm near the small town of Yetter in one of the counties named in the lawsuit, hopes a dose of rural hospitality could mend fences.
Darcy Maulsby/Expedition Yetter:  "I've noticed this growing trend towards this rift between rural Iowa and urban Iowa – and that really troubled me."
Maulsby envisioned a journey bringing farm and city stakeholders together to help elevate the level of discourse. And after partnering with local non-profit Iowa Food & Family Project, the Iowa Soybean Association and several other food industry groups, tourists of diverse backgrounds loaded up in Des Moines early one summer morning for the maiden voyage of 'Expedition Yetter.'
To read and watch the whole story, click here. 
Explore more rural Iowa history 
Want to discover more stories and pictures that showcase the unique history of small-town and rural Iowa? Perhaps you'd like a taste of Iowa's culture and favorite recipes. Check out my top-selling "Culinary History of Iowa" book from The History Press and "Calhoun County" book from Arcadia Publishing, and order your signed copies today.