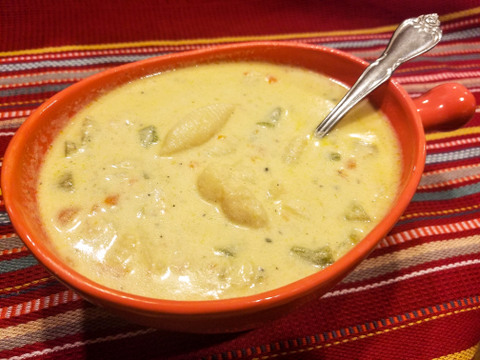 Warm Up with Homemade Macaroni and Cheese Soup
It's 10 degrees outside here in Iowa, the mercury is falling, it's snowing, the wind is blowing, and I feel invincible—because I have a warm kettle of Mac and Cheese Soup on the stove.
"Soup puts the heart at ease, calms down the violence of hunger, eliminates the tension of the day, and awakens and refines the appetite," noted Auguste Escoffier, the "chef of kings and king of chefs."
I couldn't agree more. Ask me my favorite thing to cook, and the answer is almost always soup. While I love proven recipes, I also like experimenting in the kitchen, like I did today. I made a batch of homemade macaroni and cheese a couple days ago that didn't turn out quite as creamy as I wanted. I also had a small portion of leftover bacon mac and cheese from a recent meal at the Wild Rose Casino in Jefferson. What to do?
Hmmmm, could I combine these into mac and cheese soup? Is there such a thing as mac and cheese soup?
If not, let's create it!
After a quick Google search for some culinary inspiration, I came up with a game plan. Since soup-making is more of an art than a science, I always tell people my recipes aren't rules, just suggestions. You can reduce the milk if you like a thicker soup. Add more salt or pepper if you like. Enjoy a certain vegetable that's not on the ingredient list? Try adding it. Do what makes sense to you.
A few cooking tips I do encourage:
• Use a pepper grinder to add fresh-ground pepper to your soup. I like to use a mix of red, black, green and white peppercorns for extra flavor.
• Do include the diced peppers. While I used a green pepper, you can user red, orange or yellow peppers, jalapenos, or whatever you have on hand. Peppers enhance the flavor, keep this soup from tilting to the blah side, and help you add extra veggies to your meal. Triple win!
• Go heavy on the onions when making soups. Alice Ann Dial, a neighbor and fantastic farm cook from my hometown of Lake City, Iowa, taught me to not skimp on onions. "They're cheap and add so much flavor," said Alice Ann, who learned this cooking trick during her days as a college student at Iowa State in Ames.
• You can make soup a day ahead of time and chill it in the refrigerator until you're ready to serve. Many soups develop more flavor when they sit overnight, although my Mac and Cheese Soup is packed with flavor right from the start.
The main thing is to keep a spoon handy when you're making soup, and taste as you go. Remember, you're creating something special for you and the people you love. Tailor it just the way you like as you create a homemade batch of creamy, hearty, filling soup, perfect for a cold winter night or any time you just want a little extra comfort in your life.
Now please excuse me while I prepare supper and serve Mac and Cheese Soup for my family. Soup's on!
Hearty Macaroni and Cheese Soup
Mac and Cheese Soup is creamy and oh-so-satisfying, just like mac and cheese. If you're a mac and cheese fan, this soup is sure to become a favorite.
4 tablespoons butter
2 stalks celery, chopped
2 onions, chopped
2 cloves garlic, minced
2 carrots, grated or diced
1 green pepper, chopped
3 tablespoons all-purpose flour
4 cups chicken broth or vegetable broth
2 to 3 cups milk or half-and-half
1 teaspoon dry mustard
1 teaspoon Worcestershire sauce
1 / 2 teaspoon freshly ground pepper
1 / 4 teaspoon hot pepper sauce
Leftover macaroni and cheese
Bacon, cooked and chopped (optional)
OR
2 cups uncooked small pasta shells
8 ounces Velveeta cheese, cut into cubes
1 cup (4 ounce) shredded cheddar cheese
Melt butter in a Dutch oven or large pot. Add celery, onion, garlic, carrots and green pepper. Sauté until vegetables are soft.
Sprinkle flour on top of vegetable mixture. Whisk together and cook 1 minute.
Gradually whisk in chicken broth and milk. Bring to a simmer. Add dry mustard, Worcestershire sauce, pepper, and hot pepper sauce. Continue to simmer until soup thickens some. Add bacon, if desired.
This next step depends on whether you're adding leftover macaroni and cheese, or you're working with uncooked macaroni and the various cheeses. If you have leftover mac and cheese, it to the soup, let simmer for about 20 to 30 minutes, and serve.
If you don't have leftover mac and cheese, cook pasta shells to al dente in salted water. The pasta will cook a little more in the soup and will absorb liquid, so be careful not to overcook.
Add cubes of Velveeta and stir until melted. Remove soup from heat and stir in cheddar cheese. Stir in cooked pasta, and serve. Enjoy!
Want more?
Thanks for stopping by. I invite you to read more of my blog posts if you value intriguing Iowa stories and history, along with Iowa food, agriculture updates, recipes and tips to make you a better communicator.

If you like what you see and want to be notified when I post new stories, be sure to click on the "subscribe to blog updates/newsletter" button at the top of this page, or click here. Feel free to share this with friends and colleagues who might be interested, too.
Also, if you or someone you know could use my writing services (I'm not only Iowa's storyteller, but a professionally-trained journalist with 20 years of experience), let's talk. I work with businesses and organizations within Iowa and across the country to unleash the power of great storytelling to define their brand and connect with their audience through clear, compelling blog posts, articles, news releases, feature stories, newsletter articles, social media, video scripts, and photography. Learn more at www.darcymaulsby.com, or e-mail me at yettergirl@yahoo.com. 
If you're hungry for more stories of Iowa history, check out my top-selling "Culinary History of Iowa: Sweet Corn, Pork Tenderloins, Maid-Rites and More" book from The History Press. Also take a look at my latest book, "Dallas County," and my Calhoun County" book from Arcadia Publishing. Both are filled with vintage photos and compelling stories that showcase he history of small-town and rural Iowa. Order your signed copies today! Iowa postcards are available in my online store, too.
Let's stay in touch. I'm at darcy@darcymaulsby.com, and yettergirl@yahoo.com.
Talk to you soon!
Darcy
@Copyright 2019 Darcy Maulsby & Co.  Blog posts may only be reprinted with permission from Darcy Maulsby.