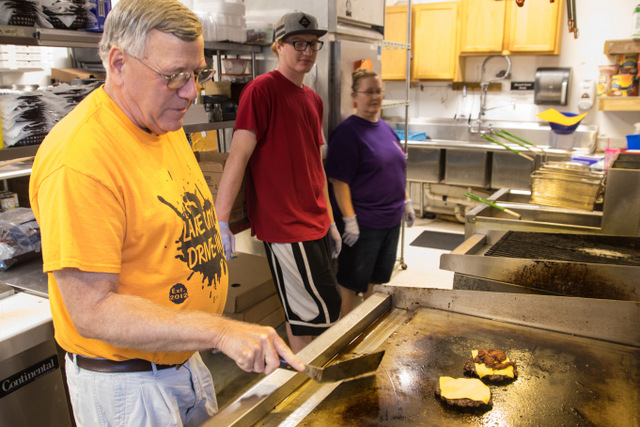 Iowa Beef Booster: Larry Irwin Takes a New Twist on Burgers
Make no mistake, the humble hamburger still reigns supreme from backyard barbecues to fast-food drive-ins across Iowa. But this Iowa icon also provides the perfect palette for culinary creativity when my friend Larry Irwin showcases his Burger of the Month flavors in my hometown of Lake City.
"I'm not doing anything fancy," said Irwin, who has run the Lake City Drive-In since 2012. "I just like cooking down-home, comfort food."
While it's hard to beat a classic bacon cheeseburger, which remains one of the Lake City Drive-In's top sellers, customers also love the monthly burger specials. Favorites include the Taco Burger (spiced with taco seasoning and chipotle and topped with nacho-cheese flavored chips), Darcy's Meatloaf Burger, the Swiss Mushroom Burger, and the Ranch Burger (enhanced with homemade ranch dressing, pepper jack cheese and bacon).
"Burgers of all types are always our top sellers," said Irwin, who serves more than 50 burgers a day, on average. "It's fun to experiment with new flavors and feature them as the Burger of the Month."
Top tips for unbeatable burgers
Interestingly, this adventurous spirit in the kitchen isn't second nature for Irwin, who spent more than 30 years of his career in finance and banking. "I never did much cooking at home," said Irwin, who grew up on a cattle and grain farm between Lohrville and Rockwell City. "I certainly never thought I'd run a restaurant."
Irwin has found that offering new men
u items is one of the secrets to keep people coming back to the Lake City Drive-In. Inspiration for the Burger of the Month comes from a variety of sources.
"Sometimes our customers suggest ideas," Irwin said. "A lot of the Burger of the Month ideas come from my son, Chris, who is an agronomist in northeast Iowa. He travels a lot for his job and tells me about burger flavors he discovers in various cafes."
While unique flavors are part of the fun, a great burger starts with the basics, said Irwin, who shares the following tips:
• Select an 80/20 ground beef for the best flavor. Irwin always uses fresh beef, never frozen patties, to make his 1/3 pound burgers.
• Preheat the grill before you place the hamburger patties on the grill.
• Cook the hamburger patties over medium heat. If the temperature is too high, it's easy to burn the outside of the burger and leave the inside undercooked, said Irwin, who cooks his burgers for about five minutes on each side.
• Season the patties on the grill. Irwin sprinkles a mix of garlic powder, onion powder, Lawry's seasoning salt, table salt, white sugar and black pepper on both sides of each hamburger patty as the meat cooks.
• Don't forget to butter and toast the bun before serving the burger.
Time-saving systems in the kitchen are also invaluable. Since the Lake City Drive-In is located on Main Street across from South Central Calhoun High School, things can get hectic when hungry crowds stop by, especially during volleyball tournaments and home football games. Irwin plans ahead on these days and cooks each hamburger patty for two minutes per side before placing the partially-cooked patties in a warm slow cooker. When the crowds arrive, it only takes a couple more minutes of grilling time before the burgers are ready.
This strategy also pays off during planting and harvest, when the drive through becomes one of the busiest places at the Lake City Drive-In. "You can always tell when an order is going out to farmers, because there are at least five or six cheeseburgers in there," said Irwin, who farmed at one point in his career.
Keeping things simple while adding a little variety is the key to a great burger, Irwin added. "I love the flavor of beef. If I could only have one meat for the rest of my life, I'd choose hamburger, because I can make anything out of it."
Hungry for more? Check out my blog post and Farm News column "Get Your Grill On: How to Build a Better Burger."
Darcy's Meatloaf Burgers
Larry Irwin will be featuring these Meatloaf Burgers, made from my recipe, as the Burger of the Month in June 2017. 
2 pounds ground beef
1 1 / 2 to 2 cups herb-seasoned stuffing mix (experiment to find what amount helps the burger patties stick together the best)
1 onion, chopped
1 teaspoon seasoning salt
1/4 teaspoon freshly-ground pepper
1 teaspoon garlic powder
2 large eggs, lightly beaten
1 /4 cup milk
2 tablespoons barbecue sauce
1 / 4 cup ketchup
2 tablespoons brown sugar
1 teaspoon dry mustard
Combine ground beef, stuffing mix, onion, salt, pepper and garlic powder. In a separate bowl, beat eggs, milk, and barbecue sauce. Combine barbecue sauce mixture with meat mixture.
In a separate bowl, combine ketchup, brown sugar and dry mustard. This mixture can either be spread as a glaze while the burgers are cooking on the grill, or the glaze can be mixed into the burger patty mixture before the burgers are grilled.
Shape beef mixture into patties. Grill over medium heat to desired doneness. If using the ketchup mixture as a glaze, spread over the top of each burger during the final minutes of cooking on the grill.
Ranch Dressing
While this makes restaurant-sized quantities, scale down the recipe for home use.
1 gallon regular mayonnaise
1 / 2 gallon buttermilk
2 packages (3.2 ounces each) powdered ranch dressing mix
Combine all ingredients and stir with an electric mixer. Refrigerate.
Boom Boom Sauce
This spicy sauce has a kick and tastes great on burgers and salads.
4 cups Thousand Island dressing
3 / 4 cup buffalo hot sauce
1 / 4 cup red pepper flakes
Combine dressing, buffalo sauce and red pepper flakes; refrigerate.
Sloppy Joes
1 pound hamburger
1 can chicken gumbo soup
Ketchup and mustard, to taste
Brown sugar, to taste
Salt and pepper, to taste
Brown the hamburger; drain. Add soup and season with ketchup, mustard, brown sugar, salt and pepper until the desired flavor is achieved.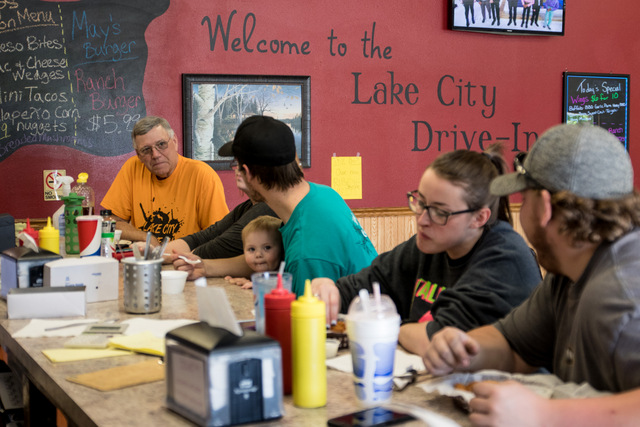 This story first ran on Farm News, May 2017. 
Want more Iowa culture and history?
Read more of my blog posts if you want more Iowa stories, history and recipes, as well as tips to make you a better communicator.
If you're hungry for more stories of Iowa history, Larry is kind enough to carry my books at the Lake City Drive-In. You can also check out my top-selling "Culinary History of Iowa: Sweet Corn, Pork Tenderloins, Maid-Rites and More" book from The History Press, as well as my Calhoun County" book from Arcadia Publishing, which showcases the history of small-town and rural Iowa. Order your signed copies today! Iowa postcards are available in my online store, too.
P.S. Thanks for joining me. I'm glad you're here. 
@Copyright 2017 Darcy Maulsby & Co.