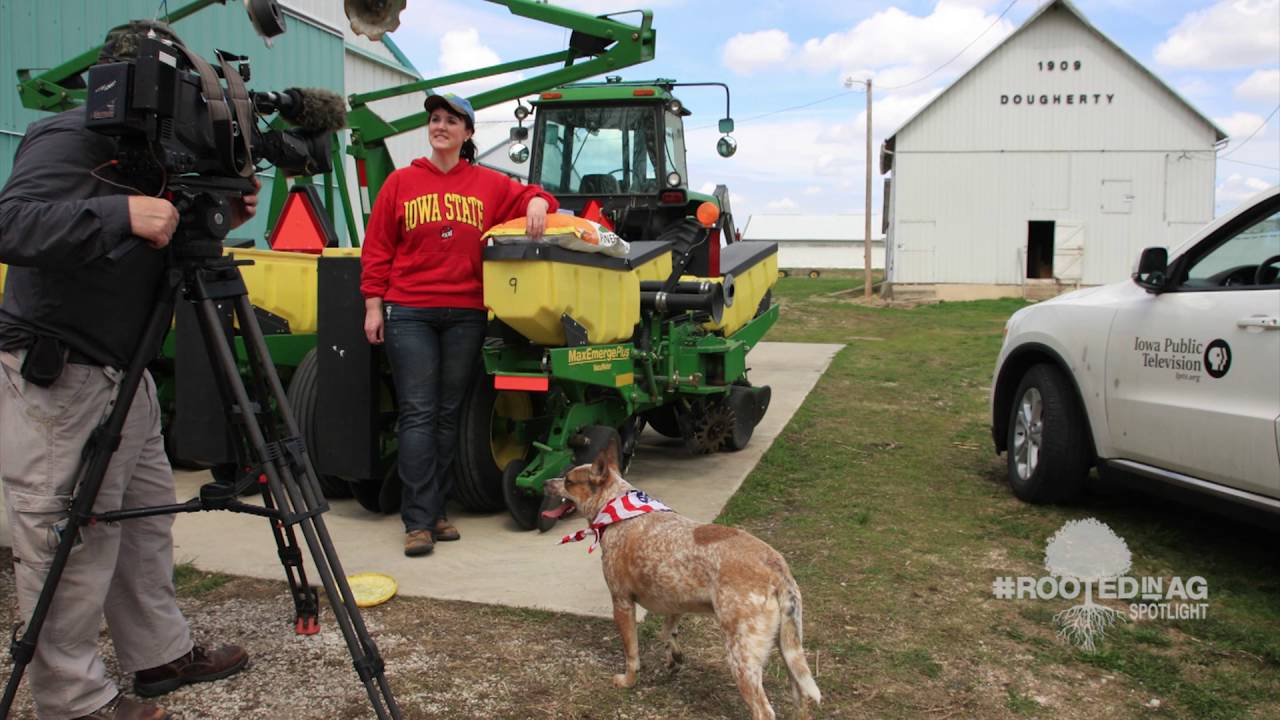 FarmHer #RootedinAg Spotlight–FFA Attracts More Women to Careers in Ag
Heard about FarmHer? It's a phenomenon that showcases the key roles women play in American agriculture. It's fun, it's intriguing, and I was honored to be featured in a #RootedinAg video spotlight on RFD-TV, thanks to Syngenta.
Click here to check out my 30-second FarmHer #RootedinAg spotlight video that appeared on RFD-TV. 
Syngenta's latest issue of Thrive magazine also shared my story in the feature "Open Doors" of how FFA helped me pursue a career in ag. I give the credit to my FFA advisor, Ed Ricks, who showed me the possibilities back when I was a sophomore at Southern Cal High School in Lake City. In the late 1980s and early 1990s, being a girl in FFA was somewhat novel. Now, more young women than ever are involved in FFA, and they are also filling key roles in ag careers.
Here's my take on this trend, as presented in the feature story and this Syngenta press release:
• Female membership in FFA continues to grow nationwide
• This organization helps women develop leadership skills
These kinds of leadership and communication skills helped prepare me for unique opportunities, such as speaking about Iowa farmers' perspectives on the 2016 presidential election. See how "stilettos in the cornfield" became a hook when Andrew Ross Sorkin interviewed me on CNBC's "Squawk Box" to discuss key issues here in rural Iowa from a farmer's point of view:
FFA attracts more young women to careers in agriculture
GREENSBORO, N.C., Oct. 2016 – When the 2016 National FFA Convention convenes on October 19 in Indianapolis, representatives from Syngenta predict they could see record numbers of female attendees. That's because female membership in FFA grew from 26 percent during the1992-93 academic year to 44 percent during the 2015-16 academic year. Plus, females have risen to top leadership roles; this year, young women hold five of the six national FFA offices.
"Organizations like FFA and 4-H help foster leadership skills for all participants," said Jenny Heaton, head of talent management for Syngenta, North America. "As more leadership opportunities open up for young women, these experiences should provide them with more confidence that the agricultural world is ready to accept them as equal partners."
Megan Moll, a Golden Harvest® Seed Advisor manager at Syngenta, said FFA helped put her on a path to her agricultural career. As a young girl, she loved working on her family's farm in Michigan. In high school, she became involved in her local FFA chapter by holding different offices and participating in activities, including the National FFA Convention and a leadership conference in Washington, D.C.
"I'm grateful for my FFA experience, because not only did it teach me organizational, team-building and public-speaking skills, but it also built my personal confidence to be able to talk in front of a large group of people," said Moll. "Everything I learned from FFA has helped me become what I am today."
Similarly, Darcy Maulsby worked on her family's farm in Lake City, Iowa, and was an active participant in 4-H during her youth. But she didn't think about joining FFA until an ag teacher recruited her. Only a few girls were in FFA then, and her experiences proved to be life-changing.
"I look back and think, 'They were really on top of it for giving us an opportunity to do that,'" said Maulsby. "FFA pushed me in new directions and really helped me grow with communication and leadership skills I have used my entire life."
Today, Maulsby operates her own ag writing and marketing business on the family farm, where she stays tightly connected to the farm business. She's also very involved in Farm Bureau, Iowa Corn Growers and Iowa Soybean Association.
"There are a lot of smart women out there transforming agriculture, and it's exciting to see that change," Maulsby said. "I definitely encourage young women to get involved in agriculture."
Syngenta encourages all National FFA Convention attendees to stop by its booth (number), where they can read other stories about being #RootedinAg or tell their own on a special digital wall. For the latest news and trends in agriculture, go to www.syngentathrive.com.
Explore more rural Iowa history 
Want to discover more stories and pictures that showcase the unique history of small-town and rural Iowa? Perhaps you'd like a taste of Iowa's culture and favorite recipes. Check out my top-selling "Culinary History of Iowa" book from The History Press and "Calhoun County" book from Arcadia Publishing, and order your signed copies today.