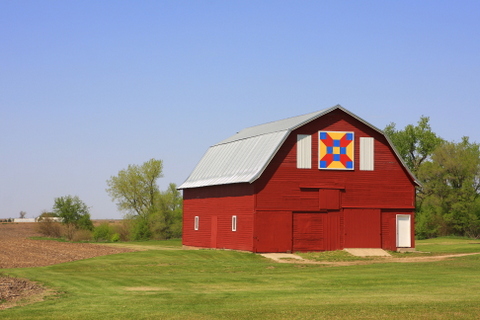 Pieced Together: Barn Quilt Documentary Features Iowa Stories
Barn quilts have become a folk-art phenomenon in Iowa in the past 15 years, turning up not only on barns, but mailboxes, gardens, buildings in town and more. But there was a time not that long ago when no one had ever heard of a barn quilt—not until Donna Sue Groves wanted to add a little color to her corner of the world.
Her story—and those of barn quilt enthusiasts in places like Sac County—inspired the 53-minute documentary "Pieced Together," which filmmaker Julianne Donofrio showed in Sac City to a full house at the First Christian Church on the evening of Sept. 24, 2018.
"A lot of people don't know where barn quilts came from," said Donofrio, who is from the New York City/Washington, D.C. area. "I want people to know Donna Sue's story."
The story, which includes many barn quilts across Iowa, began in 1989 when Groves' family bought a farm in Adams County, Ohio, near the Ohio River Valley at the foothills of the Appalachian Mountains. Groves made a casual remark to her mother, Nina Maxine Groves, about an uninspiring, time-worn tobacco barn on the farm.
"It was the ugliest barn I'd ever seen," Groves said in "Pieced Together." "I joked to my mother, 'I'll paint you a quilt square on it someday.'"
Game inspires a lifelong love of barns
Groves' interest in barns dates back to her childhood. When her family would visit Groves' grandmother in Roane County, West Virginia, Groves' mother invented a car game to keep Groves and her brother quiet.
"You couldn't play the typical license plate game when you're traveling the back roads of West Virginia, because all you saw were West Virginia license plates," Groves said. "Mother created a car game where we counted barns."
Some barns were worth two points, while others were worth three points. If a barn had outdoor advertising, like "Chew Mail Pouch" or "RC Cola," players got a 10-point bonus if they could read the lettering. Red barns also earned higher points. The chance to earn even more points awaited when the family's wider travels took them past Pennsylvania Dutch barns with colorful, geometric hex signs.
The game led to discussions and questions about the barns, such as who built the barns, and for what purpose. Groves enjoyed these conversational teaching moments. "I looked forward to seeing barns," she said.
Creating a clothesline of quilts across America
This history eventually inspired Groves' involvement with the first barn quilt square, an Ohio Star pattern, which was created in October 2001 and displayed in Adams County, Ohio. This small gesture triggered a ripple effect across North America.
"If we didn't pick up on this idea, someone else would," said Groves' mother, Maxine, who was featured in "Pieced Together."
As more people wanted to create barn quilts, Groves and her fellow volunteers quickly learned that painting barn quilts directly onto barns didn't work too well, but painted plywood squares offered a much better option.
Why stop with just a few barn quilts, though? "A trail of barn quilts could bring tourists here to see all the wonderful things Adams County offers," noted Groves, who has served as a field representative for the Ohio Arts Council. "Then they'd stay in our bed-and-breakfasts and motels and eat at our restaurants."
These opportunities for economic development, combined with the visual appeal of barn quilts, soon inspired a "clothesline of quilts" across America. Residents of an adjoining county, Brown County, Ohio, loved Groves' idea and asked how to get involved. Folks in Tennessee read an article about the Ohio barn quilt project, called Groves and wanted to know how to do a similar project in their area. Grundy County, Iowa, also got involved in 2003, followed by Sac County.
When Sue Peyton and her family from rural Sac City heard about barn quilts, it seemed like a good fit for her son, Kevin, who was in high school and looking for a project he could use as a 4-H leadership project and a Herbert Hoover Uncommon Student Award project.
"I immediately fell in love with the project when I heard about it," Sue Peyton said. "Barns and barn quilts are such a natural fit."
The Peytons coordinated the construction and painting of Sac County's first barn quilts in the summer of 2005. While some people weren't quite sure what to make of the new barn quilts that started appearing on barns and corncribs around the county, the concept caught on quickly. "We hoped to get 20 barn quilts," said Sue Peyton, who added that Sac County boasted 55 barn quilts within two years of the start of the project.
"I've seen a lot of quilt trails, and you embraced this early on and have done a tremendous job," said Donofrio as she chatted with audience members in Sac City following her documentary.
"We're here to stay"
Anywhere there's a barn quilt trail, every square tells a story. Also, there's no right or wrong way to create a barn quilt. "Barn quilts have a storied history as complex and diverse as the quilt patterns themselves," Kevin Peyton said.
Consider the Double Aster barn quilt pattern on the Hogue family's 1943 barn north of Odebolt. The pastel-colored design complements the family's Prairie Pedlar Gardens business. Owner Jane Hogue, who served on the original Sac County Barn Quilt Committee, enjoyed watching the "Pieced Together" documentary.
"It was fun to see the snippets of Sac County's barn quilts in the film," she said. "We're proud to be part of Sac County's barn quilt project. With our gardens and tourism, it's a win-win."
Sac County proves that barn quilts offer an effective way to help save barns, promote rural tourism and boost economic development, Sue Peyton added. She cited the vintage barn at the Rustic River Winery and Vineyard north of Lake View, for example. It has been remodeled not only into a winery, but a venue where people can host parties and other gatherings.
As the history of the barn quilt phenomenon is preserved through projects like "Pieced Together," barn quilts are being praised as one of the greatest community art projects ever created. While there are barn quilt trails in 42 states, there is no national barn quilt organization, by design. Creating barn quilts at the local allows local people to make their mark, share their history and establish a legacy. "It's so adaptable—that's the beauty of it," Groves said.
Above all, barn quilts inspire people to view rural communities in a new way. "Barn quilts prompt a question that starts a discussion," noted a speaker in the "Pieced Together" documentary. "It's a statement that, 'We're here, and we're here to stay.'"
Barn quilts also prove the power of one person from an isolated rural county to inspire a vision that has touched an entire nation. "As times get harder, we forget how to dream," said Groves, a cancer survivor. "I like to think the barn quilt trails allow people to dream."
Want more?
Thanks for stopping by. I invite you to read more of my blog posts if you value intriguing Iowa stories and history, along with Iowa food, agriculture updates, recipes and tips to make you a better communicator.

If you like what you see and want to be notified when I post new stories, be sure to click on the "subscribe to blog updates/newsletter" button at the top of this page, or click here. Feel free to share this with friends and colleagues who might be interested, too.
Also, if you or someone you know could use my writing services (I'm not only Iowa's storyteller, but a professionally-trained journalist with 20 years of experience), let's talk. I work with businesses and organizations within Iowa and across the country to unleash the power of great storytelling to define their brand and connect with their audience through clear, compelling blog posts, articles, news releases, feature stories, newsletter articles, social media, video scripts, and photography. Learn more at www.darcymaulsby.com, or e-mail me at yettergirl@yahoo.com. 
If you're hungry for more stories of Iowa history, check out my top-selling "Culinary History of Iowa: Sweet Corn, Pork Tenderloins, Maid-Rites and More" book from The History Press. Also take a look at my latest book, "Dallas County," and my Calhoun County" book from Arcadia Publishing. Both are filled with vintage photos and compelling stories that showcase he history of small-town and rural Iowa. Order your signed copies today! Iowa postcards are available in my online store, too.
Let's stay in touch. I'm at darcy@darcymaulsby.com, and yettergirl@yahoo.com.
Talk to you soon!
Darcy
@Copyright 2018 Darcy Maulsby & Co.  Blog posts may only be reprinted with permission from Darcy Maulsby. 
2 responses to "Pieced Together: Barn Quilt Documentary Features Iowa Stories"