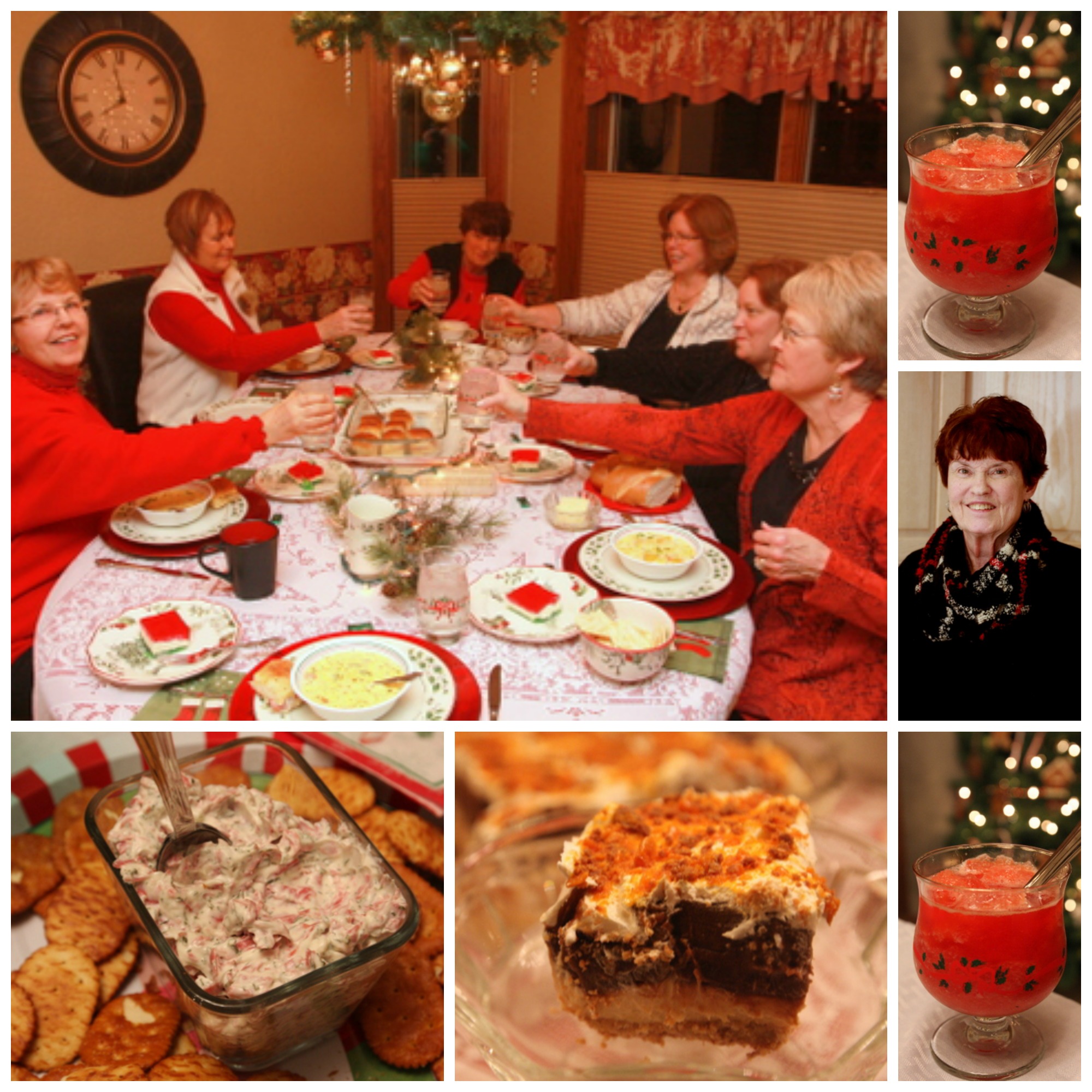 Shakespeare Club Maintains 123 Years of Good Taste in Small-Town Iowa
While one of Lake City's oldest clubs likely wouldn't have had any farm women for members when the group formed the 1890s, a farm wife (who is also my mom) is now the club's president and has belonged to the group longer than any other member.
"This was originally a very formal club where the ladies in town served white-tablecloth-style dinners and used their good china and silverware," said Jan Dougherty of Lake City, president, who joined the Shakespeare Club in 1972. "Now we're much more relaxed and just like to have fun."
Part of the fun involves cooking classes, preparing homemade treats for the "lunch" following the meeting and sharing recipes. The group has visited Sweet Things Bakery in Lake City and recently enjoyed a cooking class taught by Robin Qualy of Lake City, who runs La Casa Cuisine and teaches people how to make homemade pasta and more.
"I like the camaraderie and enjoy getting to know people better through Shakespeare Club," said Pam Feld of Lake City, who joined the group a few years ago.
Organized in 1894, the Shakespeare Club holds the honor of being the second oldest club in Lake City. It was organized by four young women interested in their social and intellectual advancement. Programs were arranged to study the lives and works of famous authors, although the greater part of each year was devoted to the works of Shakespeare. Later, the programs were diversified to include the study of music and the arts, as well as the cultures of Europe and South America.
During World War 1, Shakespeare Club members held benefit teas and auctions to raise money for the Red Cross. In the 1920s, a three-day celebration was held to commemorate the club's silver anniversary. Parties, picnics, and a presentation of a picture to the library were part of the festivities. "The Shakespeare Club is famous for doing things right," quoted the Lake City Graphic newspaper in 1923.
Through the years, club members have been instrumental in supporting the progress of schools and the local library, as well as civic improvements. As it has for years, the group continues to meet in members' homes, and each meeting includes a program or special activity and ends with a luncheon.
"I like meeting in people's homes," said Pat Albright of Lake City. "It's a comfortable feeling where we can be ourselves and enjoy each other's company."
This also appeals to Jan McClue, who hosted the group's 2016 Christmas party at her home near Lanesboro. "I like that we're a group for fun, and I enjoy the interesting outings we go on around the area."
One of the group's favorite destinations is Studio Fusion in Fort Dodge, where members design their own glass picture frames, dishes, jewelry and more.  No matter where they meet, however, snacks and homemade treats are always on the agenda. "Good food has always been part of Shakespeare Club, and I think it's neat the club has lasted all these years," Dougherty said. "Our motto could be, 'We don't meet if we don't eat.'"
Healthy Tortellini Corn Chowder
Smoky bacon combines with tender cheese tortellini for a creamy and comforting take on the usual corn chowder, which is one of my favorite soup recipes. I served it at the Shakespeare Club's 2016 Christmas party at Jan McClue's home near Lanesboro. 
5 slices bacon
1 large onion, chopped
2 ribs celery, chopped
1 cup red, orange, yellow peppers, diced
2 cups fresh, canned or frozen corn kernels (about one and a half cans of canned corn)
2 cups chicken broth
1 cup sliced carrots
⅓ c unbleached or all-purpose flour or Wondra flour
3 cups 1% milk
⅓ cup chopped fresh basil, or 1 teaspoon dried basil
½ teaspoon salt
¼ teaspoon fresh ground pepper
8 ounces low-fat fresh or frozen cheese tortellini, cooked and drained
1 cup frozen green beans
1 to 2 cups diced ham, optional
Set a Dutch oven over medium heat. Add the bacon. Cook for 1 minute, or until it releases some of its moisture. Add the onion, celery, and bell peppers. Cook for 5 minutes, or until the vegetables are soft. Add the corn, broth and carrots. Bring to a boil over high heat. Reduce the heat to medium. Simmer for 15 minutes.
Place the flour in a medium bowl. Gradually add the milk, whisking until smooth. Pour mixture into the Dutch oven. Stir until well-blended. Add the basil, salt and pepper. Cook, stirring occasionally, for 3 minutes, or until the soup thickens. Add the tortellini, green beans and ham, if desired. Cook for 2 minutes, or until heated through.
Beef Dill Dip
This tasty dip from Jan McClue is simple to make and can be served with bagel wedges or crackers. 
1 16-ounce carton sour cream
2 tablespoons parsley
2 teaspoons Accent seasoning
2 packages dried beef, chopped
1 1 / 2 cup Miracle Whip
2 teaspoons dill weed
1 medium onion, finely chopped
Mix all ingredients together. Serve with crackers or bagel wedges.
Cheesy Artichoke Dip
This three-ingredient appetizer from Jan Dougherty of Lake City takes only minutes to make.
1 package cream cheese
1 can artichoke hearts, drained
2 cups shredded mozzarella cheese
Combine all ingredients. Bake at 350 degrees, or until top of the dip lightly browns.
Celebration Slush
This simple slush from Jan McClue, a Shakespeare Club member who lives on a farm near Lanesboro, makes any party more festive.
12 ounces frozen lemonade
12 ounces frozen limeade
1 1 /2 quarts cranberry-apple juice
1 / 2 cup granulated sugar
2 cups strawberry schnapps
2 cups water
Combine all ingredients and freeze in a plastic container, like an ice cream bucket. To serve, add a splash of lemon-lime soda pop, raspberry vodka or strawberry daiquiri.
Taco Soup
This flavorful soup from Marie Schwarm of Lake City is sure to please on a cold winter day.
1 pound of ground beef (cooked and drained)
1 can of corn 1 can great northern beans
1 can black beans
1 can red beans
1 medium size can of diced tomatoes
1 packet of Hidden Valley dressing mix
1 packet of taco seasoning
1 cup of water
Tortilla chips
Sour cream
Shredded cheese
Combine all ingredients in crockpot (do not drain the beans) except tortilla chips, sour cream and cheese.  Cook on low for 6 to 8 hours. Serve with chips, sour cream and cheese. To spice up the soup, add a small can of diced green peppers.
Chili Bean Salad
This fresh, healthy recipe comes from Sharon Richardson of Lake City.
1 15-ounce can chili beans, heated Chopped tomatoes
Fresh spinach or lettuce, chopped
Corn chips
Make a bed of fresh spinach or chopped lettuce on plate. Top with chopped tomatoes and chili beans that have been heated. Top with crushed corn chips.
Peanut Butter Dessert
This creamy, sweet Peanut Butter Dessert from Shakespeare Club member Pam Feld of Lake City offers an enticing ending for any meal. 
For the crust:
1 cup finely-chopped cashews
1 cup all-purpose flour
1 / 2 cup butter
Cream cashews, flour and butter together. Press mixture into baking pan. Bake at 350 degrees for 25 to 28 minutes.
First layer of filling:
8 ounces cream cheese
1 / 3 cup creamy peanut butter
1 cup powdered sugar
1 cup whipped cream topping
Combine cream cheese, peanut butter, powdered sugar and whipped cream topping. Spread over cooled crust.
Second layer of filling:
2 2 / 3 cups milk
1 package chocolate instant pudding
1 package vanilla instant pudding
Combine milk and the two pudding mixes. Chill in refrigerator. When set, layer mixture on top of peanut butter layer.
Top dessert with whipped cream topping and pieces of chopped candy bars. Butterfinger and Heath work well.
Savor more Iowa food history
Want more great recipes and Iowa food stories? Check out my top-selling "Culinary History of Iowa" book from The History Press, and order your signed copy today. 
P.S. Thanks for joining me. I'm glad you're here. 
@Copyright 2017 Darcy Maulsby & Co. 
2 responses to "Shakespeare Club Maintains 123 Years of Good Taste in Small-Town Iowa"