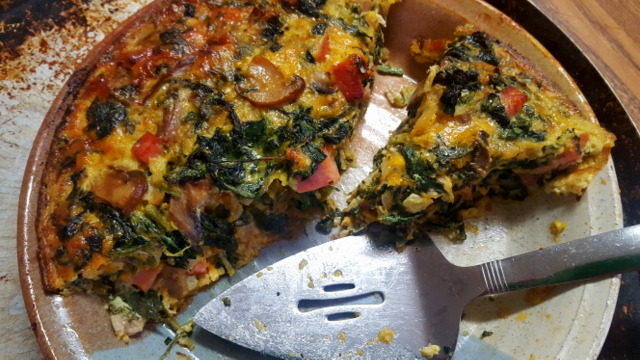 Leftover Ham? Make This Amazing Crustless Spinach and Ham Quiche
A ham for Easter dinner has been a tradition in my family for as long as I can remember.  It's no wonder, since I grew up on a farrow-to-finish hog farm in Calhoun County, Iowa. Ever wonder why ham became an Easter tradition?
In the days before refrigeration, hogs were harvested in the fall. The hams were preserved by curing (salting and/or smoking). This process took a long time, and the first hams were ready to eat in the spring. Ham, then, was a natural choice for the Easter celebration.
The National Pork Board recently conducted a Ham Research Study (wouldn't you love that job?) and found that that 69 percent of Americans served ham for Easter dinner in 2016. Also, 55 percent of consumers enjoy ham as an everyday meal. I'm certainly one of them.
If you have leftover ham this Easter, why not power up your next meal with my Crustless Quiche? This recipe is incredibly simple, flavorful and packed with veggies and protein. What more could you ask for?
Crustless Spinach and Ham Quiche
1 tablespoon olive oil
1 cup chopped onion
1 cup sliced fresh mushrooms (or 2 cans sliced mushrooms)
Diced red and orange peppers, if desired
1 package (10 ounces) frozen chopped spinach, thawed and drained
1 cup chopped, fully cooked ham
5 large eggs
3 cups shredded Cheddar or Monterey Jack cheese
1/8 teaspoon fresh-ground pepper
In a large skillet, saute onion and mushrooms in oil until tender. Add spinach and ham; cook and stir until the excess moisture is evaporated. Cool slightly. Beat eggs; add cheese and mix well. Stir in spinach mixture and pepper; blend well. Spread evenly into a greased 9-in. pie plate or quiche dish. Bake at 350° for 40-45 minutes or until a knife inserted in center comes out clean. Yield: 8 servings. Enjoy!
Want more Iowa culture and history?
Read more of my blog posts if you want more Iowa stories, history and recipes, as well as tips to make you a better communicator.
If you're hungry for more stories of Iowa history, check out my top-selling "Culinary History of Iowa: Sweet Corn, Pork Tenderloins, Maid-Rites and More" book from The History Press, as well as my Calhoun County" book from Arcadia Publishing, which showcases the history of small-town and rural Iowa. Order your signed copies today! Iowa postcards are available in my online store, too.
P.S. Thanks for joining me. I'm glad you're here. 
@Copyright 2017 Darcy Maulsby & Co.