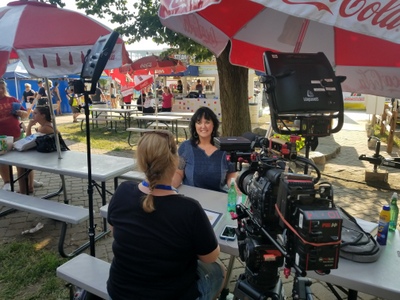 What To Do When the Travel Channel Calls
Just how far can things go when you tell agriculture's story? Turns out your message might just resonate with a national audience.
For me, it all started with a simple email on June 15. I was checking inbox that morning when I saw a note with the subject line "Bizarre Foods: Delicious Destinations– Researching Iowa."
Could this be THE Delicious Destinations show on the Travel Channel? The channel filled with some of the best food and travel stories anywhere on TV? The stuff I love watching on the weekends when I'm actually home and have a few hours to relax?
Yes, yes and yes.
The note came from Lauren Shaffer, a researcher with "Bizarre Foods Delicious Destinations."
"Each of our episodes feature a different city and the edible icons that make it a delicious destination," wrote Lauren, who included an online link to the show. "We're looking at doing a Des Moines episode in our upcoming season, and I'd love to get your opinion on what you think are the must-eats that make Des Moines, and Iowa in general, so special. Right now, we're looking at sweet corn, pork tenderloin and Maid-Rite sandwiches, to name a few. I've downloaded your book, A Culinary History of Iowa, on my Kindle, and I am excited to get started on it!"
Rule number one when you receive a media request—respond as quickly as possible.
Within minutes, I replied to Laruen that I would love to help. We set up a time to chat over the phone within the week. During our conversation, which lasted almost an hour, I had a great time sharing my thoughts on what makes Iowa's culinary history unique, how our foods are tied to our rich agricultural heritage and what I thought were some iconic Iowa foods that should be part of the show (from breaded pork tenderloins to Dutch letters to Maid-Rites to sweet corn).
On July 12, I received a new email with the subject line "Food Expert – Travel Channel Food Show – Iowa." This one came from Lauren's colleague Stacie Buszmann, segment producer with Tremendous! Entertainment, which produces Delicious Destinations. (I love how the company says it specializes in telling great stories through passionate characters who want to change the world.)
Stacie asked if she could visit with me over the phone to get more input on the Iowa episode. We talked about not only potential stories, but logistics. What would make sense, given the timing of the filming (four days in August to coincide with the great 2018 Iowa State Fair) and how the TV crew would be based in the Des Moines area during their time in Iowa?
Then came the biggest surprise. "Would you be willing to be our food expert?" Stacie asked. "We'd love for you to meet the crew for your interview at The Corn Stand in the Varied Industries Building at the Iowa State Fair on Monday, August 13."
I didn't think twice. "Yes!"
What an honor to help share the amazing story of Iowa agriculture and our unique food culture. Before we filmed the segment that hot afternoon around 5:30 p.m., I had the chance to visit with writer Tiffany Thompson, who lives in Los Angeles.
Tiffany and her fellow TV crew members not only hail from across the country, but around the world. They also travel the globe as they gather stories to share through Delicious Destinations.
"I wish everyone had the chance to see the world the way we do," Tiffany said. "You realize quickly how blessed we are, and you also see that people everywhere want the same things, including good food."
Yes, I thought. I wish more people could experience rural Iowa the way I do. We are blessed by the abundance of good land and good food here. We are blessed by farmers like my neighbors and my family who strive to be as productive as possible while caring the environment and the community. Most of all, we share this remarkable culture of agriculture—something many people are far removed from today.
It's a story worthy sharing. That's why I'm excited to learn that episodes of Bizarre Foods Delicious Destinations have a long lifespan, sometimes being broadcast multiple times for up to 10 years after they've been produced. (Watch for the Iowa episode sometime in 2019).
There's a reason why stories like this endure. "Food is a powerful way to bring people together," Tiffany said.
I couldn't agree more.
Want more?
Thanks for stopping by. I invite you to read more of my blog posts if you value intriguing Iowa stories and history, along with Iowa food, agriculture updates, recipes and tips to make you a better communicator.

If you like what you see and want to be notified when I post new stories, be sure to click on the "subscribe to blog updates/newsletter" button at the top of this page, or click here. Feel free to share this with friends and colleagues who might be interested, too.
Also, if you or someone you know could use my writing services (I'm not only Iowa's storyteller, but a professionally-trained journalist with 20 years of experience), let's talk. I work with businesses and organizations within Iowa and across the country to unleash the power of great storytelling to define their brand and connect with their audience through clear, compelling blog posts, articles, news releases, feature stories, newsletter articles, social media, video scripts, and photography. Learn more at www.darcymaulsby.com, or e-mail me at yettergirl@yahoo.com. 
If you're hungry for more stories of Iowa history, check out my top-selling "Culinary History of Iowa: Sweet Corn, Pork Tenderloins, Maid-Rites and More" book from The History Press. Also take a look at my latest book, "Dallas County," and my Calhoun County" book from Arcadia Publishing. Both are filled with vintage photos and compelling stories that showcase he history of small-town and rural Iowa. Order your signed copies today! Iowa postcards are available in my online store, too.
Let's stay in touch. I'm at darcy@darcymaulsby.com, and yettergirl@yahoo.com.
Talk to you soon!
Darcy
@Copyright 2019 Darcy Maulsby & Co.  Blog posts may only be reprinted with permission from Darcy Maulsby.