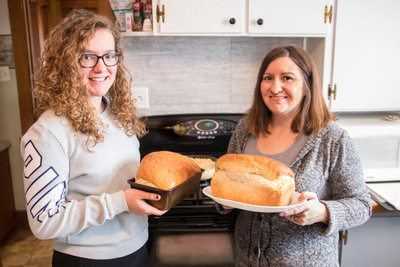 Baking is for Sharing: Best Bread, Grandma Ruby's Cookies and Other Iowa Favorites
One of the most fun projects I write for clients is the Farm Cook feature that appears in Farm News. I get to meet interesting people in my area and fine-tune my culinary skills, thanks to the wonderful recipes and handy cooking tips they share. Here's my latest Farm Cook feature with my new friend, Valerie. Enjoy! 
What is it about baking that's so intensely satisfying? Is it the rich aromas, the magic of creating something so comforting, or the opportunity to make family mealtime a priority? It's all the above for Valerie Stuhrenberg of Pocahontas.
"I've always liked to cook and bake," said Stuhrenberg, a Pocahontas native and registered nurse who works at Stewart Memorial Community Hospital in Lake City. "It runs in the family."
Stuhrenberg, the youngest of 10 children, credits her father, Keith, with inspiring her love of cooking and baking. While his famous homemade cinnamon rolls were the hit of the neighborhood, Stuhrenberg especially loved his homemade pancakes.
"Dad learned to cook from his Grandma Stanton, who lived in Peterson," said Stuhrenberg, who noted that he honed his culinary skills in various restaurants, including the Green Lantern Steak House in Decatur, Nebraska, and a restaurant he ran in Rockwell City.
Like many good cooks, Stuhrenberg's father came from a line of home cooks who didn't rely much, if at all, on recipes. This tradition of experimenting in the kitchen was passed on to Stuhrenberg, who's not afraid of a challenge. When a friend who moved to Iowa asked if Stuhrenberg could make her a Kentucky Jam Cake, she wasn't daunted.
"I said sure, even though I'd never heard of it before," said Stuhrenberg, who had no trouble making this frosted spice cake.
Stuhrenberg has passed along her love of baking to her daughter, Ally, 14, a freshman at Pocahontas Area High School. When she was a member of the Guys and Gals of Grant 4-H Club, Ally Stuhrenberg's baked goods, including Kentucky Jam Cake, won top honors at both the Pocahontas County Fair and the Iowa State Fair.
There's always something homemade and good to eat at home, added Ally Stuhrenberg, who helps cook for her dad, Bob, and younger brother, Trevor, when her mother is working. Home cooking abounds at family get-togethers, added Valerie Stuhrenberg, who noted that all her siblings can cook, and one brother is a chef in the Omaha area. "It makes holidays really fun."
Baked Macaroni & Cheese
8 ounces elbow macaroni (2 cups dry macaroni)
4 tablespoons butter
4 tablespoons flour
1 / 2 teaspoon salt
Black pepper, to taste
1 / 4 teaspoon nutmeg
1 cup milk
1 cup cream or evaporated milk
2 cups cheddar cheese, shredded
Crumb topping:
Ritz crackers, crushed
Butter
Preheat oven to 400 degrees Fahrenheit. Cook macaroni, and set aside. Melt butter in a sauce pan. Whisk in the flour, salt, black pepper and nutmeg. Add milk and cream (or evaporated milk); boil for 2 minutes, stirring constantly. Turn down the heat, and simmer mixture for 10 minutes, stirring occasionally. Remove from heat.
Add cheese to cream sauce mixture. Combine with cooked elbow macaroni. Pour into baking dish and bake for 10 minutes. As the casserole bakes, combine crushed Ritz crackers and melted butter. (Stuhrenberg doesn't measure exactly amounts.) After 10 minutes of baking, remove casserole from oven, sprinkle crumb topping mixture over the top, and bake the casserole for 10 more minutes. Remove from oven and serve.
(Note: all the ingredients, other than the crumb topping, can be combined and then frozen so the casserole can be baked later.)
Best Bread
4 1 / 2 teaspoons (2 packages) yeast
3 / 4 cup warm water
3 tablespoons soft butter
1 / 4 cup granulated sugar
1 tablespoon salt
2 2 / 3 cups additional water
9 to 10 cups flour
Put yeast and 3 / 4 cup warm water in mixer to proof for 5 minutes. Add butter, sugar, salt and the additional 2 2 / 3 cups water. Slowly add 5 cups of flour. Then add the remaining flour until a dough ball forms. Knead the dough for 5 to 10 minutes in mixer. (You may need to knead the dough in two batches.)
Put dough into a greased bowl, and let dough rise for 1 hour.
Punch down the dough, and separate the dough into two halves for two loaves of bread. Roll the dough out into two 12-inch by 12-inch squares. Then roll each square into the shape of a loaf of bread, tightly tucking in the seams and ends.
Place loaves in greased bread pans, and allow the dough to rise for 1 hour. Bake loaves for 15 minutes in an oven preheated to 425 degrees Fahrenheit. Cover loaves with aluminum foil, and bake 15 minutes more. Remove loaves from oven and cool on wire racks.
Grandma Ruby's Cookies
This recipe came from Ruby Otto, a farm wife from the Plover area. "She would always make a big batch of these so she could take some to the field at planting and harvest and keep some in the freezer," Valerie Stuhrenberg said.
2 cups granulated sugar
4 cups brown sugar
4 cups shortening
8 medium eggs
4 teaspoons vanilla
4 teaspoons baking soda
9 to 10 cups flour
2 teaspoons salt
24 ounces chocolate chips
24 ounces raisins
Preheat oven to 350 degrees Fahrenheit. Use an electric mixer to cream together the white sugar, brown sugar and shortening until smooth. Beat in the eggs one at a time, then stir in vanilla. In a separate bowl, combine the baking soda, salt and flour. Combine liquid mixture with dry mixture. Add chocolate chips and raisins to the batter.
Drop by large spoonfuls onto ungreased cookie sheets. Bake for about 10 to 13 minutes in the preheated oven, or until cookie edges are nicely browned. (More baking time creates a crisper cookie, while less baking time creates a chewier cookie.)
Kentucky Jam Cake with Caramel Frosting
Kentucky Jam Cake is a regional specialty. Instead of spreading the seedless blackberry jam between the cake layers, it is incorporated into the cake batter, along with a variety of spices, nuts and dried fruit. The moist, sweet, tangy cake is layered and covered with caramel frosting.
1 cup butter or margarine
2 cups granulated sugar
4 eggs
3 cups flour
1 teaspoon baking soda
1 teaspoon cinnamon
1 teaspoon nutmeg
1 teaspoon ground cloves
1 teaspoon ground allspice
1 cup buttermilk
1 teaspoon vanilla
1 cup of jam (seedless blackberry works well)
1 cup raisins
1 cup pecans, chopped
Cream butter and sugar. Beat in eggs, one at a time. In a separate bowl, sift all dry ingredients. Add the dry ingredients and buttermilk to the creamed mixture. (Alternate the addition of a portion of the dry mixture with a portion of buttermilk until all these ingredients have been incorporated into the batter.)
Add vanilla; mix well. Fold jam into cake batter. Add raisins and pecans; stir to combine.
Bake in two greased, floured baking pans for 35 to 45 minutes. Let cakes cool in pans for 15 minutes before turning the cakes onto waxed paper. Cool or freeze the cake before frosting with Caramel Frosting.
Caramel Frosting
2 1 / 4 cups brown sugar
1 1 / 2 sticks butter
2 tablespoons vanilla
3 tablespoons white corn syrup
4 1 / 2 tablespoons milk
2 1 / 4 cups confectioners' sugar
Combine brown sugar, butter, vanilla, corn syrup and milk in a saucepan. Heat to melt the mixture. Remove mixture from heat; stir in confectioners' sugar. Add sugar, as needed, until frosting has a glazed look and reaches the right spreading consistency. Spread frosting on the Kentucky Jam Cake quickly before the frosting hardens.
Black Magic Cake
1 3 / 4 cups all-purpose flour
2 cups granulated sugar
3 / 4 cup cocoa, unsweetened
2 teaspoons baking soda
1 teaspoon baking powder
1 teaspoon salt
2 large eggs
1 cup strong black coffee, cooled
1 cup buttermilk
1 / 2 cup vegetable oil
1 teaspoon vanilla extract
Combine flour, sugar, cocoa, baking soda, baking powder and salt in a large mixing bowl or stand mixer. Add eggs, coffee, buttermilk, vegetable oil and vanilla. Beat at medium speed for two minutes. Batter will be thin.
Pour batter into a greased and floured 9-inch by 13-inch pan, or two 9-inch round cake pans. Bake at 350 degrees for 35-40 minutes for a 9-inch by 13-inch pan, or 30-35 minutes for round pans. Remove cake from oven and cool. Spread with Easy Penuche Icing.
Easy Penuche Icing
1 / 2 cup butter
1 cup brown sugar, packed
1 / 4 cup milk
1 3 / 4 to 2 cups powdered sugar
Boil butter and brown sugar in saucepan for 2 minutes; remove from heat. Stir in milk. Mix in powdered sugar.
Want more?
Thanks for stopping by. I invite you to read more of my blog posts if you value intriguing Iowa stories and history, along with Iowa food, agriculture updates, recipes and tips to make you a better communicator.

If you like what you see and want to be notified when I post new stories, be sure to click on the "subscribe to blog updates/newsletter" button at the top of this page, or click here. Feel free to share this with friends and colleagues who might be interested, too.
Also, if you or someone you know could use my writing services (I'm not only Iowa's storyteller, but a professionally-trained journalist with 20 years of experience), let's talk. I work with businesses and organizations within Iowa and across the country to unleash the power of great storytelling to define their brand and connect with their audience through clear, compelling blog posts, articles, news releases, feature stories, newsletter articles, social media, video scripts, and photography. Learn more at www.darcymaulsby.com, or e-mail me at yettergirl@yahoo.com. 
If you're hungry for more stories of Iowa history, check out my top-selling "Culinary History of Iowa: Sweet Corn, Pork Tenderloins, Maid-Rites and More" book from The History Press. Also take a look at my latest book, "Dallas County," and my Calhoun County" book from Arcadia Publishing. Both are filled with vintage photos and compelling stories that showcase he history of small-town and rural Iowa. Order your signed copies today! Iowa postcards are available in my online store, too.
Let's stay in touch. I'm at darcy@darcymaulsby.com, and yettergirl@yahoo.com.
Talk to you soon!
Darcy
@Copyright 2019 Darcy Maulsby & Co.  Blog posts may only be reprinted with permission from Darcy Maulsby.