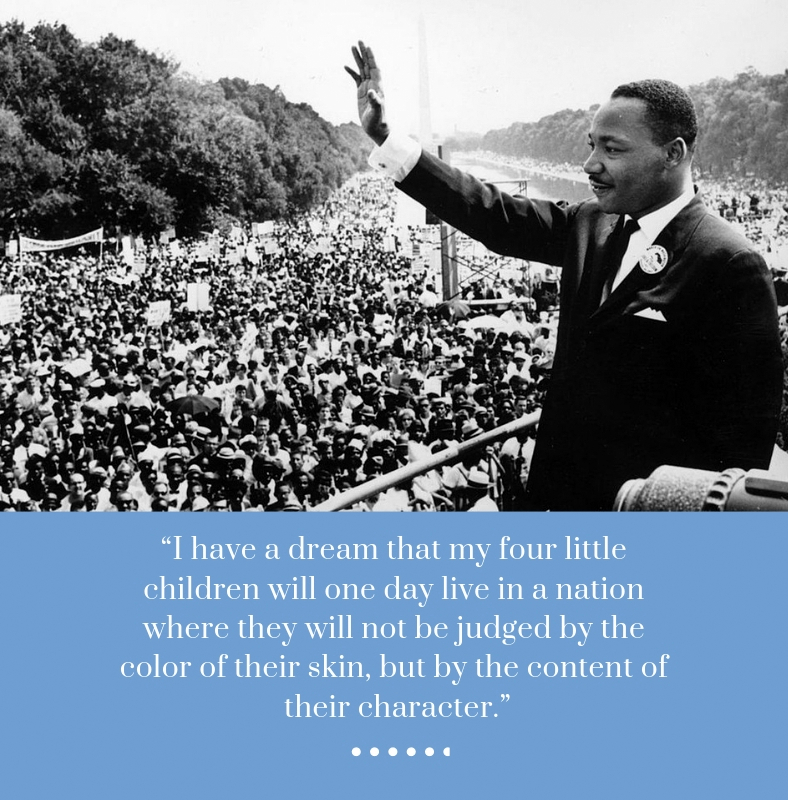 Finding Your Voice: The Story You Never Knew About "I Have a Dream"
Why do we still remember the powerful words of Martin Luther King Jr.'s "I Have a Dream" speech? Because he skipped the script.
The night before the speech, Tuesday, August 27, 1963, seven people, including Clarence Jones, a speechwriter, gathered with King at the Willard Hotel in Washington, D.C., to add their input to the final speech. King asked Jones to take notes and to turn them into cohesive remarks he would deliver on the steps of the Lincoln Memorial the next day.
"I tried to summarize the various points made by all of his supporters," Jones recalled. "It was not easy; voices from every compass point were ringing in my head."
The next morning King's speech was finished and copies were delivered to the press. Fast forward a few hours later, when King was delivering the speech. If you've seen the film footage, you'll notice that King looked down a lot in the first part of the speech, because he was reading the text.
But by the seventh paragraph, something extraordinary happened.
King paused.
In that brief silence, Mahalia Jackson, a gospel singer and good friend of King's, shouted "tell 'em about the 'dream.'" Few people heard her, although King did. He pushed the text of his prepared remarks to one side of the lectern. He shifted gears in a heartbeat, abandoning whatever final version he'd prepared.
King improvised much of the second half of the speech, including the "I have a dream" refrain. King rarely looks down in the second half of the speech. It's because he's not reading; he's riffing, like a jazz musician. And it was nothing short of soul-stirring.
Find your authentic voice
How does this apply to you? If you want to inspire your listeners (or readers), consider your audience, without a doubt, but find your authentic voice as you share your story.
Ask yourself, "What is it about my topic that makes my heart sing?" The answer will reflect your authentic voice and will connect with your listeners on a deeper, more emotional, more unforgettable level. You never know the impact your words can have. You just might make history.
The Iowa connection
One more thing–there is a remarkable Iowa connection to this powerful story.  It involves legendary basketball coach George Raveling, who coached men's basketball at the University of Iowa in the 1980s. He has a copy of the famous speech, given to him by Martin Luther King, Jr. himself after the he delivered his immortal words on the steps of the Lincoln Memorial.
The story was retold in "Pioneering coach George Raveling's surprising connection to MLK," which ran in a 2015 issue of Sports Illustrated. Here's a snippet:
"There is, however, one souvenir so special that Raveling stores it separately, at a secure location. The item is worth millions of dollars, but he will not sell it. It is too -important — to him, to his race and to his country.
Raveling acquired his most prized possession on Aug. 28, 1963, while standing on the steps of the Lincoln Memorial. Perhaps you recall what occurred on that date at that place: the March on Washington for Jobs and Freedom, the demonstration that culminated in a defining moment for the civil rights movement. Raveling didn't decide to go to the march until two days before, yet he emerged from that trip with the three pieces of paper that lay on the podium while the final speaker delivered one of the most important addresses in U.S. history.
To understand how Raveling ended up next to the speaker, and why he refuses to cash in on his priceless memento, you have to rummage through his collection, run your finger along the road map and piece together the parallel lives of two men, one a preacher, the other a coach. Theirs is a story of history and happenstance, linked by a surreal moment that sprang from a dream."
Read the rest of the story–and the all-important Iowa connection–here. 
Want more?
Thanks for stopping by. I invite you to read more of my blog posts if you value intriguing Iowa stories and history, along with Iowa food, agriculture updates, recipes and tips to make you a better communicator.

If you like what you see and want to be notified when I post new stories, be sure to click on the "subscribe to blog updates/newsletter" button at the top of this page, or click here. Feel free to share this with friends and colleagues who might be interested, too.
Also, if you or someone you know could use my writing services (I'm not only Iowa's storyteller, but a professionally-trained journalist with 20 years of experience), let's talk. I work with businesses and organizations within Iowa and across the country to unleash the power of great storytelling to define their brand and connect with their audience through clear, compelling blog posts, articles, news releases, feature stories, newsletter articles, social media, video scripts, and photography. Learn more at www.darcymaulsby.com, or e-mail me at yettergirl@yahoo.com. 
If you're hungry for more stories of Iowa history, check out my top-selling "Culinary History of Iowa: Sweet Corn, Pork Tenderloins, Maid-Rites and More" book from The History Press. Also take a look at my latest book, "Dallas County," and my Calhoun County" book from Arcadia Publishing. Both are filled with vintage photos and compelling stories that showcase he history of small-town and rural Iowa. Order your signed copies today! Iowa postcards are available in my online store, too.
Let's stay in touch. I'm at darcy@darcymaulsby.com, and yettergirl@yahoo.com.
Talk to you soon!
Darcy
@Copyright 2019 Darcy Maulsby & Co.  Blog posts may only be reprinted with permission from Darcy Maulsby.