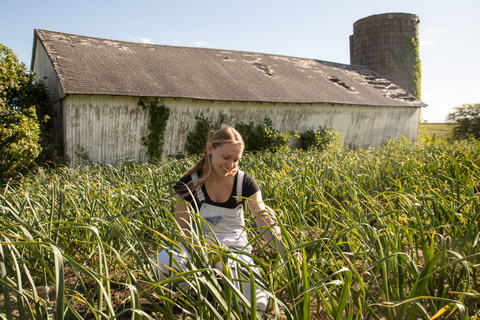 Ultra-Local Eating: Jennifer Miller Guides CSA, Iowa Food Cooperative
Jennifer Miller could hardly believe the question. "When will your bananas be ready?" inquired a central Iowa woman who was buying fresh produce through Miller's Clarion Sage market garden and community supported agriculture (CSA) business near Waukee.
"People are disconnected from where their food comes from," said Miller, 30, who noted the woman seeking locally-grown bananas is a well-educated business professional. "I've even had people look at our heirloom tomatoes and say, 'I don't want those,' because they think they are GMOs.'"
This disconnect isn't all that foreign to Miller, who grew up in Highland Park, Illinois, a northern suburb of Chicago. "I had no contact with agriculture in Highland Park," said Miller, who serves as the Iowa Food Cooperative's member services coordinator.
Miller did have a connection with Iowa, though, through her paternal grandparents, who lived in the Clarion/Rowan area. Her decision to move to Iowa in 2010 was spurred, in part, by a health challenge and new-found passion for healthy eating.
Miller was diagnosed a number of years ago with celiac disease, a serious autoimmune disorder where consuming gluten can damage the small intestine. "I started caring more about cooking and healthy recipes, because I just wanted to feel better," said Miller, whose gluten-free and vegan recipes on her blog caught the attention of Martha Stewart Living editors, who invited her to develop recipes for them. "That's what got me into food and agriculture."
Food can be so much more interesting
After moving to Iowa, Miller got involved with community gardens in the Des Moines area and became a marketing/communications specialist Iowa Food Cooperative, which operates like an online farmers market. In 2013, Miller and her partner, Cody Kilgore, moved to an acreage on the southwest edge of Waukee's city limits in Van Meter Township so they could operate their own farm.
"It felt like coming full circle," said Kilgore, who was raised in rural Missouri, worked in the corporate world for nearly 30 years and was ready for a career switch.

The couple planted garlic in the fall of 2013 to start their Clarion Sage market garden. The goal? "We believe in ultra-local and want to feed the community around us," said Miller, who noted that Clarion Sage primarily serves families within a five-mile radius in southern Dallas County.
Today, Miller and Kilgore raise a wide array of vegetables and herbs, including lettuce, squash, cabbage, carrots, garlic, tomatoes, cucumbers, peppers, potatoes and more, including heirloom varieties that can't be found in most stores. They offer an online ordering system for added convenience.
"Food can be so much more interesting," Miller said. "Whether you're sharing a family meal, providing snacks for your kids or making a favorite recipe, one thing's for sure: the starting point for all these is good food."
Six lessons learned about farming and food
As their business evolved, Miller and Kilgore have adjusted their marketing plan to adapt to the often surprising—and sometimes frustrating—buying patterns they've observed in the market. The Clarion Sage market garden and CSA have taught them six key lessons, including:
1. Farming is more than production. Raising an abundant crop is just step one, said Miller, who has learned that that marketing and sales are equally important.
2. Mentors matter. "I didn't grow up gardening, so working for various produce growers in Iowa and beyond taught me so much," said Miller, who is grateful for leaders like Angela Tedesco who started Turtle Farm near Granger, Jill Beebout from Blue Gate Farm near Chariton and other local food proponents who have mentored her along the way.
3. Buying local adds flavor to life. Clarion Sage's customers appreciate the "know your farmer" philosophy. Most buyers tend to be in their 30s and 40s with families, or they're retired and have an interest in good food and time to cook. "Every week we offer our customers about $30 worth of fresh vegetables," Miller said. "We focus on staple items like lettuce, potatoes, carrots and tomatoes, with the opportunity for more exotic options like stir-fry greens, kale and eggplant."
4. Catering to consumers can be tricky. While the Clarion Sage CSA is right on Waukee's doorstep, some consumers don't want to drive to the farm to pick up vegetables. Some feel they don't have time, while others don't like the way the gravel road makes their vehicle dusty. When Miller tried offering delivery, some consumers still rejected this option, citing a lack of time or interest in preparing fresh food. Even full-color newsletters filled with cooking tips and recipes failed to gain much traction with these types of consumers, said Miller, who plans to start selling her produce at the Downtown Farmers' Market in Des Moines.
5. Urban sprawl is relentless. High-density residential projects are planned for the area near the Clarion Sage's market garden. "We're in the bullseye of urban sprawl, which is a challenge," said Kilgore, who also works as a wedding photographer.
6. Local food pairs well with global flavors. Miller loves ethnic cooking, from Latin American to African. "If you want to add more vegetables to your diet, look to other cultures that don't have an abundance of meat protein," said Miller, who encourages people to try vegetables like Cherokee Purple heirloom tomatoes (known for their smoky, complex flavor), fish peppers (which pack more heat), Merlot lettuce (whose dark red leaves offer a mellow flavor) and fingerling potatoes (which taste great fried or roasted).
Food is one of the best parts of life, added Miller, who loves the creativity involved in growing and marketing a crop. "You see a crop through from beginning to end, and you're producing something that can feed and sustain people. That's amazing to me."
Want more?
Thanks for stopping by.  I invite you to read more of my blog posts if you want more more intriguing Iowa stories and history, along with Iowa food, recipes and tips to make you a better communicator. If you like what you see and want to be notified when I post new stories, be sure to click on the "subscribe to blog updates/newsletter" button at the top of this page. Feel free to share this information with friends and colleagues who might be interested, too.
If you're hungry for more stories of Iowa history, check out my top-selling "Culinary History of Iowa: Sweet Corn, Pork Tenderloins, Maid-Rites and More" book from The History Press, as well as my Calhoun County" book from Arcadia Publishing, which showcases the history of small-town and rural Iowa. Order your signed copies today! Iowa postcards are available in my online store, too.
Let's stay in touch. I'm at darcy@darcymaulsby.com, and yettergirl@yahoo.com.
P.S. Thanks for joining me. I'm glad you're here. 
@Copyright 2017 Darcy Maulsby & Co. 
About me:
Some people know me as Darcy Dougherty Maulsby, while others call me Yettergirl. I grew up on a Century Farm between Lake City and Yetter and am proud to call Calhoun County, Iowa, home. I'm an author, writer, marketer, business owner and entrepreneur who specializes in agriculture.  Learn more at www.darcymaulsby.com.