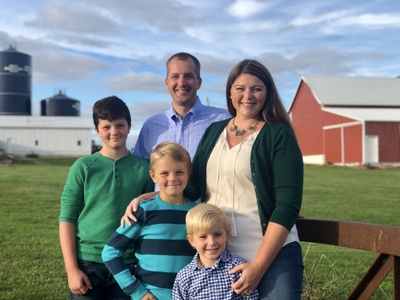 We Need FFA: Iowa Ag Secretary Mike Naig Reflects on His FFA Experiences
When you look at his formative years, my friend Mike Naig shouldn't be where he is today, serving as Iowa's Secretary of Agriculture. Even for him, it's hard to shake memories of the Farm Crisis.
"As a child of the 1980s, I knew my parents didn't want us to go through the same hardships they did," said Naig, 40, the third of four Naig children who grew up on their family's farm near Cylinder in northwest Iowa. "There was this mentality of 'go do something other than farming,' so my siblings and I were going to college and pursue careers off the farm."
Naig considered studying veterinary medicine or a major related to human health. Yet there was something that planted a seed back then in Palo Alto County, something that would take root and shape Naig's future in ways he could never imagine. That transformative experience was FFA.
"I never predicted I'd serve in a role like this, but I'm grateful for the life skills and ag knowledge I learned in FFA," said Naig, who is one of Iowa's most high-profile champions of FFA, especially during National FFA Week from February 16-23, 2019. "We need FFA."
Naig speaks from experience. Before serving as Iowa's Secretary of Agriculture, this Buena Vista University graduate worked in agribusiness for more than 13 years, serving in public policy roles for state and national trade associations and in private industry. He served as the Iowa Deputy Secretary of Agriculture under Bill Northey starting in September 2013.
When Northey joined the U.S. Department of Agriculture (USDA), Iowa Governor Kim Reynolds appointed Naig to succeed Northey as Iowa Secretary of Agriculture on March 5, 2018. Naig was elected Secretary of Agriculture in November 2018. Here's his story:
Q: How did your leadership journey begin?
A: Before I joined FFA, I was heavily involved in 4-H. The first meeting I ever chaired was at my local Independence Boosters 4-H Club. I stayed involved in 4-H through high school and served in all the officer roles. I also served on the 4-H Youth County Council in Palo Alto County. During high school, I went on a leadership trip to Washington, D.C. This helped spark my interest in government and politics.
Q: What role did FFA play in your years at Emmetsburg High School?
A: While I was involved with the student council and served as student body president in high school, I was really into soil judging with FFA. Before I graduated from high school in 1996, our soil judging team made it to state and then to the national competition in Oklahoma. All this fit well with my interest in science, soil quality and soil health. Those of us in FFA were fortunate to have a strong FFA chapter, a great advisor, Jerry Strand, and a supportive community. Although I didn't know it back then, all this would provide a strong background for my career when I started working on soil and water quality policy issues.
Q: What lessons did you learn from your FFA experiences?
A: FFA teaches you that preparation pays off. The supervised agricultural experience (SAE) challenges you to come up with a project and see it through. This requires you to get organized, plan ahead and think strategically. For many kids, this is one of the first big tastes of responsibility they get. You also learn teamwork, since you have to work together to get things done. Competition is also important in FFA. You learn to put your best effort forward and win with grace. If you come up short, you learn from your mistakes and are encouraged to do better next time.
Q: How can FFA help Iowa meet the challenges of the twenty-first century?
A: FFA does a great job of helping kids learn about the rewarding, ag-related careers that are available in a variety of disciplines right here in Iowa. FFA also does an outstanding job of developing the next generation of ag leaders. This is important, because I see "volunteer fatigue" in many communities. There are plenty of opportunities to serve, including local churches, school boards, county Farm Bureau boards, co-op boards and hospital boards, but it can be hard to replace dedicated board members and volunteers who have served so well for many years. We have significant needs in our rural communities across the state, and we'll need leaders like those in FFA today to step up and fill these important roles going forward.
Q: What excites you about the future of FFA and Iowa?
A: While these are challenging times in agriculture, there's always reason for hope. Protein demand worldwide is growing, along with demand for bio-based fuels. Technology continues to advance and create new opportunities. There's so much we have yet to discover in agriculture, which is exciting!
Iowa is at the epicenter of all this. We have something very special here, and it's not just our rich soil. It's our people. Rural Iowa can thrive when it's guided by lifelong learners who are focused on continuous improvement to protect our precious natural resources and expand economic opportunities. FFA members will be part of this future, guided by the knowledge that feeding people is a noble profession. FFA has a strong record of developing leaders. It's essential we keep FFA and ag education strong in our schools.
A note from Darcy:
I appreciate Mike's comments about the importance of FFA and ag education for this story, which first appeared in Farm News. FFA played a critical role in helping me find my career, but boy, was it a strange, wacky, wonderful journey. Read the whole crazy story here. 
Want more?
Thanks for stopping by. I invite you to read more of my blog posts if you value intriguing Iowa stories and history, along with Iowa food, agriculture updates, recipes and tips to make you a better communicator.

If you like what you see and want to be notified when I post new stories, be sure to click on the "subscribe to blog updates/newsletter" button at the top of this page, or click here. Feel free to share this with friends and colleagues who might be interested, too.
Also, if you or someone you know could use my writing services (I'm not only Iowa's storyteller, but a professionally-trained journalist with 20 years of experience), let's talk. I work with businesses and organizations within Iowa and across the country to unleash the power of great storytelling to define their brand and connect with their audience through clear, compelling blog posts, articles, news releases, feature stories, newsletter articles, social media, video scripts, and photography. Learn more at www.darcymaulsby.com, or e-mail me at yettergirl@yahoo.com. 
If you're hungry for more stories of Iowa history, check out my top-selling "Culinary History of Iowa: Sweet Corn, Pork Tenderloins, Maid-Rites and More" book from The History Press. Also take a look at my latest book, "Dallas County," and my Calhoun County" book from Arcadia Publishing. Both are filled with vintage photos and compelling stories that showcase he history of small-town and rural Iowa. Order your signed copies today! Iowa postcards are available in my online store, too.
Let's stay in touch. I'm at darcy@darcymaulsby.com, and yettergirl@yahoo.com.
Talk to you soon!
Darcy
@Copyright 2019 Darcy Maulsby & Co.  Blog posts may only be reprinted with permission from Darcy Maulsby.