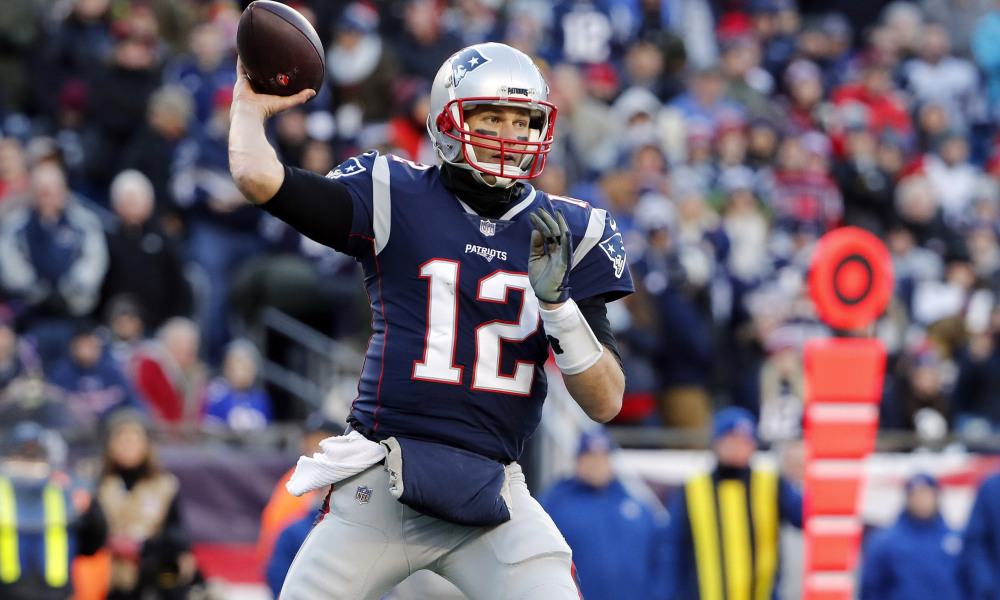 Can a True Story Well Told Turn You into a Tom Brady Fan?
Ever had that experience where you thought you know someone well, and then something that person says or does throws you for a loop? It happened to me last week when one of my clients, who has also become one of my dear friends, brought up Tom Brady.
We were brainstorming story ideas for her company's magazine when my friend turned the conversation to the New England Patriots' quarterback. She became more animated as she talked about why Brady is such a great guy.
"You really need to watch this video," says my friend, who texted me the link to the 47-minute documentary "The Brady 6 – The #199 Draft Pick Tom Brady Story."
Sure, I knew the basics about Brady (good-looking guy, married to a supermodel, a father, an amazing athlete who has led his team to multiple Super Bowl victories—the kind of guy lots of people love to hate).
But my friend wouldn't stop talking about Brady-and I was fascinated. This is a lady who admits she had no interest—zero—in football before she got hooked on Brady.
It wasn't Brady's looks, his athletic ability or his NFL statistics that captured her imagination. It was his story. This unlikely football fan couldn't resist an underdog story defined by compelling characters, high stakes, uncertain outcomes and someone with the heart of a champion who never gives up.
"I like Tom Brady's story so much that I saved the Brady 6 video and still watch it from time to time," my friend confides to me.
I didn't really know Brady's back story, so I took my friend's advice and watched the Brady 6 documentary. The Brady 6 refers to the 6 quarterbacks selected before Brady, who was the 199th pick overall in the 2000 NFL draft. The fact that no one saw his true potential during the NFL draft didn't stop Brady from becoming one of the greatest quarterbacks of all time.
Brady is still on top of his game 19 years after being drafted. Now in his 40s, he's doing things never seen before in the NFL. He's still leading his team to Super Bowls, winning MVP awards, and doing it at an age when most quarterbacks have moved on to the TV booth or disappeared into obscurity.
All this is what transformed my friend into a Tom Brady fan who loves the Patriots' football. "Every year I try to learn more about the game," she says with so much passion and enthusiasm that I wonder if I'm really talking to this friend I thought I knew so well. Can this really be the lady who has had a successful 40-year career and starts thinking about retirement a little more each year? Who is this demure magazine editor-turned-football fan?
"So do you buy Patriots' stuff?" I ask.
"Are you kidding? I have Patriots everything, from shirts to socks. I even made a point to go to Foxborough (Massachusetts) last fall for my first Patriots' game when I was in New England for a journalism conference."
She just couldn't help herself. "Oh, that was great!" she exclaims. "It was just wonderful to be around all those Patriots fans—and the Patriots beat the Dolphins!"
My friend's devotion hasn't stopped with purchases of Patriots gear and game tickets. She has also downloaded the Patriots' smartphone app to keep up with the team, and she listens to the Patriots' radio show faithfully.
"And now I know a lot of stories of the other players, too," she proclaimed. "I really love this team!"
I have to admit—because of my friend's enthusiasm and her word-of-mouth marketing, I've become a Tom Brady fan, too, and will be cheering on the Patriots this Sunday.
What's your Tom Brady story?
My friend's Tom Brady story reminds me of a timeless marketing truth—never underestimate the power of a true story well told.
The best part is that we all have our own Tom Brady stories to tell. True stories of perseverance, excellence, overcoming adversity, and using our talents to make the world a more interesting, enjoyable place.
Are you trying to grow your customer base? Seeking more donations or volunteers to support your non-profit organization? Want to be perceived as a thought leader? Uncovering your unique stories, framing them in a way that resonates with your audience and sharing them can help you cut through the marketing clutter and stand out in the best possible way.
I'd love to help you discover and craft the stories that help you add value to your audience and make a positive difference in your world. Let's start the conversation.
Oh—one more thing. Whether you watch the Super Bowl for the football or the commercials, enjoy the big game!
Want more?
Thanks for stopping by. I invite you to read more of my blog posts if you value intriguing Iowa stories and history, along with Iowa food, agriculture updates, recipes and tips to make you a better communicator.

If you like what you see and want to be notified when I post new stories, be sure to click on the "subscribe to blog updates/newsletter" button at the top of this page, or click here. Feel free to share this with friends and colleagues who might be interested, too.
Also, if you or someone you know could use my writing services (I'm not only Iowa's storyteller, but a professionally-trained journalist with 20 years of experience), let's talk. I work with businesses and organizations within Iowa and across the country to unleash the power of great storytelling to define their brand and connect with their audience through clear, compelling blog posts, articles, news releases, feature stories, newsletter articles, social media, video scripts, and photography. Learn more at www.darcymaulsby.com, or e-mail me at yettergirl@yahoo.com. 
If you're hungry for more stories of Iowa history, check out my top-selling "Culinary History of Iowa: Sweet Corn, Pork Tenderloins, Maid-Rites and More" book from The History Press. Also take a look at my latest book, "Dallas County," and my Calhoun County" book from Arcadia Publishing. Both are filled with vintage photos and compelling stories that showcase he history of small-town and rural Iowa. Order your signed copies today! Iowa postcards are available in my online store, too.
Let's stay in touch. I'm at darcy@darcymaulsby.com, and yettergirl@yahoo.com.
Talk to you soon!
Darcy
@Copyright 2019 Darcy Maulsby & Co.  Blog posts may only be reprinted with permission from Darcy Maulsby.