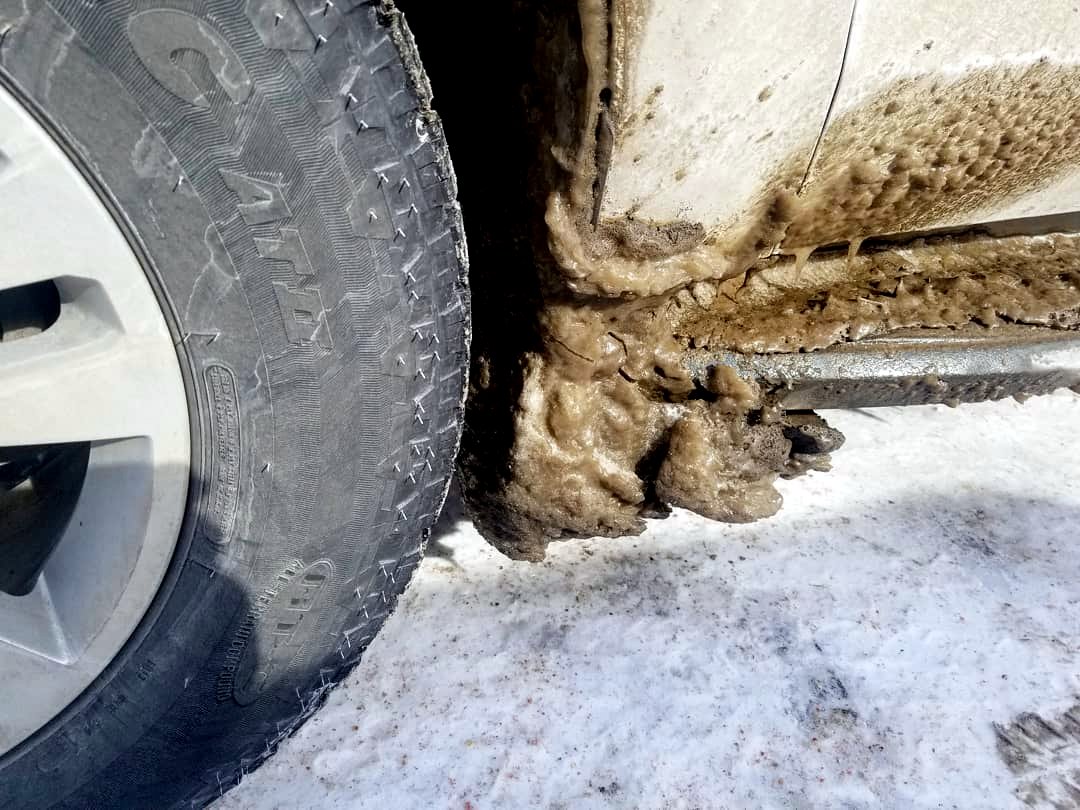 A Dirty Tip to Make Your Social Media Content More Shareable
Tire turd (noun): Wad of snow, ice, salt and gravel that piles up behind each vehicle tire in the winter. Removable only with explosives. #Iowa #winteriniowa
That's a recent Facebook post I created when was in Red Oak, Iowa, this week, working on a newsletter for United Farmers Cooperative. When I stopped at the grain elevator, I saw this tire turd on my car. I decided to share it on my personal Facebook page. This silly post apparently struck a chord, because it has been liked 159 times, generated 23 comments and has been shared 17 times. Crazy!
This reminds me of one of the principles I teach in my storytelling classes. Shareability is a key to the most successful social posts.
People don't just share any old content. Facebook reports that 0.5% of those who see a Facebook post share it. Of all the content links the average Twitter user receives, the re-tweet ratio is 1:318, according to one of my favorite books, "The Content Code," by Mark Schaeffer.
Research sponsored by the New York Times found that people share content to:
• To be useful, since the info. is practical or timely
• To define themselves to others (look smarter, funnier, more relevant)
• To strengthen relationships with others
• Get the word out about causes, brands, events, etc. they care about
Think about the last time you shared something. What motivated you to do this?
How could you frame your stories and information to make your content more shareable?
Want more?
Thanks for stopping by. I invite you to read more of my blog posts if you value intriguing Iowa stories and history, along with Iowa food, agriculture updates, recipes and tips to make you a better communicator.

If you like what you see and want to be notified when I post new stories, be sure to click on the "subscribe to blog updates/newsletter" button at the top of this page, or click here. Feel free to share this with friends and colleagues who might be interested, too.
Also, if you or someone you know could use my writing services (I'm not only Iowa's storyteller, but a professionally-trained journalist with 20 years of experience), let's talk. I work with businesses and organizations within Iowa and across the country to unleash the power of great storytelling to define their brand and connect with their audience through clear, compelling blog posts, articles, news releases, feature stories, newsletter articles, social media, video scripts, and photography. Learn more at www.darcymaulsby.com, or e-mail me at yettergirl@yahoo.com. 
If you're hungry for more stories of Iowa history, check out my top-selling "Culinary History of Iowa: Sweet Corn, Pork Tenderloins, Maid-Rites and More" book from The History Press. Also take a look at my latest book, "Dallas County," and my Calhoun County" book from Arcadia Publishing. Both are filled with vintage photos and compelling stories that showcase he history of small-town and rural Iowa. Order your signed copies today! Iowa postcards are available in my online store, too.
Let's stay in touch. I'm at darcy@darcymaulsby.com, and yettergirl@yahoo.com.
Talk to you soon!
Darcy
@Copyright 2019 Darcy Maulsby & Co.  Blog posts may only be reprinted with permission from Darcy Maulsby.