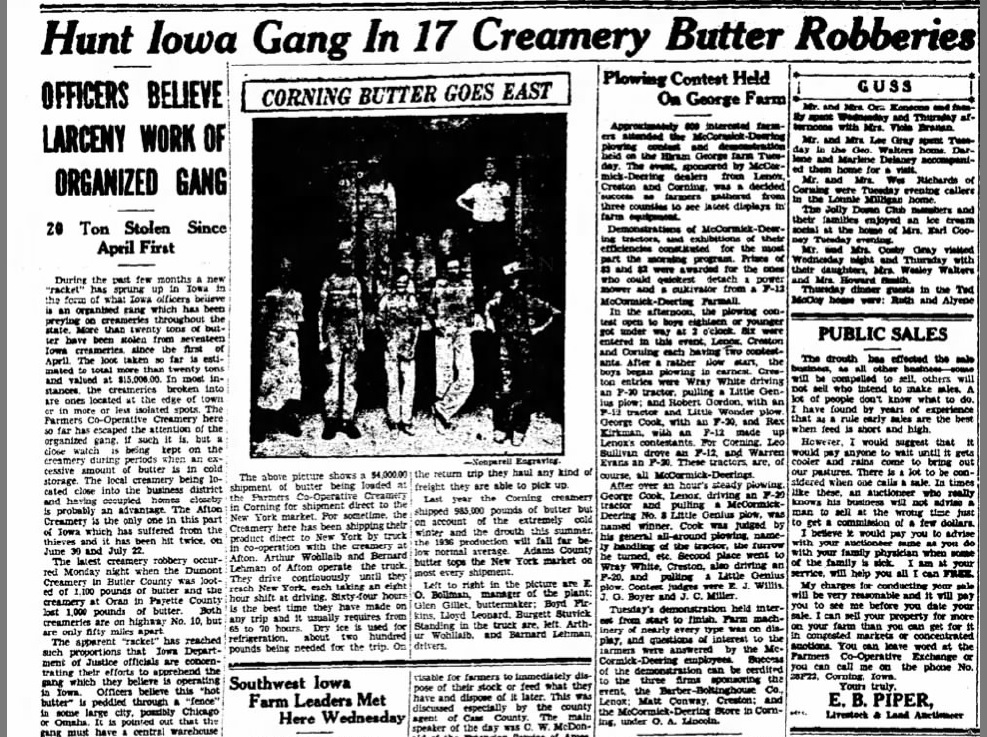 Busting the Iowa Butter Gang
"Hey, did you ever hear of the Iowa Butter Gang?" It's the last question I expected to hear during my recent "Culinary History of Iowa" book signing in West Des Moines, and it definitely caught my attention.
It came from Jan Kaiser, a former Des Moines librarian who had first "encountered" the nefarious gang a few years ago through research into 70+-year old newspaper archives.
Turns out that crime came in many forms during the Great Depression. Back then, butter was big business in rural Iowa. Not only was Iowa a leading dairy state, but hundreds of Iowa creameries produced high-quality butter that helped make Iowa a top shipper of butter into the New York City area, I learned recently from Iowa Secretary of Agriculture Bill Northey.
While some Depression-era criminals robbed banks, some thieves in rural Iowa opted to rob creameries. A headline in the Aug. 6, 1936, edition of the Adams County Free Press newspaper announced, "Hunt for Iowa Gang in 17 Iowa Creamery Butter Robberies: Officers Believe Larceny Work of Organized Gang."
The article noted that during the spring and summer of 1936, a new "racket" had sprung up in Iowa in the form of an organized gang that preyed on creameries throughout the state. By early August 1936, more than 20 tons of butter had been stolen from 17 Iowa creameries since early April 1936. "The loot taken so far is estimated to total more than 20 tons and is valued at $15,000," noted the news article.
In most cases, the creameries that were broken into were located on the edge of town or in isolated spots. The gang's targets in 1936 included:
• April 3, Palmer, 2,172 pounds
• April 8, Fenton, 3,440 pounds
• May 15, Fenton, 2,080 pounds
• May 28, Edgewood, 630 pounds
• June 4, Britt, 5,184 pounds
• June 12, Kimballton, 4,000 pounds
• June 20, Coulter, 4,095 pounds
• June 30, Afton, 2,200 pounds
• July 1, Hampton, 2,209 pounds
• July 3, Hubbard, 7,488 pounds
• July 8, Palmer, 3,553 pounds
• July 11, Randall, 2,304 pounds
• July 22, Afton, 2,764 pounds
• July 30, Nashua, 1,500 pounds
• July 31, Masonville, 2,228 pounds
• August 3, Dumont, 1,100 pounds
• August 3, Oran, 1,000 pounds
"It is believed that before each burglary, the creamery is selected by the gang and careful plans made," stated the Adams County Free Press. "The robbers are evidently expert burglars and experience little difficulty in breaking into creameries. They use a truck and are gone with their loot before local officials know there has been a burglary."
Peddling "hot butter"
The writer speculated that the gang must have a central warehouse, since butter is highly perishable. The apparent racket reached such epic proportions that Iowa Department of Justice officials concentrated their efforts to apprehend the gang. "Officers believe this 'hot butter' is peddled through a 'fence' in some large city, possibly Chicago or Omaha," the writer noted.
(A fence is someone who knowingly buys stolen property for later resale, sometimes in a legitimate market. The fence acts as a middleman between thieves and the eventual buyers of stolen goods who may not be aware that the goods are stolen.)
The article continued, "The Farmers Co-operative Creamery here [in Corning] so far has escaped the attention of the organized gang, but a close watch is being kept on the creamery during periods when an excessive amount of butter is in cold storage."
It's no wonder locals were keeping a close watch. The Farmers Co-op Creamery shipped thousands of dollars of butter each year to the New York market. The Adams County Free Press reported that two local truck drivers would each take eight-hour driving shifts and drive straight through from Iowa to New York. The best time they made from Iowa to New York was 64 hours, although the trip usually took 65 to 70 hours.
About 200 pounds of dry ice were used for refrigeration during the trip. On the return trip, the drivers hauled any kind of freight they were able to pick up. In 1935, the Corning creamery shipped 985,000 pounds of butter, noted the newspaper article. Due to the harsh winter and summer drought of 1936, however, that year's production was expected to fall far below average—a fact that made the butter robberies of 1936 even more devastating in rural Iowa.
Finally—a big break in the case
By August 1936, officers with the Iowa State Patrol (formed just a year earlier in 1935) and a group of northern Iowa vigilantes and deputy sheriffs had been driving the secondary and dirt roads nightly for the last two months, trying to catch the butter gang, according to the Des Moines Tribune (the capital city's afternoon newspaper that ended in 1982).
Some promising leads ended in disappointment. In the summer of 1936, officers arrested Harvey Mighell of Holstein on suspicion that he was connected with the butter gang. He was taken to Audubon, where he was questioned and later released under $2,000 bond. Mighell denied having anything to do with the Iowa butter thefts.
Law enforcement officials got a big break, however, by late August 1936. A headline in the Aug. 29, 1936, edition of the Des Moines Tribune proclaimed "Iowa Butter Gang Crushed."
Turns out an Omaha gang of six men and one woman stole some $30,000 worth of butter, cheese and eggs in a string of more than 30 robberies across Iowa in 1936. (The pilfered dairy products were worth nearly $525,000 in today's money.) The butter was trucked to Omaha and was sold through a fence.
"Virtually every sheriff in northern Iowa has been on the case as well as several detectives of the Omaha police department and other Iowa town police departments," the reporter noted.
Iowa prosecutors charged the gang with 32 robberies. Detectives recovered 70 tubs of butter, the Tribune reported, 66 of which had been stolen from a creamery in Wesley. All the cheese was lifted from Ionia, the story reported. Law enforcement officials took the dairy products and sold them through legitimate channels to packers in Omaha.
"Capture of the Butter Gang was the climax of one of the greatest Iowa manhunts in recent years," officials told the newspaper.
One more try?
The story wasn't over, though. Less than five years later, one of the original butter gang members tried to revive the scheme. Under the headline "Butter Theft Gang Thwarted," the Jan. 15, 1941, issue of the Mason City Globe-Gazette reported the arrest of Bryon Green, 32, of Sioux City. "R.W. Nebergall, chief of the Iowa Bureau of Investigation, believed that Green was attempting to set up a new 'butter theft gang' in Iowa," stated the article.
On Dec. 13, 1940, Green had been released from prison in Stillwater, Minnesota, after serving three and a half years for burglary. Within a few weeks of his release from prison, Green was arrested by Chicago police, who accused him of entering the Masonville, Iowa, creamery on January 9, 1941, and shipping 1,230 pounds of stolen butter to a Chicago firm.
Thus ended the saga of the infamous butter gangs that terrorized rural Iowa in the 1930s. Their nearly forgotten story faded into history, along with the small-town creameries that once inspired their notorious crime spree.
Want more?
Thanks for stopping by. I invite you to read more of my blog posts if you want more more intriguing Iowa stories and history, along with Iowa food, recipes and tips to make you a better communicator. If you like what you see and want to be notified when I post new stories, be sure to click on the "subscribe to blog updates/newsletter" button at the top of this page. Feel free to share this information with friends and colleagues who might be interested, too.
If you're hungry for more stories of Iowa history, check out my top-selling "Culinary History of Iowa: Sweet Corn, Pork Tenderloins, Maid-Rites and More" book from The History Press, as well as my Calhoun County" book from Arcadia Publishing, which showcases the history of small-town and rural Iowa. Order your signed copies today! Iowa postcards are available in my online store, too.
Let's stay in touch. I'm at darcy@darcymaulsby.com.
P.S. Thanks for joining me. I'm glad you're here. 
@Copyright 2017 Darcy Maulsby & Co. 
About me:
Some people know me as Darcy Dougherty Maulsby, while others call me Yettergirl. I grew up on a Century Farm between Lake City and Yetter and am proud to call Calhoun County, Iowa, home. I'm an author, writer, marketer, business owner and entrepreneur who specializes in agriculture.  Learn more at www.darcymaulsby.com.