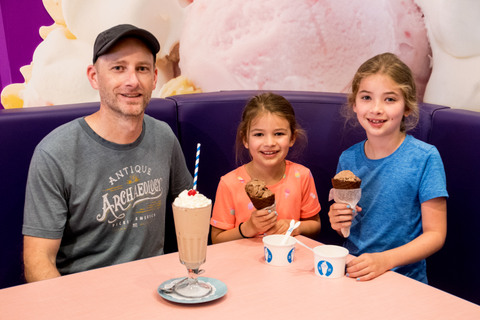 What's the Scoop? Expanded Wells' Ice Cream Parlor Offers a Taste of Iowa
Love ice cream? Think you can handle something as outrageous as the Monster Peanut Butter Cup Sundae? Then you MUST visit Le Mars, Iowa, soon. Everything is bigger and better at the revamped Wells Visitors Center and Ice Cream Parlor in downtown Le Mars, from the extreme milkshakes and sundaes (Savannah Peach, anyone?) to the spacious parlor itself, where you
can enjoy their sweet treats in the retro-styled dining area or new movie theater upstairs.
"This is a one-of-a-kind experience," said Adam Baumgartner, vice president of retail sales for Wells Enterprises, Inc., whom I visited with during a recent media day at the ice cream parlor. "Beyond the Iowa State Fair, we want to make this the single-biggest tourist attraction in Iowa."
More than 200,000 people have visited the parlor each year since it opened in 2011. "Our goal is to more than double that," said Baumgartner, who noted that the remodeled parlor/visitor center blends education, entertainment and unique experiences for guests of all ages.
In the past year, Wells has invested $3 million in upgrades and expansions for the rebranded facility, which is housed in a historic 1917 building on Central Avenue. Highlights include:
• An interactive "farm to spoon" look at ice cream, from the dairy farm to the grocery store.
• An expanded ice cream menu with more novelties, extreme shakes and desserts, including the Lemon Meringue Shake, Monster Peanut Butter Cup Sundae, Molten Chocolate Lava Shake and more.
• An ice cream cone-shaped display where guests can take fun selfies and share them through text messages and social media.
• A rooftop seating area with views of historic downtown Le Mars.
• Handicap accessibility throughout the building.
• Event center space that can hold up to 200 guests. The space can be rented for parties, meetings and other gatherings.
• The Wells Family Theater, where a short film plays multiple times each hour to tell the story of how Wells and Le Mars came together.
• An engaging Heritage Wall filled with vintage pictures and more to document the unique history of Wells.
• An updated gift shop filled with ice cream-inspired items.
• More space to house all these attractions. The remodeled visitor center/ice cream parlor includes 19,000 square feet, up from 12,000 square feet.
Above all, the parlor reflects Wells' mission to bring joy to everyday life because of the love of ice cream. "We're building on a unique family legacy," Baumgartner said. "We want to put a smile on the face of ice cream lovers for years to come."
Discover the history of the sweetest place on Earth
All this drives economic development in rural Iowa. Wells employs nearly 3,000 people and produces 150 million gallons of ice cream each year.
"Wells gets all of its fresh dairy from within 75 miles of our production facilities in Le Mars," said Shannon Rodenburg, marketing and tourism manager for the Wells Visitor Center and Ice Cream Parlor. "Wells collects and processes more than 20 tankers of milk each day, 365 days a year."
It all began on Oct. 24, 1913, when Fred H. Wells signed a contract with Ray Bowers, a dairy farmer in Le Mars, for "one grey horse, one milk wagon, two barn cans, three 20-quart jars, 60 half-pint jars and the good will of the milk business he has in the city of Le Mars, Iowa," all for $250. (That's roughly $6,400 today.) The original contract granted Wells the milk distribution route and guaranteed a source of raw milk from Bower's herd of 15 cows.
Around 1925, Wells and his sons began manufacturing ice cream in Le Mars. As the popularity of their ice cream grew, they quickly branched out and began distributing their frozen confections in Remsen and Alton, Iowa, the following year. By 1927, Wells and his brother, Harry C. Wells, began a partnership to distribute ice cream in Sioux City.
A big change occurred, however, in 1928, when Fairmont Ice Cream purchased the ice cream distribution system in Sioux City from the Wells brothers, along with the right to use the Wells name. That could have been the end of the ice cream business for Wells, but it wasn't.
Seven years later, in 1935, the Wells brothers decided to again sell ice cream in Sioux City. No longer able to use the name "Wells," the brothers decided to run a "Name That Ice Cream" contest in the Sioux City Journal. A Sioux City man, George Vanden Brink, won the $25 cash prize for submitting the winning entry, "Blue Bunny," after noticing how much his son enjoyed the blue bunnies in a department store window at Easter time. Vanden Brink, who was an illustrator by trade, also created the first Blue Bunny logo, which appeared on Blue Bunny packaging for nearly 70 years.
What started as Blue Bunny Ice Cream® has grown to include multiple brands and licensed products today. The company makes nearly 1,000 different products, Baumgartner said.
In fact, there is more ice cream made in Le Mars than in any one location on Earth, making Le Mars the Ice Cream Capital of the World—a title the community has held since Iowa's state legislature made it official in 1994.
Bringing the ice cream story to life
From a single delivery wagon to the world's largest family-owned and managed ice cream producer, Wells' 100+ years in the industry is a pretty sweet story. The company has set its sights on becoming the leading ice cream manufacturer in the nation.
Giving Wells' ice cream parlor/event center a facelift is part of a bigger goal to make Le Mars a destination, Baumgartner said. "Iowa has a lot of great things to offer. This is a place you have to see. You'll love it."
Want more?
Thanks for stopping by. I invite you to read more of my blog posts if you value intriguing Iowa stories and history, along with Iowa food, agriculture updates, recipes and tips to make you a better communicator.

If you're hungry for more stories of Iowa history, including more stories of Wells and Blue Bunny, check out my top-selling "Culinary History of Iowa: Sweet Corn, Pork Tenderloins, Maid-Rites and More" book from The History Press. Also take a look at my latest book, "Dallas County," and my Calhoun County" book from Arcadia Publishing. Both are filled with vintage photos and compelling stories that showcase he history of small-town and rural Iowa. Order your signed copies today! Iowa postcards are available in my online store, too.
If you like what you see and want to be notified when I post new stories, be sure to click on the "subscribe to blog updates/newsletter" button at the top of this page, or click here. Feel free to share this with friends and colleagues who might be interested, too.
Also, if you or someone you know could use my writing services (I'm not only Iowa's storyteller, but a professionally-trained journalist with 20 years of experience), let's talk. I work with businesses and organizations within Iowa and across the country to unleash the power of great storytelling to define their brand and connect with their audience through clear, compelling blog posts, articles, news releases, feature stories, newsletter articles, social media, video scripts, and photography. Learn more at www.darcymaulsby.com, or e-mail me at yettergirl@yahoo.com. 
Let's stay in touch. I'm at darcy@darcymaulsby.com, and yettergirl@yahoo.com.
Talk to you soon!
Darcy
@Copyright 2019 Darcy Maulsby & Co.  Blog posts may only be reprinted with permission from Darcy Maulsby.