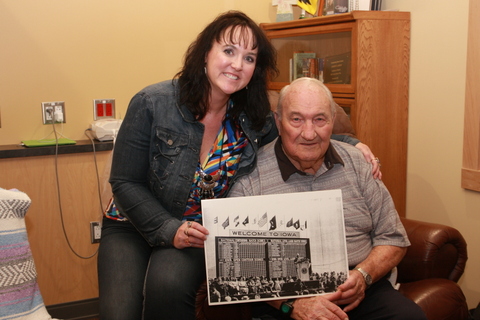 Riding with Harry: 2016 Presidential Election Reflects Truman's Iowa Revival at 1948 Plowing Match in Dexter
Unpredictable. Shocking. Historic. All have been used to describe the 2016 presidential election, but they also characterized the remarkable presidential election of 1948. Back then, no one thought Harry Truman had any chance of returning to the White House, although he accomplished one of the biggest upsets in U.S. presidential history—and it all started on a farm near Dexter, Iowa.
Bob Larson, an 18-year-old farm boy from Casey, saw it all.  "Harry Truman was a farmer, not a politician, at heart," said Larson, 86, who met Truman on September 18, 1948, at the National Soil Conservation Field Days and Plowing Matches in Dallas County. "We can thank him for the conservation practices that are now common in agriculture."
A recent high school graduate, Larson was working construction in 1948 with his future father-in-law. The crew was recruited to help build a dam and pond in the conservation demonstration fields north of Dexter. Larson first saw Truman on the afternoon of September 18, when the president jumped off a hayrack at the national plowing matches and headed toward the conservation area. Truman visited with Larson and his friends and family, who were eating lunch under a shade tree.
"Truman said, 'What the hell are you doin' just sitting here? Get your dozers started and get back to work. I want to watch you,'" said Larson, who noted that the construction crews had been told to shut down their machines when the president was in the area. "Truman rode with me on my bulldozer for about 10 minutes."
Truman came to Iowa to "Give 'em Hell"
When Truman arrived in Dexter on Sept. 18, 1948, he was a 50-to-1 underdog against his presidential rival, New York Governor Thomas Dewey. Truman's appearance in Dallas County stemmed from a White House visit months before when Iowa Farm Bureau President E. Howard Hill and other Iowa ag leaders met with Truman in May 1948 and invited him to come to the National Soil Conservation Field Days and Plowing Matches. The president tried to discourage the men, asserting that they'd have nothing but problems if he and his entourage came.
Dewey was also invited to attend the event but turned the Iowans down flat. "Dewey thought he had the election locked up," Larson said. "The Midwest didn't like Dewey, because he was an elitist who had no time for Iowa dirt farmers."
Months went by with no word from the White House. Then three weeks before the big day, plowing match organizers were notified that Truman had accepted their invitation. Once Dewey heard Truman was headed to Iowa, he immediately arranged for a farm-press event to be held on his Pawling, N.Y., farm on the same day as the national plowing matches near Dexter.
While the media focused on New York, all roads led to the nation's largest farm event in central Iowa on the September 18, 1948. As the sun rose and the mercury soared, bumper-to-bumper traffic soon clogged the roads near Dexter.
The crowd welcomed Truman in grand style. As part of his whistle-stop presidential campaign, Truman arrived in Dexter via the Rock Island Railroad, where he was greeted at the depot by the Dexter school band, a parade and a queen and her court. The president, his wife, Bess, and their daughter, Margaret, were escorted to the farm site north of Dexter by a motorcade that included Truman's convertible limousine.
Much to Truman's delight, a huge crowd of 100,000 people gathered on Lois Agg's farm to watch the plowing matches, see new conservation practices in action and hear him deliver a speech about farm policy.
WHO Radio personality Herb Plambeck introduced Truman. During Truman's 29-minute speech, which was the first major speech of his 1948 presidential campaign, he was interrupted by applause 13 times. The loudest cheers came when he referred to the 80th Congress as the "do nothing Congress." This was the first speech that was referred to as "Give 'Em Hell, Harry," a slogan that stuck with Truman for the rest of the campaign.
Event ushered in the modern era of ag conservation
After the speech, Truman and his entourage dined on fried chicken before heading out to the demonstration sites to see terraces, ponds and other conservation practices. Truman jumped off the hayrack to get a closer look, as members of the Secret Service scrambled to catch up with him.
"Truman was very interested in soil conservation and asked us a lot of questions," Larson said. "While some guys thought terraces and contour farming were crazy, many farmers were intrigued by new conservation practices that were being promoted by the Soil Conservation Service."
Truman took off his suit jacket, rolled up his sleeves on that hot afternoon and continued asking questions as he rode on Larson's bulldozer while the Secret Service looked on. Larson wasn't nervous as he chauffeured the president. "Truman was just an old farmer who wanted to know practical things, like how much dirt I was hauling."
The response Truman received in Dexter that day revitalized his presidential campaign and Truman himself. While the polls still had Truman trailing Dewey on the eve of the 1948 election, and his margin of victory was small, Truman went on to become the 33rd president of the United States.
Truman's appearance at Dexter also helped usher in the modern era of conservation in agriculture. Larson's conservation work left a lasting impact, as well, since the dam and pond he built in 1948 are still there. His story, along with photos from that unforgettable day, are preserved at the Dexter Museum and on a historical marker north of Dexter.
"Truman made a good impression on me," Larson said. "If I'd been old enough to vote in 1948, I probably would have picked Truman."
Explore more rural Iowa history 
Want to discover more stories and pictures that showcase the unique history of small-town and rural Iowa? Check out my top-selling "Calhoun County" book from Arcadia Publishing, and order your signed copy today. 
P.S. Thanks for joining me. I'm glad you're here. 
@Copyright 2016 Darcy Maulsby & Co. 
2 responses to "Riding with Harry: 2016 Presidential Election Reflects Truman's Iowa Revival at 1948 Plowing Match in Dexter"