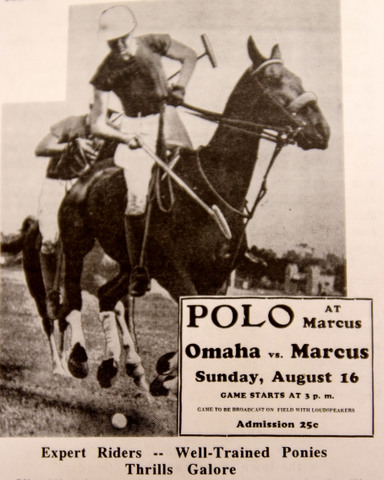 Small – Town Iowa Polo Teams Thrilled Depression – Era Crowd
What comes to mind when you think of polo? English royalty, perhaps, since this ancient, unique blending of athletic talents between horse and rider helped polo become the "sport of kings."
Yet there was a time in northwest Iowa when polo reigned as the sport of the common people. It happened in an era when rural Iowans desperately needed a diversion, if only for a Sunday afternoon, from life's harsh realities.
It all started in the early 1930s in the small Cherokee County town of Marcus. I first heard about this intriguing tidbit of local history from Beth Kingdon, director of the Marcus Public Library, when I shared my "Culinary History of Iowa" program at the library. "Since you like Iowa history, you might be interested in this," said Beth, as she opened the 700+-page book "Pride in the Past Faith in the Future: A Historical View of Marcus, Iowa."
Sure enough, right there on pages 157-158 a section titled "Marcus Polo Team" spun a long-forgotten tale of rural Iowa. "The Marcus Polo Team made history in the 1930s for the small but prosperous farm community, providing thrilling Sunday entertainment for residents far and near," stated the article.
No doubt there were thrills galore, since there's nothing subtle about polo. This is in-your-face, aggressive horsemanship at its best, demanding power, intense speed, balance, coordination, quick reflexes, strategy, well-trained horses and expert riders.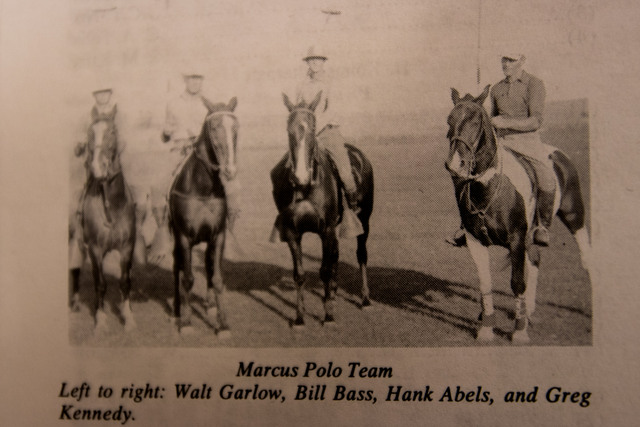 "Shucking corn develops a wrist, and that's what polo takes" 
The Marcus team consisted of local businessmen and farmers, including Gregory Kennedy, Kenneth (Kim) Bancroft, W.W. (Bill) Bass, Henry (Hank) Abels, Walter Garlow and Glenwood French (the alternate). The Marcus Polo Club boasted a "splendid field" just a mile and a half south of town, where polo matches were played on the W.E. Wiley farm (managed by Walt Garlow). "Two Marcus youths, Jimmy Hogue and Roy (Junior) Williams, were full-time groomsmen for Kennedy and Garlow," the history noted.
Polo was introduced in Marcus around 1931. By the early to mid-1930s, there were polo teams and/or polo fields in Paullina, Primghar, Clarion, Sheldon, Spencer and beyond, including the famous Barnes Bros. polo team from the Cherokee/Peterson area.
The Marcus Polo Club gained a strong reputation by beating professional teams from Minnesota to Omaha and clinched the Iowa championship by defeating the Des Moines team at the Iowa State Fair. The Marcus Polo Club eventually expanded into two teams, the Purple Team and the Orange Team, which traveled as far away as Sioux City and Pierre, South Dakota, to compete.
The famed Marcus team even caught the media's attention. In 1936, Country Home magazine devoted a page-long article to document this fascinating phenomenon on the Iowa prairie. Here's a snippet from Paul T. Sturges' feature story:
"But polo," I objected. "Isn't that a millionaire's game?
"Practically everyone seems to think so," said Kenneth Bancroft. "But around here, most of our players are farmers."
We were talking in Bancroft's meat market in Marcus. On the wall, pictures of sleek polo ponies flashed white-helmeted riders, a team as proud as the best of them.
"No, don't get the idea polo is just a rich man's game," continued Bancroft.
"Bill Ginger started us going. We used farm horses for mounts. Bill lives up a Gaza, Iowa. He's farming. Had played polo in the Black Hills, enough at least to get polo in his blood."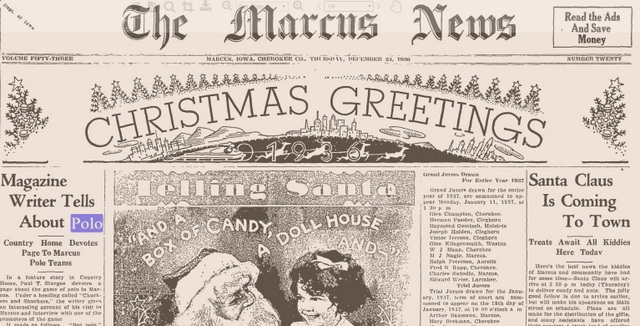 To make a polo mallet, Bill unearthed an old binder roller, sawed out a chunk, drilled a hole into it, and inserted a lengthy of hickory wood into this homemade affair. "First thing they know, people saw Bill out in his pasture on horseback larruping a ball around," Bancroft said.
Joe Hey, the harness maker, braided whang leather loops on the mallets' handles. A local pasture provided the playing field, and it was game on. "On stock saddles cinched to regular farm horses, the boys, when the farm work was done, would make for the pasture and have a barrel of fun. The players lined up in center field. The umpire throws the ball out, and it's in play until it crosses the goal."
Those Iowa farmers knew their style of polo was a bit—unique. "If today's crack polo players could have seen us then, they would have died laughing," Bancroft said. "Imagine horses weighing 1,800 pounds galloping after a little ball."
The rural Iowa polo players' gear made the game affordable, from homemade mallets to second-hand Army saddles. "It was inexpensive," Bancroft noted. "The town boys boarded their ponies with the farmers, who, in turn, found the extra horses came in handy during cultivating time. Corn-shucking time, our players would use their horses on the wagon and then in the evenings would throw on saddles for a whirl at polo. Shucking corn develops a wrist, and that's what polo takes."
Chukkers and shuckers 
The talented Marcus Polo Club beat professional teams from Minnesota to Omaha and clinched the Iowa championship by defeating the Des Moines team at the Iowa State Fair. The Marcus Polo Club eventually expanded into two teams, the Purple Team and the Orange Team, which traveled as far away as Sioux City and Pierre, South Dakota, to compete.
In the 1930s, just like now, each polo team consisted of four riders and their mounts. The ideal polo pony combined intelligence, speed and stamina, with the ability to accelerate, stop and turn quickly. All horse breeds were allowed to play polo, but a majority ranged from 15-16 hands tall. (A hand is equal to 4 inches.)
"Each player [with the Marcus Polo Club] has two or more ponies, and, in general, have an excellent string of horses," noted the Marcus history book.
The story also cited Slim Nix, the "wild-riding cowboy," captain, coach and trainer of Paullina Pirates polo team, who said "a man gives his wife credit for half she does, but a polo player gives his pony credit for 75 percent of his good playing."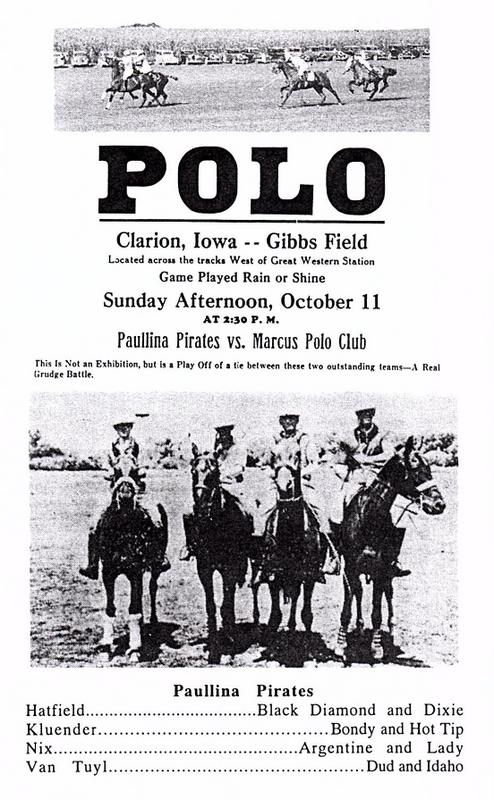 Some of the Paullina players paid big money for the best ponies and gear. Dr. G.E. Van Tuyl played a gray horse, which he purchased in Idaho for $1,000. (That's roughly $18,000 in today's money.)
Horses and riders competed on an outdoor polo field measuring 300 by 160 yards. Outdoor polo games consisted of six chukkers (periods) of 7 minutes and 30 seconds each. The main objective? Defeat your opponent by scoring the highest number of goals.
What a spectacle this must have been during the Great Depression, when crowds of rural Iowans flocked to polo fields across the state. Though admission cost 25 cents to see the Marcus team play tough competitors like Omaha more than 80 years ago, the promised rewards were almost irresistible. "These horses can turn on a dime and give you 8 cents in change," one ad proclaimed. "Everyone come and see this thrilling game."
This column originally appeared in Farm News July 2017. 
Want more?
Thanks for stopping by.  I invite you to read more of my blog posts if you want more more intriguing Iowa stories and history, along with Iowa food, recipes and tips to make you a better communicator. If you like what you see and want to be notified when I post new stories, be sure to click on the "subscribe to blog updates/newsletter" button at the top of this page. Feel free to share this information with friends and colleagues who might be interested, too.
If you're hungry for more stories of Iowa history, check out my top-selling "Culinary History of Iowa: Sweet Corn, Pork Tenderloins, Maid-Rites and More" book from The History Press, as well as my Calhoun County" book from Arcadia Publishing, which showcases the history of small-town and rural Iowa. Order your signed copies today! Iowa postcards are available in my online store, too.
P.S. Thanks for joining me. I'm glad you're here. 
@Copyright 2017 Darcy Maulsby & Co. 
One response to "Small – Town Iowa Polo Teams Thrilled Depression – Era Crowd"