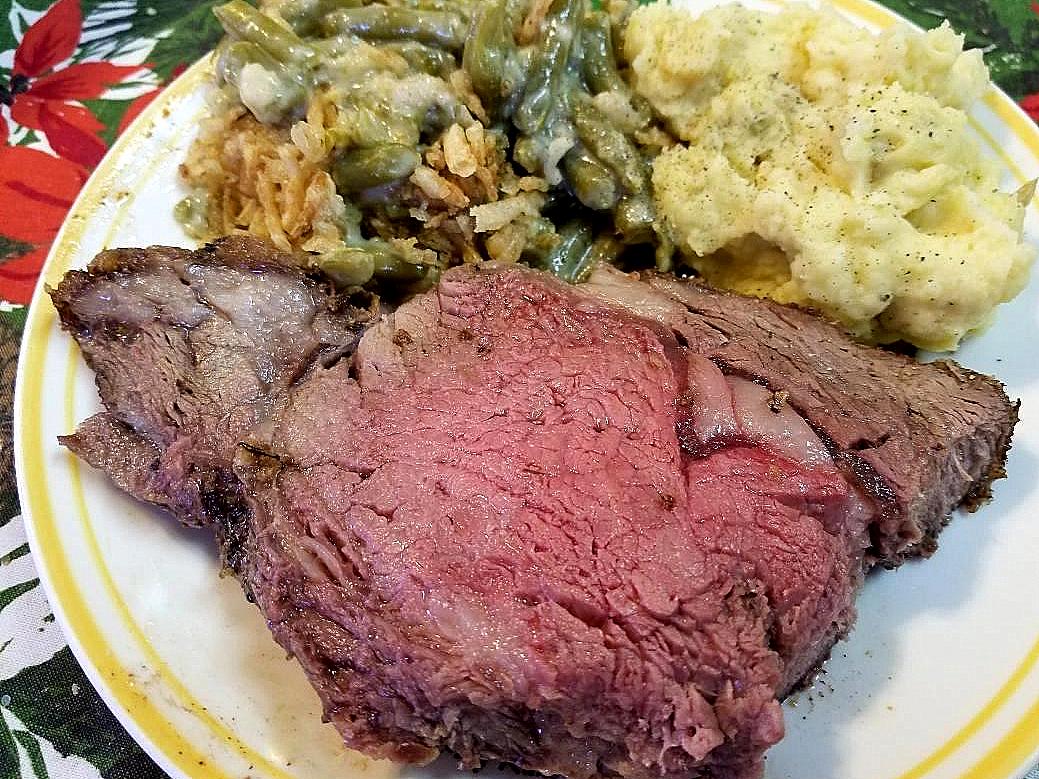 How to Cook a Perfect Prime Rib
Would you believe me if I told you restaurant-quality prime rib is one of the easiest main courses to prepare, plus you'll look like a gourmet chef in the process? Yep, it's true.
Take it from this Iowa farm girl. I adore the taste of prime rib. So tender, so robust, and bursting with all the flavor and juiciness that makes each bite a little trip to paradise.
When my family asked me to cook prime rib for New Year's Day dinner, I didn't hesitate. The prep couldn't be simpler, and the results are simply spectacular. When you serve this delectable prime rib, your guests (possibly even the vegetarians) will be begging for more.
Let's get cookin.'
Darcy's Prime Rib
Select the right size roast. Allow at least 6 ounces of cooked, trimmed meat per adult. I cooked an 8-pound roast for our gathering, because I like to have leftovers. Beef and veggie soup, anyone?
Preheat the oven. Crank it up to 450 degrees Fahrenheit, and let it heat up for about 30 minutes. Also, you can remove the beef roast from the refrigerator at this time.
Gather your supplies. I recommend a metal roasting pan with a rack (like the one you might use to cook at turkey), olive oil, kosher salt, and fresh-ground pepper. Oh, and don't forget to round up some soap and wash your hands thoroughly. We're in the kitchen prepping food, after all!
• A side note about fresh-ground pepper. I LOVE my Kuhn Rikon® high-output ratchet mill. (Check out a video here to see it in action). I appreciate the easy and speed of these wonder gadgets, plus I adore the red color of my pepper mill, since it matches my kitchen. One more thing—don't think you're limited to filling it with black peppercorns only. After interviewing a chef years ago about how to amp up the flavor in any dish, I took his advice and use of mix of peppercorns, including black, green, red and white, which bring a different flavor to the party.
Season the beef. Follow the K.I.S.S. method (keep it simple stupid). Prime rib roast doesn't need a marinade or any complicated preparations, since the meat speaks for itself. Drizzle olive oil on the roast. Spread it around the roast with your hands. Next, liberally rub kosher salt and plenty of fresh-ground pepper on the meat. I don't measure—I just go with what looks right.
If you're thinking about using an herb mix to season the meat, I say go right ahead. I like to use this homemade herb blend that I learned to make at my dear friend Shannon Latham's Enchanted Acres pumpkin patch near Sheffield, Iowa. I'm a big fan of the recipe here for Save Summer in a Jar Herb-Salt Mix and used it on my New Year's prime rib–divine! Thanks to my friend Mary Lovstad of Farm Girl Cook'n in northern Iowa for all the inspiration!
Bake. Place the meat in a roasting pan that's slightly bigger than the roast itself. I like a roasting pan and roasting rack, myself. Note–one side of the meat will have more fat on it. You want the fatty side facing up so the meat will baste itself as it cooks.
Finally, don't add water to the pan, and don't cover the roast. Just pop it in in the oven.
Timing is everything. How long does it take to cook a prime rib? Well, it depends. I like to start with a high temperature (450 degrees) for the first 30 minutes. Then I drop the heat to 325 degrees and allow about 13 to 15 minutes of cooking time per pound of beef.
DO NOT keep opening the oven door to check the meat. Just enjoy the tempting sizzle as the pan drippings appear during the first phase of cooking. Then savor the aromas as the beef finishes cooking over the next few hours.
A thermometer is the best way to guarantee the roast turns out exactly the way you want it. For an accurate reading, push the thermometer into the middle of the roast, making sure the tip is not touching fat or bone (or the pan). FYI–medium rare is about 130 degrees F. If that's what you're going for (confession–it's my personal favorite), take the meat out of the oven when it's around 120 degrees F. Remember that the roast's temperature will rise at least 5 degrees after you remove it from the oven.
Let it rest. Warning—the prime rib will look incredible when you pull it out of the oven, but resist the urge to carve it right away. Let this meaty masterpiece rest for 15 or 20 minutes before carving to let the juices return to the center. Cover the roast with a "tent" of tinfoil. (If you're at my house, be warned. My dog, Maggie the Red Heeler, is obsessed with tinfoil and will bark like a maniac when I tear a sheet of foil from the roll. Silly dog.)
With prime rib, it's easy to satisfy everyone's preference for doneness. The slices taken from the ends of the roast will be the most done, and the middle will be the least done.
Add a little something extra. When the roast is done make sure you use the drippings in the bottom of the pan to make gravy. Then you'll have a head-start on the most flavor-packed beef stew you can imagine.
Next time I prepare a prime rib, I'm going to try Food Network Chef Bobby Flay's idea for Prime Rib with Thyme au Jus. Here's what he recommends:
Place the roasting pan on top of the stove over 2 burners set on high heat. Add the wine to the pan drippings in the pan and cook over high heat until reduced, scraping the bottom of the pan with a wooden spoon. Add the stock and cook until reduced by half. Whisk in the thyme and season with salt and pepper, to taste.
Tell me all about it. Bottom line? Do not fear cooking prime rib, even though this is a pricey cut. You can do this! When you do, be sure to leave a comment, e-mail me, post on social media and tell me all about it.
Did you know?
"Prime rib" is not a specific cut of beef but is actually a preparation method for a beef rib roast. If you know the standard meat roasting method, you can make prime rib out of several types of beef rib roasts, according to my friends at the Iowa Beef Industry Council.
Check out their handy Beef Roast Basics guide. You'll find tips on how to know what size beef roast to purchase, how to carve meat like a pro and more.
More reasons why beef is good
With my background as an ag journalist, I love to highlight agriculture, especially Iowa agriculture. Why do we know beef here in the Heartland? Because Iowa is in the top 10 beef-producing states in America, terms of all cattle and calves (ranking #7).
Here's a snapshot of Iowa's beef industry, which is a powerhouse in terms of economic development and providing a safe, nutritious product that nourishes people around the world:
Total cattle inventory in Iowa (as of January 1, 2017): 3,850,000
Number of feedlots (2012 Census): 6,036
Number of cattle operations (2012 Census): 26,827
Number of farms with beef cows (2012 Census): 19,677
Iowa jobs directly related to the cattle industry (2015): 20,690
Iowa jobs indirectly related to the cattle industry (2015): 7,384
In 2015, Iowa's cattle industry contributed more than $6.9 billion in business activity to Iowa's economy.* Sources: Department of Economics, Iowa State University; Iowa Agricultural Statistics, U.S. Department of Agriculture; 2017 Cattle Inventory Report National Agricultural Statistics Service (NASS), Agricultural Statistics Board, United States Department of Agriculture (USDA).
Can't get enough beef?
There's no such thing as too much beef if you love it as much as I do. I think my friend Larry Irwin would agree, especially when it comes to hamburgers.
Make no mistake, the humble hamburger still reigns supreme from backyard barbecues to fast-food drive-ins across Iowa. But this Iowa icon also provides the perfect palette for culinary creativity when Larry Irwin showcases his Burger of the Month flavors in my hometown of Lake City. Get the story and the recipes here.  
Also, get your grill on and build a better burger with my top tips.
Finally, I just had to share this photo below. My relatives in Webster County, the Walrod family, did extremely well on the show circuit this year with their beef cattle and took top honors with their Limousin cattle at the Iowa State Fair. Why not decorate the Christmas tree to celebrate a banner year?
Want more?
Thanks for stopping by. I invite you to read more of my blog posts if you value intriguing Iowa stories and history, along with Iowa food, agriculture updates, recipes and tips to make you a better communicator.

If you like what you see and want to be notified when I post new stories, be sure to click on the "subscribe to blog updates/newsletter" button at the top of this page, or click here. Feel free to share this with friends and colleagues who might be interested, too.
If you're hungry for more stories of Iowa history, check out my top-selling "Culinary History of Iowa: Sweet Corn, Pork Tenderloins, Maid-Rites and More" book from The History Press. Also take a look at my latest book, "Dallas County," and my Calhoun County" book from Arcadia Publishing. Both are filled with vintage photos and compelling stories that showcase he history of small-town and rural Iowa. Order your signed copies today! Iowa postcards are available in my online store, too.
Also, if you or someone you know could use my writing services (I'm not only Iowa's storyteller, but a professionally-trained journalist with 20 years of experience), let's talk. I work with businesses and organizations within Iowa and across the country to unleash the power of great storytelling to define their brand and connect with their audience through clear, compelling blog posts, articles, news releases, feature stories, newsletter articles, social media, video scripts, and photography. Learn more at www.darcymaulsby.com, or e-mail me at yettergirl@yahoo.com. 
Let's stay in touch. I'm at darcy@darcymaulsby.com, and yettergirl@yahoo.com.
Talk to you soon!
Darcy
P.S. Thanks for joining me. I'm glad you're here. 
@Copyright 2018 Darcy Maulsby & Co. 
8 responses to "How to Cook a Perfect Prime Rib"