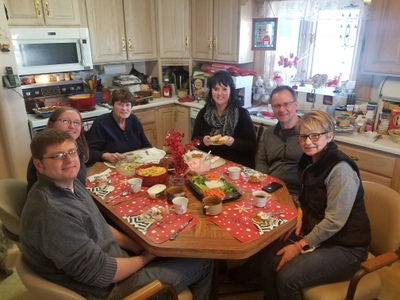 From My Kitchen to Yours: Comfort Food, Conversation and Living History Farms
Ever get an email that jumps out at you? It happened me to last July when one arrived with the subject line "Greetings from Living History Farms." It was from my friend, Jim Dietz-Kilen, a former classmate from the Ag-Urban Leadership Initiative, and his note intrigued me.
"I have an idea for your consideration," wrote Jim, who is the vice president of development for Living History Farms (LHF). "We are planning our annual gala, Farmstasia. We try to put together unique experience packages for our auction, with emphasis on agriculture/rural life and Iowa history. My idea is to build a package around you. While I am very open to other ideas, I wanted to run the following request by you:
• Would you be willing to donate a signed book? Any of your books would be wonderful, but I am partial to the Culinary History of Iowa.
• Would you also be willing to host a family at your farm to show them a bit of what your lives are like?
• Finally, would you be willing to serve these guests a meal selected from your book?
I know this is asking a lot, Darcy, but I have learned that you never know until you ask. And, as Wayne Gretzky said, 'Every shot you don't take is a miss.'"
By this point, I was already brainstorming menu ideas.
I'm a big fan of LHF, which welcomes between 100,000 and 110,000 each year. This interactive, 500-acre outdoor museum that tells the amazing 300+ year story of how Iowans transformed the fertile prairies of the Midwest into the most productive farmland in the world. As I wrote in this blog for Latham Hi-Tech Seeds, I love how LHF encourages people of all ages to explore Iowa's rural heritage, including the 1700 Ioway village, the 1850 pioneer farm, the 1875 town of Walnut Hill and the 1900 horse-powered farm.
"All proceeds from Farmstasia go to keep fees low for our education programs, helping make it possible for kids from across the state to come here for school visits and participate in other educational experiences," Jim continued.
Jim knows what is near and dear to my heart. Iowa agriculture. Books. Classic Iowa farm cooking. LHF. Giving back to the community. Without hesitating, I said yes.
Cookstoves, corncobs and storytelling
LHF came into my life in a big way in the summer of 1995, when my college internship led me to the 1900 farm, Flynn mansion and veterinary clinic, where I served as a historical interpreter and looked the part in my Victorian-inspired dresses and bonnets.
That summer changed my life in so many ways. I met my husband through this experience. I also expanded my cooking skills. By the end of the summer, I knew how to light a cookstove with crumpled newspapers and corncobs. I could make homemade noodles with no problem. I could bake cookies in an oven with no temperature gauge, other than the feel of the heat on your hand. I could milk a Jersey cow by hand and churn the cream into butter. I could plan a meal and feed a threshing crew. I could even run a treadle sewing machine and sew my own apron.
Looking back, I was a prepper in training who can live off the grid if I have to.
While I don't use all those skills today, some have served me well for years, especially the cooking skills, the historical knowledge I gained and the storytelling skills I learned. As a historical interpreter, I was not only working in the kitchen of the 1900 farm fixing a meal, but I interacted with guests. As I shared stories about Iowa farm life in the early 1900s, I learned the importance of listening. I'm still embarrassed when I misunderstood one guest who asked, "Is that a coal stove?" but I heard him say, "Is that a cold stove?" so I replied, "No, it's a warm one!"
Planning a memorable menu
I was thinking of those experiences last Saturday, February 16, when I delivered on my promise to provide the Farmtasia winning bidders with an authentic Iowa farm meal inspired by my book. I had actually started cooking the night before and then got up early on Saturday morning so I'd get everything done on schedule and have time to visit with my guests.
They pulled in the driveway at my family's Century Farm near Lake City right on time. It was an honor to host Dave Bubeck, a corn breeder at Corteva Agriscience™ in Johnston; his wife, Denise; and their friends Ben and Michelle Parlett, who also live in the Des Moines area. As we gathered around the table at noon, I served:
• Garden Vegetable Soup
• Homemade Beer Bread
• Iowa Ham Balls
• Glazed Meat Loaf
• Garlic Cheesy Smashed Potatoes
• Relish tray and coleslaw salad
• Homemade apple crisp with Haralson apples grown on our farm
There was something magical happened as we sat in that 100+plus-year-old kitchen, talking farming, food, travel and LHF. Seems like we covered everything, from how to talk about GMOs to what it's like subscribing to a meal delivery service. Two and a half hours later, when my guests departed, we all agreed it was a great experience—the kind of story-worthy experience that LHF inspires. Even better, we're staying in touch through social media and my e-newsletter.
And to think it all started with a simple email and a spirit of service. It reminds me of this quote from Orison Swett Marden, who founded SUCCESS magazine in 1897.
"We must give more in order to get more. It is the generous giving of ourselves that produces the generous harvest."
Let's get cooking
If you'd like to create a taste of our classic Iowa farm dinner, here are some of my favorite recipes:
Hearty Garden Vegetable Soup
I shared this tasty recipe in one my my monthly diary entries in 2018 for the Iowa Food and Family Project. 
1 tablespoon olive oil
8 medium carrots, sliced
3 large onions, chopped
5 celery ribs, chopped
1 large green pepper, seeded and chopped
1 garlic clove, minced
2 cups chopped cabbage
2 cups frozen cut green beans (about 8 ounces)
2 cups frozen peas (about 8 ounces)
1 can (15 ounces) corn, or 2 cups fresh sweet corn
1 can (28 ounces) diced tomatoes, undrained
2 bay leaves
2 teaspoons chicken bouillon granules
1-1/2 teaspoons dried parsley flakes
1 tablespoon seasoning salt
1 teaspoon dried marjoram
1 teaspoon dried thyme
1/2 teaspoon dried basil
1/2 teaspoon pepper
7 cups water
1 teaspoon Worcestershire sauce
4 cups V8 vegetable juice
In a stockpot, heat oil over medium-high heat; sauté carrots, onions, celery and green pepper until crisp-tender. Add garlic; cook and stir 1 minute. Stir in remaining ingredients; bring to a boil. Reduce heat; simmer, covered, until vegetables are tender, 1 to 1-1/2 hours. Remove bay leaves.
Best Beer Bread
2 cups self-rising flour
2 1 / 2 tablespoons sugar
1 12-ounce can of beer
Mix all ingredients together. Pour batter into a greased loaf pan. Bake at 350 degrees for 45 to 50 minutes.
Iowa Ham Balls
This tasty, classic recipe comes from my friend Val Plagge, who is a wonderful farm cook.
2.5 pounds ham
2 eggs
1 1/2 cups graham cracker crumbs
1 cup milk
1 can tomato soup
3/4 cup brown sugar
1/4 cup white vinegar
1 teaspoon ground mustard
With a food processor, grind ham into small, chopped pieces (or buy ham loaf mix from local grocery store or butcher. This mix usually contains ham and ground pork, and sometimes ground beef, too). Add eggs, graham cracker crumbs and milk. Mix together with your hands, and form fist-sized ham balls. (If the mixture seems a little dry, add 1/4 cup of milk at a time, up to 1 1/2 cups of milk total.) Place ham balls in a greased 9-inch by 13-inch pan. They fit nicely three across and five down.
Mix soup, brown sugar, vinegar and mustard until smooth. Drizzle glaze over the ham balls for the classic ham ball sauce. (Or, if you're in a rush, drizzle your favorite barbecue sauce over the ham balls.) Bake at 350 Fahrenheit for 1 hour. Yield: 13-15 ham balls
Note: These ham balls freeze well and can be warmed up in a slow cooker, if desired. Ham balls are the perfect Iowa potluck treat!
Cheesy Garlic Mashers
Taking a twist on classic mashed potatoes, this recipe is loaded with flavor and offers the perfect comfort food.
Red Bliss or Yukon gold potatoes (use about one potato per person, although this will depend on the size of the potatoes)
6 garlic cloves (can use less, if you prefer)
Butter, 1 / 2 stick
Cream (use enough to give mashed potatoes the consistency you prefer)
1 carton sour cream (can substitute one carton of chip dip, if you prefer)
1 / 2 cup to 1 cup of Cheddar cheese
Seasoning salt and pepper, to taste
Chives, chopped
Bacon, 2 to 3 slices, fried
Boil potatoes in salted water with peeled, whole garlic cloves. When potatoes are done cooking, drain potatoes and garlic and place in a bowl with butter and cream. Mash together. Add more cream, if necessary, to achieve the consistency you prefer. Mix in sour cream and cheddar cheese. Season to taste with seasoning salt and pepper. Garnish with chopped chives and real bacon bits.
Darcy's Best Brown-Sugar Meatloaf
This recipe was inspired by the meatloaf that caterers prepared on the set in Iowa for the filming for "The Bridges of Madison County." This is the only meatloaf recipe you'll ever need!
1 pound ground beef
1 pound ground pork or ground turkey
1 cup herb-seasoned stuffing mix
1 onion, chopped
1 teaspoon salt
1/2 teaspoon freshly-ground pepper
1 teaspoon nutmeg
2 large eggs, lightly beaten
3 / 4 cup milk
2 tablespoons barbecue sauce
1 / 4 cup ketchup
2 tablespoons brown sugar
1 teaspoon dry mustard
Combine beef, pork or turkey, stuffing mix, onion, salt, pepper and nutmeg. In a separate bowl, beat eggs, milk, and barbecue sauce. Add to meat mixture, mixing well. Press into a meatloaf pan sprayed with non-stick cooking spray.
Combine ketchup, brown sugar, and mustard; spread over top of meat loaf. Bake, uncovered, at 350 degrees F for 1 hour and 30 minutes or until a thermometer inserted in the center of the loaf registers 160 degrees. Yield: 6 servings
Farm-Fresh Apple Crisp with Whipped Cream
If you have the chance to visit a local apple orchard, pick up some Haralson apples, if they are available. We grow Haralsons on our farm, and their sweet-tart flavor works perfectly in apple pies and apple crisps. 
Fruit Filling:
6 baking apples, peeled, cored and cut into wedges
1 tablespoon lemon juice
1 / 2 cup sugar
2 tablespoons flour (maybe need more, depending on how juicy the apples are)
Crumb topping: 
1 1 / 4 cups flour
1 / 2 cup rolled oats
1 / 2 cup light brown sugar
1 / 2 teaspoon ground cinnamon
1 / 4 teaspoon salt
12 tablespoons butter (1 1/2 sticks), cut into small pieces
Preheat the oven to 350 degrees Fahrenheit.
For the fruit filling:
In a large mixing bowl, toss together the apples, lemon juice, sugar, and flour. Pour the apple mixture into a buttered 2-quart baking dish and set aside.
For the topping:
In a large mixing bowl, mix the flour, rolled oats, brown sugar, cinnamon, and salt. With a pastry blender, work the butter into the flour mixture just until mixture comes together and pea-sized clumps form.
Sprinkle the topping evenly over the fruit. Bake the apple crisp until the fruit is bubbling and the topping is golden brown and crisp, about 45 minutes.
Serve the crisp warm with vanilla bean ice cream or fresh whipped cream, if desired.
To make whipped cream, pour 1 cup of whipping cream into metal bowl on stand mixer. (Chill the bowl and whip attachment in the refrigerator first.) Begin mixing on high speed. As the cream starts to form into whipped cream, add powdered sugar a tablespoon at a time, until you achieve the sweetness you desire. Continue mixing on high until the mixture looks like thick whipped cream. Serve with apple crisp.
Want more?
Thanks for stopping by. I invite you to read more of my blog posts if you value intriguing Iowa stories and history, along with Iowa food, agriculture updates, recipes and tips to make you a better communicator.

If you like what you see and want to be notified when I post new stories, be sure to click on the "subscribe to blog updates/newsletter" button at the top of this page, or click here. Feel free to share this with friends and colleagues who might be interested, too.
Also, if you or someone you know could use my writing services (I'm not only Iowa's storyteller, but a professionally-trained journalist with 20 years of experience), let's talk. I work with businesses and organizations within Iowa and across the country to unleash the power of great storytelling to define their brand and connect with their audience through clear, compelling blog posts, articles, news releases, feature stories, newsletter articles, social media, video scripts, and photography. Learn more at www.darcymaulsby.com, or e-mail me at yettergirl@yahoo.com. 
If you're hungry for more stories of Iowa history, check out my top-selling "Culinary History of Iowa: Sweet Corn, Pork Tenderloins, Maid-Rites and More" book from The History Press. Also take a look at my latest book, "Dallas County," and my Calhoun County" book from Arcadia Publishing. Both are filled with vintage photos and compelling stories that showcase he history of small-town and rural Iowa. Order your signed copies today! Iowa postcards are available in my online store, too.
Let's stay in touch. I'm at darcy@darcymaulsby.com, and yettergirl@yahoo.com.
Talk to you soon!
Darcy
@Copyright 2019 Darcy Maulsby & Co.  Blog posts may only be reprinted with permission from Darcy Maulsby.