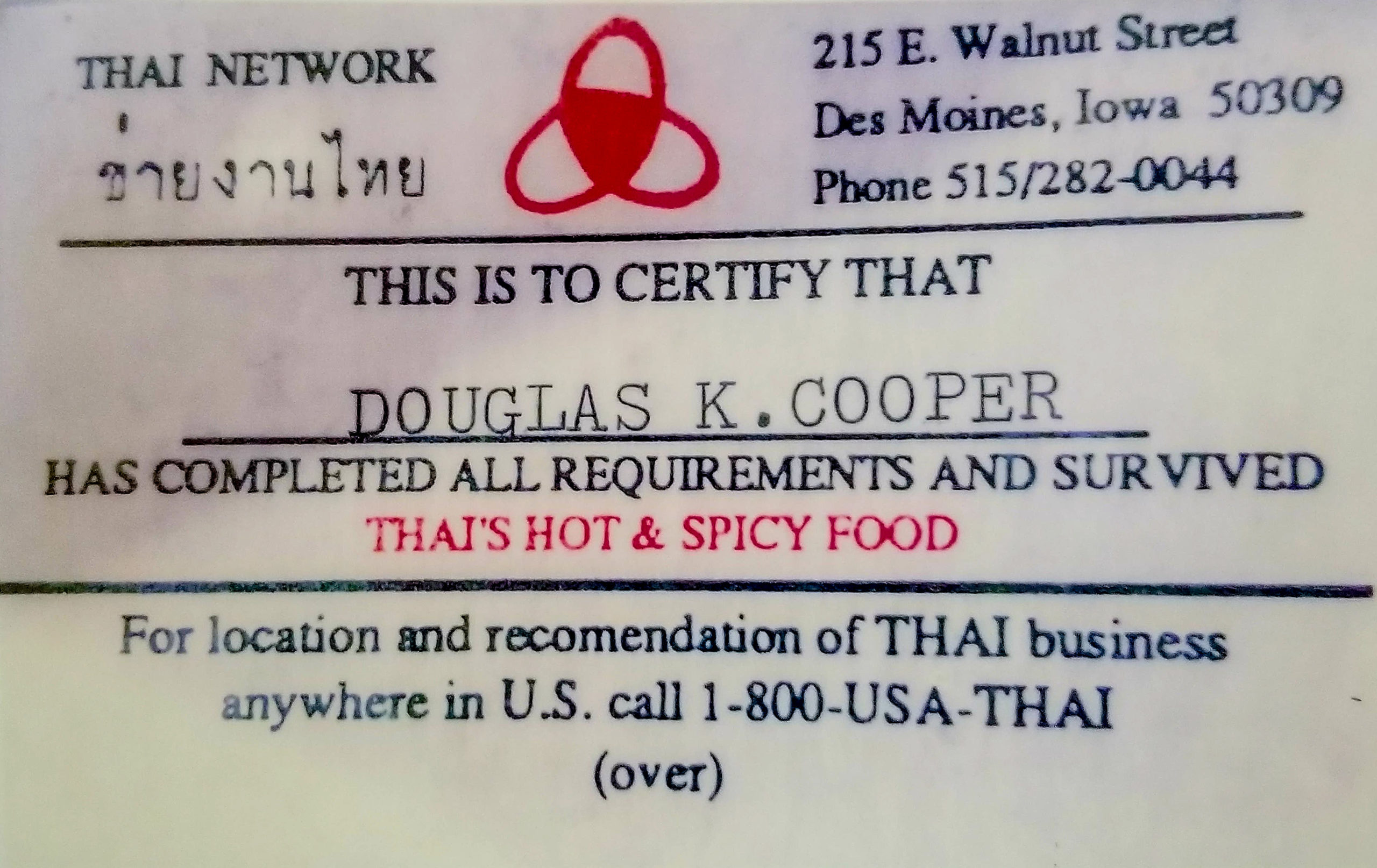 Classic Restaurants of Des Moines: A Taste of Thailand Served the "Publics" and Politics
Have you ever seen a bird fly backwards? Are you able to touch your toes? Whom will you vote for? All this and more defined A Taste of Thailand, a classic restaurant of Des Moines. This may have been the only restaurant in the world with a home-made voting booth. The quixotic T.O.T. Polls (Taste of Thailand) polls and the delicious Thai food practically made A Taste of Thailand a mandatory stop for presidential candidates and reporters covering the Iowa caucus.
The Taste of Thailand in downtown Des Moines became a dining destination during the 1980s for locals and visitors. Thai natives Prasong "Pak" Nurack and Benchung "Beni" Laungaram, his wife, opened their popular restaurant in December 1983, in an abandoned auto repair shop, repainted bright yellow. "So the publics will know we are here," Pak said.

It may have been the only restaurant in the world with a home-made voting booth. The quixotic T.O.T. Polls (Taste of Thailand) polls and the delicious Thai food practically made A Taste of Thailand a mandatory stop for presidential candidates and reporters.

Years before Pak opened Des Moines' original Thai restaurant, and decades before Pak would become a Thai national senator, he ran a diner on Court Avenue called Little Joe's. Thai cuisine was a new thing in Des Moines when Pak and his wife introduced their native food on weekends at Little Joe's.
In the late 1970s, most Iowans knew little about south and southeast Asian cuisines, noted Jim Duncan, a food writer from Des Moines. Pak, however, was a big personality who could easily talk people into trying something new.

He later moved his family's restaurant to a place in the 200 block of East Walnut in Des Moines, opened another restaurant in Iowa City and eventually returned to Asia to pursue his political career in Thailand's Senate.

Before that, however, Pak began capturing media attention in the mid-1980s for his distinctive food and his restaurant's political flair.

"Candidates, news organizations and special-interest groups have spent thousands of dollars on polls trying to determine which men Iowa caucus-goers will anoint as front-runners for the 1988 presidential nominations," noted the Chicago Tribune in the November 24, 1987, article "Forget Costly Polls: Eat Thai to Find Out Who's Winning Iowa." "They could have saved a lot of money and gotten a good meal in the process by checking out the results posted on a wall of the one and only Thai restaurant in the capital of cornfed beef."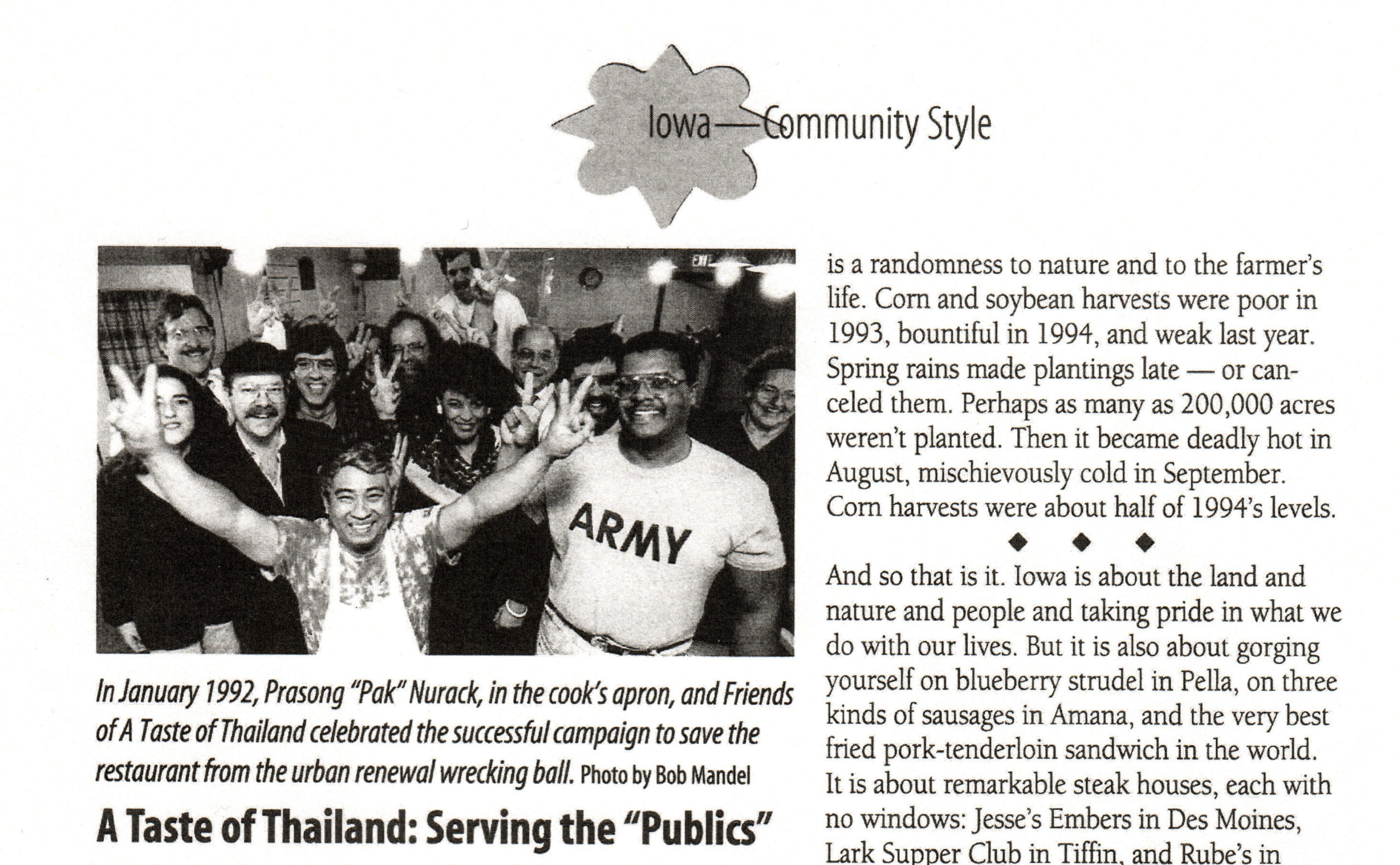 The article noted Pak, 45, was a lawyer who held a masters degree in political science. His bright yellow restaurant, located in the shadow of the gold-domed state capitol, was frequented by politicos, activists and others lured by the food and informal polls. Diners at Taste of Thailand received a ballot with the menu and could vote at the table or in a makeshift voting booth. Ballots were then placed in a box next to one poster showing the most recent results and another that said, "Road to the," and then featured a picture of the White House.

Pak insisted there is no ballot stuffing. "I tell them to look at the ballot box where it says 'honesty' on it," he told the Chicago Tribune. "And I tell them: Please, just one vote.'" He also supplies real voter registration cards. With his low-tech sampling process, Pak could be surprising accurate with polling results.
"About a week before the most recent CBS-New York Times poll and three weeks before the most recent Des Moines Register Iowa Poll, the unscientific sample of diners at the Taste of Thailand restaurant had determined that Sen. Paul Simon (a Democrat from Illinois) and Sen. Bob Dole (a Republican from Kansas) were the choice of the moment in their respective parties," the Chicago Tribune noted in 1987. Dole would win the 1988 Iowa caucus on the Republican side, while Simon would finish a fairly close second that year to Rep. Richard Gephardt, a Democrat from Missouri.
Three candidates came to call on Pak personally in 1987, including Sen. Simon, Sen. Joseph Biden (a Democrat from Delaware), and Republican Alexander Haig, the U.S. Secretary of State under President Ronald Reagan and the White House chief of staff under presidents Richard Nixon and Gerald Ford. "But the restaurateur has withheld endorsement, saying he didn't want to influence the poll," the Chicago Tribune noted. Pak did say Haig showed "courage for coming to a restaurant where most of the patrons are liberal and Democrat."
"Nobody lies"
How did a unique character like Pak come to Des Moines? When he was a lawyer in Thailand, Pak had dreamed of touring America after reading about it in books and seeing it on the news.

He moved to Chicago in 1971 to study political science. "I like politics, and you learn that all the players in the world know about politics in the United States," Pak told the Chicago Tribune. "I wanted to learn something more."

He worked part time washing dishes at the Rodeway Inn near O'Hare International Airport while he earned his masters degree in political science from Northeastern Illinois University. While Pak and his wife considered going back to Thailand, they wanted to see what smaller towns were like and headed west from Chicago. "This was the first big town we found," he said of Des Moines. "We decided to stay. Its an agricultural town and instead of rice fields, we see cornfields. That's nice."

Pak and his wife became acquainted with many people in Des Moines. "They are interesting people. We talked issues over and we had something in common."

It was during the discussions with patrons that Pak decided to conduct an informal poll of public opinion, partly as a marketing device for his restaurant and partly to keep discussions of current issues alive.

Fascinated by American politics, Pak decided to begin a monthly poll in 1986. He started asking serious and not-so-serious questions, ranging from people's feelings about Farm Crisis to their favorite pet. The move to presidential politics was a natural next step. "People come here to eat, but they talk about politics," Pak said.

Amazingly, the results of Taste of Thailand Polls have never been far off from more established surveys. A New York Times/CBS News survey released Oct. 31, 1987, for example, showed that Sen. Paul Simon had made a dramatic leap and was edging ahead of the Democratic presidential pack in Iowa for the first time, reported the November 27, 1987, issue of the New York Times.
"The Taste of Thailand poll showed the same thing a week earlier," Maureen Dowd noted in her article "Iowa Restaurant Serves Up Sweet and Sour Poll Results."

"We get pretty good information," the "ebullient" Pak told Dowd. "'Nobody lies."

The newspaper explained how Taste of Thailand, which featured a cosmopolitan beer list of 259 brands from 36 countries, catered to presidential candidates, political operatives, city and state officials, journalists and lobbyists for farm groups. "This," Pak said, pulling out a camera to take a few candid shots of a CNN-TV crew having dinner, "is the same camera that took pictures of Joe Biden and Paul Simon eating here."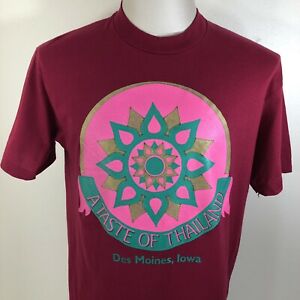 During Taste of Thailand's polls, patrons wrote down their political preferences, either in the privacy of the restaurant's curtained polling booth or in the more convivial atmosphere of their tables.

While the Taste of Thailand's political polls drew the New York Times' interest, Dowd couldn't resist sharing results from the restaurant's general-interest polls. People were interested in talking about reincarnation (37 percent of those polled at Taste of Thailand believed in it); television shows and talk show hosts (67 percent said they preferred "MAS*H" to Johnny Carson); touching your toes (76 percent replied they could do it and 24 percent, presumably out-of-shape respondents, called it a silly question), and where disgraced televangelists Jim and Tammy Bakker will end up (the majority felt that Switzerland, rather than heaven or hell, was their destination).

No matter your opinion on politics or other pressing issues of the day, everyone agreed on two things. Taste of Thailand's food was great, and it could be HOT.

"Taste of Thailand was the place to be," recalled John Busbee, who hosts the Culture Buzz show on 98.9 KFMG Radio in Des Moines every Wednesday from 11 a.m. to 1 p.m.

While Busbee preferred to stick to chicken and vegetable dishes, adventurous eaters could find plenty of excitement. On the statistically coldest day each year in Des Moines (which usually occurred in February), the restaurant sponsored International Hot and Spicy Food Day. Pak and his team offered a buffet with all the hot food you could eat, along with all the cold beer you could drink.

You even had to sign a waiver stating you knew what you were getting into if you chose to try to the buffet, as if names of foods like "suicidal beef" and "angry shrimp" weren't a big enough clue. "I enjoy spicy food, but that was way too much," Chef Formaro said.

It's hard to forget Taste of Thailand's spicy food, said Coleen (Hildreth) Myers, who grew up in Lake City, Iowa, and now lives in Ankeny. In the late 1980s, Myers' friend from India married a man from Thailand. She became acquainted with the couple at Iowa State University in Ames. Myers was invited to the couple's wedding at the Episcopalian church in downtown Des Moines, as well as the reception, which included a sit-down dinner at Taste of Thailand.

"It was a very fancy dinner, and I vowed to try everything, but some of it was so hot that one bite was about all I could handle," Myers said. "It was an experience I will never forget."
Want more?
This story is just one of the many memories in my book Classic Restaurants of Des Moines and Their Recipes." Check it out here.
I invite you to read more of my blog posts if you value intriguing Iowa stories and history, along with Iowa food, agriculture updates, recipes and tips to make you a better communicator.
If you're hungry for more stories of Iowa history, check out my top-selling "Culinary History of Iowa: Sweet Corn, Pork Tenderloins, Maid-Rites and More" book from The History Press. Also take a look at my other books, including "Iowa Agriculture: A History of Farming, Family and Food" from The History Press, "Dallas County" and "Calhoun County" book from Arcadia Publishing. All are filled with vintage photos and compelling stories that showcase the history of small-town and rural Iowa. Click here to order your signed copies today! Iowa postcards are available in my online store, too.
If you like what you see and want to be notified when I post new stories, be sure to click on the "subscribe to blog updates/newsletter" button at the top of this page, or click here. Feel free to share this with friends and colleagues who might be interested, too.
Also, if you or someone you know could use my writing services (I'm not only Iowa's storyteller, but a professionally-trained journalist with 20 years of experience), let's talk. I work with businesses and organizations within Iowa and across the country to unleash the power of great storytelling to define their brand and connect with their audience through clear, compelling blog posts, articles, news releases, feature stories, newsletter articles, social media, video scripts, and photography. Learn more at www.darcymaulsby.com, or e-mail me at yettergirl@yahoo.com.
Let's stay in touch. I'm at darcy@darcymaulsby.com, and yettergirl@yahoo.com.
Talk to you soon!