Soul Food: Lenten Luncheons Carry on 45-Year Iowa Tradition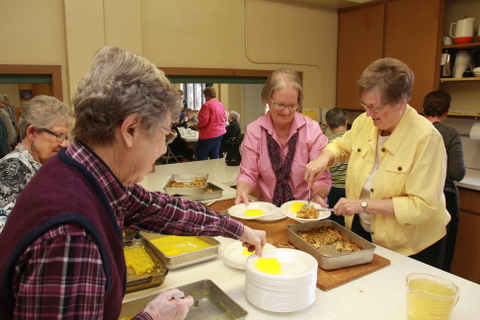 Springtime in the Lake City, Iowa, area brings warmer weather, green grass and Lenten Luncheons, a popular tradition that has endured prior to Easter for 45 years. While some elements of the luncheons have changed through the decades, one thing remains the same—the delicious recipes.
"We've used these recipes for years," said Marylyn Gillespie of Lake City, who makes her famous Potato Buns when the Pilgrim Lutheran Church hosts the Lenten Luncheon.
Lenten Luncheons involve a variety of churches in Lake City (including Pilgrim Lutheran Church, the Lake City Union Church, St. Mary's Catholic Church, the Woodlawn Christian Church and Baptist Church) along with the United Methodist Church in Lanesboro. During Lent, each church takes a turn hosting a noon luncheon, starting with devotions and concluding with a home-cooked meal, complete with a casserole, salad, rolls and beverages.
Each church is known for its own specialty, from chicken and biscuits at St. Mary's to Overnight Chicken Casserole at the Methodist Church in Lanesboro. "I really like the fact that all these congregations come together," said Bev Bernholtz of Lake City, who enjoys the Lenten Luncheons. "The food, programs and people are great, too."
Free-will donations at each Lenten Luncheon help cover the cost of the meal and support local charities and Church Women United. In 2015, $625 raised through the Lenten Luncheons supported the Lake City Food Pantry, a local Christmas Benefit Fund, Hospice, The Kids Spot day care in Lake City and other organizations. "I look forward to the Lenten Luncheons each year," said Diane Sommerfeld of Lake City. "I've known many of these people all my life, and my mom instilled in me the importance of women coming together."
This fellowship is invaluable, said Jan Snyder, a long-time member of the United Methodist Church in Lanesboro. "I'm grateful we have the freedom to host these luncheons. The devotional messages are always inspiring, plus I enjoy the fellowship with other Christian women."
When Lenten Luncheons were first proposed in the early 1970s, the idea met with some skepticism. Local church women gradually warmed up to the concept, however. Minutes from the ladies' business meeting on Feb. 10, 1971, noted that six local churches (including churches from Auburn) would participate. Each luncheon would be held on Monday and would include a menu featuring a casserole, salad, rolls, coffee and tea, with no dessert. "We still use many of the recipes they did in 1971," Gillespie said.
While the Lenten Luncheons of the early 1970s used to attract nearly 250 guests, today about 60 guests attend each luncheon. Friendships and fellowship still flourish at each gathering. "It's fun to sit with different people each time and visit with people I don't usually see," said Sheri Hanks of Lake City. "The food is great, too."
Each cooks adds her own twist to the recipes, even though all the cooks follow the same recipes when their church hosts the Lenten Luncheon. "While everyone makes the same casserole or salad, each dish tastes a little bit different," said Audrey Williams of Lake City. "It's always a treat to attend the Lenten Luncheons."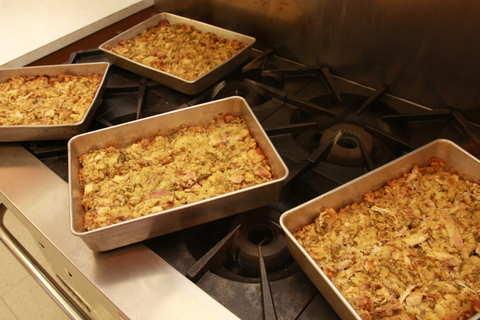 Overnight Chicken Casserole
This simple, tasty casserole comes from the United Methodist Church in Lanesboro.
2 cups cooked chicken, cut into small pieces
2 cups uncooked elbow macaroni
2 10.5-ounce cans cream of celery soup (mix with 12 ounces of milk)
2 / 3 cup chicken broth
1 / 4 cup chopped onion
1 / 4 cup chopped green pepper
Small jar of diced pimento
1 / 2 pound grated cheese
1 / 2 teaspoon salt
Mix all ingredients in order given. Place in greased 9-inch by 13-inch pan. Cover and refrigerate overnight. Bake uncovered for 1 hour at 350 degrees.
Chicken Casserole Supreme
This recipe comes from the Lake City Union Church.
4 to 5 chicken breasts
Chopped celery and diced onions, if desired
Salt and pepper
1 can cream of chicken soup
16 ounces sour cream
1 1 / 4 cups frozen peas
1 / 4 to 1 / 2 cup chopped red pimentos
8 ounces herb-seasoned stuffing mix
1 / 2 cup butter, melted
1 cup chicken broth
Stew chicken (adding celery, onion, salt and pepper, to taste), and cook until chicken is done. Cube the meat and mix with cream of chicken soup, sour cream, peas and pimentos. Put mixture in greased 9-inch by 13-inch pan. In a bowl combine stuffing mix, butter and chicken broth. Place mixture on top of chicken casserole. Bake at 350 degrees for 45 to 60 minutes.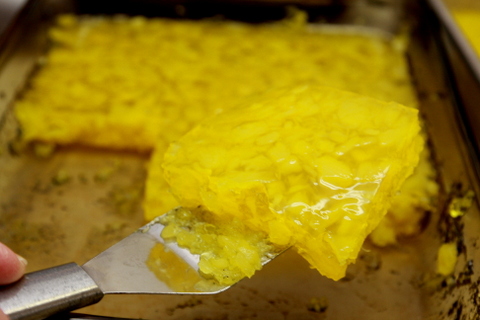 Lemon & Pineapple Jell-O Salad
The ladies of the Pilgrim Lutheran Church in Lake City serve this refreshing, simple salad with Chicken Casserole when they host the Lenten Luncheon.
3 small packages lemon Jell-O gelatin
2 1 / 2 cups hot water
2 1 / 2 cups cold water
1 large can crushed pineapple, well drained
Dissolve gelatin in hot water. Add cold water and fruit. Pour into 9-inch by 13-inch pan, and chill. Let salad set up well before cutting.
Union Church Lenten Luncheon Salad
1 20-ounce can crushed pineapple (don't drain)
2 / 3 cup granulated sugar
1 3-ounce package lemon gelatin
1 8-ounce package cream cheese, softened
1 / 2 cup chopped nuts
1 cup diced, unpeeled red apple
1 cup chopped celery
1 8-ounce carton whipped topping
Combine pineapple with juice and sugar in a saucepan. Bring to a boil, and boil for 3 minutes. Add gelatin, and stir until dissolved. Add cream cheese to warm mixture. Allow mixture to cool before adding nuts, apples, celery and whipped topping. Pour into a 9-inch by 13-inch pan. Chill. Serves 10-12.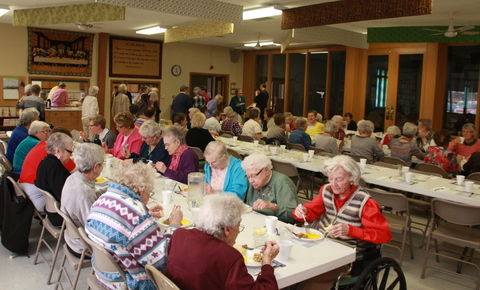 Potato Buns
These tasty dinner rolls are a specialty of Marylyn Gillespie, a long-time member of Pilgrim Lutheran Church in Lake City.
2 cups mashed potatoes
2 tablespoons yeast
1 1 / 2 cups hot water
1 cup oleo-margarine
1 cup Crisco shortening
1 1 / 2 cups granulated sugar
1 tablespoon salt
All-purpose flour (about 10 to 12 cups)
Peel and cube approximately 2 to 3 medium potatoes. Boil potatoes. Drain and reserve potato water. Mash the potatoes.
Soften yeast in 1 1 / 2 cups hot water. In a separate bowl, combine margarine, shortening, granulated sugar and mashed potatoes well with a mixer on medium-high speed. Add the softened yeast. Let mixture stand for 2 hours at room temperature.
Stir in 2 cups of potato water. (If you don't have enough potato water, add hot water to make 2 cups.) Add salt and enough flour to make a soft dough. Add 4 to 5 cups of flour at a time and beat well with mixer. (You should be able to "handle" the dough, but the dough shouldn't be as stiff as regular bread dough. It should be soft but manageable.)
Chill dough in the refrigerator for at least five hours or overnight to develop the flavor. This amount of dough will go into two ice cream buckets with room for dough to rise. (If dough is placed in a bowl and covered well with a towel, the dough may try to "escape," depending on the size of the bowl.)
When ready to bake rolls, grease 9-inch by 13-inch baking pans. Cut the dough into four equal parts. Pat the dough segments out on floured work surface. Cut the dough into 12, 15 or 20 pieces, depending on the size of potato buns desired. Tuck and roll each square of dough until dough forms a ball; place dough balls in greased pans. (Place 12 buns in a 9-inch by 13-inch pan for bigger rolls, or 15 to 20 buns per pan for smaller rolls.)
Set pans on kitchen counter. Cover rolls with a towel; let dough rise. This will take two to four hours, depending on the warmth of the day and the warmth of the kitchen. Test the rolls by seeing how much they have raised, and tap lightly on one or two rolls to see how they feel.
Bake buns at 350 degrees. Avoid baking at 375 degrees or higher, since the buns tend to get too brown on top. Bake 30 minutes, or until you can "bounce" them in the pan. Then "bounce" the buns onto racks. (Marylyn "bounces" the buns onto racks that she sets on top of the baking pans, so the buns can cool from the bottom as well as the top, which avoids a "soggy bottom.") Let buns cool completely. Recipe makes approximately 7 dozen dinner rolls, or 5 dozen sandwich buns.