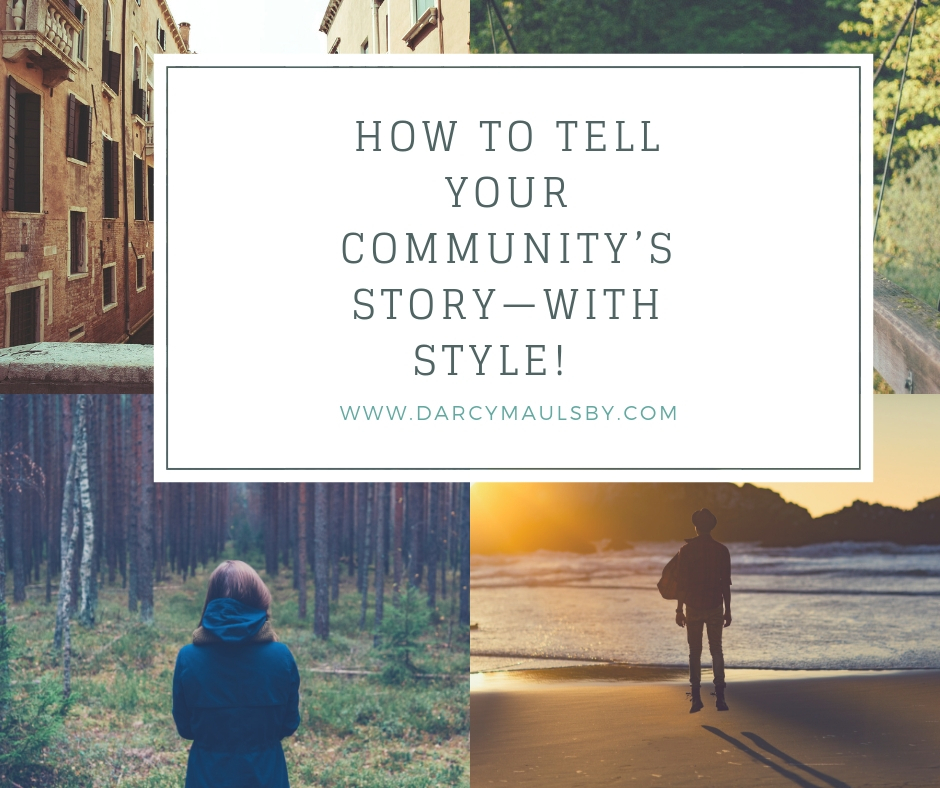 How to Tell Your Community's Story—with Style!  
Every community has a wealth of interesting stories to tell. What makes your town unique? More importantly, how can you share those stories to drive tourism, welcome new businesses and residents and put your community on the map in a whole new way?
I call it "story selling," and it works.
I first discovered the power of a story to inspire action in 1998 when I was a full-time editor at the Iowa Farm Bureau Spokesman. I had the chance to write about something interesting close to my home area of Lake City and Yetter ("Everything's Better in Yetter"—what a town motto!).
The first thing that popped into my mind? The Jake Burger at the Yetter Café.
Now, granted, this was a tasty, thick, juicy burger, but it's like a lot of other beef burgers. No secret sauce, wild ingredients or anything like that. What made the story come alive, though, was the restaurant owner.
Merlin "Jake" Janssen is one of those local characters who has done a little bit of everything in his life, from trucking to cooking. When he opened a café in an early 1900s-era two story clapboard home on Plum Street in Yetter, his Yetter Café soon developed a loyal following, from the employees at the ag co-op across the railroad tracks to area farmers to locals who wanted to see what all the fuss was about.
Not one to stick with boring names like "hamburger" or "cheeseburger," Jake was a marketing wizard of sorts who named his most famous creation the Jake Burger. My story set the stage with all the sensory details, from the cozy feel of the tiny dining room to the savory aroma wafting from the kitchen as Jake fried the burgers. I also shared some of Jake's backstory along the way, showing what sparked his interest in the restaurant business (I'm a people person!" he exclaimed) and what it's like to run a café in a town of 35 people.
I described how the Jake Burger came with all the trimmings, from lettuce to tomato to onion. I noted that each culinary creation was prepared by Jake himself. For added spice, I dished about tales of how each Jake Burger was always served with a hearty side of small talk and wise cracks.
After my story and a photo of Jake with his namesake burger ran in the Spokesman, I asked Jake if he got much feedback from that article. "I sure did," he said. "One guy drove all the way from Nashua to just to try a Jake Burger. Can you believe that?"
To the casual observer, it might seem unbelievable that someone would drive more than 150 miles one way to tiny town to eat a Jake Burger. But that, my friends, is the power of story.
Why does a good story matter?
Imagine a world without stories. If you're like me, you can listen to a few facts, but not many before you start tuning out. In this hectic, distracted world, true stories well told are incredibly powerful, since they:
Capture people's attention
Propel you past the dreaded "sales pitch syndrome" and invite people to relax and listen
Put facts in context and make them relevant to your audience
Convey complex information in a way that's easy to understand
Add value
Build trust
Boost your competitive advantage
Showcase the quality of life in your community (arts, entertainment, economic development and more)
Inspire people to share your content
Make your community more memorable
Encourage new businesses to locate in your area
Attract more grants and investment in your community
Help existing businesses grow and retain quality employees
Honor the community's history
Enhance community pride
Attract new residents
Create momentum that translates into economic development
What makes a good story?
The first step is to identify the people and places that make your community unique. Story ideas might come from the new business that came to town in the last few years, or they might be inspired by the factory that's been in the community for generations.
Good stories can be found at the local cafe that offers foods inspired by the region, or they can reflect the unique public art project that graces your town square. Compelling stories might include the historic highway that runs through your town and how this influenced the town's growth, or a great story might focus on a must-see item at the local museum run by dedicated volunteers.
Above all, unforgettable stories revolve around people. Always humanize your stories to help them resonate with your audience.
How do I tell a good story?
Here are some do's and don'ts:
Do train your brain to always be looking for potential stories you can share.
Don't just rattle off lists of facts or opinions (our town has 2,500 people, we have 20 businesses in town, we are a progressive community, etc.). This information is important, but it's not a story.
Do learn what defines a story. Some of the best stories take a problem/solution format, almost like a case study. In my hometown of Lake City, Iowa, I think of Opportunity Living, a home for handicapped people. In a nutshell, the story is a classic problem/solution story that goes like this:

"For generations, Lake City, Iowa, was a vibrant rural community and economic hub, but the 1980s Farm Crisis devastated the local area and led to the demise of many long-time businesses like Snyder Implement. Community leaders knew something needed to change, so they envisioned new possibilities for the large, vacant implement business on the east edge of town. Through their hard work, Opportunity Living took shape in the late 1980s and early 1990s and now provides homes throughout Lake City and Rockwell City for people with special needs. This dynamic organization also provides many jobs for local people and helps enhance the quality of life in the community."

Do use stories to show how people of all ages are making a positive difference in your community.
Don't forget to find partners throughout the community who can help you identify and share stories. Partner with the school, local businesses, volunteers, civic groups, church groups and others.
Do choose your words carefully. Community leaders in Jefferson, Iowa, for example, doesn't refer to vacant buildings as "empty buildings." They call them "available buildings."
How can I use my story to promote my community?
Here are some stories I've written about local entrepreneurs and tourism destinations:
Events Spark Stories That Help Backcountry Winery Grow in Iowa
Young Entrepreneur Grows a Healthy Business in Small-Town Iowa 
Digging Deeper: Volunteers Showcase Thomas Jefferson Gardens
People are listening! 
I received this wonderful note from Mary Weaver after I wrote the story about the Thomas Jefferson Gardens: 
"On a very pleasant note, we are getting visitors because of the articles. We have, that we are aware of, three different sets of visitors from Humboldt. It is the type of visitor story we will tell the City Council when we report to them in September.
The best anecdote was a woman who was part of an assisted living bus tour that was coming to Jefferson from Humboldt, but the destination was the casino. She persuaded the driver her to bring her to TJG rather than the casino and she stayed the entire length of time the others were gambling.
The second was a couple I met yesterday during Tuesday Talks. It was their second visit for a "Tuesday Talk," they ate at a local restaurant, went shopping at the quilt and antique store.
Certainly is the type of economic/tourism development we have been hoping to create. Thank you Darcy for your splendid articles about the Thomas Jefferson Gardens"
How can I use my story over and over?
Repurposing your stories is one of the smartest marketing moves you can make. Stories can take many forms, including blog posts, press releases, newspaper or magazine articles, videos, social media posts (for mini stories or links to your stories online), podcasts, speeches, photographs, advertisements and more. The key is to meet your audience where they're at and use various marketing channels to spread the word.
Remember, if you don't tell your story, who will? It's a fun journey, and you stand so much to gain.
What if I don't know where to start, or I just don't have enough time to write my community's stories?
If your budget allows, you might want to hire a professional storyteller. I understand the power of storytelling, because I've lived it and use it to grow my own business. As a trained journalist, book author, business owner, entrepreneur, marketer, historian and farmer, I offer you a writer's skill, a storyteller's artistry, an entrepreneur's insight, a historian's knowledge, and a farmer's practicality.
My formal education includes bachelor's degrees in journalism/mass communication and history from Iowa State University (ISU), along with a master's degree in business administration (MBA) with an emphasis in marketing from ISU, but that's just part of the story.
I also bring 20+ years of professional storytelling, writing and marketing experience and have served clients of all sizes, from local mom-and-pop businesses to multi-national corporations like Syngenta, help share their stories. I'm "bilingual" in terms of my ability to speak your language and the language that resonates with your clients and prospects.
When I started my writing/marketing business (Darcy Maulsby & Co.) in 2002, I learned the hard way that I can't be everything to everybody. I'm not an expert in video production. I don't like managing other people's social media pages. I do specialize in storytelling, though, and am ready to put this powerful marketing tool to work for you.
I look forward to visiting with you to find out what makes your organization tick. Let's discover those specific details and pivotal moments that make your stories relevant, relatable and unforgettable. Then I'll show you how we can shape this raw material into stories that speak to the hearts and minds of your audience.
I invite you to connect with me at www.darcycmaulsby.com and on social media (I'm on Facebook, Twitter and Instagram). I look forward to staying in touch.
Want more?
Thanks for stopping by. I invite you to read more of my blog posts if you value intriguing Iowa stories and history, along with Iowa food, agriculture updates, recipes and tips to make you a better communicator.

If you like what you see and want to be notified when I post new stories, be sure to click on the "subscribe to blog updates/newsletter" button at the top of this page, or click here. Feel free to share this with friends and colleagues who might be interested, too.
Also, if you or someone you know could use my writing services (I'm not only Iowa's storyteller, but a professionally-trained journalist with 20 years of experience), let's talk. I work with businesses and organizations within Iowa and across the country to unleash the power of great storytelling to define their brand and connect with their audience through clear, compelling blog posts, articles, news releases, feature stories, newsletter articles, social media, video scripts, and photography. Learn more at www.darcymaulsby.com, or e-mail me at yettergirl@yahoo.com. 
If you're hungry for more stories of Iowa history, check out my top-selling "Culinary History of Iowa: Sweet Corn, Pork Tenderloins, Maid-Rites and More" book from The History Press. Also take a look at my latest book, "Dallas County," and my Calhoun County" book from Arcadia Publishing. Both are filled with vintage photos and compelling stories that showcase he history of small-town and rural Iowa. Order your signed copies today! Iowa postcards are available in my online store, too.
Let's stay in touch. I'm at darcy@darcymaulsby.com, and yettergirl@yahoo.com.
Talk to you soon!
Darcy
@Copyright 2018 Darcy Maulsby & Co.  Blog posts may only be reprinted with permission from Darcy Maulsby.