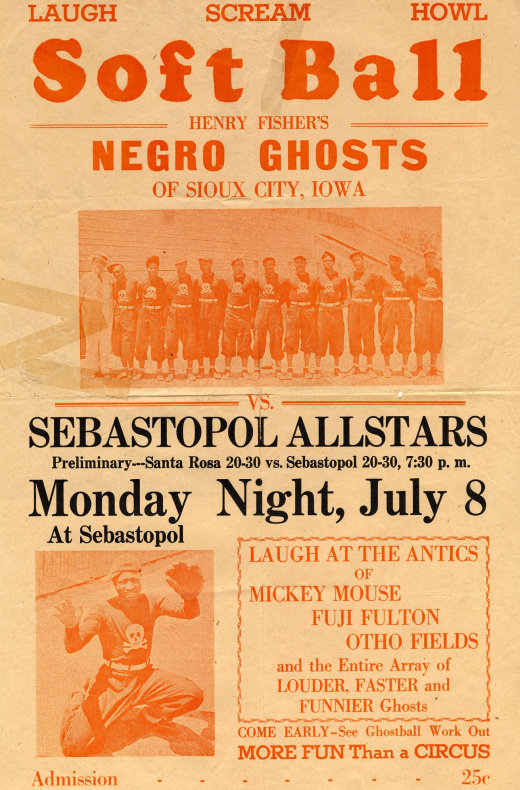 Remembering the African-American Sioux City Ghosts Fast-Pitch Softball Team
Even though owners and players of Major League Baseball are at an impasse trying to negotiate a 2020 season, there are still some noteworthy "boys of summer" stories to share, thanks to Iowa history. Perhaps no team brought more excitement to Iowa farm towns and cities across the country than the Sioux City Ghosts, a legendary African American fast-pitch softball team that got its start nearly 100 years ago.
"The Sioux City Ghosts were a big deal across the nation and internationally," said Haley Aguirre, archival records clerk with the Sioux City Public Museum, which preserves some of the Ghosts' history.
Because of their pranks on the softball field, the Sioux City Ghosts were often compared to the famous Harlem Globetrotters. The Sioux City team's exceptional athletic skills, winning record and razzle-dazzle style of playing generated a level of excitement few teams have matched.
The team stemmed from a boys' club the West 7th Street neighborhood of Sioux City, which was home to many African-American homes and businesses. This boys' club team started with about 40 members in 1925. Many of the boys were brothers, and most players thought of their team as a family. Soon after forming, they became Sioux City's Junior League champions, according to siouxcityhistory.org.
As the team members grew up, they entered Sioux City's Senior League and again won the championship game. As they became well known in Sioux City, they received sponsorship from local businessman Jack Page. They wore uniform shirts with the team name – Jack-The Cleaners, but had no uniform pants. Instead, they wore whatever they owned, from jeans to bib overalls.
With the sponsorship of Jack's, the softball team began playing in the tri-state area, but mostly in Iowa. As they toured, the nation was falling deeper into the Great Depression. Baseball and softball helped people forget about the poor economy, if only for a little while.
The Sioux City team grew in popularity the more the players toured. By 1933, they were known as the Sioux City Ghosts. Henry "Fats" Fisher became their first manager. That same year they also had a new sponsor, Whitney Cleaners, along with new uniforms. The black shirts and pants featured an orange skull and crossbones logo, which became the symbols of the Ghosts.
In 1934, Fisher convinced the Ghosts to tour in California, but only after their Iowa tour was complete. The players were an immediate hit in California, thanks to a few improvised comedy routines on the field.

Pitching style and substance
Starting in the early 1930s, the team began concentrating on the comedy routines and pranks for their games. One of the Ghosts' favorite routines was shadowball. A Carroll Daily Times Herald article from July 12, 1962, described the spectacle.
"Of course, there is always the shadowball game, which has been performed in exactly the same manner since 1932. Not a play or a move changed in well over 3,000 exhibitions. The Ghosts divide into two teams and play a full inning of ball without a ball. The last two put-outs are made in slow motion and include a slow-motion slide into third base."
The Ghosts were true showmen, sometimes pitching melons instead of softballs. They also rode bicycles in the outfield. Showcasing these stunts didn't mean the Ghosts' record suffered, though. They team often played the best amateur teams cities had, including farm leagues, all-star teams and state champions. The Ghosts won more than 2,000 games and lost less than 100 games during a 20-year span, noted siouxcityhistory.org. The Ghosts even challenged the Harlem Globetrotters' softball team to a game, although the game was never played.
The Ghosts toured Canada and the western United States, playing in Las Vegas, Phoenix and San Francisco. Some of the Ghosts' games attracted huge audiences. In Vancouver, Canada, 26,000 people came to watch the game.
While the Sioux City Ghosts were celebrated on the field, things were much different when the game was over. Many of the better players tried to move into the professional leagues, but couldn't because they were black.
"The Ghosts actually didn't play in a league," Aguirre added. "They toured and basically played anyone who would get on the field with them. They faced substantial racism and prejudice, and were often at the mercy of those living in the towns they visited."
The team broke up at the beginning of World War II when many of the players entered the armed forces. The Ghosts resumed playing as a team, however, after the war. While players from other teams were added from time to time, the Ghosts always remained a mostly Sioux City team.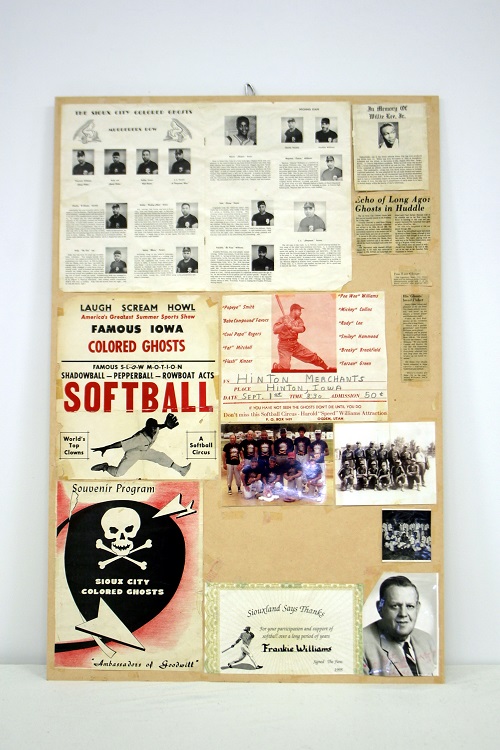 Leaving a legacy
The Ghosts included a variety of beloved players through the years, including Richard "Sitting Bull" Fields, "Oatie" Fields, Riley Fields, Willie Lee, Glenn Smith, Lawrence Freeman, Floyd "Fuji" Fulton, Benny Hamilton, Jamie Hicks, Clarence "Darby" Hicks, Rudy Lee, Major Ray, Fred Tolson, Robert Green, Vivian Johnson, Clayton Johnson, Bob Metcalf, Sam Davis, J.C. "Cool Papa" Johnson, Valse "Mickey Mouse" Metcalf, George "Smokey Joe" Murphy, Harold "Speedy" Williams, Reginald "Cricket" Williams, Frank "Papa Be Kind" Williams, Sam Hays, Benny Hamilton, Les "Spook" Wilkinson and L.J. "Bambino" Favors.
"Favors was quite the ball player," Aguirre said. "He joined the Ghosts in 1934 and also played for the Colored House of David, Sioux City's colored baseball team. He was inducted into the Iowa Men's State Softball Hall of Fame in 1975."
Favors was mentioned in the article "Colored Ghosts at Lanesboro Saturday," which ran in the July 12, 1962, issue of the Carroll Daily Times Herald.
"The greatest clown ever to tour with the original Ghosts is L.J. Compound Favors, who played with the first team in 1932 and still catches a few innings in most games," noted the article, which promoted the "razzle-dazzle softball spectacular" slated for July 14 at 8:30 p.m. against the Lanesboro Merchants. "Favors, an ageless receiver, has shenanigans galore in his bag of tricks to confound both the opposition and the umpires. In addition, he keeps up a constant stream of chatter, which has the stands in a virtual uproar."
While Favors and his teammates thrilled audiences into the early 1960s in small Iowa towns like Lanesboro, Lake Park, Hinton and other communities, times were changing. One big milestone came in 1947, when Jackie Robinson broke the color barrier by becoming the first black athlete to play Major League Baseball (MLB) after joining the Brooklyn Dodgers.
With the integration of MLB, all-black teams like the Sioux City Ghosts became less common. While the last Sioux City Ghosts player, Franklin Williams, died in 2007, the team's legacy lives on, thanks to the Sioux City Museum and the Smithsonian Institution in Washington, D.C., which preserves some of the Sioux City Ghosts' memorabilia.
"The Ghosts helped put Sioux City on the map and acted as ambassadors of Iowa across the nation and internationally," Aguirre said.
Want more?
I invite you to read more of my blog posts if you value intriguing Iowa stories and history, along with Iowa food, agriculture updates, recipes and tips to make you a better communicator.
If you're hungry for more stories of Iowa history, check out my top-selling "Culinary History of Iowa: Sweet Corn, Pork Tenderloins, Maid-Rites and More" book from The History Press. Also take a look at my other books, including "Iowa Agriculture: A History of Farming, Family and Food" from The History Press, "Dallas County" and "Calhoun County" book from Arcadia Publishing. All are filled with vintage photos and compelling stories that showcase the history of small-town and rural Iowa. Click here to order your signed copies today! Iowa postcards are available in my online store, too.
If you like what you see and want to be notified when I post new stories, be sure to click on the "subscribe to blog updates/newsletter" button at the top of this page, or click here. Feel free to share this with friends and colleagues who might be interested, too.
Also, if you or someone you know could use my writing services (I'm not only Iowa's storyteller, but a professionally-trained journalist with 20 years of experience), let's talk. I work with businesses and organizations within Iowa and across the country to unleash the power of great storytelling to define their brand and connect with their audience through clear, compelling blog posts, articles, news releases, feature stories, newsletter articles, social media, video scripts, and photography. Learn more at www.darcymaulsby.com, or e-mail me at yettergirl@yahoo.com.
Let's stay in touch. I'm at darcy@darcymaulsby.com, and yettergirl@yahoo.com.
Talk to you soon!