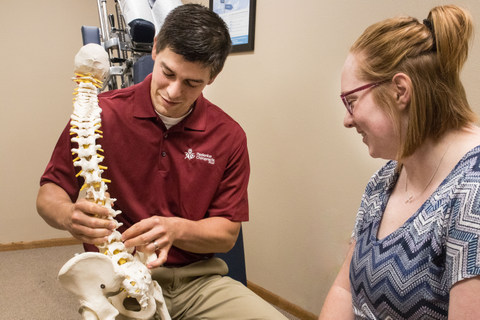 Young Entrepreneur Grows a Healthy Business in Small-Town Iowa
It's no secret that rural Iowa has suffered through decades of population loss. The current trends are sobering, when you see data from the U.S. Census Bureau showing that two-thirds of Iowa counties (that's 71 counties, including my home county of Calhoun County in west-central Iowa) lost population between 2010 and 2017, while 28 saw gains. So what would attract a young entrepreneur to an area like Calhoun County?
It's a question I asked Dr. Jeff Redenius, who opened Redenius Chiropractic, PLC, in my hometown of Lake City (population 1,700) in 2016. Not only has this native son grown his customer base at his thriving chiropractic clinic, which is housed in the former variety store on Main Street, but perhaps the biggest surprise of all is the popularity of his attached 24-hour fitness center. So what's the secret of this dynamic entrepreneur's success? Here's his story, which I shared in the 2018 Hometown Pride section of the Fort Dodge Messenger.
Back to Health:
Dr. Jeff Redenius Promotes Fitness, Wellness for All Ages
Jeff Redenius had enough to worry about as final exams loomed during his senior year at Central College in Pella. As he studied for his tests, however, the Lake City native suddenly felt like a knife was plunging into his chest.
"It was so intense I couldn't take a deep breath," said Redenius, 28, who owns Redenius Chiropractic, PLC, and a 24-hour fitness center in Lake City. "I went to a chiropractor and found out I had a rib out of place."
A quick adjustment provided effective relief. Redenius learned that displaced ribs are fairly common and can be triggered by stress. "I typically see at least one patient each day with a displaced rib," said Redenius, who opened his chiropractic clinic along Main Street in Lake City in August 2016.
Redenius's own ordeal with pain prompted him to pursue a career in chiropractic care. "I was amazed at how much relief I experienced by going to the chiropractor," he said. "I had known since high school that I wanted to go into health care, but this experience helped me clarify which area of health care to specialize in."
Becoming a business owner
Redenius first discovered the value of high-quality health care close to home when he tore the anterior cruciate ligament (ACL) in his knee while playing football during his junior year of high school.
"I went to the hospital for physical therapy and began to appreciate all the medical care we have right here in Lake City," said Redenius, who graduated from Southern Cal High School in Lake City in 2008.
After earning his bachelor of science degree in athletic training from Central College in in 2012, he wasn't sure whether he wanted to pursue an advanced degree in physical therapy or chiropractic care. His displaced rib during final exams, along with his desire to own his own business, prompted his decision to enroll at the Palmer College of Chiropractic in Davenport.
"My dad, Gary, is a carpenter and has run his business for years, and I wanted to follow in his footsteps," added Redenius, who had often worked with his father on construction projects through the years.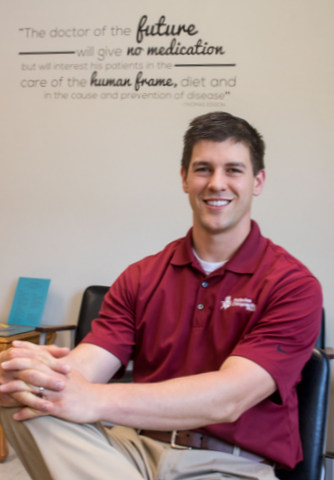 During Redenius's years at Palmer, he served as the head athletic trainer and worked with the Palmer men's and women's rugby teams. After graduating from Palmer in February 2016, he and his wife, Jenny, a Hudson, Iowa, native, assessed their options about their next career moves.
The couple considered moving to Waverly, since it's a growing community and a college town, but it proved more affordable for Redenius to open his chiropractic clinic in his hometown, especially when the local dime store on Main Street came up for sale.
"I knew a lot of people around here, which I figured would help grow my business faster," Redenius said. "We also like the affordable cost of living and the chance to be close to family and raise our son, Sam, here."
Fitness center proves popular
With approximately 5,500 square feet in the former dime store, the spacious building offered room for more than just a chiropractic clinic with exam rooms, a therapy room and an x-ray room. When Jenny suggested adding a fitness center, Redenius didn't think it was feasible. "It was a great idea, but I was so overwhelmed by opening the chiropractic clinic that I didn't think I could take on another project."
Then Redenius found out that the Palmer College of Chiropractic was building a new fitness center and was willing to sell all the equipment from the former fitness center, including the free weights, the cable machines and the elliptical trainers, for a great deal. He rounded up some strong helpers, lined up a semi-truck and moved all the gym equipment to his building in Lake City.
After some remodeling, Redenius's new 24-hour fitness center was ready for business. "We opened the fitness center in June 2016, a few months before I opened my chiropractic clinic in August that year," Redenius said.
Some fitness center members like to take exercise classes and work with a personal trainer, while others like Mary Fern like to design their own workout routine. "I come here five to six days a week," said Fern, 91, who moved to Lake City in August 2017. "It's convenient, plus I like the variety."
Fern walks laps in the gym, uses the cable machine to strengthen her arms and works out on the NuStep, which looks similar to an exercise bike and offers a safe, low-impact way to get a total-body workout. "Why do I exercise? If you don't use it, you lose it," she said.
Fern is a walking example of the power of healthy living, said Redenius, who features a quote from Thomas Edison on the wall of his reception area. "The doctor of the future will give no medication but will interest his patients in the care of the human frame, diet and in the cause and prevention of disease."
"We've only started to make our mark"
While fitness and chiropractic care go hand in hand, along with massage therapy services provided at Redenius Chiropractic by therapist Haley Abbott, Redenius doesn't hesitate to refer patients to other health-care providers, when necessary.
Redenius is also seeking new ways to promote healthy living, including a new weight-loss program he began offering this summer. The four-stage program includes a meal plan and weekly coaching to help patients reach a healthier weight. "You only have one body, and I'm more about preventing disease than fixing problems."
That spirit of service also extends to Redenius's hobbies and work in the community. In 2017, he purchased the Baptist Church complex in Lake City after the congregation joined with the Woodlawn Christian Church in Lake City. He has been remodeling the education wing into two apartments. One unit has been rented, and the other is available for rent.
"I like to build things and create positive change, from people's health to my business to the local community," Redenius said. "We've only started to make our mark."
Want more?
Thanks for stopping by. I invite you to read more of my blog posts if you value intriguing Iowa stories and history, along with Iowa food, agriculture updates, recipes and tips to make you a better communicator.

If you like what you see and want to be notified when I post new stories, be sure to click on the "subscribe to blog updates/newsletter" button at the top of this page, or click here. Feel free to share this with friends and colleagues who might be interested, too.
Also, if you or someone you know could use my writing services (I'm not only Iowa's storyteller, but a professionally-trained journalist with 20 years of experience), let's talk. I work with businesses and organizations within Iowa and across the country to unleash the power of great storytelling to define their brand and connect with their audience through clear, compelling blog posts, articles, news releases, feature stories, newsletter articles, social media, video scripts, and photography. Learn more at www.darcymaulsby.com, or e-mail me at yettergirl@yahoo.com. 
If you're hungry for more stories of Iowa history, check out my top-selling "Culinary History of Iowa: Sweet Corn, Pork Tenderloins, Maid-Rites and More" book from The History Press. Also take a look at my latest book, "Dallas County," and my Calhoun County" book from Arcadia Publishing. Both are filled with vintage photos and compelling stories that showcase he history of small-town and rural Iowa. Order your signed copies today! Iowa postcards are available in my online store, too.
Let's stay in touch. I'm at darcy@darcymaulsby.com, and yettergirl@yahoo.com.
Talk to you soon!
Darcy
@Copyright 2018 Darcy Maulsby & Co.  Blog posts may only be reprinted with permission from Darcy Maulsby.