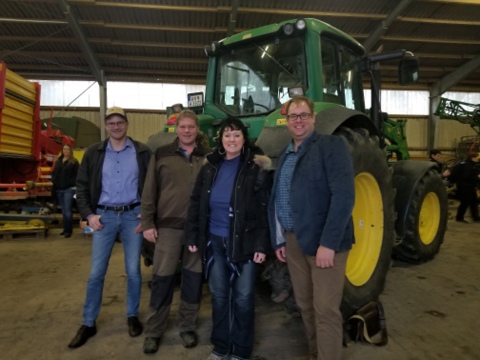 Ag-Vocating Worldwide: Top 10 Tips for Sharing Ag's Story with Consumers
Any of these sound familiar? Many consumers today don't understand modern agriculture. Activists are spreading misinformation about farming. Myths about farming seem to carry more weight than facts. I couldn't believe what I was hearing. While these things are top of mind for me here in Iowa, they're hot topics in Germany and across Europe, too.
So what do you do about it? We shared best practices when I joined five other ag leaders from Iowa in northern Germany to meet with European farmers, veterinarians and other ag professionals during the Transatlantic Agricultural Dialogue on Consumer Engagement from November 11-16, 2018.
"This experience highlighted why we must make time to share the what and why of how we do things on the farm," said my friend Chad Ingels, a farmer from Randalia, Iowa, who participated in the Germany study trip, which was supported by the German-American Chamber of Commerce. "Consumers around the world really have no idea what happens in the day-to-day activities on the farm. We need to share our story and keep it simple, without using 'farmer jargon.'"
Ingels, who raises corn, soybeans and hogs and is active on social media, appreciated the opportunity to exchange practical ideas to address the public's questions about food production. During these discussions, ag leaders from both sides of the Atlantic shared their 10 top tips for engaging with consumers, including:
1. Be willing to engage. Who is telling agriculture's story, and what are they saying? Don't leave it to chance, said Caroline van der Plas from the Netherlands, who encourages farmers to build relationships and share their story with consumers, the media and lawmakers. "If you don't share your story, others like People for the Ethical Treatment of Animals (PETA) will tell it for you," said van der Plas, who coordinates the Dutch social media project @boerburgertweet, which allows farmers to share their story with consumers on Twitter.
The ripple effect from one story can be powerful, noted Janice Person, online engagement director for Bayer CropScience. She credits one interview more than 20 years ago with Louisiana farmer Ray Young for motivating her to pursue an agricultural communications career. "I was a city girl from Memphis who was interested in ecology," said Person, keynote speaker at the Transatlantic Agricultural Dialogue on Consumer Engagement. "When I interviewed Ray Young, he had me so focused on his soils that I can still see them in my mind. He explained conservation tillage and helped me understand how he was getting it to work on his farm. By taking the time to tell his story, Ray helped me become an influencer for agriculture."
2. Look at ag through consumers' eyes. Empathy matters. People don't care how much you know until they know how much you care, Person said. "Many people today are hearing things about food and agriculture that scare them. Sometimes people are angry, sometimes they are confused and sometimes they want to listen." Most people just want what's best for their families, added Person, who noted that farmers can bring a valuable, real-world perspective to the conservation.
3. Tell a different side of the story. While most consumers have heard a lot about organic farming, they rarely hear about other types of production. "It's easy for people to think there's only one side of the story or one way to farm, unless you share a different perspective," Person said.
4. Focus on the moveable middle. Activists are loud, but they are still a minority, said Nadine Henke, an ag-vocate from Germany. "There are still a lot of people in the middle, but few really understand modern agriculture. We can reach out to them."
5. Find inspiring ag-vocates. There are many ag-vocates to follow online, from Dirt Sweat N Tears (@farmermegzz on Twitter), a film industry specialist turned farmer from Saskatchewan, Canada, to Derek Klingenberg (@Farmer Derek on Twitter), a Kansas farmer and rancher whose popular YouTube videos range from him playing his trombone to call his cows to a video of a college choir singing in his new grain bin. "We have different crops and livestock and various ways of farming, so our stories are all different," Person said. "What ag-vocates have in common is their decision to tell their story and make a positive impact."
6. Never underestimate face-to-face conversations. While social media gets a lot of attention, it's not the only place to tell ag's story, Person said. "Some of the most important conservations still take place in person."
7. Show how technology can be part of the solution. "Most people like to be modern," Person said. Share the story of modern ag by showing how technology is helping protect the environment with solutions like precision spraying. "People love to discover things," Person said. "They don't like to be lectured to. Sharing knowledge can create a sense of wonder."
8. Stay on track. Challenge people and encourage them to think about a different viewpoint, but always be respectful of your audience, Person said. "Be careful about going on defense too soon. Also, make time to explain not just the how, but why you do what you do on the farm." Don't stop with posting pictures, she added. Share your stories of the land and what you think is special about your region. If you have livestock, explain the how and why of manure management. If you like to cook, showcase seasonal foods and recipes. In any case, don't devote too much time to people who aren't willing to listen and only want to argue, Caroline van der Plas added. "The longer you engage with activists, the less time you have to tell your story."
9. Build trust. What's the ultimate goal of telling ag's story? Building trust. "It's all relationship based, and trusted relationships are so important," Person said.
10. Take the long view. Communication is never a once-and-done deal. It's an ongoing process. "What can you do in the next year, and the next five years, to tell your ag story?" Person asked. Also, remember that you're not alone. "Sometimes food and farming issues feel so polarized that it's easy to forget other people are saying the same things we are," Person said. "It's incredibly rewarding to reach out with ag's story. Know that there is power in coming together."
So here I am back home in rural Iowa, trying to implement these 10 tips, starting with this article, which originally appeared in Farm News and the Fort Dodge Messenger. I'd love to hear from you, too. In your experience, what works well to share your story effectively?
Want more?
Thanks for stopping by. I invite you to read more of my blog posts if you value intriguing Iowa stories and history, along with Iowa food, agriculture updates, recipes and tips to make you a better communicator.

If you like what you see and want to be notified when I post new stories, be sure to click on the "subscribe to blog updates/newsletter" button at the top of this page, or click here. Feel free to share this with friends and colleagues who might be interested, too.
Also, if you or someone you know could use my writing services (I'm not only Iowa's storyteller, but a professionally-trained journalist with 20 years of experience), let's talk. I work with businesses and organizations within Iowa and across the country to unleash the power of great storytelling to define their brand and connect with their audience through clear, compelling blog posts, articles, news releases, feature stories, newsletter articles, social media, video scripts, and photography. Learn more at www.darcymaulsby.com, or e-mail me at yettergirl@yahoo.com. 
If you're hungry for more stories of Iowa history, check out my top-selling "Culinary History of Iowa: Sweet Corn, Pork Tenderloins, Maid-Rites and More" book from The History Press. Also take a look at my latest book, "Dallas County," and my Calhoun County" book from Arcadia Publishing. Both are filled with vintage photos and compelling stories that showcase he history of small-town and rural Iowa. Order your signed copies today! Iowa postcards are available in my online store, too.
Let's stay in touch. I'm at darcy@darcymaulsby.com, and yettergirl@yahoo.com.
Talk to you soon!
Darcy
@Copyright 2018 Darcy Maulsby & Co.  Blog posts may only be reprinted with permission from Darcy Maulsby. 
2 responses to "Ag-Vocating Worldwide: Top 10 Tips for Sharing Ag's Story with Consumers"