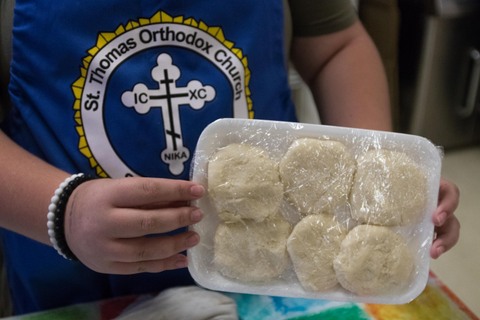 Mediterranean Delights: Iowa Ag Influences Syrian-Lebanese Church Dinner
Call it controlled chaos. Anyone who has ever helped with a church fundraising dinner knows just how hectic, harried and fun it can be to work together to prepare the meals. That's especially true at St. Thomas Orthodox Church in Sioux City.
"It's a lot of work and requires all hands on deck," said Erica Stickney, a chairperson who helps coordinate St. Thomas's popular Syrian-Lebanese dinner, which was held on Sept. 10 this year.
"While it can get a little frustrating at times when things get really busy and the kitchen's hot, you remember that it's about friendship and love, including love for God and the community."
Homemade dinners at this year's Syrian-Lebanese dinner, which was served from 12:30 p.m. to 6 p.m., cost $13 each, with a portion of the proceeds going to The Warming Shelter, a non-profit charity in Sioux City. While this year's menu served plenty of Mediterranean favorites, many had a Midwestern twist. "Traditionally the meat would have been lamb, but we use beef, because we're in Iowa," Stickney said.
The menu included:
• Kibby (or kibbeh). This tasty meatloaf is made with lean ground beef and cracked bulgur wheat, seasoned with cinnamon and allspice.
• Yabrah. Much like cabbage rolls, yabrah includes cabbage leaves that are rolled and stuffed with a spiced blend of beef, rice and tomatoes. "We rolled 5,515 of these this year," said Sue Stevens of Sioux City. "It's rewarding to hear our guests say the cabbage rolls are perfect."
• Lubee. This simple, yet satisfying side dish, features green beans in a tomato and meat sauce.
• Ruz. This Syrian favorite includes buttery white rice accented with tiny orzo pastas.
• Salata. This Syrian salad is enhanced with the church's special dressing made of oil, vinegar, lemon juice and seasonings.
• Talamee. These big, round loaves of Syrian bread are indescribably tasty, report church members.
• Baklawa. Sometimes called baklava, this classic Mediterranean dessert is made with phyllo pastry dough, butter, and walnuts in a sweet syrup.
Diverse influences create beloved traditions
While St. Thomas is located in the heart of Sioux City, the parish's heritage, much like its dinner specialties, reflects a mix of Mediterranean and Midwestern influences. The church was founded in 1916 to serve the needs of Arab Christian immigrants, many of whom came to the area to work in the Sioux City Stockyards or local meatpacking plants. Today's members embody a diverse background of Mediterranean, Russian, Serbian and Romanian heritage.
"Historically, Sioux City has been very welcoming and accepting of newcomers," said Father Lucas Rice, who has served the St. Thomas parish more than six years. "When I came here, I was also blown away by how much the people of Siouxland love the St. Thomas church dinner."
While no one's sure exactly how long St. Thomas's congregation has been hosting the dinner (anywhere from 50 years to nearly 80 years, depending on who you ask), there's no doubt that people mourned the loss of the dinner when the church discontinued it for a few years.
"We hadn't hosted the dinner in three years, because our church demographics were changing and the older generation was stepping down," said Stickney, who noted that previous generations cooked without recipes and made their own phyllo dough. "The younger generation had to decide the next steps, and we decided to carry on the tradition."
Before the older generation retired, younger cooks in the church worked side by side with the experienced cooks so they could observe each step of the process. "We would stop them as they added ingredients so we could determine the measurements and write the recipes," Stevens said. "While we follow the recipes, we taste the food as we prepare it to make sure it's right."
Church members prepared to serve 1,400 dinners on Sept. 10. The process started three weeks before the dinner. "We begin by clarifying the butter," said Stickney, who noted that 236 pounds of butter are used to prepare the cookies, rice and more. "Clarified butter has the milk solids removed and influences the taste and look of the food."
The bread is baked on the Saturday right before the dinner, and the rest of the dishes are prepared fresh the day of the church dinner. "I love to come back for this dinner," said Rick Stevens of Lincoln, Nebraska, whose family has been part of the St. Thomas parish for generations. "This is home."
Clarified Butter
Slowly melt butter in pan on low heat. Be careful not to boil. When butter is completely melted, carefully skim all of the milk fat from the top and discard fat. The result is pure gold butter. This is used in most Arab recipes.
Ghraybeh (Lebanese Butter Cookies)
1 cup clarified butter
1 cup powdered sugar
2 cups flour
With hand mixer, whip butter until creamy pale and fluffy. Add sugar, and mix until fluffy. Using a large rubber spatula, blend in flour a little at a time.
Roll dough into balls and place on cookie sheet. Press to flatten. Work quickly so dough doesn't get too soft. Bake in preheated oven (300 degrees) until cookies are firm, 10 to 12 minutes. Don't let cookies get brown. Remove cookies from pan and let cool.
Baklawa (also known as Baklava)
4 cups finely chopped walnuts
2 cups clarified butter-melted
1/8 cup granulated sugar
2 packages phyllo dough (20 sheets per package)
Combine walnuts with sugar and 1/4 cup butter so mixture forms a ball when squeezed in your hand.
Grease a large baking sheet with butter. Place one package of phyllo carefully on to baking sheet. Spread walnut mixture on top evenly. Carefully place second package of phyllo
on top of walnut mixture. Carefully take off top five layers of phyllo.
Butter the top layer of phyllo dough on the pan, and then place a single layer of phyllo on top of buttered layer. Repeat until all lawyers are back on to pan. Put butter on top layer. Cut into diamond shapes.
Bake in preheated, 375-degree oven for 25 minutes. Remove from oven. Pour a little butter on the top evenly. Place pan back into the oven for another 20 minutes or so, until the baklawa is golden brown.
Remove pan from oven and place on cooling rack. Immediately pour syrup mix (see recipe below) evenly on top of entire pan. Let pan sit for one day. Allow syrup to soak through the entire dessert. You may want to re-cut baklawa before removing from pan.
Syrup for Baklawa
2 1/2 cups granulated sugar
1 1/2 cups water
1 tablespoon lemon juice
In a pan, heat water and sugar until boiling. Once mixture starts to boil, add the lemon juice. Cook for another 15 minutes until the syrup starts to thicken. Remove pan from heat, and set aside to cool.
Barazek (Sesame Cookies)
1 cup butter
1/2 cup sugar
1 egg
1/2 teaspoon vanilla
3 cups flour
1/4 teaspoon salt
1 teaspoon baking powder
1/2 cup milk
3 tablespoons pistachios chopped
1 egg white
3 tablespoons sesame seeds
Preheat oven to 350 degrees. Cream butter and sugar with electric mixer until light and fluffy. Add egg and vanilla, continue beating. In separate bowl, mix flour, salt and baking powder. Stir flour mixture gradually into butter mix, alternating with milk.
Knead dough on lightly floured surface. Divide dough into two parts. Roll each piece into a circle, and cut into rounds. Place pistachios on a cookie sheet; spread evenly. Place dough rounds on top of pistachios, and press lightly. Beat the egg bite and then brush the tops of cookies. Sprinkle with sesame seeds. Bake about 15 minutes, or until golden brown.
Want more?
Thanks for stopping by.  I invite you to read more of my blog posts if you want more more intriguing Iowa stories and history, along with Iowa food, recipes and tips to make you a better communicator.
If you like what you see and want to be notified when I post new stories, be sure to click on the "subscribe to blog updates/newsletter" button at the top of this page. Feel free to share this information with friends and colleagues who might be interested, too.
If you're hungry for more stories of Iowa history, check out my top-selling "Culinary History of Iowa: Sweet Corn, Pork Tenderloins, Maid-Rites and More" book from The History Press. Also take a look at my latest book, "Dallas County," and my Calhoun County" book from Arcadia Publishing. Both are filled with vintage photos and compelling stories that showcase he history of small-town and rural Iowa. Order your signed copies today! Iowa postcards are available in my online store, too.
Let's stay in touch. I'm at darcy@darcymaulsby.com, and yettergirl@yahoo.com.
P.S. Thanks for joining me. I'm glad you're here. 
@Copyright 2017 Darcy Maulsby & Co. 
8 responses to "Mediterranean Delights: Iowa Ag Influences Syrian-Lebanese Church Dinner"