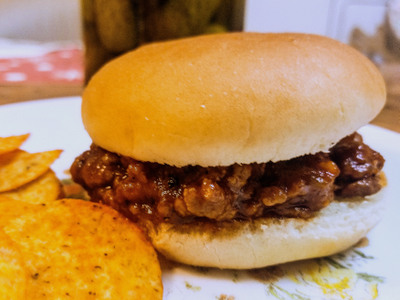 From time to time I get calls from around Iowa or across the country, usually from the media, about the history of Iowa food. Even the Travel Channel reached out for an upcoming Iowa episode of Bizarre Foods: Delicious Destinations. (Don't miss this cool story!) People usually want to talk about one thing—Maid-Rites. I love sharing this story and have also cooked up my own twist on loose-meat sandwiches.
Just the other day a friend emailed me about Maid-Rites, wanting to know some other names for the sandwich. Here's what I told her:
* Loose-meat sandwiches
* Taverns (a common term around Sioux City and parts of northwest Iowa)
* Beef burgers
* Canteens (in Ottumwa)
* Sloppy Joes (if they contain ketchup and other goodies in the mix)
* Yip-yips (at least in southern Illinois, or so I've been told!)
While you can sometimes find these sandwiches on some café menus in Iowa, as well as at the 30+ Maid-Rite chain restaurants around the Midwest, they are often turn up at potlucks, fundraiser meals, family get-togethers, civic group lunches and more.
Just when I think I've seen every type of these loose-meat sandwiches, there's another version that pops up. When I shared my "How to Take Better Photos in 1 Minute" class with the Rockwell City Rotary Club recently, the meal included Tex-Mex inspired sloppy joes. While I don't normally care for sloppy joes, I absolutely loved these sandwiches.
I loved them so much I was inspired to create my own version. These are flavorful, stick-to-your-ribs sandwiches that come together in a snap and can be as spicy or as mild as you like. They're also an ultimate comfort food on these cold winter days here in Iowa.
Here's the recipe. Enjoy! Also, keep reading below for the fascinating history of Maid-Rite in Iowa. This is an excerpt from my 2016 book, "Iowa's Culinary History: Sweet Corn, Pork Tenderloins, Maid-Rites & More." Order here to get your own signed copy of this fun book!
Tex-Mex Sloppy Joes
• 1 pound ground beef
• 1 small onion, chopped
• 2 garlic cloves, minced
• 1 cup ketchup
• 1 can (4 ounces) chopped green chilies
• 1/2 cup beef broth
• 1/4 cup chili sauce
• 1/2 to 1 teaspoon chili powder, to taste
• 1/2 teaspoon ground cumin
• 1/4 teaspoon crushed red pepper flakes, optional
• 1/4 teaspoon salt
• 1/4 teaspoon coarsely ground pepper
• 6 hamburger buns, split
• 2 tablespoons butter, softened
In a large skillet, cook beef and onion over medium heat for 6-8 minutes or until beef is no longer pink, breaking up beef into crumbles; drain. Add garlic; cook 1-2 minutes longer. Stir in the ketchup, chilies, broth, chili sauce and seasonings. Bring to a boil. Reduce heat; simmer, uncovered, for 15 minutes, stirring occasionally.
Meanwhile, spread cut sides of buns with butter. Place on baking sheets, buttered side up. Broil 4 in. from the heat for 1-2 minutes or until toasted. Serve beef mixture in buns.
Now for a tasty bite of Iowa history
Call it the king of the loose-meat sandwiches. A tried-and-true Iowa classic for nearly 100 years, the Maid-Rite is a sandwich unlike any other. But first, let's clarify what a Maid-Rite is not.
It's not a sloppy joe. It's not a ground-beef concoction with ketchup, mustard and sugar in the mix. (Some of these "hybrid" sandwiches with traits of both a Maid-Rite and a sloppy joe can be found in Iowa, and some are quite tasty, but a true Maid-Rite they are not.) Finally, a Maid-Rite is not something you can leave out if you're going to delve into the culinary history of Iowa.
The story of the Maid-Rite began in 1926, when Fred Angell, a meat cutter in Muscatine, developed a recipe with just the right combination of ground beef (with a specific grind size and meat/fat ratio) and a distinctive seasoning featuring Fred's unique blend of spices. When a deliveryman tasted Fred's new creation, he exclaimed, "This sandwich is made right!"
With that, the Maid-Rite legend was born. "The Maid-Rite recipe has stayed the same from the beginning," said Bradley Burt, president and CEO of the Maid-Rite Corporation based in West Des Moines. "There's no other sandwich like ours."
What started as a small Maid-Rite restaurant in Muscatine grew into one of America's first quick-service, casual-dining franchise restaurants. Today there, are restaurants in eight Midwestern states, including 38 stores in Iowa. While the days of 5-cent Maid-Rites and homemade root beer are gone, Maid-Rite continues to pride itself on home-town hospitality. "Maid-Rite restaurants are still a gathering place in many small towns," Burt said.
Some of these restaurants are as rich in history as the Maid-Rite sandwich itself. Taylor's Maid-Rite in Marshalltown is a third-generation business that has been serving central Iowa for more than 80 years. Cliff Taylor purchased the 1928 franchise for $300. Cliff and his family operated Taylor's Maid-Rite Hamburger Shop, baking pies at home, slicing whole pickles from Marshall Vinegar Works and buns from Strand's Bakery.
After Cliff passed away in 1944, his son, Don, continued to run the restaurant. Don built a cooler in the basement of his home to store the hamburger that was ground daily. In 1958, he built a state-of-the-art Maid-Rite restaurant across the street from the original location, outfitting the new store with all stainless-steel equipment and two cash registers.
While various generations of the family have operated the business since then, many things haven't changed. Like all Maid-Rite restaurants, each Maid-Rite at Taylor's is made from 100% USDA Midwestern fresh ground beef served on a bun, with your choice of ketchup, mustard, onion and pickles. "We have stringent specifications for our beef," Burt said.
Once you've tasted a real Maid-Rite, there's no substitute. Many former Iowans don't consider themselves to be officially back home in Iowa until they've eaten a Maid-Rite. "It's quite a phenomenon," Burt wait. Some Iowans can't wait to get a taste of home. A group of snowbirds who spend their winters in Arizona host a Maid-Rite party in the Phoenix area each year for 150 guests, complete with Maid-Rite hats, t-shirts and aprons.
One of the biggest Maid-Rite fans of all would have to be Jim Zabel, who broadcast University of Iowa athletic events for 50 years. Before his passing in 2013, the legendary sportscaster and ultimate Iowa ambassador served as the Maid-Rite spokesman. He even made a commercial for Maid-Rite, complete with a riff on his high-energy slogan, "I love 'em, I love 'em, I love 'em!"
Many Iowans stay loyal to their beloved Maid-Rites right to the end. Some people request them as their final meal, while others ask that Maid-Rites be served at their funeral dinner. "Maid-Rite is truly part of Iowa's culture," Burt said.
Want more?
Thanks for stopping by. I invite you to read more of my blog posts if you value intriguing Iowa stories and history, along with Iowa food, agriculture updates, recipes and tips to make you a better communicator.

If you like what you see and want to be notified when I post new stories, be sure to click on the "subscribe to blog updates/newsletter" button at the top of this page, or click here. Feel free to share this with friends and colleagues who might be interested, too.
Also, if you or someone you know could use my writing services (I'm not only Iowa's storyteller, but a professionally-trained journalist with 20 years of experience), let's talk. I work with businesses and organizations within Iowa and across the country to unleash the power of great storytelling to define their brand and connect with their audience through clear, compelling blog posts, articles, news releases, feature stories, newsletter articles, social media, video scripts, and photography. Learn more at www.darcymaulsby.com, or e-mail me at yettergirl@yahoo.com. 
If you're hungry for more stories of Iowa history, check out my top-selling "Culinary History of Iowa: Sweet Corn, Pork Tenderloins, Maid-Rites and More" book from The History Press. Also take a look at my latest book, "Dallas County," and my Calhoun County" book from Arcadia Publishing. Both are filled with vintage photos and compelling stories that showcase he history of small-town and rural Iowa. Order your signed copies today! Iowa postcards are available in my online store, too.
Let's stay in touch. I'm at darcy@darcymaulsby.com, and yettergirl@yahoo.com.
Talk to you soon!
Darcy
@Copyright 2019 Darcy Maulsby & Co.  Blog posts may only be reprinted with permission from Darcy Maulsby.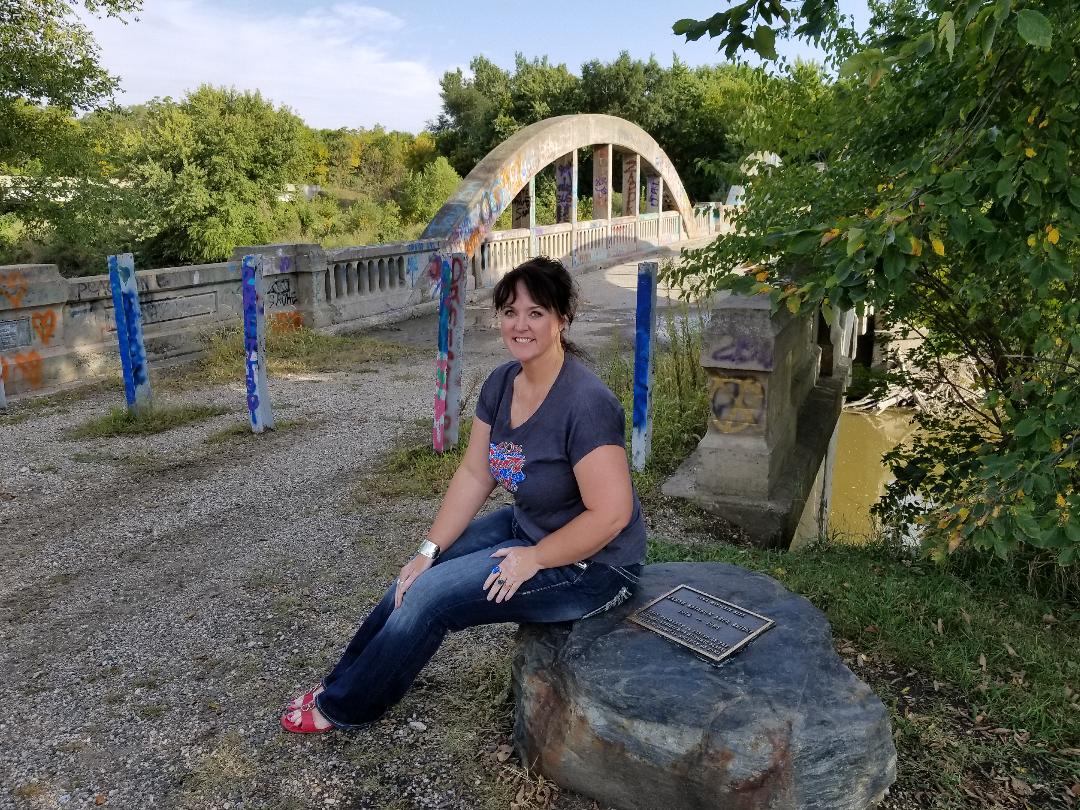 I was furious the minute I saw it. Blue spray paint defaced the bronze historical marker attached to a large stone south of Lake City near Rainbow Bridge, a favorite destination where I take my dad, mom and trusty red heeler, Maggie, for Sunday drives.
I snapped a photo of the crude star scrawled across the marker in mid-August and posted it on social media to express my disgust. While outraged Facebook friends posted hundreds of comments lamenting the vandalism, few solutions emerged.
I'm no graffiti removal expert and didn't know what to do next, so I turned to Google. My search led me to Natural Soy Products' graffiti remover. Not only did the product promise to remove paint, but this eco-friendly solution is made from American-grown soybeans. When I found out the company is based in Brooklyn, Iowa, I was sold and ordered two bottles of Graffiti Remover.
I was still nervous, though. Was I doing the right thing?
Rainbow Bridge spans generations of history
Iconic Rainbow Bridge has spanned the Raccoon River for more than a century southwest of Lake City and is an outstanding example of Iowa engineer James B. Marsh's rainbow arch design. Hundreds of bridges with this distinctive "rainbow" profile were constructed in the 1910s and 1920s, mainly in the Midwest, though few remain.
Despite its storied history, the local Rainbow Bridge has long been a target for graffiti. Still, I kept thinking this latest act of vandalism had gone too far. I didn't want to inflict more damage, though, in my attempt to clean up the mess.
Putting soy power to work
When my bottles of Graffiti Remover arrived, I rounded up a vegetable scrub brush, some rags, fresh water and my dog. We headed out to Rainbow Bridge late that afternoon to get to work.
While the Graffiti Remover label recommended waiting at least 10 minutes after spraying the cleaner, impatience got the best of me. I tried scrubbing off the paint after several minutes and was delighted to see promising results. In less than 15 minutes, I cleaned the entire marker and stone.
Always curious, I wanted to learn more. "Our products utilize the powerful, natural properties of soy," said Joe Barber, president and CEO of Natural Soy Products, who responded to my inquiry. He added that soybean oil and soy methyl esters can be processed into a variety of useful products, from household cleaners to industrial applications.
Many of these products have evolved from innovations in the soy biodiesel industry. It's exciting to see soy-based technology not only protecting history at Rainbow Bridge, but creating new solutions that will benefit our families and communities for generations to come.
(I first shared this story on my Facebook page in an abbreviated form. Ann Clinton, editor of the Iowa Soybean Review magazine, asked me to write the story for the Iowa Soybean Association's magazine. I was happy to oblige, and the piece you just read here appeared in the November 2017 issue. But wait–there's more! I also wrote a different version of the story for Farm News' annual soybean section in the fall of 2017. Here's the story below.) 
Cleaning Up with Soy Power: Iowa Company Redefines Eco-Friendly Cleaning Solutions
Environmentally-friendly cleaning products often make big promises, but the results don't always live up the hype—unless soybeans are involved.
"Soy works great for cleaning products, lubricants and more," said Craig Lang, former Iowa Farm Bureau Federation president and a farmer from Brooklyn, Iowa. "These products have come about because of innovations in the soy biodiesel industry."
Soy-based cleaners and other soy-based products are a specialty of Natural Soy Products in Brooklyn, which uses soy oil and soy methyl esters to produce a wide array of consumer and industrial products. "I've seen some really amazing things with these bio-based products," said Lang, who has worked with Natural Soy for almost three years. "They are highly effectively."
The Graffiti Cleaner, for example, is used by customers from California to Chicago and beyond. Soy-based products like this not only clean up messes, but they can help protect water quality.
"Water quality is an issue that needs to be at the forefront," said Joe Barber, president and CEO of Natural Soy Products LDT, a division of the Clean Environment Company. "A lot of chemicals get put down drains every day. Environmentally-friendly, soy-based cleaning products offer an alternative and can be part of the solution to improving water quality."
Growing new opportunities in Iowa
Established in 2013, Natural Soy Products is owned by Ken Budke, a U.S. Army veteran and retired Cedar Falls dentist from Cedar Falls who's an entrepreneur at heart. When Budke saw the potential of soy-based solutions for home and industrial use, he knew he was on to something, Barber said.
"Our products work, because they utilize the powerful, natural properties of soy," Barber said. "Soybean oil and soy methyl esters can be processed into many different products that benefit consumers and local soybean farmers."
Household cleaning products from Natural Soy Products and the Clean Environment Company range from barbecue grill cleaner to hand degreasers to pet shampoo, along with toilet bowl cleaners and bathroom cleaners that make lime removal simple.
"Just because these are environmentally-friendly products doesn't mean they don't work," said Barber, who noted that Natural Soy Products work well at home and in hospitals, nursing homes, businesses and more. "They are tough enough to get the job done, but gentle enough that you can get the product on your skin and it won't cause any harm."
Other soy-based products from the company are geared towards industrial use and perform well in harsh, dirty environments, Barber said. Lubricant sticks for the railroad industry are designed to protect the wheel/rail interface. These soy-based sticks offer higher lubricity than the traditional petroleum-based lubricants, providing greater maintenance and replacement cost savings. The solid material also provides a targeted application that greatly reduces maintenance costs.
Other soy-based industrial products from the company include an asphalt release concentrate that prevents asphalt from adhering to the bodies of dump trucks. A concrete sealer from Natural Soy Products includes a common ingredient that adds a plastic component to make this product even more effective.
"We have the ability to recycle Styrofoam and dissolve it into the soy blend," Barber said. "If anything is spilled on top of the sealed concrete, this makes it easy clean up the mess."
Iowa's best-kept soy secret
Many of these innovative products were showcased in late August when Natural Soy Products welcomed guests from Expedition Farm Country 2017, a two-day bus tour of eastern Iowa ag hosted by the Iowa Food & Family Project.
"Natural Soy Products has to be one of Iowa's best kept secrets," said Shannon Latham, vice president of Latham High-Tech Seeds, which helped sponsor Expedition Farm Country to help urban consumers learn about Iowa agriculture. "What impresses me most is these products are industrial-strength, effective cleaners and lubricants, yet they're safe for the environment."
Latham also appreciates that Natural Soy Products is owned by a veteran, led by farmers and committed to supporting youth organizations like 4-H and FFA.
As Expedition Farm Country guests learned, a majority of Natural Soy Products' production is located in the east-central Iowa town of Brooklyn, where the company has two locations. The company also has an office in Waterloo in the Cedar Valley TechWorks campus. The company employs about 10 people and is always looking for growth opportunities.
"Since we're a small company, it can be challenging to compete with big corporations," Barber said. "We're identifying new ways to expand our distributor network and retail presence, though, while offering our products at a competitive price."
While Natural Soy Products is based in Iowa, many of the companies' products, especially the eco-friendly household cleaners, have found some of the most receptive markets far from the Midwest. Home cleaning products from the Clean Environment Company, for example, are popular on the East Coast and West Coast, while Natural Soy Products items have seen the most demand from the Rockies to the Ohio/Indiana region.
"While the majority of our sales are outside Iowa, we're trying to change this," Barber said.
Some of the company's products can be found at Brothers Market in Parkersburg, for example. As more people hear about the benefits of home-grown soy solutions, the message is resonating with people, said Barber, who welcomes new inquiries from retailers wanting to carry items from Natural Soy Products and the Clean Environment Company.
"We need to make decisions today that will benefit our children and our children's children," Barber said. "Agriculture and soy products can be a big part of this."
What are your best cleaning tips?
So I'm curious–do you have any favorite cleaning products or eco-friendly cleaning tips? If you do, feel free to leave a comment. I'd love to hear from you.
Here's one of mine for cleaning those awful burned-on kitchen messes that happen sometimes, even to the best cooks:
Want more?
Thanks for stopping by. I invite you to read more of my blog posts if you value intriguing Iowa stories and history, along with Iowa food, agriculture updates, recipes and tips to make you a better communicator.

If you like what you see and want to be notified when I post new stories, be sure to click on the "subscribe to blog updates/newsletter" button at the top of this page. Feel free to share this information with friends and colleagues who might be interested, too.

Also, if you or someone you know could use my writing services (I'm not only Iowa's storyteller, but a professionally-trained journalist with 20 years of experience), let's talk. I work with businesses and organizations within Iowa and across the country to unleash the power of great storytelling to define their brand and connect with their audience through clear, compelling blog posts, articles, news releases, feature stories, newsletter articles, social media, video scripts, and photography. Learn more at www.darcymaulsby.com, or e-mail me at yettergirl@yahoo.com. 

Talk to you soon!

Darcy

P.S. Thanks for joining me. I'm glad you're here. 
Copyright 2017, Darcy Maulsby & Co.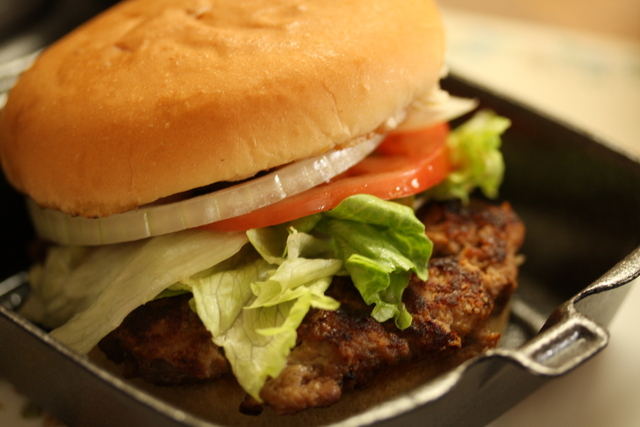 Love the thrill of the grill? I sure do, especially when I'm crafting a thick, juicy burger I can sink my teeth into. While we talk a lot about burgers during May Beef Month, how much do you really know about this American icon?
The classic hamburger we know and love today is very much an American invention. Stemming from German culinary roots, the burger-on-a-bun phenomenon gained widespread fame at the 1904 St. Louis World's Fair.
Disaster struck two years later, however, when Upton Sinclair's novel "The Jungle" (remember the book's lurid details from high school literature class?) detailed the unsavory side of the American meatpacking industry. Ground beef became a prime suspect, since it could easily be adulterated with questionable additives.
The hamburger might have faded away as a long-forgotten fad were it not for Edgar Ingram and Walter Anderson. When they opened their first White Castle restaurant in Kansas in 1921, White Castle countered the hamburger's unsavory reputation by becoming bastions of cleanliness, health and hygiene. This paved the way for national hamburger chains founded in the post-World War II boom years, including McDonald's.
Best burgers, Iowa style
Iowa has made its own distinctive contributions to America's burger history. Consider the wildly popular Iowa's Best Burger contest, sponsored by the Iowa Cattlemen's Association (ICA) and the Iowa Beef Industry Council (IBIC). Iowans submitted more than 9,200 nominations for this year's contest. Nearly 500 Iowa restaurants were represented in 2017 in the total nominations, setting a new record for the contest.
As a former judge of Iowa's Best Burger contest, I can tell you how tough it is to pick a winner. Iowans know how to make bodacious burgers, a story I made sure to include in my "Culinary History of Iowa" book.
Size matters when it comes to the Gunderburger at the Irish Shanti, which made the 2017 Top 10 list. The famous Gunderburger started in the late 1970s to put the tiny northeast Iowa community of Gunder on the map. The first Gunderburgers were a smaller version of the one served today. As the Gunderburger started growing in size in the 1990s, its notoriety also grew.
Another 2017 Top 10 Best Burger in Iowa contender is the Ankeny Diner, which offers Maytag Burgers, featuring Iowa's famous Maytag blue cheese, sautéed onion and Monterey jack cheese. Don't care for blue cheese? Maybe you'd prefer the Rarebit Burger, served open-faced and topped with spicy Cheddar cheese sauce.
Rarebits were legendary at the iconic Younkers Tea Room in downtown Des Moines for decades. An Iowa-style rarebit burger elevates the traditional Welsh rarebit, which incorporates leftover bits of cheese and the end-of-the-loaf slices of stale bread for a quick supper.
Speaking of Des Moines, the historic East Village is the home of the incomparable Zombie Burger. A previous Top 10 Best Burger in Iowa contender, Zombie Burger serves "gore-met" creations made from the shop's own custom three-cut beef burger blend. With locations in downtown Des Moines, Ankeny, West Des Moines and the Iowa City area, Zombie Burger is distinguished by classics from the Undead Elvis (a burger paired with peanut butter, fried bananas, bacon, American cheese and mayo) to the Walking Ched (a burger featuring bacon, Cheddar cheese, caramelized onions and mayo on a deep-fried macaroni-and-cheese bun).
Hungry yet?
If all this inspiration has you craving top-quality, Iowa beef, here are my top tips to make your best burgers ever:
• Choose fresh 80/20 ground beef, which provides enough fat to keep your burgers juicy and flavorful.
• Worcestershire sauce adds a whole new depth of flavor to burgers. Add in a healthy dollop and mix it into the meat before forming the patties.
• Use your thumb to create a dimple or well in the center of each patty on the bottom. This helps ensure that the burgers cook evenly. Don't worry—the indentation will hardly be noticeable by the time the burgers are ready.
• Cook your burgers over medium heat.
• As the patties cook, sprinkle them liberally on both sides with a mixture of salt, fresh-ground pepper, Lawry's seasoning salt, garlic powder and onion powder.
• Avoid using your spatula to press down on your burgers while cooking. Don't let all those flavorful juices escape.
• Allow your burgers to rest for a few minutes before serving. This will ensure that the juices redistribute into the meat. Enjoy!
Have any favorite burger recipes or cooking tips? I'd love to hear them. Now go get your grill on!
Hungry for more?
Want more burger inspiration? Check out my blog post on the Lake City Drive-In, where owner Larry Irwin is not only a beef booster, but someone who sees burgers as the perfect palette for culinary creativity with his Burger of the Month flavors. (Don't miss my recipe for Meatloaf Burgers!)
If you're hungry for more stories of Iowa history, Larry is kind enough to carry my books at the Lake City Drive-In. Not close to Lake City? I invite you to visit my online store, where you can purchase my top-selling "Culinary History of Iowa: Sweet Corn, Pork Tenderloins, Maid-Rites and More" book from The History Press, as well as my "Calhoun County" book from Arcadia Publishing, which showcases the history of small-town and rural Iowa. Order your signed copies today! Iowa postcards are available in my online store, too.
One more thing–check out more of my blog posts if you want more Iowa stories, history and recipes, as well as tips to make you a better communicator. If you like what you see and want to be notified when I post new stories, be sure to click on the "subscribe to blog updates/newsletter" button at the top of this page. Let's stay in touch!
This originally appeared as one of my weekly columns in Farm News. 
P.S. Thanks for joining me. I'm glad you're here. 
@Copyright 2017 Darcy Maulsby & Co.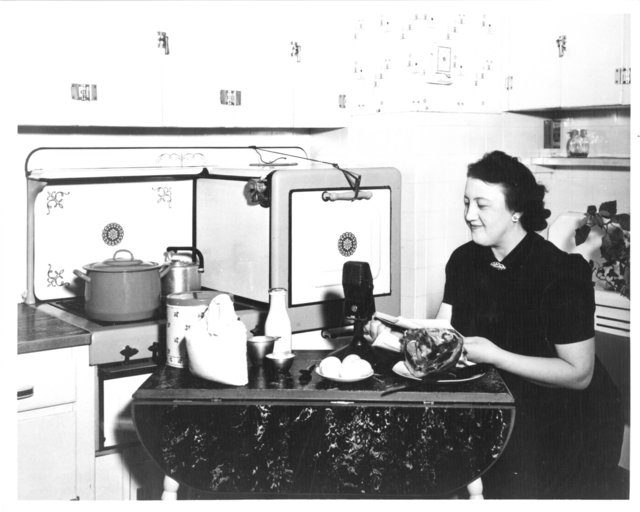 Long before there was Martha Stewart, there were KMA's radio homemakers. These creative, talented ladies from southwest Iowa revolutionized women's roles far beyond their humble farm kitchens starting in the 1920s. As they delighted Midwestern audiences by sharing their favorite recipes and providing down-home, daily visits with their radio friends, some of the women also became successful entrepreneurs along the way.
Their story begins in the early 1920s with the debut of a fabulous new invention called radio. In 1925, when a local businessman named Earl May began broadcasting KMA Radio-960 from Shenandoah, Iowa, to promote his seed and garden business. The station gained a following by airing practical information designed to help with the day-to-day life in Midwestern farm kitchens.
Before long, KMA was a trusted friend throughout the wide listening area, offering inspiration, companionship, and all manners of domestic counsel. The power of this connection can't be understated when you consider the era—a time when farm wives were much more isolated than today due to poor roads, limited social opportunities and long days filled with endless chores.
A roster of personable, lively women who quickly became known as the KMA Radio Homemakers hosted KMA's daily radio programs, including the Home Hour, the Stitch and Chat Club, and the KMA Party Line, while live cooking demonstrations drew thousands to the KMA auditorium in Shenandoah.
Broadcasts reached across the Midwest
The radio homemakers' history is also linked to Earl May's local competitor, Henry Field, another nursery and garden entrepreneur who seized on the power of radio to help expand his business. Field recruited family members to go on the air, including his sister, Leanna Field Driftmier, who began broadcasting "The Mother's Hour," which became "Kitchen Klatter." Without any training, Leanna sat down at the microphone and just started talking about her home, family, recipes, household tips, advice for child- rearing and whatever news seemed worth sharing during the afternoon show.
In 1930, Leanna broke her back in a car accident but wanted to continue her show, despite her injuries. The radio equipment was brought to her home, and she broadcast from her bed and later from her kitchen table. The show became so popular amongst listeners that it was eventually was broadcast in six Midwestern states.
Neighboring on the air
As the radio homemakers' concept gained momentum, local farm women like Evelyn Birkby began broadcasting from their kitchens in the 1950s. In her show "Down a Country Lane" on KMA Radio, Birkby would discuss her family and share snippets from her daily life, as well as offer suggestions for making the home a more pleasant place to live. Birkby called this phenomenon "neighboring on the air," and it met a vital need when farm life could often be isolating.
Fans would follow the doings of favorite homemakers for years, tuning in each day the same way they'd listen to episodes of radio soap operas. Of course, recipes figured prominently in the broadcasts, with old-fashioned, Midwestern fare focused on meat and potatoes, hearty casseroles, cakes, pies, cookies and more.
Kitchen Klatter became home-grown success
Through the years, a line of Kitchen Klatter products (including food flavorings, bleach and more) was developed and sold over the radio by broadcasters like Leanna Driftmier. In addition, a monthly Kitchen Klatter magazine was circulated to thousands of Midwestern readers who enjoyed the articles, letters and recipes like Company Ham and Potatoes, Emerald Mint Sauce (made from Kitchen Klatter Mint Flavoring), Mary's Pineapple Pie and Grandma's Oatmeal Cookies. The Kitchen Klatter enterprise and the radio homemakers endured for a number of years, with some of the broadcasts lasting until the 1990s.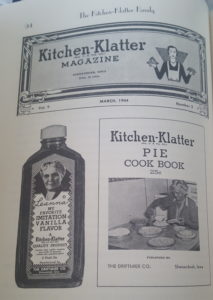 Recipes preserve a taste of Iowa history
In 1991, Evelyn Birkby published the fascinating book "Neighboring on the Air," where you can almost hear the voices of the KMA homemakers while you get a taste of their philosophy of life and sample their recipes. You can learn how to make hearty Midwestern fare ranging from Sour Cream Apple Pie from Florence Falk, "The Farmer's Wife," to Six-Layer Washday Dinner from Doris Murphy, who took to the air in 1949 with her "Party Line" broadcast.
You'll get a sense what a grueling schedule the radio homemakers often endured as they broadcast radio shows out of their kitchen while their own family life went on about them. These ladies also knew the needs and interests of their audience, because they, too, were well acquainted with hard work, hard times and making do.
Through it all, the radio homemakers were Martha Stewart and Dear Abby all rolled into one as they shared news about their children, home beautification tips and their trusted recipes. Thousands of devoted listeners depended on them for weekly entertainment, information, humor and continuity. These listeners considered the radio homemakers a valued part of their lives, which is reflected in the longevity of the radio shows. The radio homemakers' remarkable contributions are an enduring legacy to power of Iowa farm women and add unforgettable flavor to Iowa's rich culinary heritage.
Six-Layer Washday Dinner
Like today's busy working women, Iowa's radio homemakers like Doris Murphy knew the value of being able to put a hearty, nutritious meal on the table without a lot of fuss. No doubt her recipe featured home-grown and home-canned vegetables.
2 cups hamburger
1 small onion, chopped
2 cups diced potatoes, raw
½ cup uncooked rice
1 cup sweet peppers, cut fine
1 cup diced carrots, raw
1 pint tomatoes
Brown hamburger and onion together. Combine meat, onion, potatoes, rice, peppers, carrots and tomatoes. Season with salt and pepper. Cover with water. Cook 2 hours in 350-degree oven.
Want more Iowa culture and history?
Read more of my blog posts if you want more Iowa stories, history and recipes, as well as tips to make you a better communicator.
If you're hungry for more stories of Iowa history, check out my top-selling "Culinary History of Iowa: Sweet Corn, Pork Tenderloins, Maid-Rites and More" book from The History Press, as well as my Calhoun County" book from Arcadia Publishing, which showcases the history of small-town and rural Iowa. Order your signed copies today! Iowa postcards are available in my online store, too.
P.S. Thanks for joining me. I'm glad you're here. 
@Copyright 2017 Darcy Maulsby & Co.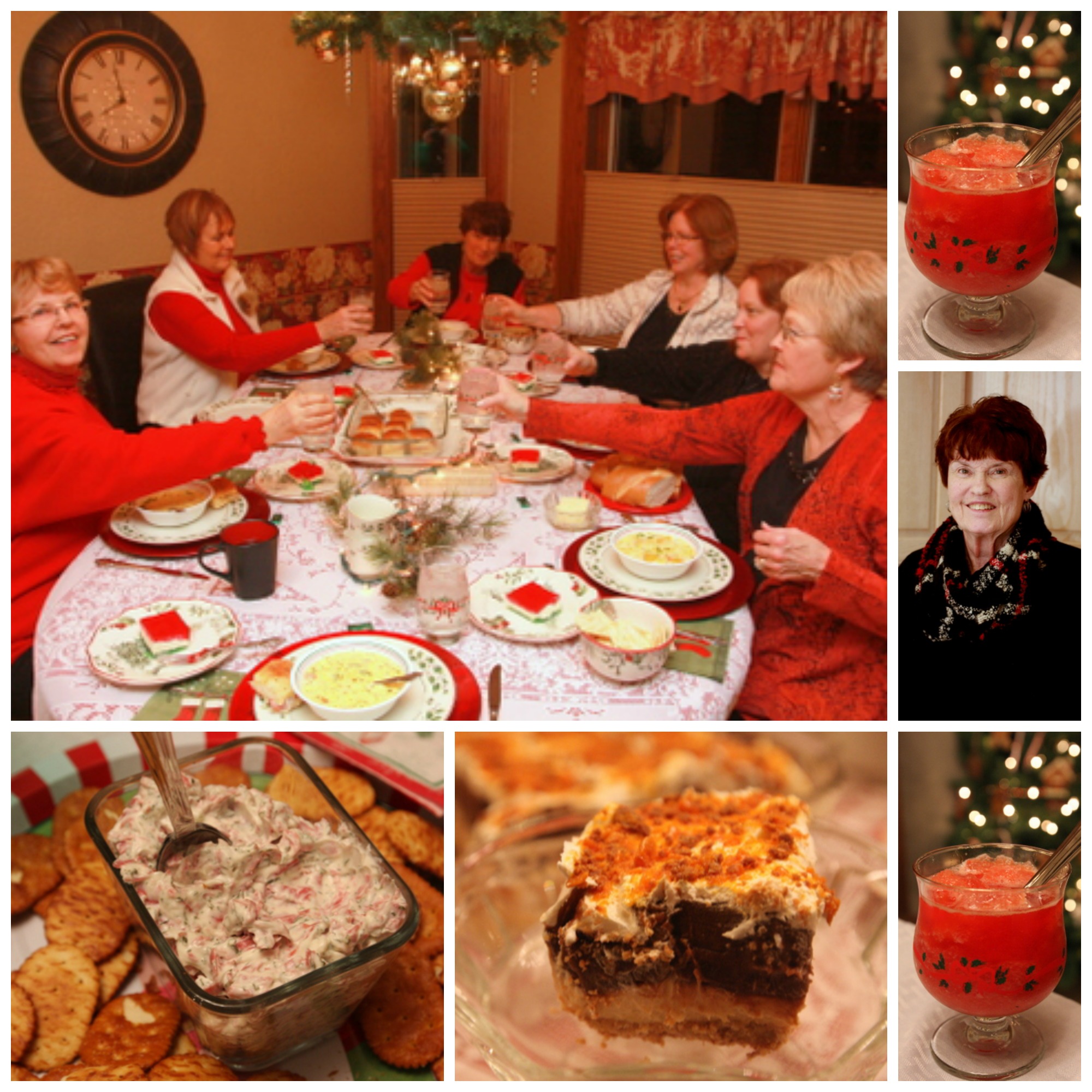 While one of Lake City's oldest clubs likely wouldn't have had any farm women for members when the group formed the 1890s, a farm wife (who is also my mom) is now the club's president and has belonged to the group longer than any other member.
"This was originally a very formal club where the ladies in town served white-tablecloth-style dinners and used their good china and silverware," said Jan Dougherty of Lake City, president, who joined the Shakespeare Club in 1972. "Now we're much more relaxed and just like to have fun."
Part of the fun involves cooking classes, preparing homemade treats for the "lunch" following the meeting and sharing recipes. The group has visited Sweet Things Bakery in Lake City and recently enjoyed a cooking class taught by Robin Qualy of Lake City, who runs La Casa Cuisine and teaches people how to make homemade pasta and more.
"I like the camaraderie and enjoy getting to know people better through Shakespeare Club," said Pam Feld of Lake City, who joined the group a few years ago.
Organized in 1894, the Shakespeare Club holds the honor of being the second oldest club in Lake City. It was organized by four young women interested in their social and intellectual advancement. Programs were arranged to study the lives and works of famous authors, although the greater part of each year was devoted to the works of Shakespeare. Later, the programs were diversified to include the study of music and the arts, as well as the cultures of Europe and South America.
During World War 1, Shakespeare Club members held benefit teas and auctions to raise money for the Red Cross. In the 1920s, a three-day celebration was held to commemorate the club's silver anniversary. Parties, picnics, and a presentation of a picture to the library were part of the festivities. "The Shakespeare Club is famous for doing things right," quoted the Lake City Graphic newspaper in 1923.
Through the years, club members have been instrumental in supporting the progress of schools and the local library, as well as civic improvements. As it has for years, the group continues to meet in members' homes, and each meeting includes a program or special activity and ends with a luncheon.
"I like meeting in people's homes," said Pat Albright of Lake City. "It's a comfortable feeling where we can be ourselves and enjoy each other's company."
This also appeals to Jan McClue, who hosted the group's 2016 Christmas party at her home near Lanesboro. "I like that we're a group for fun, and I enjoy the interesting outings we go on around the area."
One of the group's favorite destinations is Studio Fusion in Fort Dodge, where members design their own glass picture frames, dishes, jewelry and more.  No matter where they meet, however, snacks and homemade treats are always on the agenda. "Good food has always been part of Shakespeare Club, and I think it's neat the club has lasted all these years," Dougherty said. "Our motto could be, 'We don't meet if we don't eat.'"
Healthy Tortellini Corn Chowder
Smoky bacon combines with tender cheese tortellini for a creamy and comforting take on the usual corn chowder, which is one of my favorite soup recipes. I served it at the Shakespeare Club's 2016 Christmas party at Jan McClue's home near Lanesboro. 
5 slices bacon
1 large onion, chopped
2 ribs celery, chopped
1 cup red, orange, yellow peppers, diced
2 cups fresh, canned or frozen corn kernels (about one and a half cans of canned corn)
2 cups chicken broth
1 cup sliced carrots
⅓ c unbleached or all-purpose flour or Wondra flour
3 cups 1% milk
⅓ cup chopped fresh basil, or 1 teaspoon dried basil
½ teaspoon salt
¼ teaspoon fresh ground pepper
8 ounces low-fat fresh or frozen cheese tortellini, cooked and drained
1 cup frozen green beans
1 to 2 cups diced ham, optional
Set a Dutch oven over medium heat. Add the bacon. Cook for 1 minute, or until it releases some of its moisture. Add the onion, celery, and bell peppers. Cook for 5 minutes, or until the vegetables are soft. Add the corn, broth and carrots. Bring to a boil over high heat. Reduce the heat to medium. Simmer for 15 minutes.
Place the flour in a medium bowl. Gradually add the milk, whisking until smooth. Pour mixture into the Dutch oven. Stir until well-blended. Add the basil, salt and pepper. Cook, stirring occasionally, for 3 minutes, or until the soup thickens. Add the tortellini, green beans and ham, if desired. Cook for 2 minutes, or until heated through.
Beef Dill Dip
This tasty dip from Jan McClue is simple to make and can be served with bagel wedges or crackers. 
1 16-ounce carton sour cream
2 tablespoons parsley
2 teaspoons Accent seasoning
2 packages dried beef, chopped
1 1 / 2 cup Miracle Whip
2 teaspoons dill weed
1 medium onion, finely chopped
Mix all ingredients together. Serve with crackers or bagel wedges.
Cheesy Artichoke Dip
This three-ingredient appetizer from Jan Dougherty of Lake City takes only minutes to make.
1 package cream cheese
1 can artichoke hearts, drained
2 cups shredded mozzarella cheese
Combine all ingredients. Bake at 350 degrees, or until top of the dip lightly browns.
Celebration Slush
This simple slush from Jan McClue, a Shakespeare Club member who lives on a farm near Lanesboro, makes any party more festive.
12 ounces frozen lemonade
12 ounces frozen limeade
1 1 /2 quarts cranberry-apple juice
1 / 2 cup granulated sugar
2 cups strawberry schnapps
2 cups water
Combine all ingredients and freeze in a plastic container, like an ice cream bucket. To serve, add a splash of lemon-lime soda pop, raspberry vodka or strawberry daiquiri.
Taco Soup
This flavorful soup from Marie Schwarm of Lake City is sure to please on a cold winter day.
1 pound of ground beef (cooked and drained)
1 can of corn 1 can great northern beans
1 can black beans
1 can red beans
1 medium size can of diced tomatoes
1 packet of Hidden Valley dressing mix
1 packet of taco seasoning
1 cup of water
Tortilla chips
Sour cream
Shredded cheese
Combine all ingredients in crockpot (do not drain the beans) except tortilla chips, sour cream and cheese.  Cook on low for 6 to 8 hours. Serve with chips, sour cream and cheese. To spice up the soup, add a small can of diced green peppers.
Chili Bean Salad
This fresh, healthy recipe comes from Sharon Richardson of Lake City.
1 15-ounce can chili beans, heated Chopped tomatoes
Fresh spinach or lettuce, chopped
Corn chips
Make a bed of fresh spinach or chopped lettuce on plate. Top with chopped tomatoes and chili beans that have been heated. Top with crushed corn chips.
Peanut Butter Dessert
This creamy, sweet Peanut Butter Dessert from Shakespeare Club member Pam Feld of Lake City offers an enticing ending for any meal. 
For the crust:
1 cup finely-chopped cashews
1 cup all-purpose flour
1 / 2 cup butter
Cream cashews, flour and butter together. Press mixture into baking pan. Bake at 350 degrees for 25 to 28 minutes.
First layer of filling:
8 ounces cream cheese
1 / 3 cup creamy peanut butter
1 cup powdered sugar
1 cup whipped cream topping
Combine cream cheese, peanut butter, powdered sugar and whipped cream topping. Spread over cooled crust.
Second layer of filling:
2 2 / 3 cups milk
1 package chocolate instant pudding
1 package vanilla instant pudding
Combine milk and the two pudding mixes. Chill in refrigerator. When set, layer mixture on top of peanut butter layer.
Top dessert with whipped cream topping and pieces of chopped candy bars. Butterfinger and Heath work well.
Savor more Iowa food history
Want more great recipes and Iowa food stories? Check out my top-selling "Culinary History of Iowa" book from The History Press, and order your signed copy today. 
P.S. Thanks for joining me. I'm glad you're here. 
@Copyright 2017 Darcy Maulsby & Co.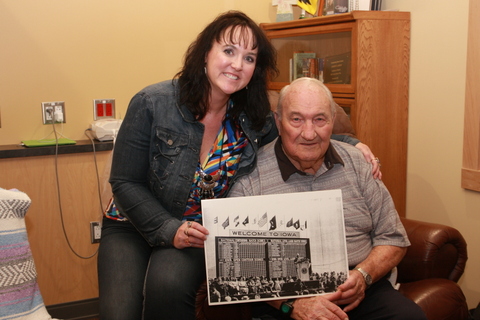 Unpredictable. Shocking. Historic. All have been used to describe the 2016 presidential election, but they also characterized the remarkable presidential election of 1948. Back then, no one thought Harry Truman had any chance of returning to the White House, although he accomplished one of the biggest upsets in U.S. presidential history—and it all started on a farm near Dexter, Iowa.
Bob Larson, an 18-year-old farm boy from Casey, saw it all.  "Harry Truman was a farmer, not a politician, at heart," said Larson, 86, who met Truman on September 18, 1948, at the National Soil Conservation Field Days and Plowing Matches in Dallas County. "We can thank him for the conservation practices that are now common in agriculture."
A recent high school graduate, Larson was working construction in 1948 with his future father-in-law. The crew was recruited to help build a dam and pond in the conservation demonstration fields north of Dexter. Larson first saw Truman on the afternoon of September 18, when the president jumped off a hayrack at the national plowing matches and headed toward the conservation area. Truman visited with Larson and his friends and family, who were eating lunch under a shade tree.
"Truman said, 'What the hell are you doin' just sitting here? Get your dozers started and get back to work. I want to watch you,'" said Larson, who noted that the construction crews had been told to shut down their machines when the president was in the area. "Truman rode with me on my bulldozer for about 10 minutes."
Truman came to Iowa to "Give 'em Hell"
When Truman arrived in Dexter on Sept. 18, 1948, he was a 50-to-1 underdog against his presidential rival, New York Governor Thomas Dewey. Truman's appearance in Dallas County stemmed from a White House visit months before when Iowa Farm Bureau President E. Howard Hill and other Iowa ag leaders met with Truman in May 1948 and invited him to come to the National Soil Conservation Field Days and Plowing Matches. The president tried to discourage the men, asserting that they'd have nothing but problems if he and his entourage came.
Dewey was also invited to attend the event but turned the Iowans down flat. "Dewey thought he had the election locked up," Larson said. "The Midwest didn't like Dewey, because he was an elitist who had no time for Iowa dirt farmers."
Months went by with no word from the White House. Then three weeks before the big day, plowing match organizers were notified that Truman had accepted their invitation. Once Dewey heard Truman was headed to Iowa, he immediately arranged for a farm-press event to be held on his Pawling, N.Y., farm on the same day as the national plowing matches near Dexter.
While the media focused on New York, all roads led to the nation's largest farm event in central Iowa on the September 18, 1948. As the sun rose and the mercury soared, bumper-to-bumper traffic soon clogged the roads near Dexter.
The crowd welcomed Truman in grand style. As part of his whistle-stop presidential campaign, Truman arrived in Dexter via the Rock Island Railroad, where he was greeted at the depot by the Dexter school band, a parade and a queen and her court. The president, his wife, Bess, and their daughter, Margaret, were escorted to the farm site north of Dexter by a motorcade that included Truman's convertible limousine.
Much to Truman's delight, a huge crowd of 100,000 people gathered on Lois Agg's farm to watch the plowing matches, see new conservation practices in action and hear him deliver a speech about farm policy.
WHO Radio personality Herb Plambeck introduced Truman. During Truman's 29-minute speech, which was the first major speech of his 1948 presidential campaign, he was interrupted by applause 13 times. The loudest cheers came when he referred to the 80th Congress as the "do nothing Congress." This was the first speech that was referred to as "Give 'Em Hell, Harry," a slogan that stuck with Truman for the rest of the campaign.
Event ushered in the modern era of ag conservation
After the speech, Truman and his entourage dined on fried chicken before heading out to the demonstration sites to see terraces, ponds and other conservation practices. Truman jumped off the hayrack to get a closer look, as members of the Secret Service scrambled to catch up with him.
"Truman was very interested in soil conservation and asked us a lot of questions," Larson said. "While some guys thought terraces and contour farming were crazy, many farmers were intrigued by new conservation practices that were being promoted by the Soil Conservation Service."
Truman took off his suit jacket, rolled up his sleeves on that hot afternoon and continued asking questions as he rode on Larson's bulldozer while the Secret Service looked on. Larson wasn't nervous as he chauffeured the president. "Truman was just an old farmer who wanted to know practical things, like how much dirt I was hauling."
The response Truman received in Dexter that day revitalized his presidential campaign and Truman himself. While the polls still had Truman trailing Dewey on the eve of the 1948 election, and his margin of victory was small, Truman went on to become the 33rd president of the United States.
Truman's appearance at Dexter also helped usher in the modern era of conservation in agriculture. Larson's conservation work left a lasting impact, as well, since the dam and pond he built in 1948 are still there. His story, along with photos from that unforgettable day, are preserved at the Dexter Museum and on a historical marker north of Dexter.
"Truman made a good impression on me," Larson said. "If I'd been old enough to vote in 1948, I probably would have picked Truman."
Explore more rural Iowa history 
Want to discover more stories and pictures that showcase the unique history of small-town and rural Iowa? Check out my top-selling "Calhoun County" book from Arcadia Publishing, and order your signed copy today. 
P.S. Thanks for joining me. I'm glad you're here. 
@Copyright 2016 Darcy Maulsby & Co.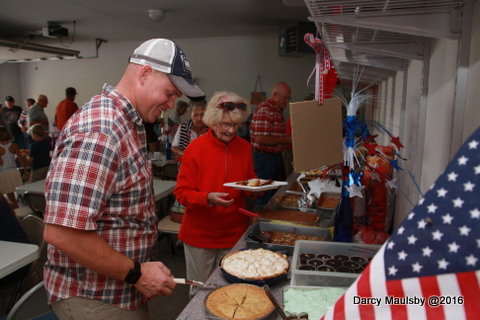 Looking for deli fried chicken, bakery pies or other pre-made convenience food? Don't be surprised if none of it turns up on the massive buffet on the Dial farm during the annual 4th of July picnic. I certainly didn't see it at this year's celebration.
"Everyone brings their A game to this event," said Jolene Schleisman of Lake City, Iowa, who has been attending the 4th of July picnic since she was a child.
While my family has been attending the picnic each July for a few years, the event started in 1954 on Bud Burley's farm near Lake City. Mike and Dorothy Nichols hosted the party the next year and maintained the tradition until 1981. Then their neighbors, Gerald and Alice Ann Dial, began hosting the celebration on their farm northwest of Lake City. In 2003, the event moved to the Dial's son Dwight's farm east of Lake City.
The celebration has been going strong ever since, attracting up to 50 or 60 guests each 4th of July. Along with the fireworks at dusk, the big attraction is the food. Countertops spanning the width of Dial's two-car garage, along with additional tables, are loaded with homemade fried chicken, roast pork, casseroles, cheese potatoes, baked beans, salads of all kinds, deviled eggs, cakes, pies, candies and more.
"I appreciate how neighbors of all ages enjoy each other's company," said Laura Holm, a teacher from Ames who grew up on a farm near Lake City and brings her family back home for the picnic. "I also love the homemade, made-from-the-heart food that comes from friends' kitchens, not store shelves. This party is about my roots, and I love to teach my kids about these roots."
At this year's celebration, Dial's son, Andy, prepared a number of favorite recipes in honor of his late grandmother, Alice Ann Dial, including her famous lemon me
ringue pie. Schleisman also brought a number of classic dishes, including glazed ham balls. Oh yeah, that amazing Iowa classic that makes any picnic a little more memorable.
"To me and the Dial kids, the 4th of July picnic was better than Christmas," Schleisman said. "I love it that this tradition continues."
I couldn't have said it better. Let's eat!
Savor more Iowa food history
Want more fun Iowa food stories and recipes? Check out my top-selling "Culinary History of Iowa" book from The History Press, and order your signed copy today. 
Fried Chicken
Andy Dial used his Grandma Alice Ann Dial's recipe and his Grandma Dottie Loeck's cast-iron skillet to make this fried chicken, which is always a star of the 4th of July picnic.
4 dozen chicken hind quarters separated into legs and thighs.
Breading:
5 cups all-purpose flour
1 1 / 2 teaspoons onion powder
1 cup whole wheat flour
1 tsp black pepper
4 tablespoons garlic salt
1 teaspoon paprika
2 tablespoons Lawry's seasoning salt
Wash:
4 eggs
1 cup whole milk
Combine breading ingredients until mixed thoroughly. Place breading mix into a 9.5-inch pie pan. Beat eggs and milk together until mixed thoroughly. Place egg wash in a separate 9.5-inch pie pan.
Place chicken pieces first in the egg wash until liberally coated; then transfer to the breading mix and turn until coated fully.  Once coated with breading, place chicken pieces into hot oil in frying pan. (Andy Dial prefers a cast-iron skillet.) Turn pieces ever 2 to 3 minutes until golden brown all over.  Place into roaster pan at 350 degrees to finish cooking through and keep warm until serving time.
Note: To keep chicken crispy, serve immediately after frying.
Glazed Ham Balls
Jolene Schleisman of Lake City uses 4 pounds of a ham-ball mix from the locker in Lake City to make these tasty ham balls. Her recipe shows how to make your own ham-ball meat mix, however. These ham balls can be made ahead and frozen (unglazed) to be baked later.
For the ham balls:
2 1 / 2 pounds ground ham
1 1 / 2 pounds ground pork
2 cups instant oatmeal or cracker crumbs
2 eggs, well beaten
1 cup milk
1 teaspoon ground pepper
For the glaze:
1 1 / 2 cups brown sugar
1 / 2 cup apple cider vinegar
1 teaspoon dry mustard
1 / 3 cup Cookies BBQ Sauce
1 / 2 cup water
2 tablespoons honey
Combine ground ham, ground pork, oatmeal or cracker crumbs, eggs, milk and pepper. Shape mixture into balls. Freeze the ham balls to bake later, or place them in a greased, glass baking dish.
To make the glaze, combine brown sugar, apple cider vinegar, dry mustard, BBQ sauce, water and honey in a saucepan. Cook over medium heat until sugar dissolves.
Pour glaze over ham balls. Bake for 1.5 to 2 hours at 275 or 300 degrees. About every 20 minutes, spoon the glaze over the ham balls as they bake. Yield: 32 ham balls
Deviled Eggs
Andy Dial used a recipe from his mother, Jane, to create this potluck favorite.
6 eggs
1 / 16 teaspoon pepper
2 tablespoons mayonnaise
1 / 4 teaspoon paprika
1 teaspoon vinegar
1 / 2 teaspoon dry mustard or 1 teaspoon prepared mustard
1 / 2 teaspoon salt
Slice hard-boiled eggs in half lengthwise.  Remove yolks, smash and mix with seasonings.  Refill egg whites with seasoned yolk mixture.

Calico Beans
Jeanne Devine of Lake City brought along this potluck classic, which she created from a recipe on the Taste of Home website. This recipe can be easily doubled for a larger group.
4 ounces bacon, diced
1 pound lean ground beef (90% lean)
1 / 2 cup chopped onion
1 can (21 ounces) pork and beans
1 can (16 ounces) kidney beans, rinsed and drained
1 can (16 ounces) butter beans, rinsed and drained
1 / 2 cup packed brown sugar
1 / 2 cup ketchup
1 tablespoon cider vinegar
1 teaspoon prepared mustard
1 teaspoon salt
In a large skillet, cook bacon over medium heat until crisp. Remove to paper towels to drain. Discard drippings. In the same skillet, cook beef and onion over medium heat until the meat is no longer pink; drain. Combine the beef mixture, bacon, beans, brown sugar, ketchup, vinegar, mustard and salt. Spoon into a greased 2-quart baking dish.
Bake, uncovered, at 325 degrees for 45 to 60 minutes or until the beans are as thick as desired. Yield: 8-10 servings.
Lemon Pie
Alice Ann Dial's signature pie is distinguished by its fresh lemon flavor.
For the filling:
2 cups sugar
4 egg yolks
2 cups water
1 / 2 cup cornstarch
Dash of salt
8 tablespoons fresh lemon juice
2 tablespoons butter
For the meringue:
4 egg whites
8 tablespoons sugar
1 / 4 teaspoon cream of tartar
To mix the pie filling: Blend sugar, egg yolks, water, cornstarch and salt. Cook until the mixture thickens and bubbles up. Remove from heat and add lemon juice and butter. Pour the filling in a pre-baked pie shell made from Alice Ann's all-purpose pastry mix (see recipe below) and cover immediately with meringue.
To make the meringue, beat the eggs whites until foamy. Add sugar and cream of tartar. Beat slowly until peaks form. Spread on pie, and bake the pie for 20 to 25 minutes at 325 degrees Fahrenheit.
All-Purpose Pastry Mix
Alice Ann Dial kept this all-purpose pastry mix on hand to save time when baking pie.
7 cups flour
4 teaspoons salt
2 cups lard
Combine all ingredients together to create a crumbled consistency, but make sure the mix doesn't clump together. Store mixture in a covered container in the refrigerator.
For a single crust:
1 1 / 2 cups all-purpose pastry mix
3 tablespoons ice-cold water
For a double crust:
3 cups all-purpose pastry mix
5 tablespoons ice-cold water
Combine the all-purpose pastry mix and ice water until the mixture leaves the sides of the bowl. Then roll out the dough. If you're making a pie shell for a lemon meringue pie, place the crust in a pie plate and prick the dough with a fork on the bottom and sides before baking the crust at 350 degrees Fahrenheit for 10 to 12 minutes.
Auburn—There's basic, small-town café food, and then there's home-cooked café food that's so good people come back for generations. That's how it was at Van's Café in Auburn.
While everyone seemed to have their favorite breakfast and lunch items at Van's Café, the Smothered Hash Browns were always a best seller. Topped with sausage, onions, green peppers, mushrooms and cheese (along with two fried eggs on top, if desired), this perennially popular dish sold out during the last weekend in March before Van's Café closed permanently after 61 years.
Some guests came for the first time to try classics like the Smothered Hash Browns, while long-time customers took the opportunity to joke with Richard Vanderheiden, owner. "Hey, Richard," said one of the old timers when Vanderheiden stepped out of the kitchen. "I thought sure after all these years you'd learn how to cook before you quit!"
Vanderheiden takes it all in stride, just as he has for decades. The story of Van's Café began in January 1954, when his parents, George and Rose Vanderheiden, moved their eight children (including Dorothy, Donald, Larry, Karen, Richard, Michael, Patrick and Mary) from Carroll to Auburn. They opened the Maidrite Café, which was located one lot over from where Van's Café sits today on the west side of Highway 71.
The whole family pitched in waiting tables, washing dishes, taking out the trash and handling all the other duties required to run a restaurant. Those were the days when menu items like potato soup cost 30 cents, tuna salad was 35 cents and roast beef cost $1.15.
Vanderheiden was especially interested in the family business. "I started working there at age 10," said Vanderheiden, 70, who enjoyed growing up in Auburn and remembers when the town boasted three grocery stores, a creamery, a hatchery, a drug store, two filling stations, a bank and a hardware store. "My mother was a very good cook, and I learned a lot from her."
People could count on Van's
In the spring of 1967, Vanderheiden came back from school to help his mother run the restaurant after his father became ill. After his father passed away, Vanderheiden took over the family business in 1972 and bought the building (which dates to 1893) where Van's Café would be located for the next 43 years.
He operated Van's Café each Monday through Saturday from 6 a.m. to 1:30 or 2 p.m. and Sundays from 8 a.m. to 1 p.m. "People knew they could count on Van's being open," said Vanderheiden, who served breakfast whenever the café was open.
Lorene Knobbe, who grew up in the area and now lives in Davenport, recalled eating at Van's many times. She was sad to hear the café was closing for good. "My mom and dad loved that place and liked to go there on Sundays after church," she said.
Other customers began reminiscing about the unforgettable meals they enjoyed atthis iconic, small-town café. Kurt McCaulley, a Lake City native who now lives in DeWitt, recalled how he and Larry McCaulley, Lynn Dial, Mike Carisch, Gregg Gass, Ronnie McCaulley and other guys who baled hay for Marj Richardson looked forward to lunch at Van's Café. "We used to eat the hot-beef sandwiches for lunch, and lots of times we'd have two helpings."
The café was also special to Luanne Redenius of Lake City, a former waitress who still recalls her first $5 tip. "My first job with a real paycheck was waitressing at Van's during the early morning shift," said Redenius, who was 17 at the time and had just graduated from Lake City High School in 1974. "Richard was a hard worker and kind man who always took time to answer my questions, no matter how busy things got—and it seemed like we were always busy."
It's not Auburn without Van's Café
Through the years, Van's Café has became known for a variety of comfort foods, including the signature Van's Potato Soup (created by Rose Vanderheiden), meatloaf, goulash and famous 3-bean salad, which is often the most popular salad bar item.
While Vanderheiden kept a low profile most of the time, he always said "yes" when people walked in the door of his restaurant and asked, "Is this the famous Van's Café?" He knew they probably heard the 1040 WHO Radio morning show when broadcaster Van Harden came to Auburn a few years ago to help Vanderheiden celebrate 40 years in business.
"That was a super day," said Vanderheiden, who noted that nearly 600 customers showed up to be part of the unique event and enjoy a free breakfast.
Customers became more like friends at Van's Café, which also became a part of many local family's mealtime traditions. Jim Daisy of Lake City began bringing his son to Van's Café for breakfast on Saturday mornings starting in the early 1980s. "I started doing this when my son was about four years old, and it was a good way for us to bond through the years," Daisy said.
Along with locals like the Daisy family, Vanderheiden served customers from each of the 50 states and many foreign countries who wanted to experience an authentic, small-town Iowa café.  "In this business, you succeed by knowing what your customers want and providing it consistently," Vanderheiden said.
While some people offered to buy Van's Café after hearing that Vanderheiden planned to retire at the end of March, Vanderheiden is more focused on relaxing and spending time with family. For Beth Buelt, a waitress from Auburn, working the final weekend at Van's Café was a bittersweet experience. "I don't know Auburn without Van's Café," she said.
Vanderheiden himself acknowledged it was hard at times to say goodbye after serving a final Sunday dinner of turkey, dressing, baked ham, dessert and coffee on March 29. "For decades we've been very blessed with wonderful employees and loyal customers," said Vanderheiden, who offered a special thank you to the people of Lake City for their huge support through the years. "It has been a pleasure to serve everyone. I'll miss the people, because it's the people who make the café."
Savor more Iowa food history
Want more fun Iowa food stories and recipes? Check out my top-selling "Culinary History of Iowa" book from The History Press, and order your signed copy today. 
As the days grow colder, there's just something comforting about a big old kettle of soup. Comfort food took on a whole new meaning this fall in Lake City when our community came together in October to raise money for the Alcox family.
Lake City's fire chief, Mel Alcox, was partially paralyzed by a severe spinal cord injury sustained during an accident at his home in September. Volunteer fire fighters and friends hosted a fundraiser to help the Alcox family with medical expenses for Mel, who has been receiving treatment at a hospital in Des Moines—more than 100 miles away from Lake City.
On a cold, rainy Monday night, farmers took time out from harvest, business owners stopped by after work, and families gathered at the Lake City fire station to put money in the donation box and enjoy hot bowls of homemade soup, ham and cheese sandwiches, and an array of homemade bars—all prepared and donated by community members. Tables throughout the truck bays were filled as p
eople of all ages gathered to show their support for Mel and Phyllis. The kids also enjoyed signing the big, bright get-well cards to Mel, which were displayed in front of one of the fire trucks.
Remember the G-Words
I was happy to share a kettle of my homemade Beef and Barley Soup, which I modified slightly to fit the menu of three soups, including Beef Vegetable Soup, Chili and Chicken Noodle Soup. I've included my Beef and Barley Soup recipe below.
While this event raised thousands of dollars for the Alcox family (pretty impressive for a town of 1,800 people and other little towns nearby), it showed how small towns turn kindness and generosity into an art form. It's also a reminder about how every day is a good day to think about the "G words" of generosity and gratitude.
I think Phyllis Alcox said it best in this Facebook post:
"There are times when we think that small towns don't have all that we need, but when there is a tragic event in a family's life, the support and concern for their well-being are overwhelming. And for this we are so very thankful."
Savor more Iowa food history
Want more fun Iowa food stories and recipes? Check out my top-selling "Culinary History of Iowa" book from The History Press, and order your signed copy today. 
Hearty Beef and Barley Soup
1 pound beef roast, cut into 1-inch cubes
1 tablespoon canola oil
3 cans (14-1/2 ounces each) beef broth
2 cups water
1 cup medium pearl barley
1 tablespoon seasoning salt
1/2 to 1 teaspoon freshly-ground black pepper
1 teaspoon thyme
1 teaspoon Italian seasoning, or 1 teaspoon bouquet garni seasoning
4 bay leaves
3 tablespoons dried parsley
Garlic (either 1 teaspoon dried, minced garlic, 4 cloves fresh garlic to taste or 1 teaspoon garlic salt)
1 can mushrooms (or use 1 to 2 cups fresh mushrooms)
1 can diced tomatoes, undrained
1 cup sliced carrots
1/2 cup chopped celery
1 cup chopped onion
1 cup frozen or canned corn
1 cup frozen green beans
1 cup potatoes, cubed
1/2 cup dry red wine
1 tablespoon BBQ sauce
1 tablespoon Worcestershire sauce
1 tablespoon steak sauce
1 teaspoon horseradish (don't leave this out—it's the secret ingredient that makes this soup memorable in a good way!)
In a pan, brown beef in oil; drain. Transfer meat to slow cooker. Add all remaining ingredients. Cook on low for 8 to 10 hours. Remove bay leaves before serving. Enjoy!
You know a great photograph offers a priceless way to capture a moment in time. Did you consider that skilled photographers don't take photos–they make them?
To improve my ability to create unforgettable photos, I've been taking various classes this summer from a professional photographer in central Iowa. Here are some top tips I've learned that may help you, too:
1.      Stay focused. When photographing a person, always make sure his or her eyes are in focus. When photographing a group of people, especially groups of two to three rows of people, focus on the eyes of the person in the middle of the group towards the front.
2.      Use a telephoto. Ideally, do not shoot at 50 mm. It "swells" your subject's head and makes people look a litter wider than they really are. A better choice is 70 mm. Best yet? 120 to 200 mm. Also, I have found that the further back you are from the subject (it's easy when using  a telephoto lens), the more relaxed and comfortable the subject will be.
3.      If it bends, bend it. (Have a person tilt their head slightly, or bend their arm by putting their hand on their hip, for example.)
4.      Follow my hand. Rather than try to verbally direct the subject on how to turn (do you mean your left or my left?), hold up your hand vertically and move it the direction you want the subject to turn.
5.      Hold that pose. Always position women at a 45-degree angle for the most flattering look. Men can be posed within the 45-degree range, left or right, with good results. Also, if your subjects are standing, have them shift their weight to their back foot for a more natural, relaxed look.
6.      Avoid weird cuts. When composing the photo, don't cut the image at the person's joints, including their knees, wrists, elbows, or fingers, or the person will look like an amputee.
7.      Mix it up. When shooting a group, don't have the heads lined up in a row. Mix up the height for visual interest. Also, try to move heavier people towards the inside of the group, rather than having them on the end. This will create a more flattering picture.
8.      Loosen up. To capture a more natural smile on your subjects, talk to them, and watch for facial expressions. Start with simple, basic questions about their hobby, etc. to get them to loosen up.
9.      Adjust the flash. If you have a light-colored wall behind you, try tilting the flash at a 45-degree angle and pointing it towards that back wall. This will bounce a softer light towards your subject. It also helps minimize glare if he or she is wearing eye glasses.
10.  Try some new gear. Consider an inexpensive, mini softbox to attach over your flash. (I bought my mini softbox off of Amazon.com.) The mini softbox works well if you're shooting a subject outside around noon or mid-day, for example, when harsh shadows and harsh lighting can create challenges.
** Bonus tip: If you're indoors, look for ways to position your subjects by a window that provides natural side lighting. This can help you create more flattering, better-lit shots without harsh, distracting shadows.