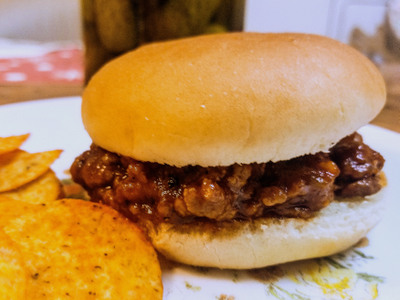 Tex-Mex Sloppy Joes and the Magic of Maid-Rite in Iowa
From time to time I get calls from around Iowa or across the country, usually from the media, about the history of Iowa food. Even the Travel Channel reached out for an upcoming Iowa episode of Bizarre Foods: Delicious Destinations. (Don't miss this cool story!) People usually want to talk about one thing—Maid-Rites. I love sharing this story and have also cooked up my own twist on loose-meat sandwiches.
Just the other day a friend emailed me about Maid-Rites, wanting to know some other names for the sandwich. Here's what I told her:
* Loose-meat sandwiches
* Taverns (a common term around Sioux City and parts of northwest Iowa)
* Beef burgers
* Canteens (in Ottumwa)
* Sloppy Joes (if they contain ketchup and other goodies in the mix)
* Yip-yips (at least in southern Illinois, or so I've been told!)
While you can sometimes find these sandwiches on some café menus in Iowa, as well as at the 30+ Maid-Rite chain restaurants around the Midwest, they are often turn up at potlucks, fundraiser meals, family get-togethers, civic group lunches and more.
Just when I think I've seen every type of these loose-meat sandwiches, there's another version that pops up. When I shared my "How to Take Better Photos in 1 Minute" class with the Rockwell City Rotary Club recently, the meal included Tex-Mex inspired sloppy joes. While I don't normally care for sloppy joes, I absolutely loved these sandwiches.
I loved them so much I was inspired to create my own version. These are flavorful, stick-to-your-ribs sandwiches that come together in a snap and can be as spicy or as mild as you like. They're also an ultimate comfort food on these cold winter days here in Iowa.
Here's the recipe. Enjoy! Also, keep reading below for the fascinating history of Maid-Rite in Iowa. This is an excerpt from my 2016 book, "Iowa's Culinary History: Sweet Corn, Pork Tenderloins, Maid-Rites & More." Order here to get your own signed copy of this fun book!
Tex-Mex Sloppy Joes
• 1 pound ground beef
• 1 small onion, chopped
• 2 garlic cloves, minced
• 1 cup ketchup
• 1 can (4 ounces) chopped green chilies
• 1/2 cup beef broth
• 1/4 cup chili sauce
• 1/2 to 1 teaspoon chili powder, to taste
• 1/2 teaspoon ground cumin
• 1/4 teaspoon crushed red pepper flakes, optional
• 1/4 teaspoon salt
• 1/4 teaspoon coarsely ground pepper
• 6 hamburger buns, split
• 2 tablespoons butter, softened
In a large skillet, cook beef and onion over medium heat for 6-8 minutes or until beef is no longer pink, breaking up beef into crumbles; drain. Add garlic; cook 1-2 minutes longer. Stir in the ketchup, chilies, broth, chili sauce and seasonings. Bring to a boil. Reduce heat; simmer, uncovered, for 15 minutes, stirring occasionally.
Meanwhile, spread cut sides of buns with butter. Place on baking sheets, buttered side up. Broil 4 in. from the heat for 1-2 minutes or until toasted. Serve beef mixture in buns.
Now for a tasty bite of Iowa history
Call it the king of the loose-meat sandwiches. A tried-and-true Iowa classic for nearly 100 years, the Maid-Rite is a sandwich unlike any other. But first, let's clarify what a Maid-Rite is not.
It's not a sloppy joe. It's not a ground-beef concoction with ketchup, mustard and sugar in the mix. (Some of these "hybrid" sandwiches with traits of both a Maid-Rite and a sloppy joe can be found in Iowa, and some are quite tasty, but a true Maid-Rite they are not.) Finally, a Maid-Rite is not something you can leave out if you're going to delve into the culinary history of Iowa.
The story of the Maid-Rite began in 1926, when Fred Angell, a meat cutter in Muscatine, developed a recipe with just the right combination of ground beef (with a specific grind size and meat/fat ratio) and a distinctive seasoning featuring Fred's unique blend of spices. When a deliveryman tasted Fred's new creation, he exclaimed, "This sandwich is made right!"
With that, the Maid-Rite legend was born. "The Maid-Rite recipe has stayed the same from the beginning," said Bradley Burt, president and CEO of the Maid-Rite Corporation based in West Des Moines. "There's no other sandwich like ours."
What started as a small Maid-Rite restaurant in Muscatine grew into one of America's first quick-service, casual-dining franchise restaurants. Today there, are restaurants in eight Midwestern states, including 38 stores in Iowa. While the days of 5-cent Maid-Rites and homemade root beer are gone, Maid-Rite continues to pride itself on home-town hospitality. "Maid-Rite restaurants are still a gathering place in many small towns," Burt said.
Some of these restaurants are as rich in history as the Maid-Rite sandwich itself. Taylor's Maid-Rite in Marshalltown is a third-generation business that has been serving central Iowa for more than 80 years. Cliff Taylor purchased the 1928 franchise for $300. Cliff and his family operated Taylor's Maid-Rite Hamburger Shop, baking pies at home, slicing whole pickles from Marshall Vinegar Works and buns from Strand's Bakery.
After Cliff passed away in 1944, his son, Don, continued to run the restaurant. Don built a cooler in the basement of his home to store the hamburger that was ground daily. In 1958, he built a state-of-the-art Maid-Rite restaurant across the street from the original location, outfitting the new store with all stainless-steel equipment and two cash registers.
While various generations of the family have operated the business since then, many things haven't changed. Like all Maid-Rite restaurants, each Maid-Rite at Taylor's is made from 100% USDA Midwestern fresh ground beef served on a bun, with your choice of ketchup, mustard, onion and pickles. "We have stringent specifications for our beef," Burt said.
Once you've tasted a real Maid-Rite, there's no substitute. Many former Iowans don't consider themselves to be officially back home in Iowa until they've eaten a Maid-Rite. "It's quite a phenomenon," Burt wait. Some Iowans can't wait to get a taste of home. A group of snowbirds who spend their winters in Arizona host a Maid-Rite party in the Phoenix area each year for 150 guests, complete with Maid-Rite hats, t-shirts and aprons.
One of the biggest Maid-Rite fans of all would have to be Jim Zabel, who broadcast University of Iowa athletic events for 50 years. Before his passing in 2013, the legendary sportscaster and ultimate Iowa ambassador served as the Maid-Rite spokesman. He even made a commercial for Maid-Rite, complete with a riff on his high-energy slogan, "I love 'em, I love 'em, I love 'em!"
Many Iowans stay loyal to their beloved Maid-Rites right to the end. Some people request them as their final meal, while others ask that Maid-Rites be served at their funeral dinner. "Maid-Rite is truly part of Iowa's culture," Burt said.
Want more?
Thanks for stopping by. I invite you to read more of my blog posts if you value intriguing Iowa stories and history, along with Iowa food, agriculture updates, recipes and tips to make you a better communicator.

If you like what you see and want to be notified when I post new stories, be sure to click on the "subscribe to blog updates/newsletter" button at the top of this page, or click here. Feel free to share this with friends and colleagues who might be interested, too.
Also, if you or someone you know could use my writing services (I'm not only Iowa's storyteller, but a professionally-trained journalist with 20 years of experience), let's talk. I work with businesses and organizations within Iowa and across the country to unleash the power of great storytelling to define their brand and connect with their audience through clear, compelling blog posts, articles, news releases, feature stories, newsletter articles, social media, video scripts, and photography. Learn more at www.darcymaulsby.com, or e-mail me at yettergirl@yahoo.com. 
If you're hungry for more stories of Iowa history, check out my top-selling "Culinary History of Iowa: Sweet Corn, Pork Tenderloins, Maid-Rites and More" book from The History Press. Also take a look at my latest book, "Dallas County," and my Calhoun County" book from Arcadia Publishing. Both are filled with vintage photos and compelling stories that showcase he history of small-town and rural Iowa. Order your signed copies today! Iowa postcards are available in my online store, too.
Let's stay in touch. I'm at darcy@darcymaulsby.com, and yettergirl@yahoo.com.
Talk to you soon!
Darcy
@Copyright 2019 Darcy Maulsby & Co.  Blog posts may only be reprinted with permission from Darcy Maulsby.