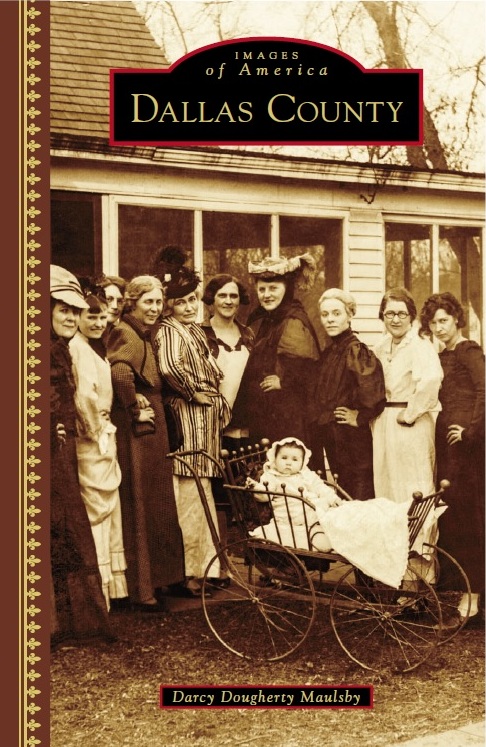 Why I'm Using a Powerful 500-Year-Old Technology to Make History–And You Can, Too
It's always an exciting–yet nerve-wracking–moment of truth when months of research, writing and hard work end up at the one place where I have no more control—the printing press. There's no turning back now for "Dallas County," my third non-fiction Iowa history book, which is being printed as we speak by Arcadia Publishing, which specializes in hyper-local history. Can't wait to show you the final result around Sept. 4!
I love the tried-and-true, old-school format of a printed, hard-cover book to share intriguing photos and the rich history of Dallas County, located just west of Des Moines. No Iowa county has influenced American history more than Dallas County. It propelled Harry Truman to an unlikely victory in the 1948 presidential campaign, following a fiery speech he delivered to 100,000 farmers on a sweltering September day at the National Plowing Match near Dexter. (Read all it about it here–along with my interview of a man who was there and took President Truman for a ride on his bulldozer!) 
Just 15 years earlier, a shoot-out near Dexfield Park marked the beginning of the end for infamous outlaws Bonnie and Clyde and the notorious Barrow Gang. (Yes, I was able to track down a lot of the crime scene photos and include them in the book, thanks to the wonderful volunteers at the terrific little Dexter Museum.) 
The big-time names that have had a brush with Dallas County history don't stop there. Dallas County has produced several major-league baseball players (among them Bob Feller and Hal Manders), a US congressman (David Young), and Nile Kinnick, the 1939 Heisman Trophy winner and University of Iowa football legend whose grandfather George Clarke, of Adel, served as Iowa's governor from 1913 to 1917.
Today, Dallas County is one of the fastest-growing counties in America and remains a region of opportunity with a rich heritage of small-town living, farming, coal mining, and the immigrant experience. (If you like, you can pre-order the book on Amazon. If you want to wait for a signed copy, I'll be selling them soon through my online store at my website.)
Pushing back against the dominance of digital
If you've got stories to share, whether for a business or for your own personal stories, why not take a look at a traditional book, or some other printed format? The print revolution is back in a big way.  (Check out this great article to see what I mean.) 
While digital technology swept the publishing world  with the  emergence of the ebook starting in 1999, inspiring some to proclaim the death of the printed book, ebook sales are plateauing. Sales of printed books are once again on the rise. 
Printed books aren't the only part of this intriguing phenomenon. Vinyl records are enjoying a rebirth, as well. This trend toward the analogue, particularly among millennials, could reflect a desire to connect to simple, tangible, non-digital things in our fast-paced, high-tech world. Perhaps it's more of a longing to be unplugged now and then and occasionally tuned out. Whatever it foretells, the news that printed books are back is welcome here!
Want more?
Thanks for stopping by.  I invite you to read more of my blog posts if you want more more intriguing Iowa stories and history, along with Iowa food, recipes and tips to make you a better communicator. If you like what you see and want to be notified when I post new stories, be sure to click on the "subscribe to blog updates/newsletter" button at the top of this page. Feel free to share this information with friends and colleagues who might be interested, too.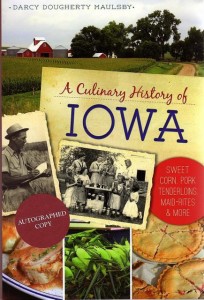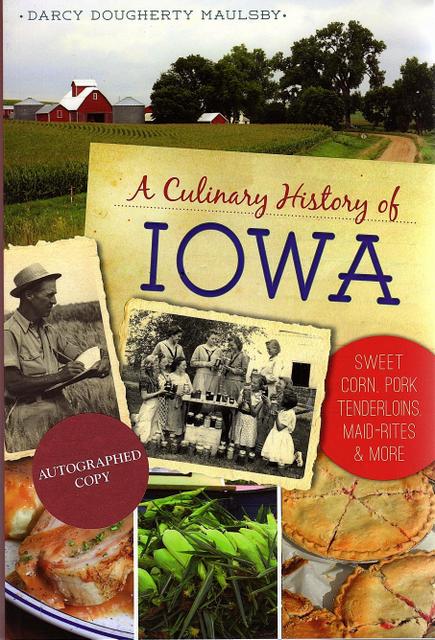 If you're hungry for more stories of Iowa history, check out my top-selling "Culinary History of Iowa: Sweet Corn, Pork Tenderloins, Maid-Rites and More" book from The History Press, as well as my Calhoun County" book from Arcadia Publishing, which showcases the history of small-town and rural Iowa. Order your signed copies today! Vintage and rural Iowa postcards are available in my online store, too.
Let's stay in touch. I'm at darcy@darcymaulsby.com and yettergirl@yahoo.com.
P.S. Thanks for joining me. I'm glad you're here. 
@Copyright 2017 Darcy Maulsby & Co. 
About me:
Some people know me as Darcy Dougherty Maulsby, while others call me Yettergirl. I grew up on a Century Farm between Lake City and Yetter and am proud to call Calhoun County, Iowa, home. I'm an author, writer, marketer, business owner and entrepreneur who specializes in agriculture.  Learn more at www.darcymaulsby.com.